Figueira da Foz Travel Guide – Winter, is a collection of tips on how and why you should visit Portugal's second most famous summer destination (after the Algarve) in the off-season.
Usually, off-season travel is a smart decision either to save some money or to simply beat the crowds. It also might means you get  "less" of what a summer destination has to offer. Some business close, there is less sun, its cooler… But for me, this is a bliss. The thought of sitting in my hotel room, overlooking the beach on a stormy day, to take a walk to the patisserie and lounge around for endless hours while eating my way through the selection of fresh pastries, to have an early night and early start without feeling exhausted. Rather then going all out in eating drinking and partying, Figueira da Foz turn itself into a peaceful calm little seaside village.
Figueira da Foz Travel Guide – Winter
Figueira da Foz has been an emblematic summer destination for over 100 years. A mix of sun, sand and cosmopolitan nightlife is the postcard of Figueira da Foz. Its long and wide sandy beach and its centenary Casino made the city a prime choice for beach vacations in Portugal. And I have to say, is top notch indeed. I spent many of my young and crazy summers  here and I do not regret a single day. 😉 But, as the summer goes by so does the frenzy and loud people. And the question comes up: Is there anything to do in the winter?
Plenty! So, please follow along for my selection on how to take the best of your winter weekend in Figueira da Foz.
What to do
Paratrike over the Mondego Estuary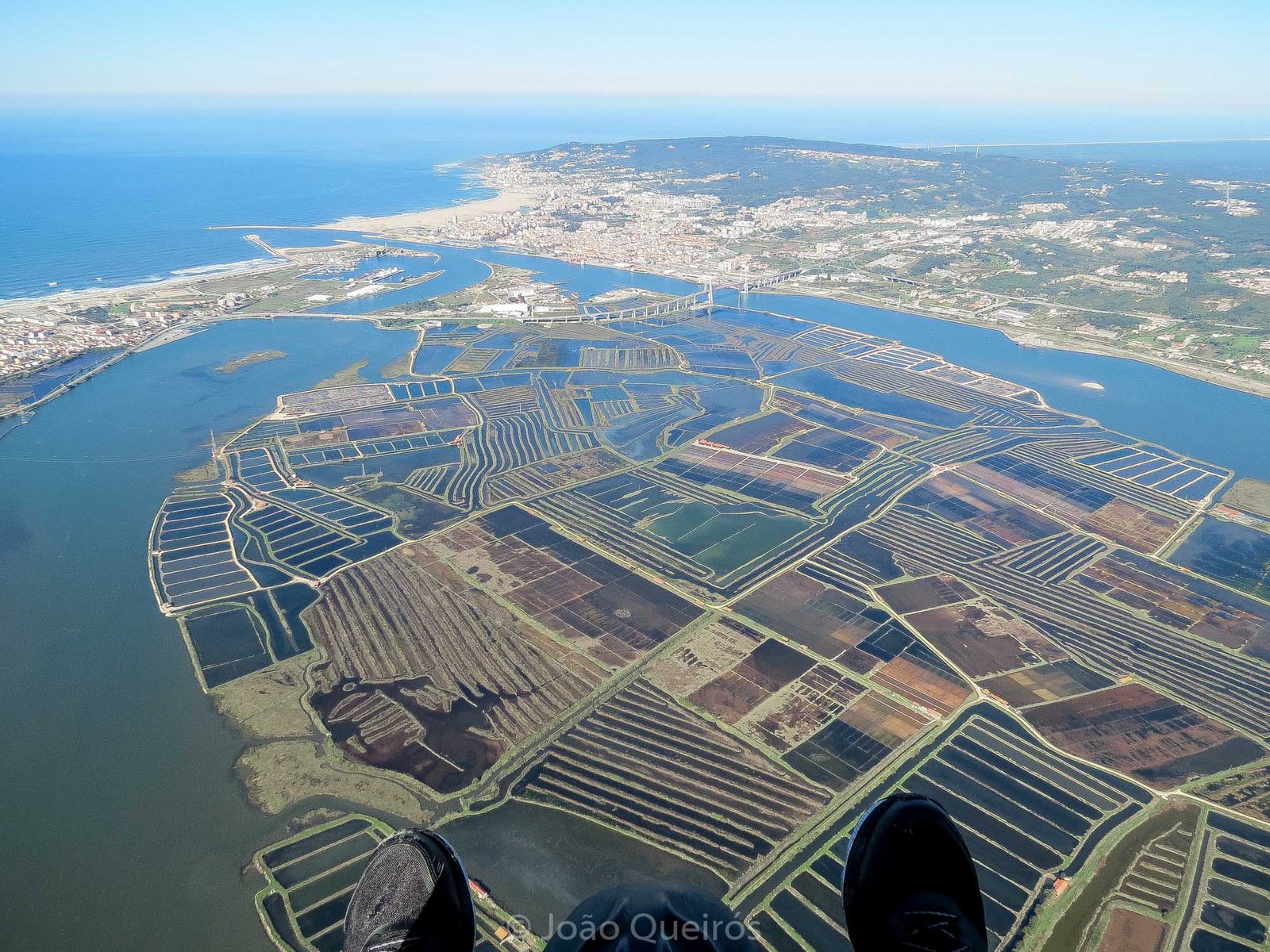 You should definitely put  your fears aside, as this must be the safest way of flying. Apart from being struck by a lighting, I cannot imagine how this could go wrong. Just enough aluminum pipes to hang 2 harnesses, 3 wheels and a propeller. All of which suspended below a thing plastic canvas wing and that's it. A flying machine that will take you wherever you want, no matter what.
Really, it's incredible! We took off from a parking lot in less than 20 meters, reaching the 600 meters cursing altitude in a matter of seconds. From here I took advantage of every photo op that I could ask for, before my smooth landing. The flight took about 15 minutes and didn't require any equipment or physical condition. It is really just meant for you to sit back and enjoy the view.
Not even the fear from heights can be an excuse, because every time I step out into my 6th-floor home balcony, my heart rate rises. Surprisingly I did not felt a thing during the flight.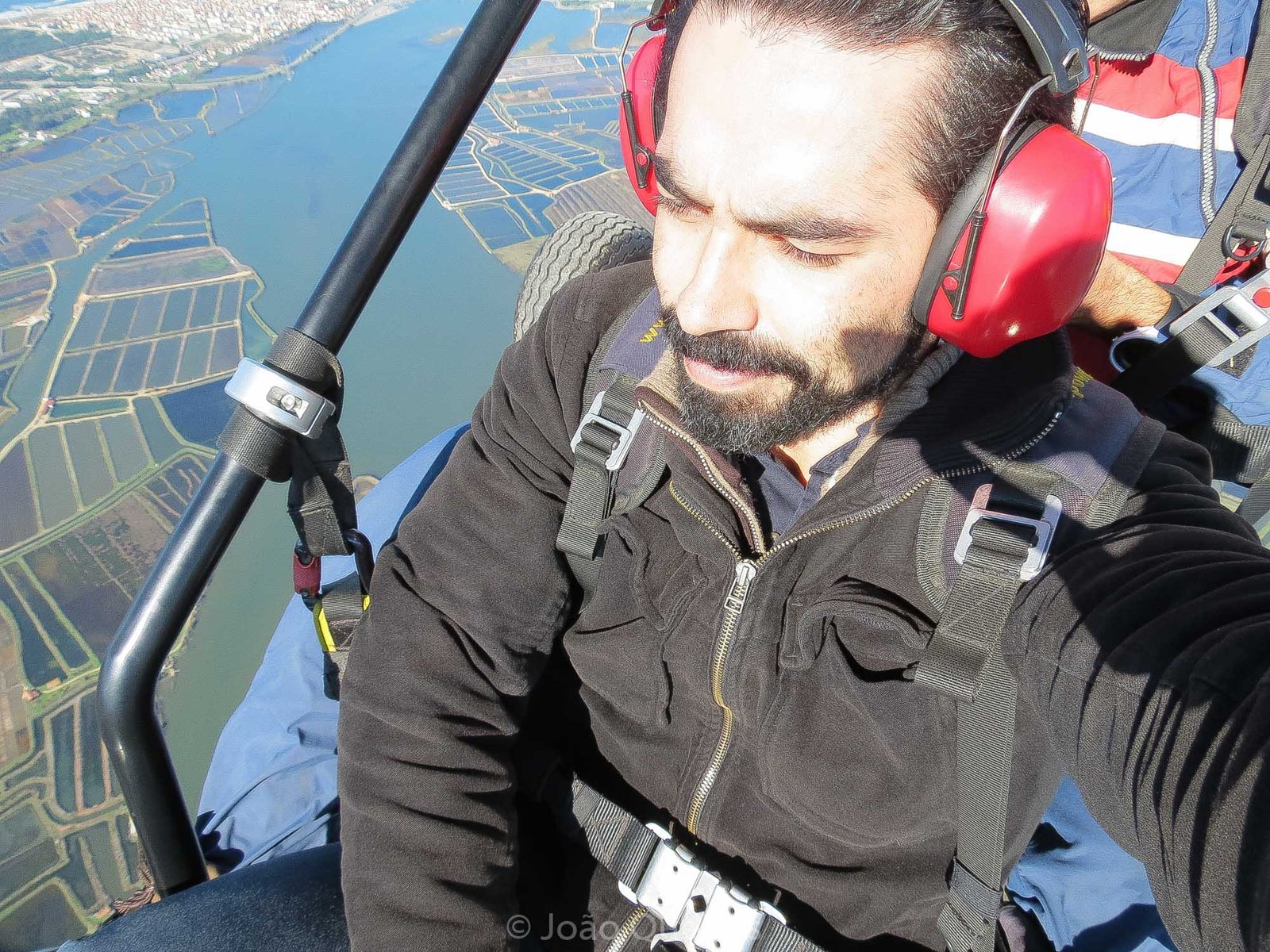 A great part it's due to Ernesto Ferreira expertises, pilot and owner of EmotionFly.com.
Sunset Promenade
If there is something unanimous about Figueira da Foz, got to be its beautiful seafront avenue.
Actually, this long seafront is more a fusion of four distinct avenues linking Figueira's center to Buarcos.
Together the four roads offer almost 5 km long promenade and to me one of most beautiful sunsets on the Atlantic coast. Facing west on most of its way, the avenue gives you a peaceful and clean view of the magnificent Atlantic ocean.
The sidewalks are wide and there is also a bike path along the way. Plenty of restaurants and cafes give locals and visitors all sort of sunset options. To read a book, roller skate or just walk.
Surf / Bodyboard the Longest Straight Wave in Europe
The winter mention of honor goes to Europe's biggest and longest straight wave.
Very popular among the surf and bodyboard community, the Buarcos wave can reach up to 800 meters in length. On the other side of the river is also a very popular surf beach named Cabedelo. There are a few surf schools where it's possible to rent all necessary gear.
Casino
It is impossible to miss the Casino. I could almost say for you to just randomly follow someone, and the chances are that you will find yourself in front of it.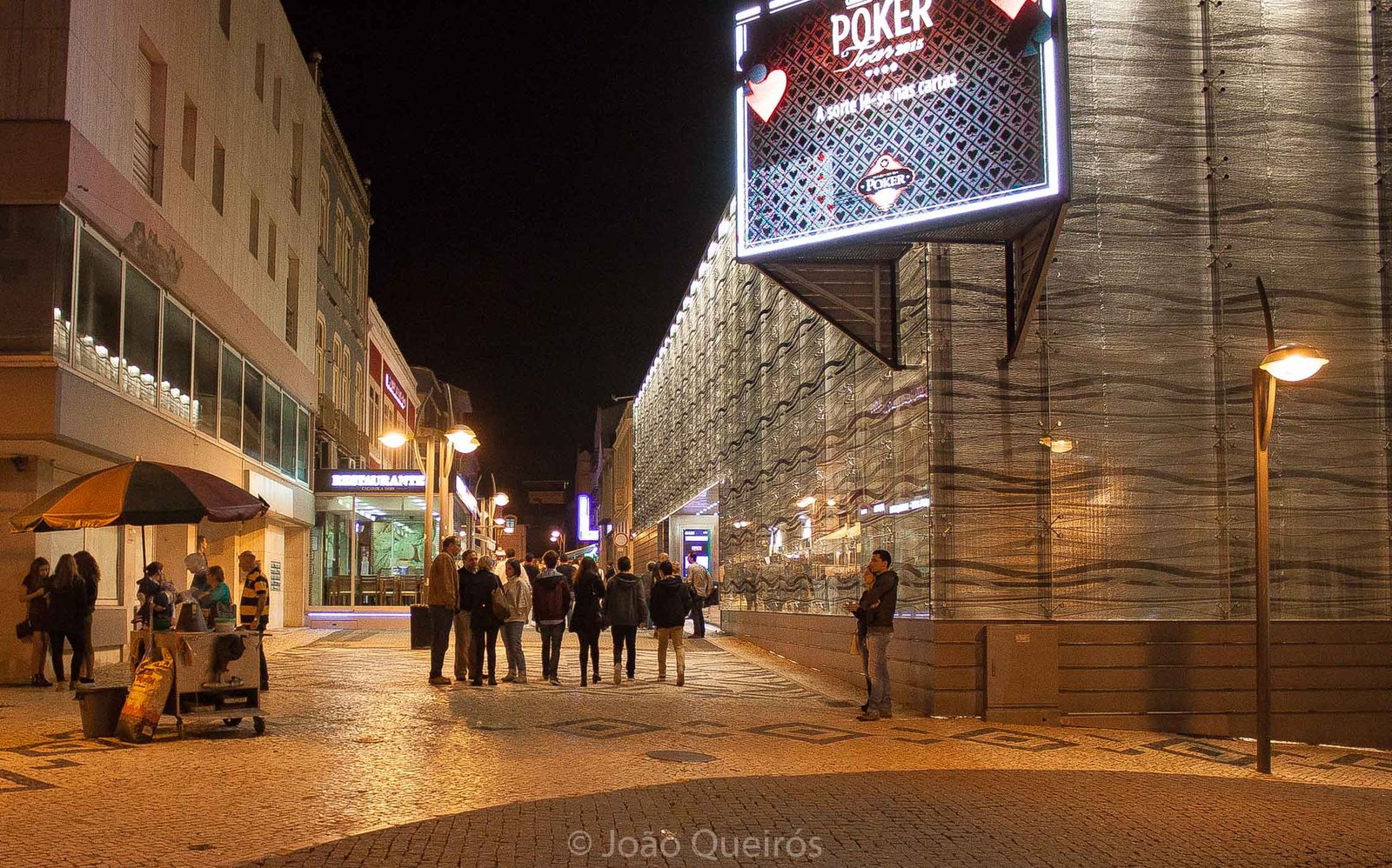 The building is the new city center and where most of the nightlife takes place. Plenty of cafes, restaurants, shops and nightclubs open all over the year. In the summer, one has to navigate the crowd, but in the winter is provides a pleasant after  a here is possible to have a glimpse of summer energy.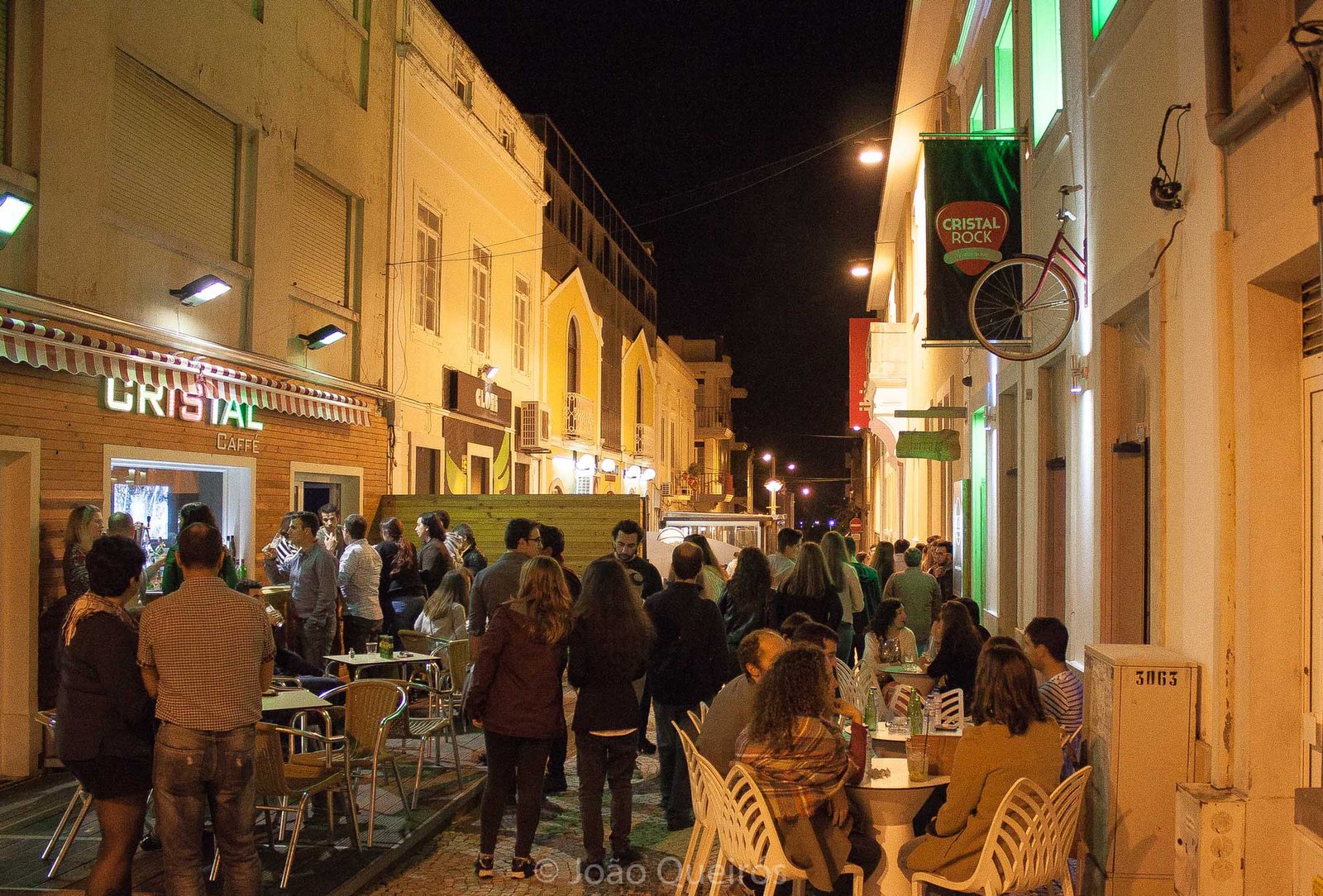 The Casino has a wide variety of cultural events and off course all sort of casino games and slot machines.
Where to eat
Abrigo da Montanha
Adress: Rua do Parque Florestal, Figueira da Foz
Telephone: +351 913 795 340
When the sun is shining on a winter weekend, Abrigo da Montanha is the place to go. It has a million dollar ocean view from the top of the Boa Viagem mountain! Simply outstanding.
The restaurant stands at 261 meters of altitude where once meant to be a tourist office. In the heart of Serra da Boa Viagem Natural Park, it distances a few km from Figueira da Foz, a trip well worth your while.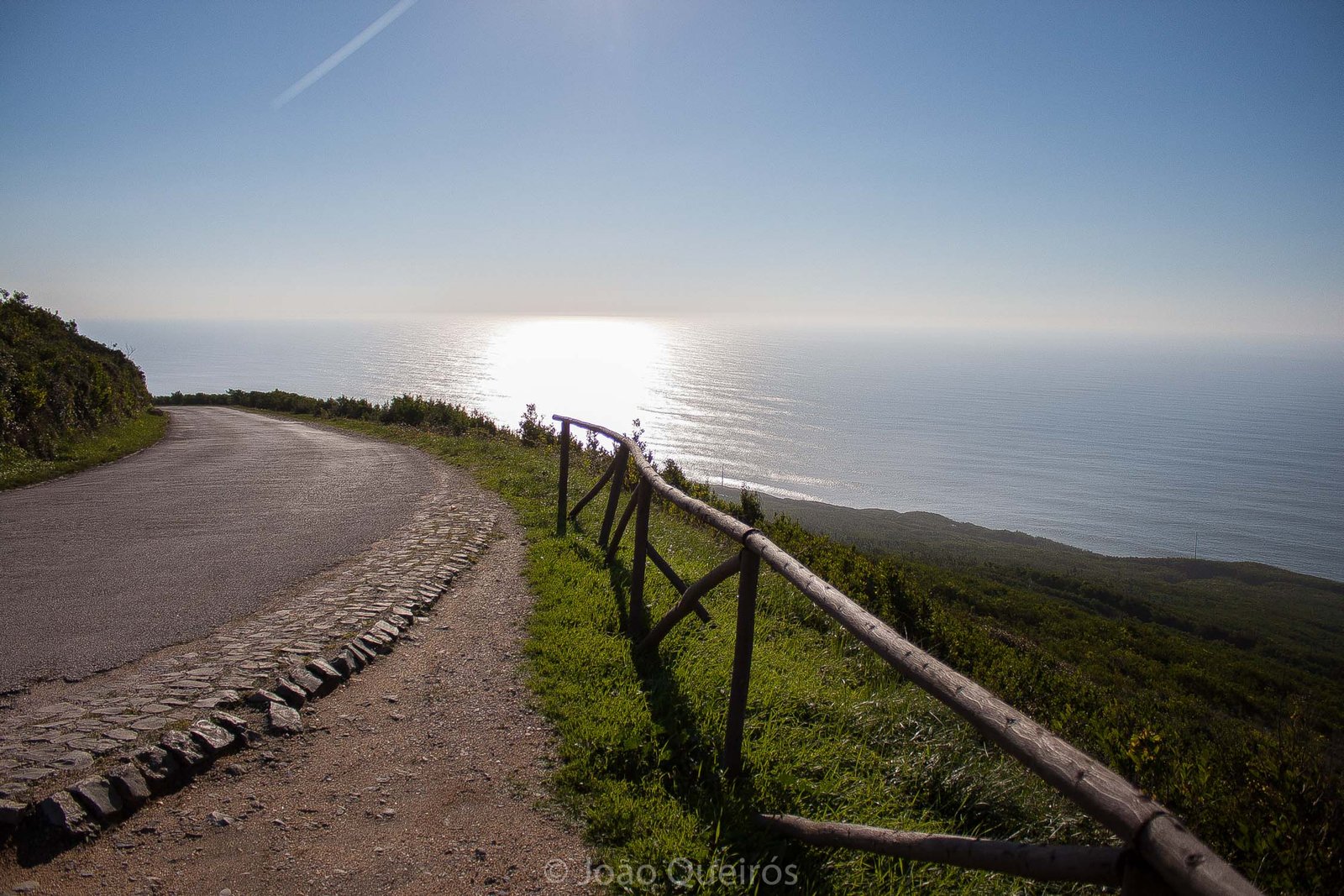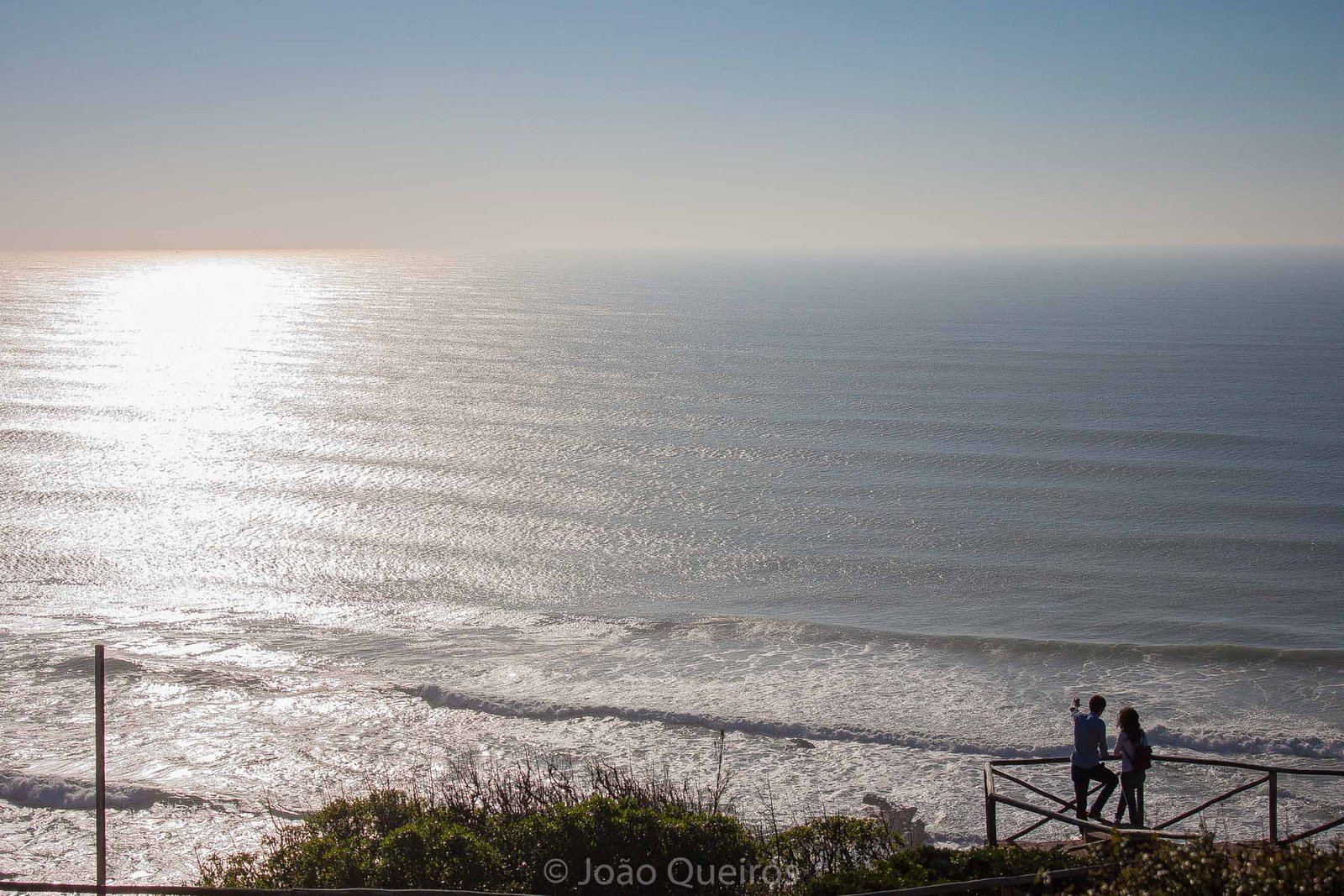 Abrigo da Montanha is that kind of place where I would pay just to sit in their glass balcony. Be able to have a glass of wine and a nice meal is something to rejoice and contemplate.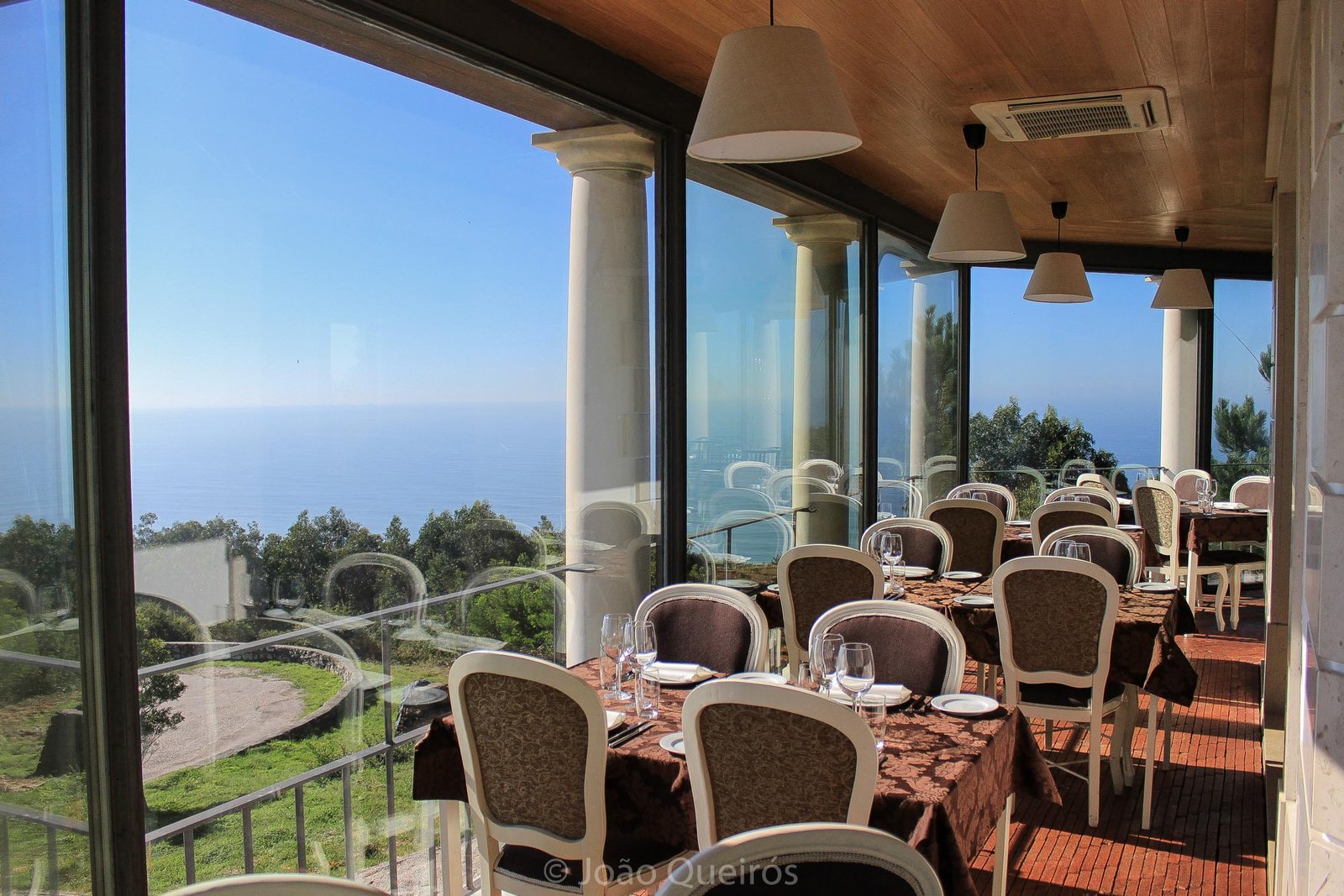 I sat on the glass balcony with that majestic view and had a most lovely meal with the owner, Filipa Sottomayor. A young entrepreneur highly committed to recovering local traditions and its flavors. For starters, I would like to highlight a Figueira da Foz traditional dish called Putas Finas or "fine whores", small sardines battered and deep fried.
To the main dish, I recommend once again a local recipe, Raia Enchambrada or salted skate fish. Like the renowned national salted cod fish, the skate is dried and salted for conservation, and then desalted for cooking. In this case, charcoal grilled. Sliced persimmon was my desert and also my recommendation to end the meal on a high note.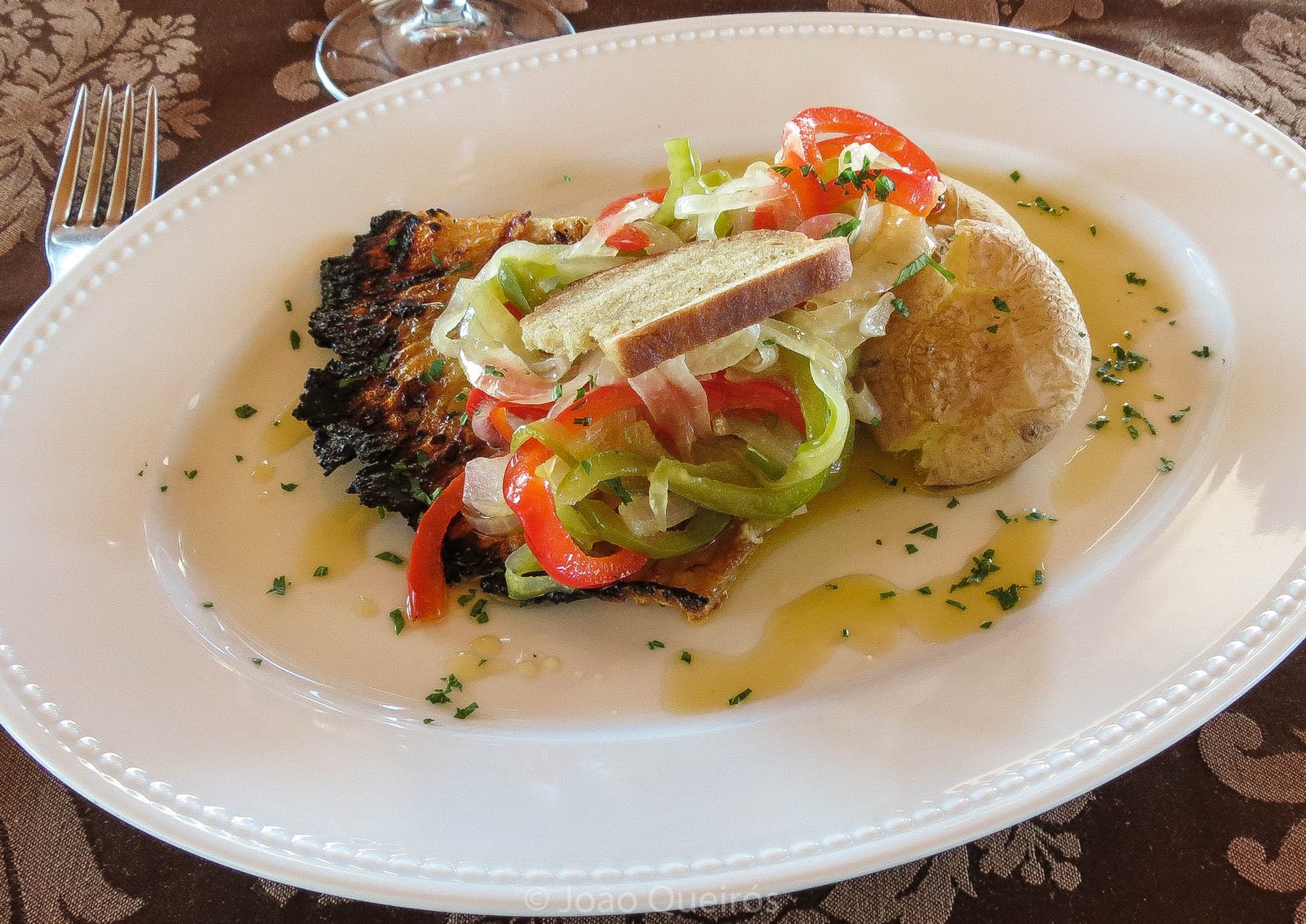 Wine Bar by Cristal
Adress: Rua Dr. Calado nº 24, Figueira da Foz
Telephone: 233 043 837
I am not sure that I will be able to make justice to what I experienced at Wine Bar by Cristal. Let me put it this way, Wine bar by Cristal could easily be in any major European capital, next to its most famous restaurant, and it would be jam packed every day of the year.
The menu and service are completely unpretentious. Simple dishes, nothing fancy, but every single thing produces a wow effect. So the best advice is to go early in the evening to get a seat, and hold on to it. Because your chair will be envied as long as you stay there.
The restaurant has two floors, where the downstairs is an award winning bar, winner of the best Carta de Destilados by Revista de Vinhos (Portugal's best Spirits Menu, by Wine Magazine) with a selection of 120 of gins. In the first floor, you can find 30 dining seats and a fine acclimatized wine cellar with a remarkable 500 wine references.
Ricardo Pereira the owner, is a confident young man, with hospitality running in his veins. In conversation, he told me that the Wine Bar by Cristal restaurant is more a life fulfillment than a profit directed business. Waiting tables, recommending wines and speaking with clients is what he likes to do. And it is impossible not to sense the loving atmosphere between Ricardo and his clients. I let Ricardo choose my dinner for me, from entrances to deserts, passing through wine selection, I had nothing but good surprises.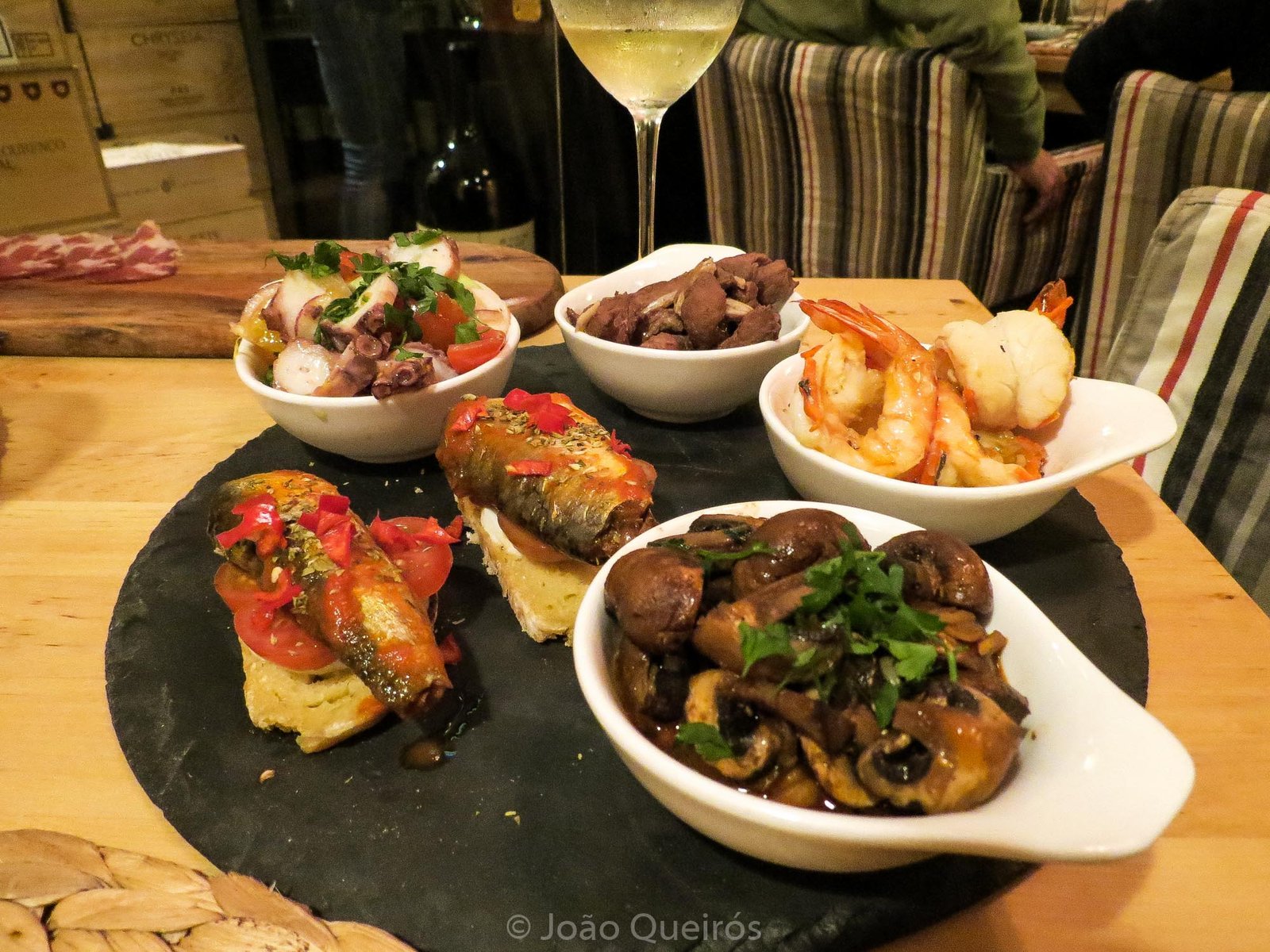 One of Ricardo's strengths is his deep acquaintance in all his products and suppliers. He told me about the butcher and his Arouquesa dry-aged beef from where his infamous stakes come from. The cheese maker only known as Tó Queijeiro ("Anthony Cheesman" in absence of better translation). Also the wines origins and why they match with a particular flavor. A collection of little details and combinations that turned my meal into a delightful experience.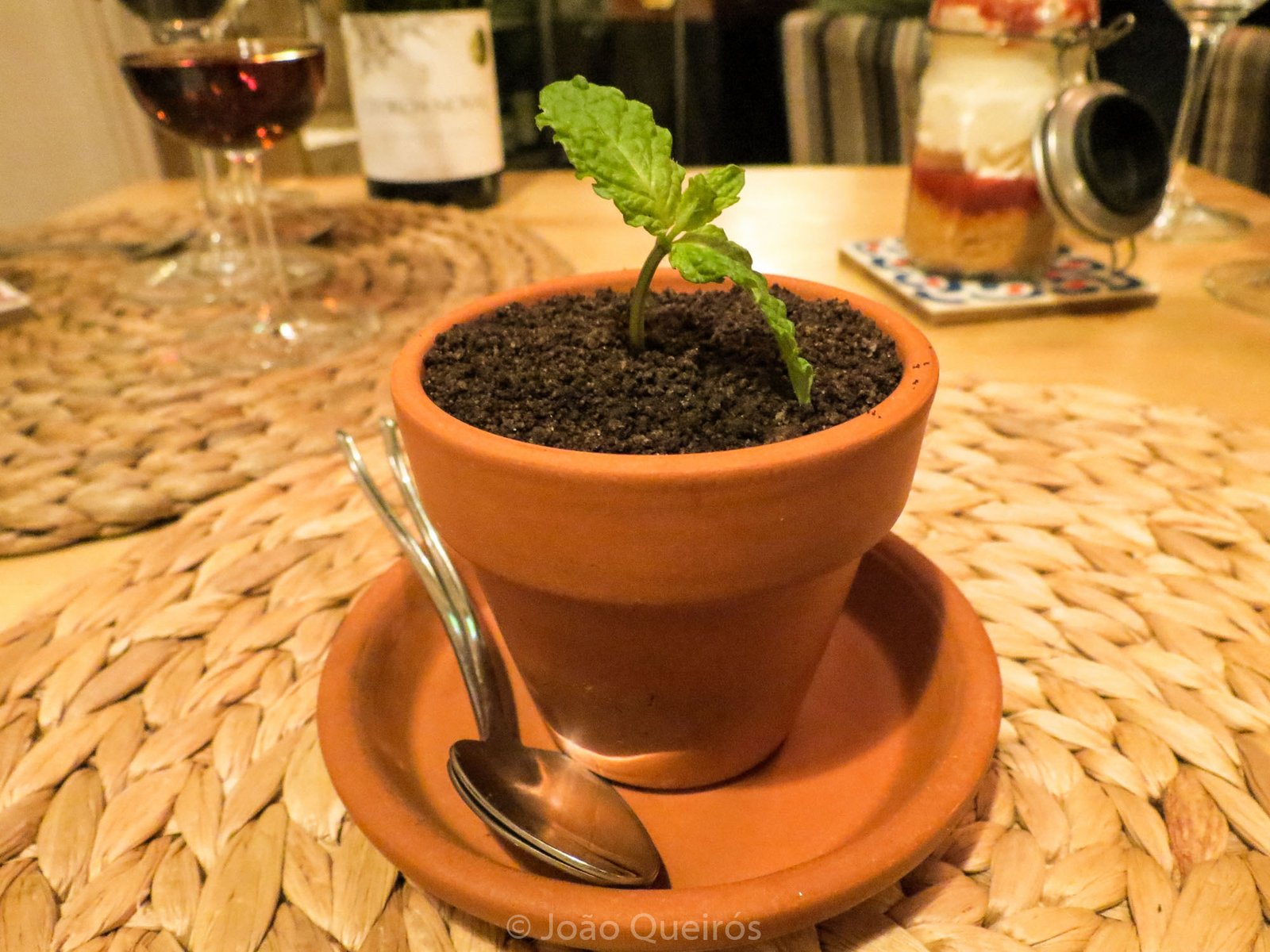 I have to say that is tempting to highlight every dish and wine there, but I prefer to emphasize the whole experience. Since I arrived until that dry gin outside that Ricardo prepared me, I went through nothing but pure pleasure.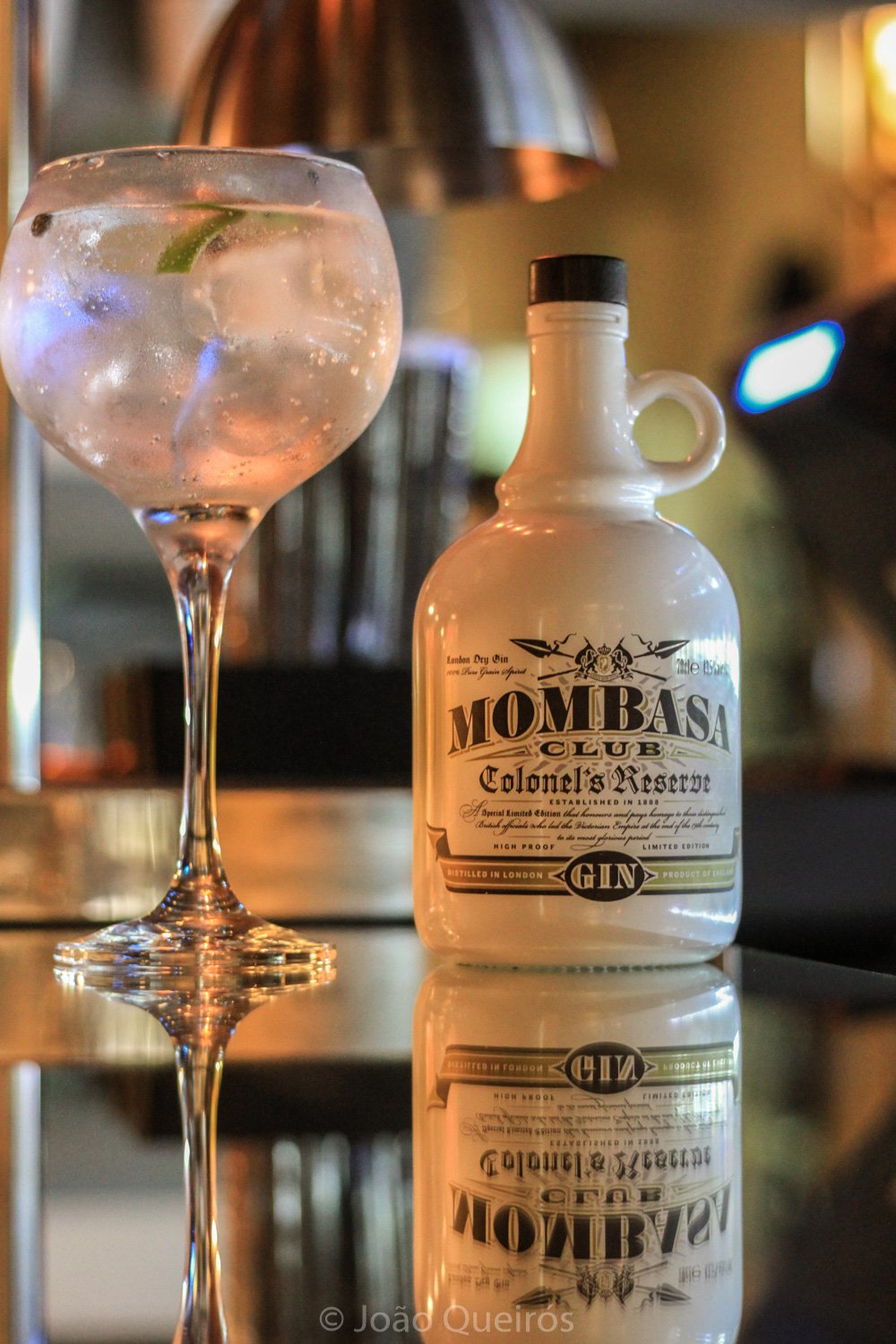 Casa de Pasto Andaluz
Adress: Rua Maestro David Sousa 110, Figueira da Foz
Telephone: 233 420 454
In front of Universal Boutique Hotel is a very simple and sober restaurant. Most of its clients are surrounding local workers so the word is value for money. When I was there the dish of the day was monkfish rice. The rice was perfectly cooked and the monkfish deliciously tender, but the portions are something out of this world. In the end, the bill was 18 euros for two with wine included.
Where to stay
Universal Boutique Hotel
Adress: R. Miguel Bombarda 50, Figueira da Foz
Telephone: 233 090 110
The hotel was first opened in 1904 and it was the 17th registered hotel in Portugal.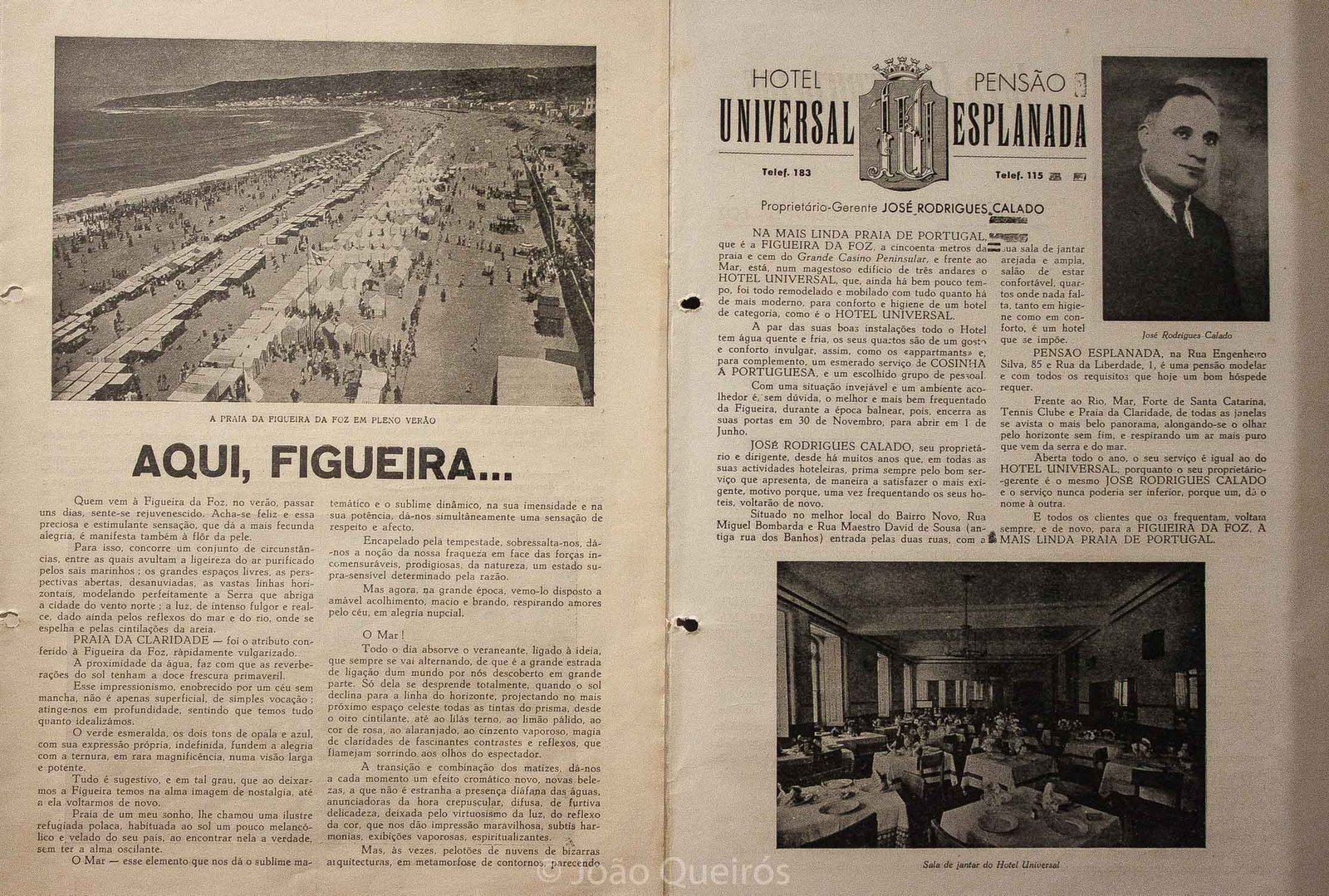 The hotel was totally and newly rebuilt by the hand of Teresa Leão Costa – its proud owner. The two million euros restoration preserved its facade and turned the hotel into a modern, but still full of history building.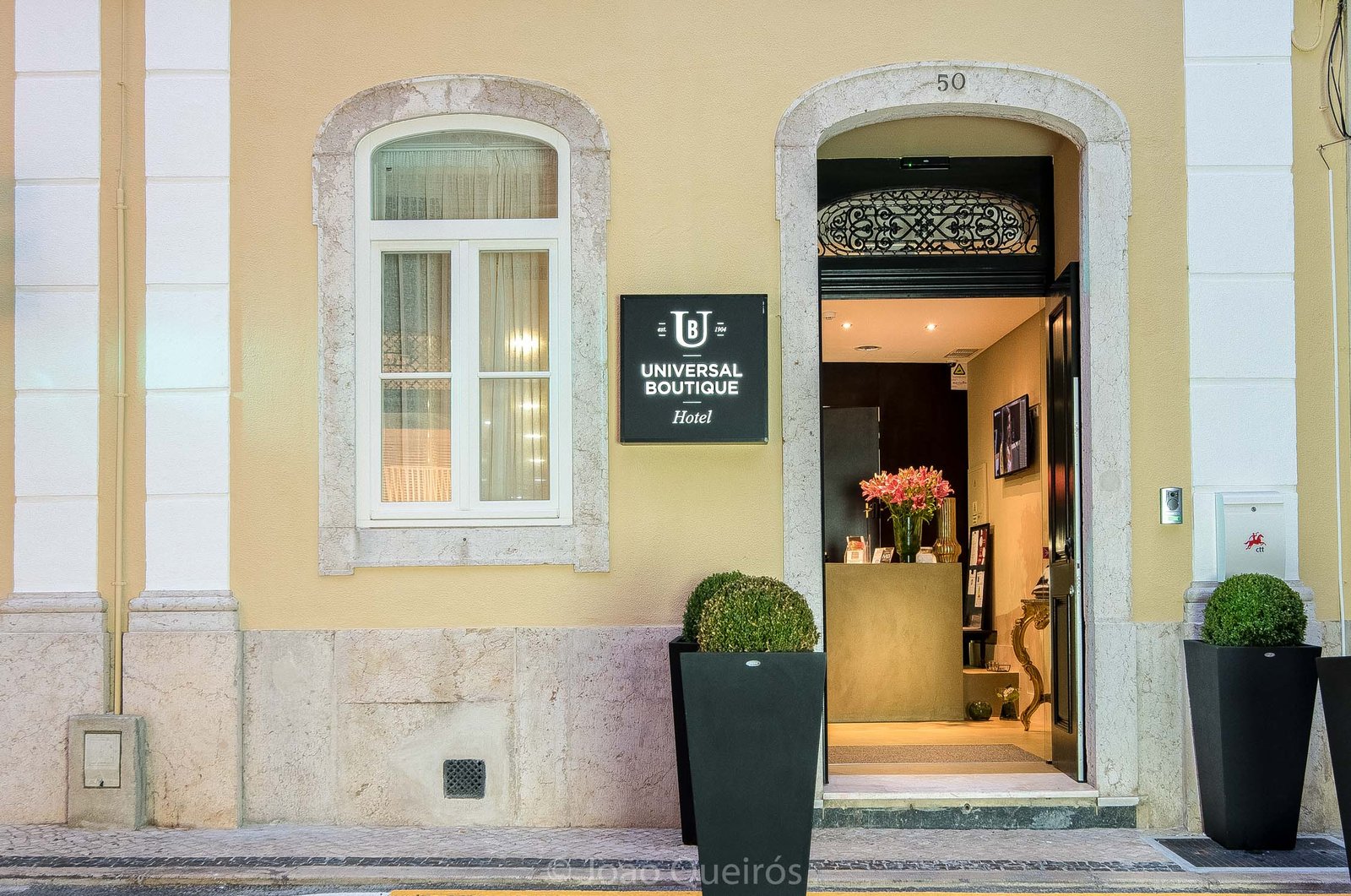 The Universal Boutique Hotel is very well located, just a few meters from the beach and in the heart of the commercial center, next to the Casino.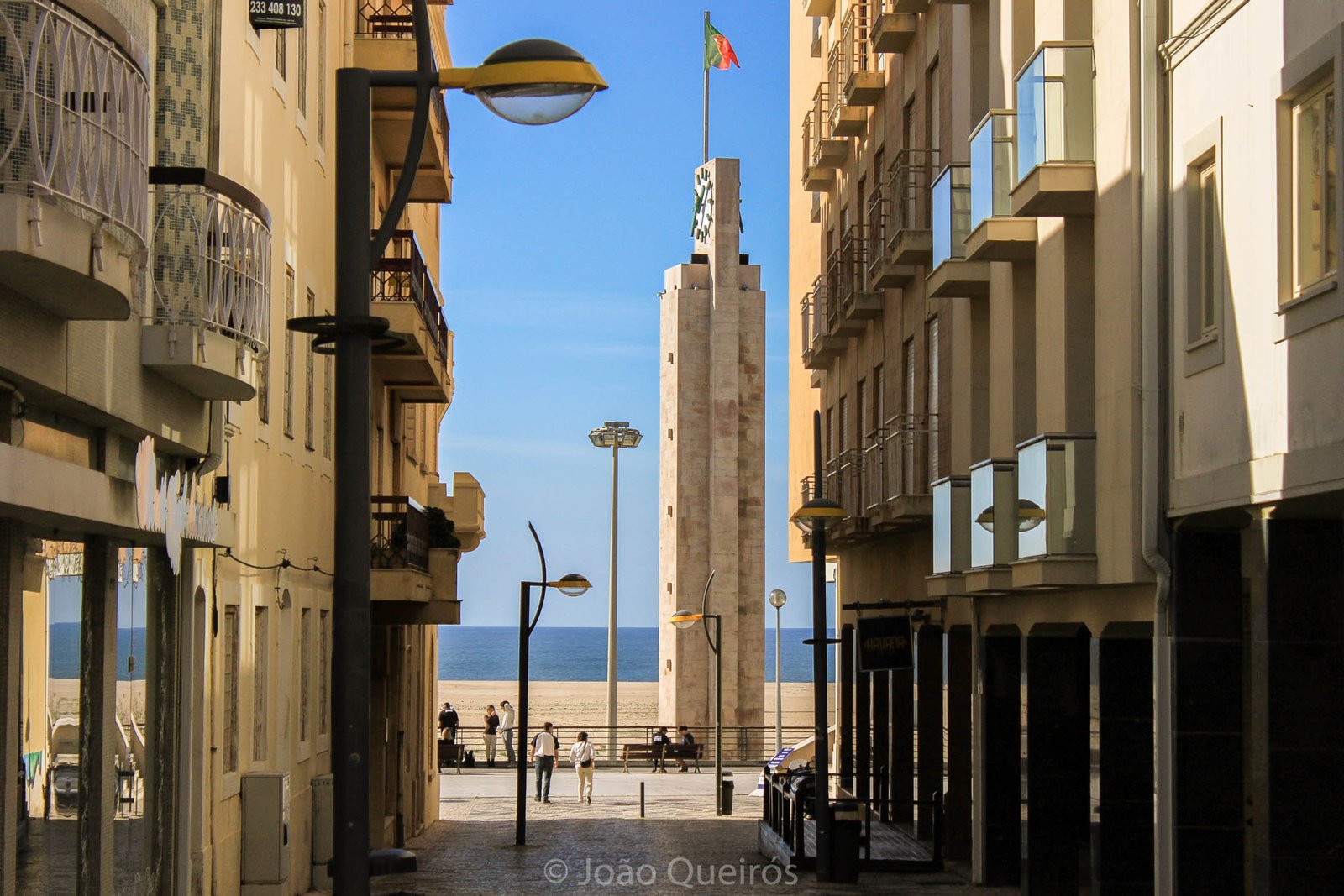 With its 29 rooms, the hotel gives an extra intimate and cozy feeling becoming the obvious choice for off-season stays. On the hotel ground floor, two very different spaces coexist. Facing outside is the bar and lounge, where the decor and furniture are a balance between vintage and contemporary style.
On the inside, the straight lines and the glass stair railings, give a modern and minimalist spirit to the sky lighted stairways. On the level below, are the Breakfast and meeting rooms.
The rooms
I stayed on the top floor, in a twin room with a balcony. My room was boundless with two big closets, a queen size bed, a couch, a useful desk and a good size bathroom. The two patio windows led to an also sizable balcony. From there I had a refreshing view to the beach and the city center.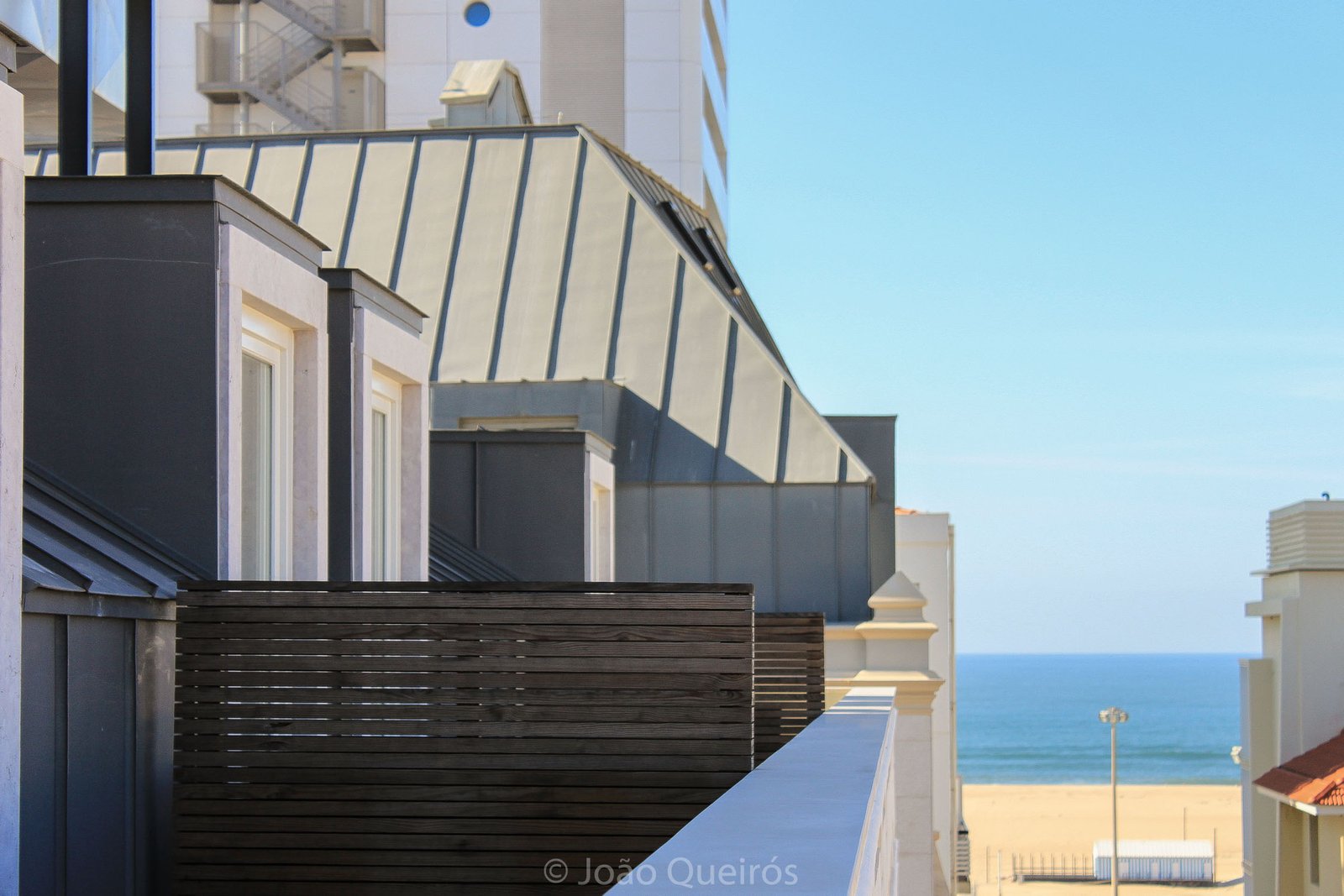 Overall, it is a splendid space to be in. And I could easily see myself there for long periods of time in any time of the year.
The details
The Universal Boutique Hotel is four stars rated but in many circumstances has five stars quality.
The breakfast has an impressive variety of fruits and cakes and the staff always prompt to please more exquisite requests. Bacon and eggs are fresh and done in the moment.
In the lobby entrance is a little trolley with iced tea, a very convenient and refreshing detail for guests to enjoy.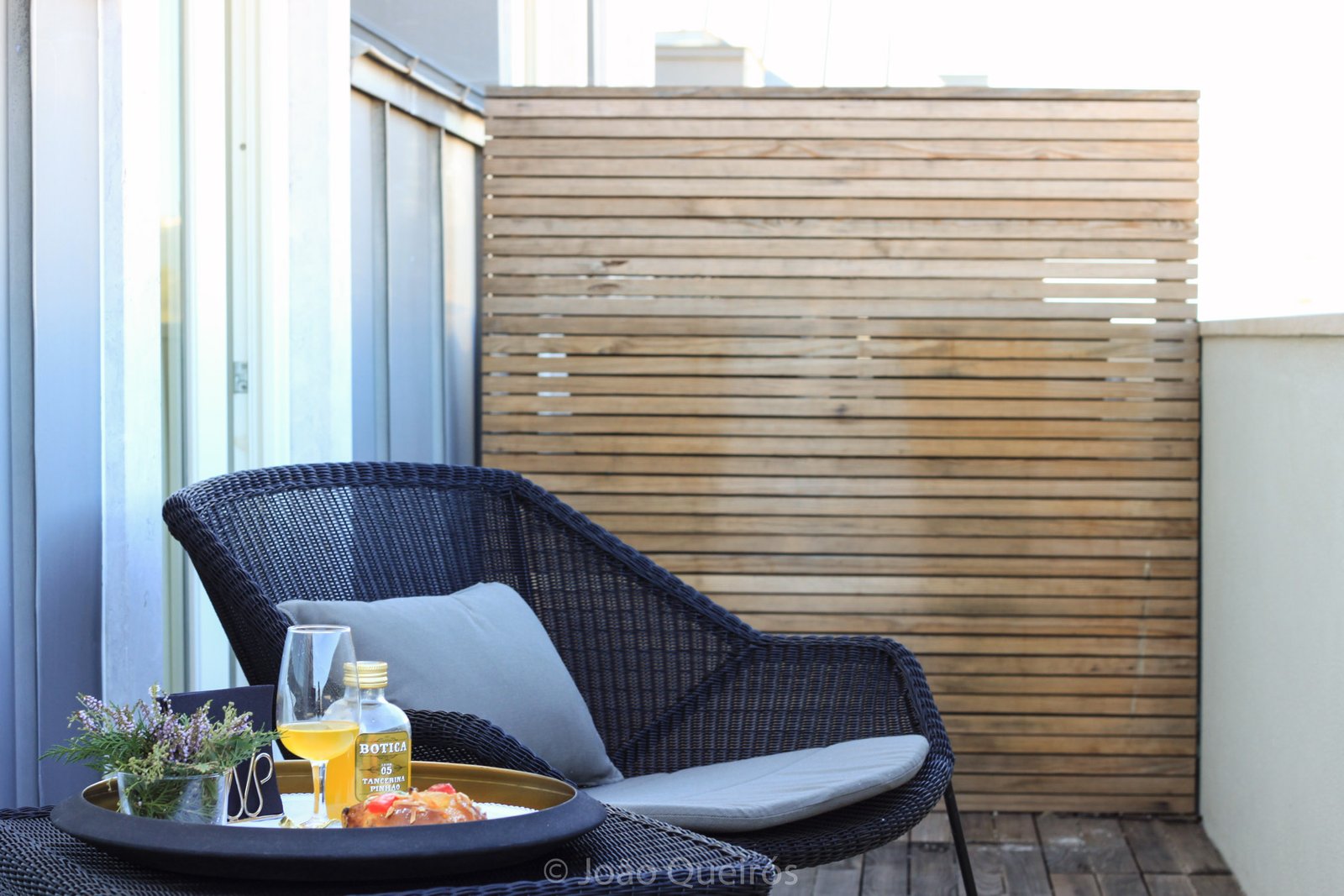 During my stay, every day I went back to my room, something that expresses Teresa Leão Costa hosting vision was expecting me. Biscuits and a bottle of Port wine, local pastry, orange liqueur or king cake, small details that made fell cherished and special.
Disclaimer:
Figueira da Foz Travel Guide – Winter was made in collaboration with Universal Boutique Hotel, Wine bar by Cristal, Abrigo da Montanha and EmotionFly.com who kindly contributed with their services. All opinions are my own.