Ever since I visited Porto as a part of my Foodie Photography Tour of Portugal during the summer of 2014, I have become a die hard fan of the foodie scene in Porto. Purely based in small eateries, some of which are over a century old, this city has become a foodie beacon in Europe. A much deserved change of the long lasting impression that Porto was only about Port Wine. The truth is that these places are not fancy. Not by any means! They are frequented by all social classes and nowadays it is common to see a banker sharing elbow room with a mail man at some of these tiny little places
Where to eat out in Porto is a collaboration post with Taste Porto Food Tours to provide you with a guide to the best restaurants and local eats in Porto. 
.
Because, and this is what love more about this city, it only about the food! Nothing else! No drama, no carpeted floor, no expensive china, no celebrity chef! Its you, the cook (usually the wife), the barkeep (usually the husband) and a youngster helping out with the customers (usually the son or daughter).
[wp_ad_camp_2]
I met André Apolinário during my stay at Porto, and I loved his "Northern Portuguese" way of being, his heavy accent, the way he enthusiastically told us the story of every dish and how he treated every eatery owner by its first name. Make no mistake about about it, André loves his job as much as he loves Porto's food scene, so be prepared to immersed in Porto's food revolution.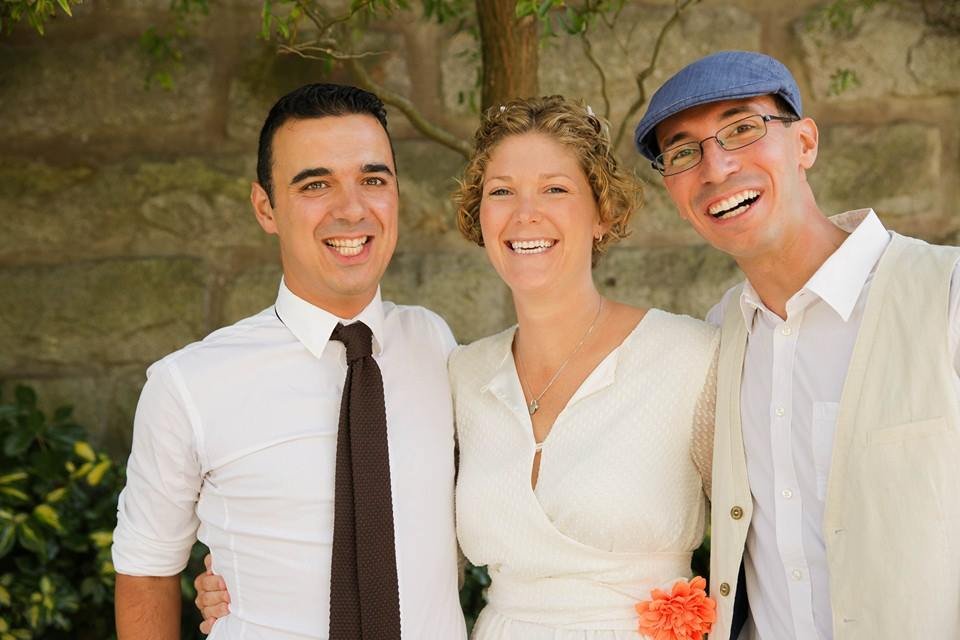 From André's words:
I am a passionate fan of Portuguese Gastronomy. Trying to sort out a list of the top 10 restaurants and "tascas" for "petiscos" in Porto was one of the toughest tasks I ever had to complete. Not because I lacked options, but because I could easily write the top 50 and would still be leaving a few amazing places out… So I looked at it as I run my tours: I tried to select the places that are the most off the beaten paths of tourist routes, and away from the most well known places in town.
So here are my,
Top 10 places to eat out in Porto
Flor dos Congregados
Travessa dos Congregados 11
4000-179 Porto
Tel: 22 200 2822
The 162 year old restaurant, one of the firsts in downtown Porto. Still ran by the Dourado family, it is the place to try one of the most exquisite sandwiches in Porto: Terylene sandwich. A double decked sandwich with roasted pork loin and smoked ham, taking over 24h to be prepared. Yes, you read me right, over a day! The pork loin is marinated in wine, garlic, onions, tomatoes, rosemary, oregano, chili peppers and a hint of magic for over 20 hours. Afterwards it will be roasted in a wood oven for over 3 hours… It is then served in a double sided bread bun, with pork loin in the lower level and smoked ham in the upper level. Porto's own version of Slow Food. Have it with a glass of red sparkling wine from Bairrada and you'll see why I love this sandwich so much!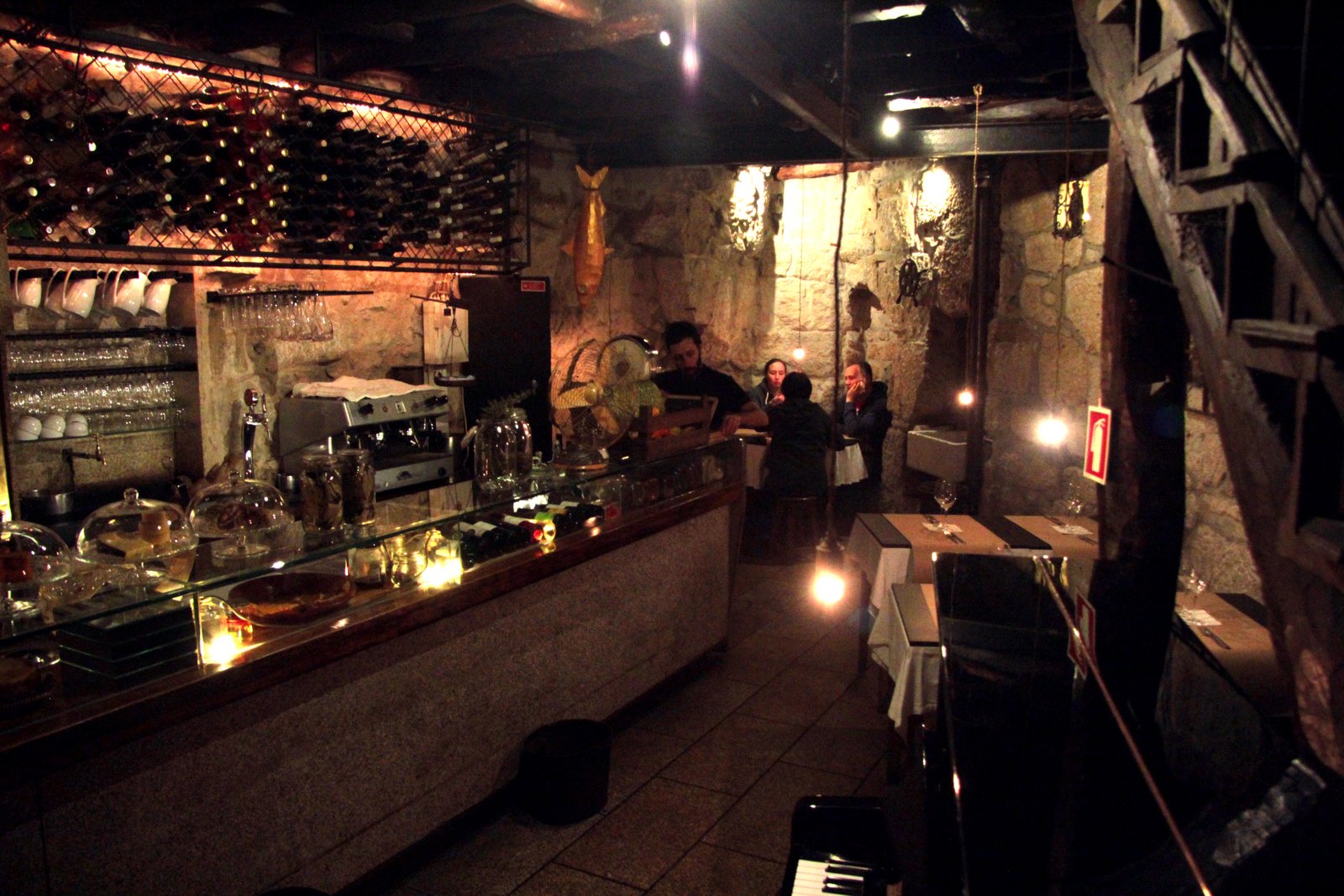 Rei dos Galos de Amarante
Rua das Taipas 121
4050 600 Porto
Tel: 222 057 297
It should be mandatory to visit this place if you wish to fully understand Portuguese gastronomy. Why? Might you ask? Easy, because in this small, family run restaurant you will be able to sample unique items from Northern Portugal's gastronomy. From roasted kid lamb, tripe stew, roasted duck and the crown jewel: "Arroz de Cabidela" – homebred stewed chicken with rice, seasoned with blood (from the chicken) and vinegar. It doesn't sound as good as it tastes, but believe me, it is a true delight. In order to taste such delicacy, one needs to order it two days in advance, as the chicken will come from the owners, Rodrigo and Maria Rosa´s farm in Amarante (60km from Porto). All in the name of quality! The familiar feeling is strongly cultivated and the most faithful customers even have their names embroidered in the napkins…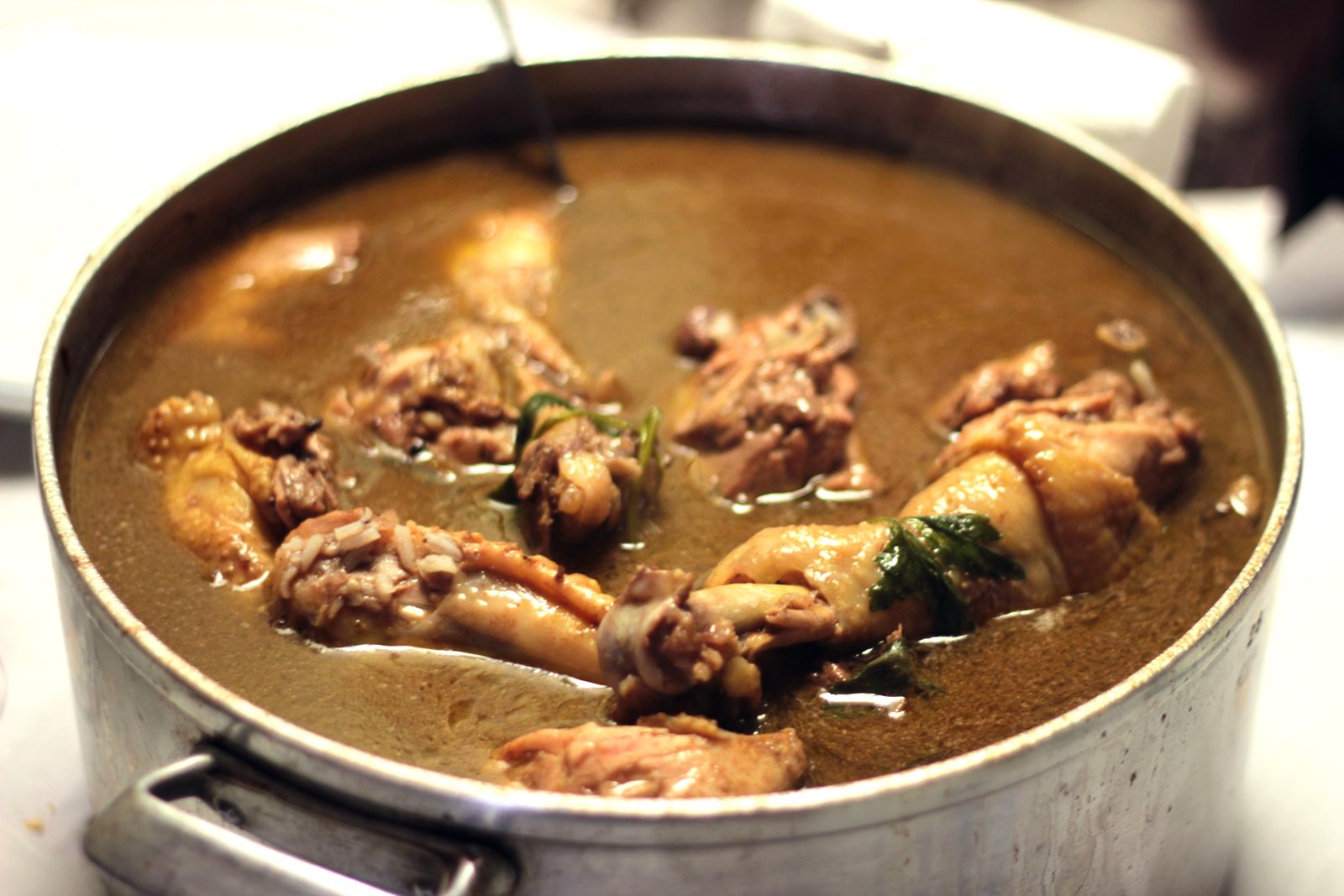 [wp_ad_camp_2]
Adega Quim
Rua da Madeira, 226-230
 4000 330 Porto
Tel: 222433146
Adega quim is a small place, which has been helping the hungry travelers who arrive at São Bento train Station for over 50 years.  Here "petiscos" and sandwiches rule the menu options. Panados -the Portuguese version of the Viennese schnitzel, and of course, the ever present octopus salad – Boiled octopus, red and green peppers, onions, parsley and a looooot of olive oil. My suggestion is to sit on the counter and don't be surprised if they hand you a box of wood toothpicks as cutlery. If you are not so daring, you can ask the petiscos to be served inside a bread bun to go (my favourite). It opens quite early (at 6am), so if you wake up with munchies or if you're going to bed late, give this place a go.
Casa Aleixo
Rua da Estação 216
4300-171 Porto
Tel: 225 370 462
If you ask anyone in town where you can eat the best fried octopus fillets, the answer will be: Casa Aleixo! Facing Campanhã train Station, you can't miss it, and you shouldn't! Founded by a gentleman from Galicia, it was later bought by Ramiro Gonçalves and is now run by his son, Ramiro Gonçalves. Mr. Ramiro Gonçalves (the father) came up with the idea of doing the fried octopus fillets and to ensure quality he would go daily to Povoa do Varzim (35km North of Porto) to purchase the freshest octopus. And the tradition is kept by his son! Every meal is prepared in the "laboratory" (the kitchen) and wine comes from the "pharmacy" (wine cellar) and at the end of the meal you'll be asked to move to the "torture chamber", where you'll drink coffee and pay the check!
[wp_ad_camp_2]
Tasca da Piedade (Adega Rio Douro)
Rua do Ouro 223
4150 553 PORTO
Tel: 226170206
The actual name of the place is Adega Rio Douro (since it's facing the river) but everyone knows it by Tasca da Piedade, named after the owner Mrs. Piedade. It's also known for having "fado vadio" – traditional Portuguese music, here sang by non-professionals every Tuesday in the afternoon from 4pm until 7pm. While the music flows you can try a lot of Portuguese "petiscos", such as stewed chicken guizzards, meat croquettes, "bifanas" and the crown jewel "iscas de bacalhau" – boiled codfish loin enveloped in a parsley omelette. The symbiosis between food and music is guaranteed, as everything here is done with passion. You might even be lucky to listen to the owner singing a few "fados".
Conga
Rua do Bonjardim, 314 – 318
4440 452 Porto 
Tel: 222 000 113
Located close to the town hall, it's known as the "Casa das Bifanas" (Bifana house) ever since it opened in 1978. In the menu you can find a lot of Porto's and Portugal's delicacies, but you have to try the house specialty: Bifana. It's a pork meat sandwich, in which the meat is cooked in an incredibly spicy sauce. This sauce is the most important piece of the sandwich and its recipe a true hidden secret. I can imagine that it has tomato sauce, beer and ultra-powerful bell peppers. If you like spicy food then Conga is your place.
[wp_ad_camp_2]
Casa Nanda
Rua da Alegria 394
4000 Porto
Tel: 22 537 0575
Located in Alegria Street this place started as a "Tasca" – Small eatery, which later became a restaurant. Casa Nanda is a place that holds some of the oldest gastronomical traditions of Porto. Chef Fernanda, whose nickname hangs above the door is a lovable woman, and a truly talented cook, which makes it even harder to single any item out of the menu. Even so, my ultimate my choice goes to her "Rojões"- fried pork belly cubes with pickles and fried potatoes. The tenderness of the meat is unprecedented and its juiciness legendary…
Adega Vila Meã
Rua dos Caldeireiros 62
4050 137 PORTO
Tel: 222082967
Mr. Armando and Mrs. Francisca run one of the hidden gems of Porto's gastronomy – the Adega Vila Meã. The restaurant is located close to the São Bento train station, and inside you can sample Portugal's bold flavors, from codfish to roasted veal and from hake fillets to grilled pork. On top of these delightful options, this restaurant is known for the "Cozido à Portuguesa" – a Portuguese food culture landmark! This traditional Portuguese dish is prepared with prime quality meats – sausages, veal and chicken, pork belly, bacon, all kinds of smoked meat, and vegetables such as cabbage, carrots, turnips and potatoes. The portions are huge, so remember that this will probably be the only meal you will need to eat during the whole day.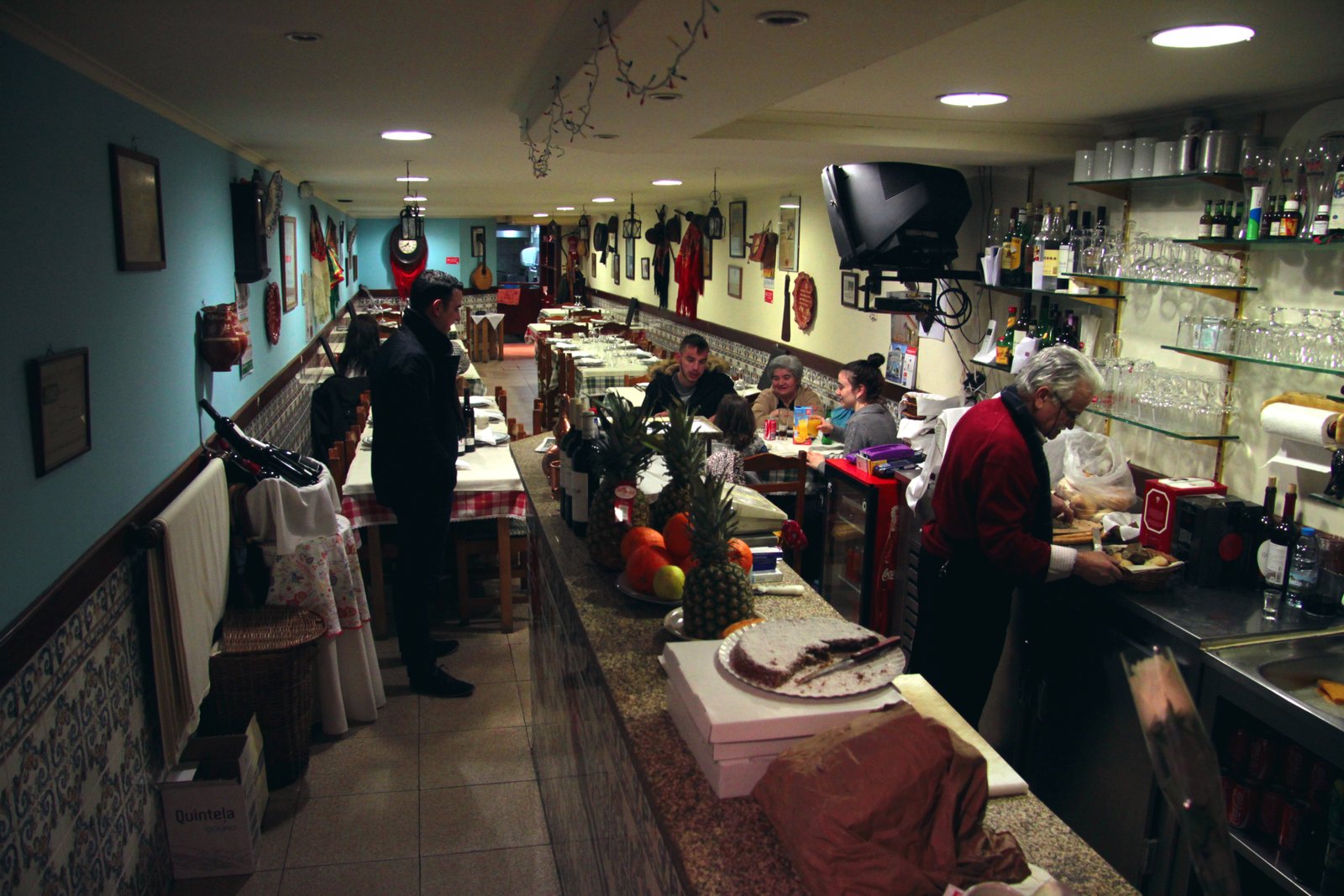 [wp_ad_camp_2]
Taberna do Largo
Largo São Domingos 69
4050 545 PORTO
Tel: 22 208 2154
It is a fairly recent place, opened in February 2013, located close to Ribeira, in Largo São Domingos.  This restaurant aims to bring to Porto a little bit of each region of Portugal. Focusing on small scale producers and in working directly with them, Joana and Sofia (the owners) managed to have a wide selection of traditional food items from all over the country. There are three things here that makes you have to go there: wine, muxama and cheese. "Muxama" is smoked tuna fish, coming from Algarve, and it's quite hard to find it in Porto. Have it with scrambled eggs and tomato jam. Their selection of cheeses covers the entire country, including the Azores and its São Jorge spicy cheese. One of the most incredible chesses for me  is "Caganita". A buttery and flavorful cheese from Alcains, that here is served hot with olive oil and herbs…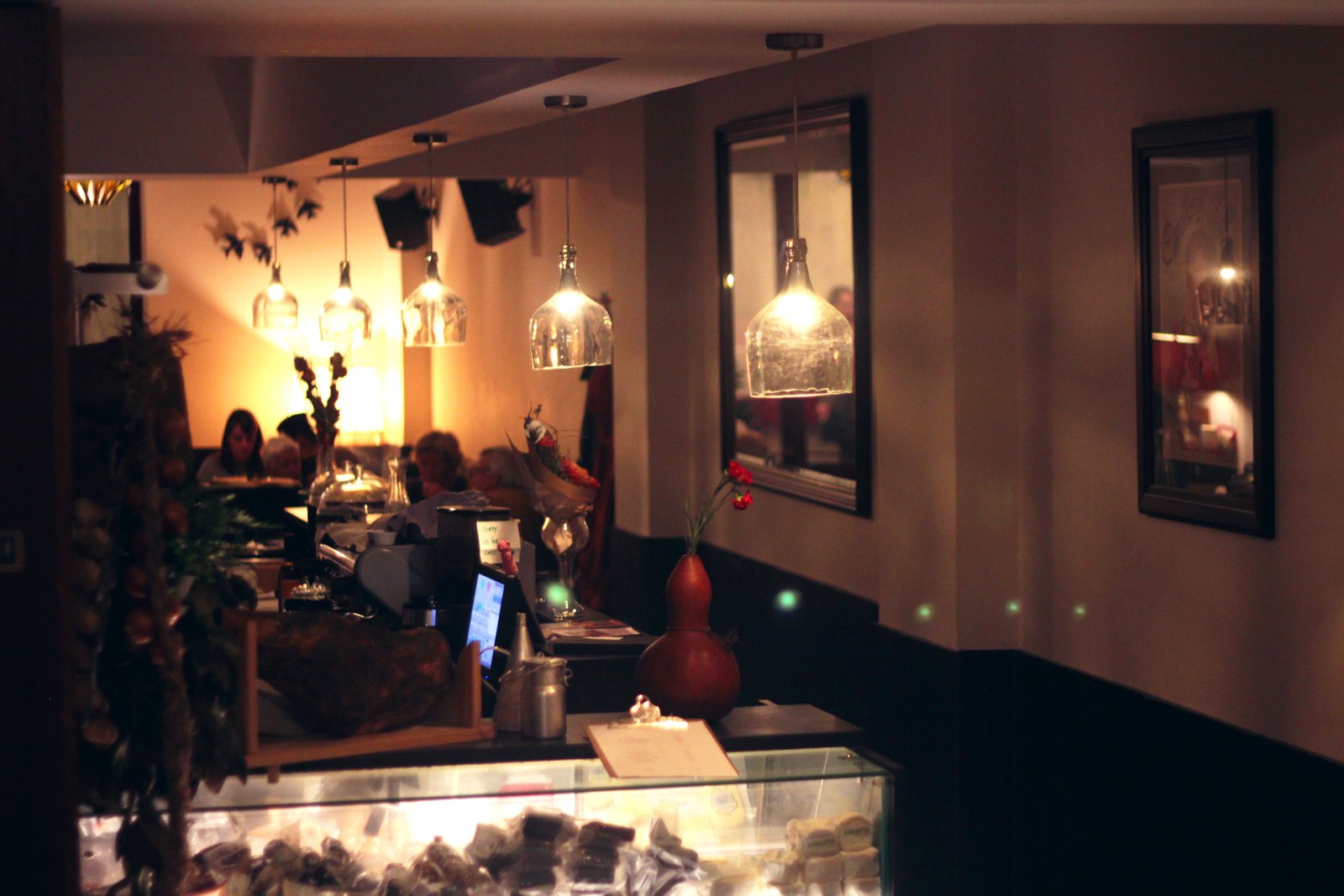 Taberna Santo António
Rua das Virtudes 32,
Porto
Tel: 22 205 5306
This small family run restaurant is located next to one of the most scenic views in Porto, at Passeio das Virtudes, and is owned by Mr. Vitor and Mrs. Hermínia. Everyone is welcomed as part of the family and the food comes from the heart. Stewed cows tongue, grilled "alheira" (a sausage made without pork), fried liver in onion sauce and so many more delicacies that Mrs. Hermínia prepares. In the whole of Porto this is the best place for: codfish "pataniscas" and chocolate mousse. "Pataniscas" are egg, flour, parsley and shredded codfish omelet, served with rice and read beans. Chocolate mousse is made daily by Vitor. As soon as the last customer leaves the restaurant Vitor will start making the mousse. But what makes it so special? The fact that Vitor uses no electrical appliances to make it and his recipe (a secret)! Ask for a shot glass of "aguardente" to go along with it and you'll understand why I'm so crazy about it.
[wp_ad_camp_2]
Disclamer:
This post was published with the contribution of André Apolinário from Taste Porto Food Tours.
Tours run twice a day and tickets cost about 60€ per person. Make your booking here.
Taste Porto Food Tours
http://www.tasteportofoodtours.com/
Phone :+351 967 258 750
info@tasteportofoodtours.com
Photo credits to :
Cat David