There are few places in the world like Zé Manel dos Ossos. Not just because it is a regional restaurant, not just because it's a 'dot' in the middle of a tight alleyway in Coimbra, or because it has only seven tables, serving almost the same menu for over 30 years. Not even because of the thousands (perhaps millions) of nostalgic messages that customers leave written on the tablecloths or glued on the wall with tape.
Ze Manel dos Ossos is unique because it represents everything that is special, remarkable and singular in the Portuguese palate and will continue to be for many more years, while Mario, the current owner, is alive and continues the legacy of his mentor – Ze Manel. What Mario Rui, Carlitos, and Jorge do there every day is about the fulfillment of a promise, a tribute to the father of Zé Manel, who taught them since they were kids, all they know. Whatever the type of customer, or their profile, this restaurant, and its concept will remain unchanged as a place that serves nutritious and complex dishes, which are able to leave anyone satisfied for many hours.
We are talking about Beco do Forno, where at noon there is already a queue of about ten or fifteen people waiting for a table. Mario, with his large head, looks out the door, searching for his regular customers. Today they will have a surprise because Carlitos tested an Oxtail stew to give them to try. We remain to wait outside talking to two loyal clients of  Zé Manel. One of them is a doctor and rugby player and the other is an official of the city council, who goes on vacation after lunch and has decided to start celebrating his well-deserved rest. The two of them are a sort of Laurel & Hardy type and have lunch companions for almost 25 years.
Finally, it's our turn to be seated. The restaurant decor is reminiscent of an old republic of Coimbra's Upper Town. Dotted around the restaurant is a boar's head with sunglasses, a crocodile, clappers of the field cows, oxen horns, tiles and a mish-mash of amulets and caps covering bottles of red wine. "There is much treasure hidden behind these messages," says Carlitos, showing me the 10cm depth between the latest notes and the actual wall. Such decorative pearls include a display of original paintings, never seen by employees, among which includes the famous image of Frank Zappa sitting on the toilet.
Let's start with bones, the legendary dish for which this place is known for. Mario says that they are just for rent since after we have eaten the meat and have wetted the bread in the sauce, they must be returned to the chef.   The establishment began as a tavern, and the introduction of the bones by Zé Manel was a way to offer warmth to its customers, to accompany the wine from the barrel. "This way they were eating something, calling for friends to socialize with them, drinking more than one glass, and thus the spirit of the establishment began to be more than just a stop for a drink," recalls Mario. The pig bones are nowadays made in the manner taught by Zé Manel, as are all the other recipes.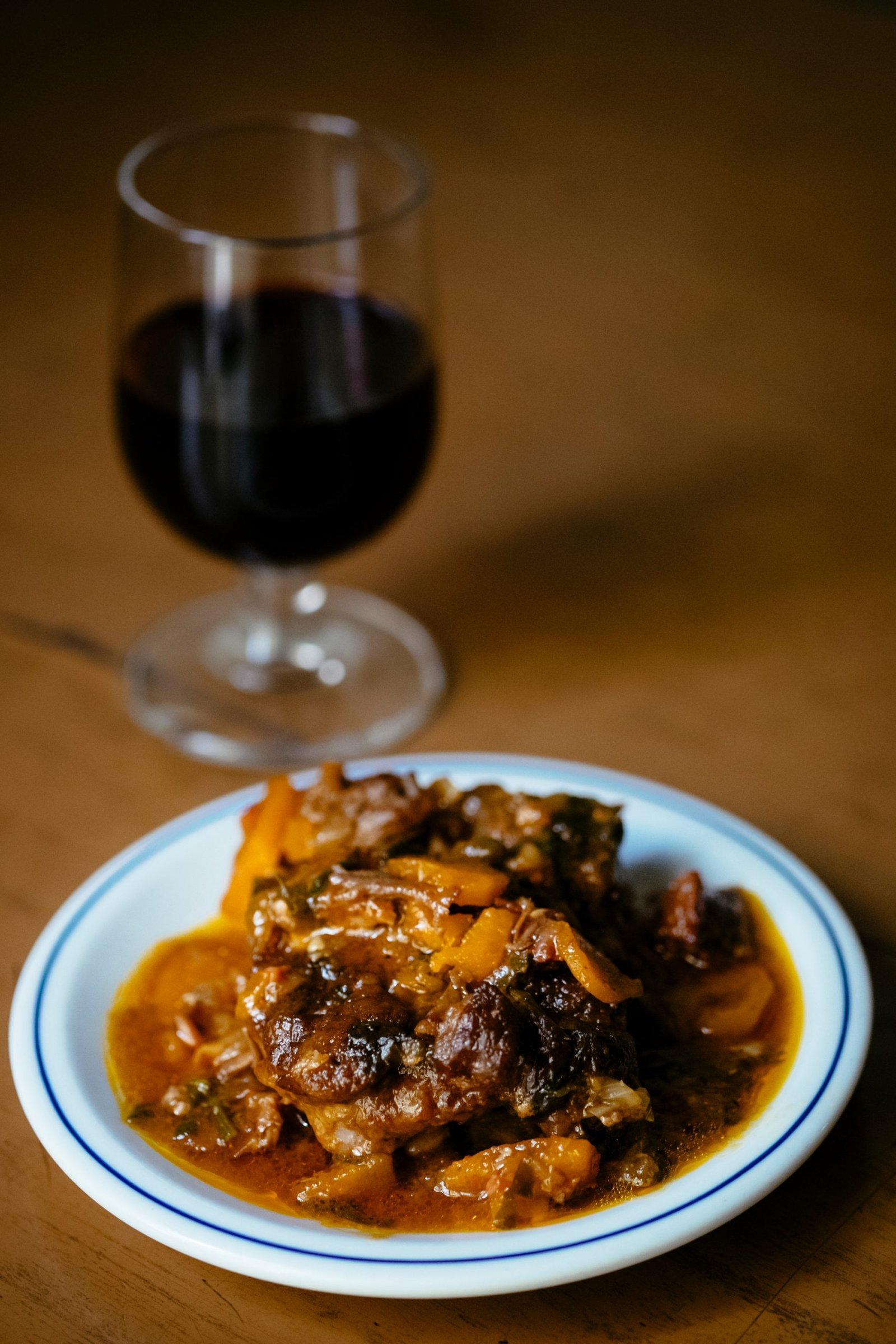 Mr. Zé Manel, still alive, goes regularly to his old establishment to write the menus by hand in the style of old calligraphy. He never was a cook, just a man who liked well-seasoned and spicy dishes. While we try the boar bean stew, we are told the story of when Zé Manel bought ten barrels of wine, the good Carrascão, at Cartaxo, and the local farmer gave him four 50kg bushels of white beans. He remembered a cod he ate once on the left bank of the Tagus River. It's a sweaty cod in the pan, with a lot of onion and garlic, ranging from braised and stewed, and which is served with cooked white beans seasoned with olive oil and garlic apart. In the room already emptied of customers, we all sit at the same table, to try the oxtail stew and drink a bit more of Mario's white wine. It tastes so good, that we prefer to eat only the sauce instead of the meat …
Disclaimer:
This Zé Manel dos Ossos Restaurant post was taken from my Portuguese Travel Cookbook. Get your copy here and travel through the best recipes and flavors of traditional Portuguese Cuisine.