Where to Eat in Vizela? Which are the Best restaurants in Vizela?
Please find below a list of the best restaurants in Vizela, all surveyed personally by me and in no particular order of preference or quality.  As I have written in my introductory post Why Visit Vizela, alongside the Thermae and Spa, the food and restaurant culture are the other principal reasons why one should travel to Vizela. It was a big surprise for me to find such diversity of quality traditional Northern Portuguese Cuisine in such a small town. And this is what makes it so special, that you know that for the 2 or 3 Thermal days you will spend in Vizela, besides not having to walk so much, you will be very well taken care of by the amazing group of restauranteurs in Vizela, all of which have amazing food stories to tell. Your body will feel in heaven from all the good food, thermal treatments and relaxation waiting for you in Vizela.
Best Restaurants in Vizela
Aguia D'Ouro
Address: Rua Ferreira Caldas 94, 4815-431 Vizela, Portugal
Phone:+351 253 481 216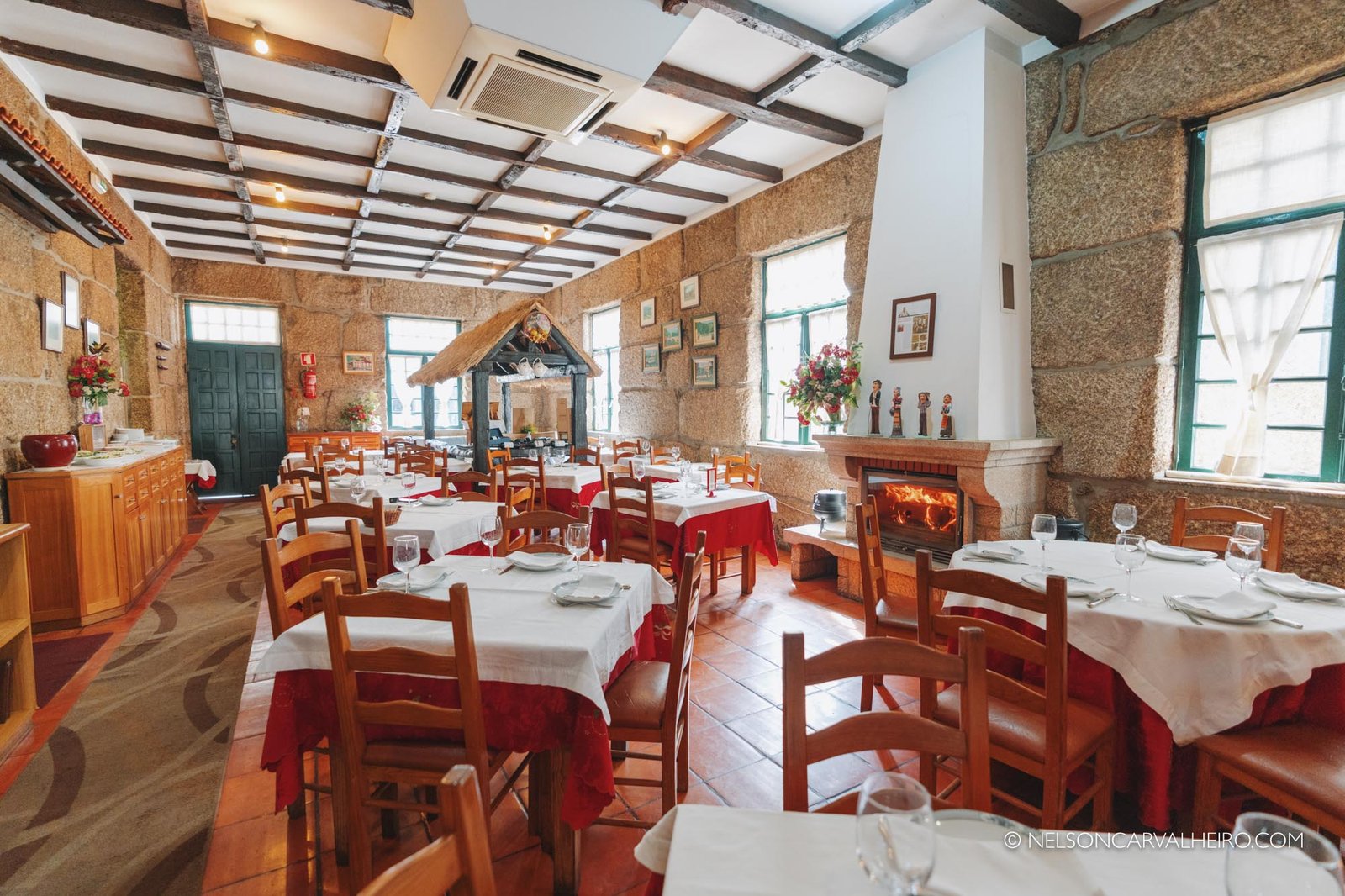 If I was asked to summarize Aguia D'ouro in a sentence, I would repeat the very same words I wrote when I meet Antonio Pinto for the first time:
Antonio Pinto is my kind of guy. Someone who doesn't make friends easily, but who melts with kindness when you break through the tough guy act. A former footballer himself, he dedicates his time to make Águia D'Ouro one of the best restaurants in Vizela. The food is amazing, but the real story is getting through to "Pinto". 🇵🇹 
António Pinto is an old-fashioned Portuguese Cuisine kind of guy. And I love that! He has lived his life sticking to his beliefs that all food should be cooked on the spot, that the menu should change every day according to what the markets have to offer and to the season of the year. There are no freezers, the mise emplace is made fresh every morning and almost all produce comes from his own farm or local suppliers. Sometimes there are not enough portions for everyone and António makes the choice for you, both of which he is very comfortable with. You see, António has a reputation to uphold and he would rather close the restaurant than succumb to the pressures of food cost margins or change the way he runs his restaurant as his own dining room which happens to be open to the public. This is how his mother raised him and he plans on offering this very own sustainable food philosophy to each patron that comes in through the door. All he cares about is serving the best food in town, while he and his wife (the lovely Conceiçao) taking personal care of almost every table and making sure you are treated like a king. Due to his deep love for football and especial the Benfica football club, Antonio Pinto is personal friends with players, managers, presidents, agents and famous people connected to the world of Portuguese Football, so don't be surprised if you find yourself dining next to someone famous.
During my time filming in Vizela, I had the chance to delight my palate with some of the many dishes that Antonio has on offer. In my first visit, we had stewed oxtail and john dory fillets with açorda (a Portuguese bread dish). I just LOVE oxtail, and this one was as tender as it gets. The meat came off the bone easily and I did not hesitate to ask for seconds. The john dory fillets were very fresh. The second time we had turnip greens rice with red beans and grilled sirloin. Again, I am a rice lover and once I saw that big pot of rice coming, I knew I had to eat a few portions myself. Since this is the land of Vinho Verde (white or red), ask Antonio for some of his favorite Verde, which is supposed to be drunk on a chilled mug or glass.
Besides all the good food I had, what I hold dearest was the chance to meet Antonio and Conceição who became a good friend. I will surely return in the future to say hello and taste some of the most delicious food the North of Portugal has to offer.  Ah, I can't finish without saying that the Aguia D'Ouro has its own private parking place with a personal valet.
Restaurante Rainha
Address: R. Dr. Pereira Caldas 189, Vizela, Portugal
Phone: +351 253 482 101
Restaurante Rainha is a very special place for me, as it was the very first published restaurant review. I visited Vizela for the first time in late 2012 and was introduced to the wonders of the plethora of starters that every meal at Restaurant Rainha starts with. I had never seen anything like that. It was (and still is today) like sitting at banquet feast worthy of a king on a regular Wednesday dinner. Prawns, mussels, grilled pork loin, melon, clams, Padron peppers, salt cod salad, toasted bread with garlic butter, cured ham…I was stunned. And then came the main course, tender grilled octopus and grilled sirloin. It was a good thing we came to have dinner early, as we took our time to go through all the starters and eased the main courses down with the help of the local vinho verde. For dessert, Oscar, the patron of Restaurant Rainha, files up the table with all kinds of local sweets like bolinhol (Vizela's official dessert), custard tart, profiteroles, homemade chocolate mousse. The cakes came on the whole and, again, you take as much as you want. After all, you are Oscar's guest and there is no rush as the restaurant only has 11 tables and does only one serving per night. Every meal is crowned with an array of moonshine spirits, aguardente (Portugal's equivalent of grappa), and even whiskey if you prefer. I love it that Restaurant Rainha is a cozy little space where you can just sit and immerse yourself in the wonderful variety and wholesomeness of the Cuisine of Northern Portugal.
A Northern Portuguese Food Feast (my review of Restaurante Rainha in 2012)
Widely acclaimed by its array of mini dishes called petiscos, Restaurant Rainha, has become a synonym of traditional northern Portuguese cuisine in the little, but very Picturesque town of Vizela. They say that there is no hospitality like the one portrayed by the Portuguese northerners, and Oscar (the owner) sure takes care of that of this, when he sits you down and only hands you the wine menu.  One minute I am looking down at the wine menu, the other the table is packed full of local delicatessens like roasted peppers, grilled chorizos, black pork cured ham, fried pork tenderloin, cured cheese, cod cakes, olives… I stopped counting at 14 different courses that were continuously delivered to the table and I count not see the table cloth anymore. As I had almost satisfied all my hunger, I ordered a small grilled veal chop as the main course. Of course, Oscar did not understand the word small and served me two veal chops that looked like a whole veal was resting on my plate. And let me tell you that the plate was not small. Guess what happened for dessert? Yes, an array of puddings and cakes, all homemade by Oscar's Mother. Creme caramel, filo pastry with chocolate ganache, soft sponge cake with orange filling. In the end, the homemade moonshine is brought to the table in an inconspicuous bottle to help digest the weeks' worth of food that you just treated yourself too. 
Restaurante Hotel Termas de Vizela
Address: Rua Dr. Abílio Torres 1236, 4815-552 Vizela
Phone: +351 253 481 275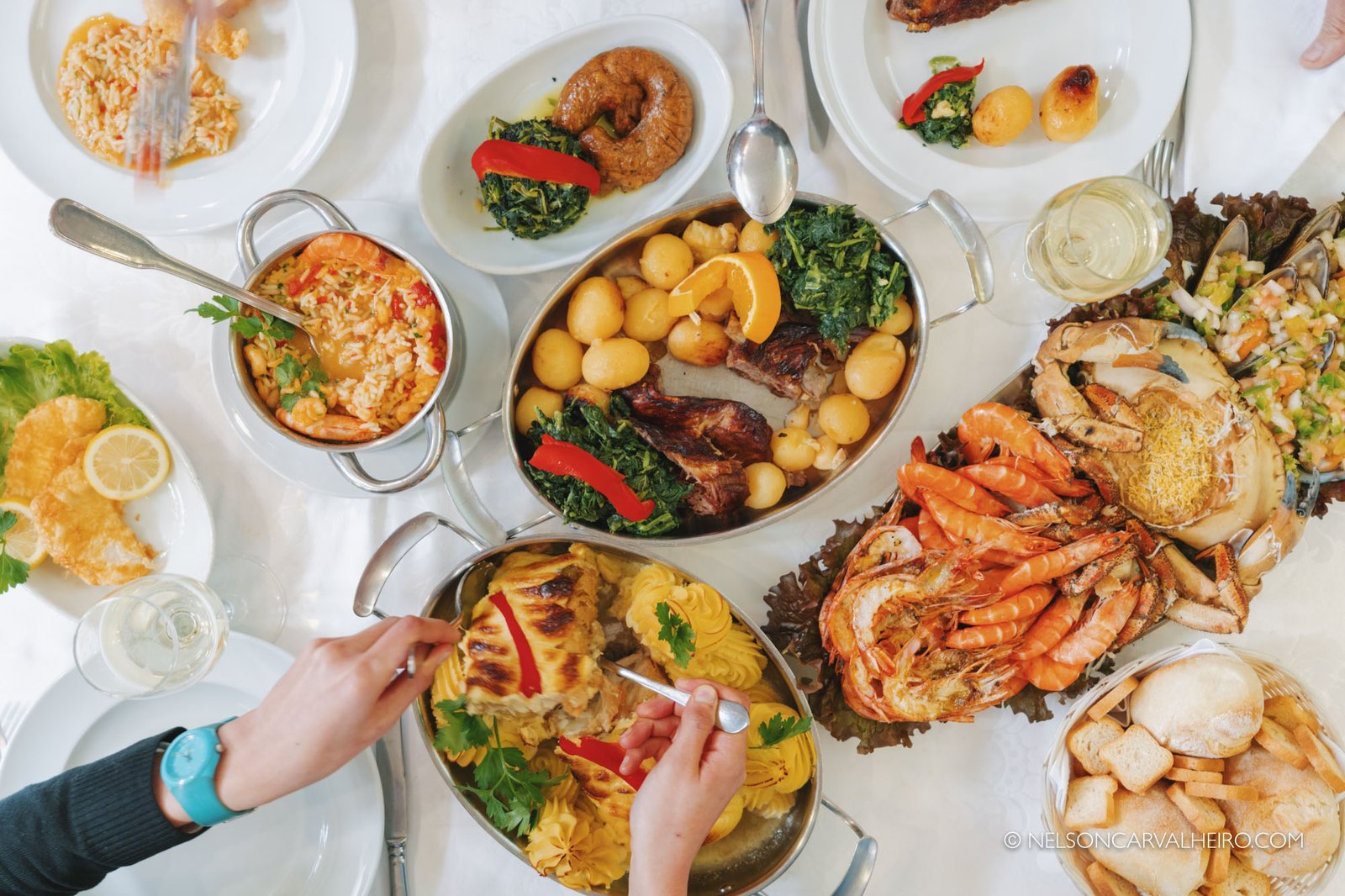 Prawn rice with hake fillets – Remember this dish when you go to Restaurant Hotel Termas de Vizela, as this is my favorite item of the delicious menu this restaurant has to offer. Located in the basement of the Hotel that bears the same name, Restaurant Hotel Termas de Vizela has been run by the same family since it opened over 50 years ago. The interior décor is not suggestive as some of the other suggestions on this list, but the quality of the food is certainly on par, if not better. The common denominator of treating patrons as a member of the family is present from the time you are shown to your table to the moment you are taken to the dessert buffet after your gorgeous meal. Besides the prawn rice with hake fillets, the wood fire roasted kid goat, Bacalhau á Zé do Pipo (the local Vizela specialty), octopus rice with turnip greens, and the mixed seafood platter.
Adega Avelino
Address: Dr. Pereira Caldas 34, 4815-516 Vizela
Phone: +351 253 584 324
Adega Avelino was founded in 1968 by Avelino Novais and nowadays it is his son, Agostinho, who is in charge of keeping Adega Avelino (and its cuisine) such icons of the food scene in Vizela. Besides, the food naturally, I love that this place has its walls lined with stories and history of Vizela. It is like a museum, with photos, newspaper articles and symbols of the Vizela World. It is also a small establishment, with only a hand full of tables and there are only two other persons working at Adega Avelino – Rosa Neto, Agostinho's wife, the Chef de Cuisine and Alfredo Ribeiro, Agostinho's brother anMaître D, which gives Adega Avelino a real homecooked food kind of place. Always busy during lunch hours, it is one of those "no fuss, quick service, great food" kind of places. The house specialty and the dish that I recommend at Adega Avelino is Vizela's official dish – Bacalhau á Zé do Pipo, a loin of salt cod roasted with pure and homemade mayo. You see the recipe for Vizela's Bacalhau á Zé do Pipo here.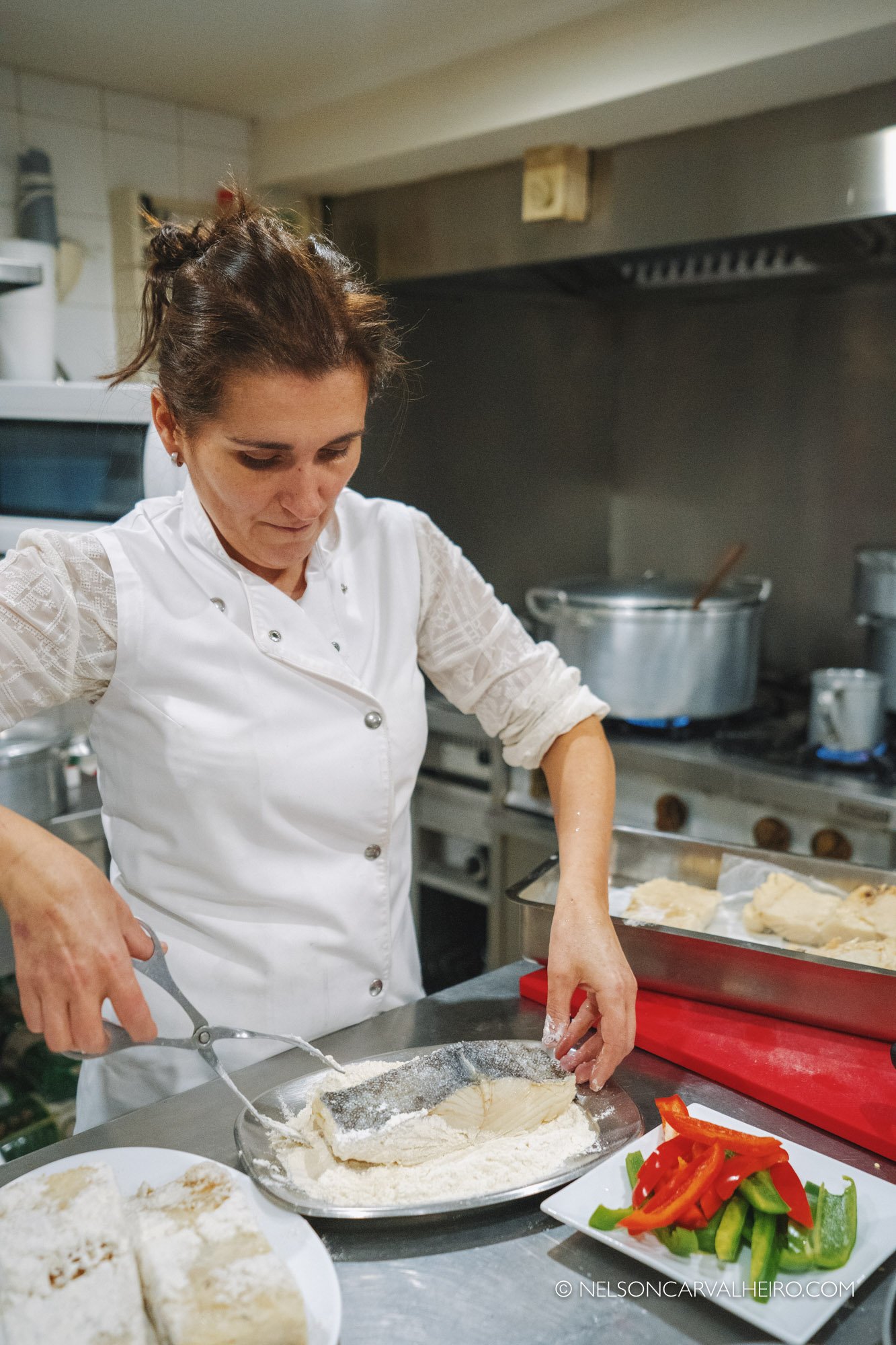 O Braseiro
Address: 
Av. Abade Tagilde 9, 4815-471 Vizela, Portugal
Braseiro is one of my favorite restaurants in Vizela because it is all about grilled Northern Portuguese flavors. Luis Peixoto is the patron in charge of fire and a bit of world hospitality man himself. He spent a good portion of his life working in hotels and restaurants in the U.K, before deciding that watching his daughter grow up was more important than money. And the people of Vizela are happy he did so, as this is a very popular choice for locals to have lunch, and there are even whole families who come to Braseiro for lunch every Sunday. Grilled meats like the tenderloin, porterhouse steak, spicy Piri Piri chicken, and pork ribs are to die for. Especially on an autumn or winter day.  Salt cod is another specialty, served with cornbread or the Vizela Recipe of Bacalhau a Zé do Pipo. The cherry on top is that a meal will easily only set you back about 20 Euros which probably makes Braseiro the restaurant with the best price/quality ratio in Vizela.
Marisqueira Ponte Nova
Marisqueira Ponte Nova is Vizela's official seafood extravaganza restaurant. Seriously! What you are seeing in the picture above are JUST THE STARTERS for 3 people! Let me say this again JUST THE STARTERS for 3 people! Let me take a deep breath and run you through all the starters. Ready, set, GO! A whole crab, piri piri prawns, regular prawns, little prawns (camarão da costa),  barbequed prawns with lime, goose barnacles (percebes), clams, mussels, Padron peppers, octopus salad, tuna salad, sea snail bean strew, grilled pork ribs, stewed chicken gizzards and toasted bread with garlic butter….AND THEN we came to the main courses. Yes, plural, as in more than one. 3 to be precise. Monkfish rice, roasted cod, and fillet of beef. For dessert…Well, let's just say that we could no longer see the tablecloth… And all of this for just 30 euros per person. Can you imagine this? Crazy right. This is why Marisqueira Ponte Nova is Vizela's go-to celebration restaurant. The kid got baptized –> Marisqueira Ponte Nova, wife´s birthday –> Marisqueira Ponte Nova, annual dinner with distant friends –> Marisqueira Ponte Nova.  So, bring a big appetite and plenty of time. You'll need them!
Chalet do Park
Address: 
Tv. da Cascalheira 79, Caldas de Vizela, Portugal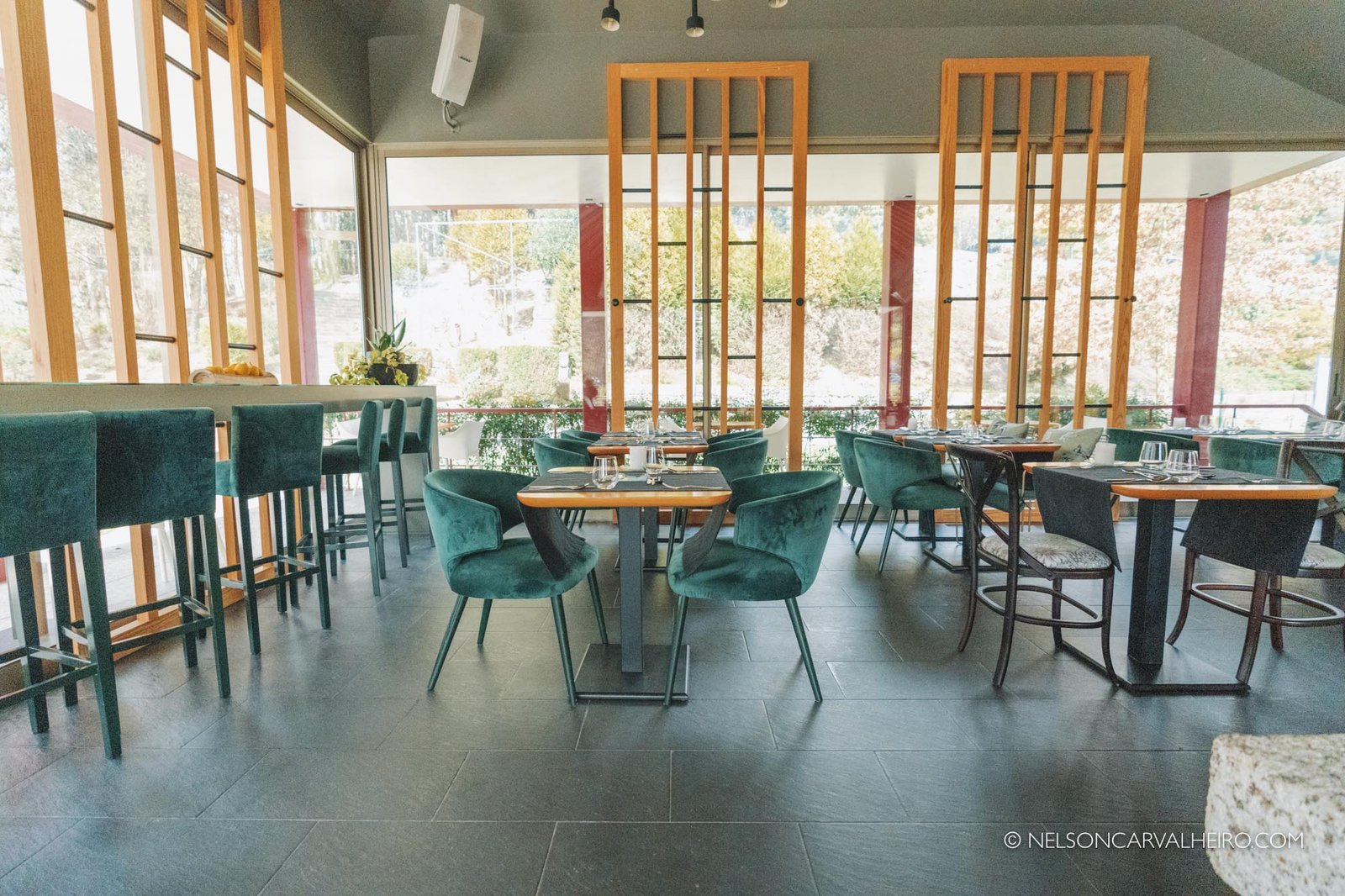 Chalet do Park stands out in the Vizela food scene because of its stylish ambiance and offer of contemporary cuisine. In an area overwhelmed with traditional Northern Portuguese flavors owner Ricardo Fernandes and Chef Miguel Vieira choose to include ceviche, carpaccio, ratatouille, as well as modern (as in French-influenced) cooking and plating techniques as a way to showcase the best of local produce. Chalet do Park is blissfully located on the right bank of the Vizela river and within the Thermae Park, which means it is surrounded by plenty of trees and green. The door to ceiling windows allows the interior of the Restaurant to be flooded with daylight and create a romantic atmosphere in the evening. Pre-dinner cocktails by the water are a must to be able to enjoy the best that Chalet do Park has to offer, making the case and point that Vizela is not just about traditional Portuguese flavors.  Menu highlights go to the sautéed prawns with garlic, grilled goat's cheese salad, Ox tournedos with asparagus and shimeji.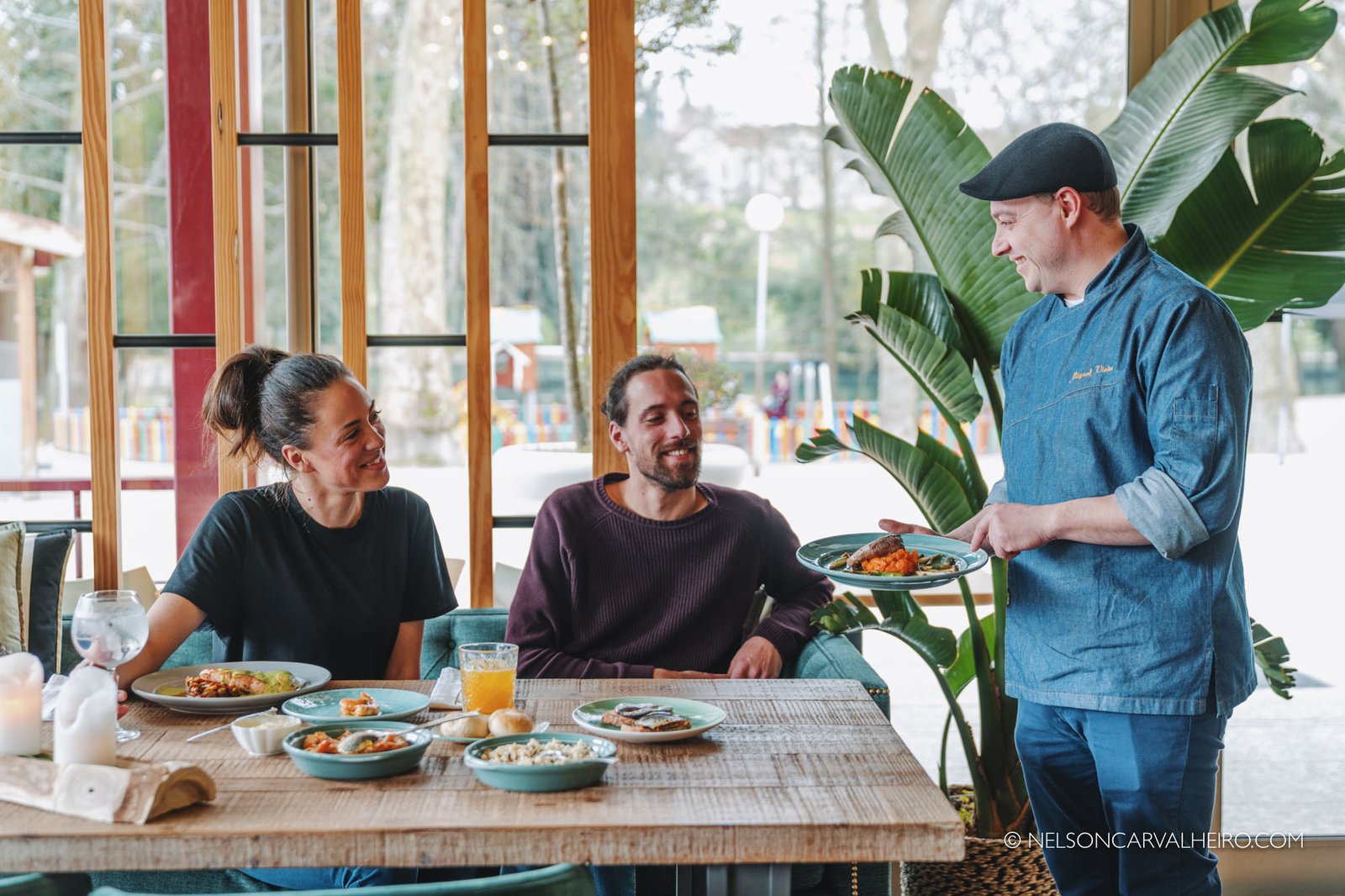 Disclaimer:
I wrote this Best Restaurants in Vizela post under the scope of my ongoing partnership with the Vizela Municipality. All opinions are my own.