The pleasures of a lonely seafood meal at the counter
What many of us need at the end of a hard day, is to seek a place to sit at the counter of a restaurant, order a beer and a Portuguese sauteed seafood and not think of anything for a while. During the brief moments in which we are alone at the counter, only the drink, the food, the employees and the other poor souls who also dine alone are our mates. All alone but all with a strange feeling of a connection. The freedom of not having to talk to anyone is impressive and only with an exchange of looks or a small gesture, we communicate the quality of the seafood or ask for another beer.
Jorge, son of the owners of Caçarola 1 restaurant in Figueira da Foz, sits beside us. A known figure of Figueira da Foz, he is always accompanied by a glass of excellent red wine. Outside the bar, he shares his lonely dinner with the rest of the diners, controlling what is happening in the restaurant – especially the conversations of the habitués (regulars) with the employees. "At least today is not football day, if it was, the confusion at the counter would be even higher," he says.  He drinks a red in a penálti (in one gulp) and makes sure that the request is being serviced. "I Just want you to eat well and feel at home!" says Jorge.
We accompany our host. We ask for two beers.  One to drink now and another one on the way to accompany the first bites of the seafood that follows. It is at this moment that the bowl arrives brimming with bits of lobster, shoe rack of spider crab with shrimps, clams and lot of broth in which to dip the bread into. Everything stops around us.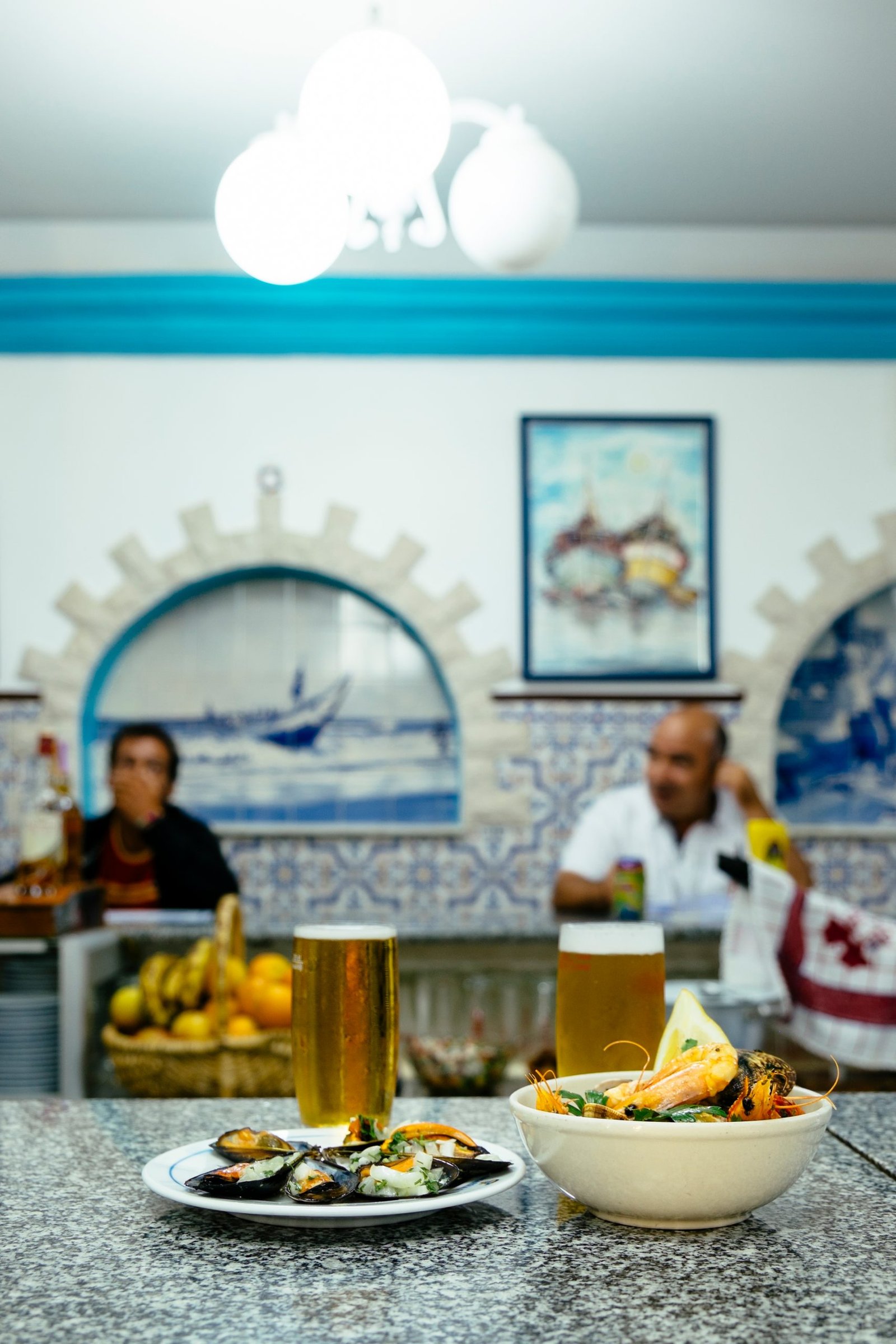 Over the Counter Portuguese Sauteed Seafood Recipe
Your choice of shrimp, prawns, clams, mussels, crabs, crayfish. Cleansed and deveined.
2 teaspoons olive oil
2 cloves garlic
20cc white wine
Bayleaf
Piri-Piri Peppers
coriander and parsley as garnish
In a large skillet, fry the garlic, bay leaf, and Piri-Piri for about 1 min in medium heat, until you can smell the garlic fragrance.
Add the seafood, but don't clutter the skillet or else the seafood will braise. work with batches if the skillet is not big enough.
After about 2 min, add the white wine turn the heat to high.
Stir the seafood occasionally.
Serve with coriander and parsley.
Disclaimer :
This Portuguese sauteed seafood recipe post was taken from my Portuguese Travel Cookbook. Get your copy here and travel through the best recipes and flavors of traditional Portuguese Cuisine.