As I walked into the cobble stone courtyard of Palacio Belmonte, passing beyond some impotent red gates, I come to face a rather elderly man lying in a sofa reading a book. He is dressed in a fluffy white bathrobe, smoking a Partagas nº4 and sipping away at, what I could understand from the smell was freshly brewed coffee. He jumps from the sofa at the sound of my footsteps, opens his jade eyes wide and quickly extends his hand to greet me at the sound of "Bonjour Monsieur. You must be Nelson! I was expecting you, Welcome to Palacio Belmonte!"
At most world class hotels you expect that your first welcome encounter be with a snappy doorman or with a grim smiling hotel manager. Not at Palacio Belmonte! Frederic Coustols, owner and lover of all things green and boutique is quick to explain that Palacio Belmonte is a Luxury Guest Palace, rather than a Hotel. "I bought the place to be my house and only after realized that it has 400 windows! After all, I need some help to open and close them".
[wp_ad_camp_2]
I couldn't help laughing and feeling an immediate connection with Frederic's eccentric and dreamy alter ego, when he calls himself a "landscape collector". More so, when I see for my own eyes what he has set out to achieve when he spent 10 years of his life and 26 million of his hard earned euros in refurbishing Palacio Belmonte. "Breakfast is made to your order and there is no time limit! You can have it whenever and wherever you want" proudly boasts Frederic! He continues to say how the house is in balance with nature and its origins. "We rebuilt Palacio Belmonte using the charter of Venice, and we kept the same natural ventilation heating and cooling techniques! If you like air-con then I suggests the Ritz down below!".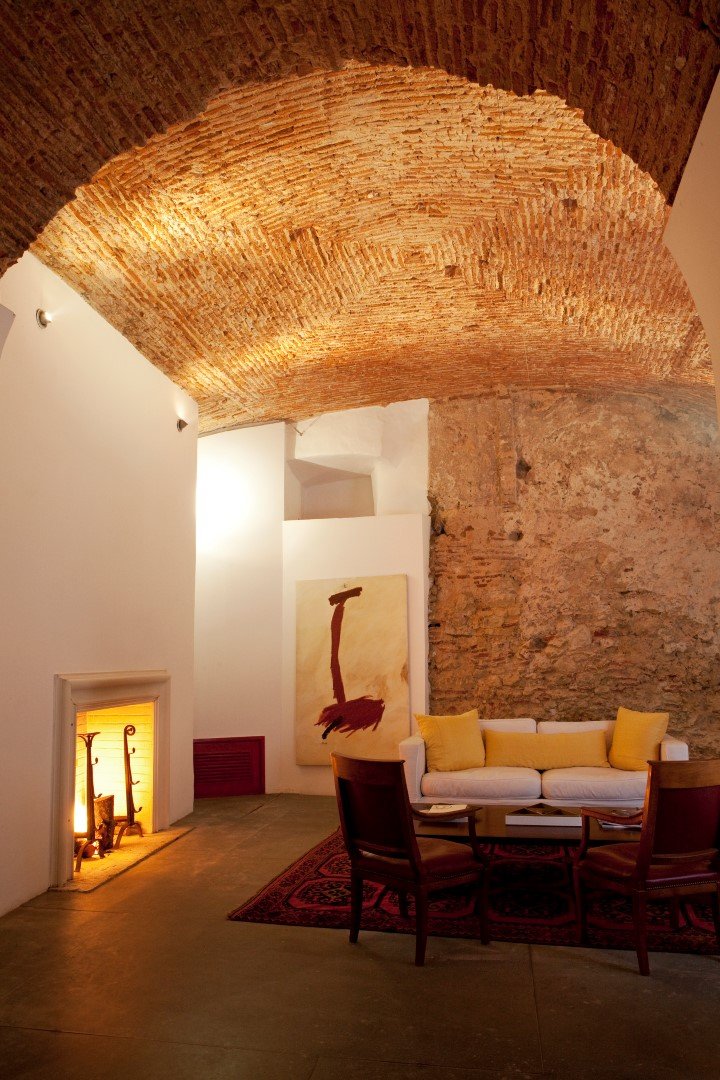 What make Palacio Belmonte Special
Once the House of the Earl of Belmonte, and with an intricate connection to the Portuguese Discoveries, Palacio Belmonte is a stunning sculpture, a 2197 years synthesis of Portuguese history. Frederic's genuine taste, mixes rare antique Portuguese pieces collected along the years, with his own collection of paintings and sculptures, bringing the house back to its past "splendour". He then decided to open his it to a very few for whom, luxury is synonymous of simplicity and of encountering one's emotions.
The common areas, eloquently dubbed "Piano Nobile" – noble floor, is where I found the latest and most impressive refurbishment made to the Palace when it was still under the rule of the Belmonte Family. Madly enriched by the spice and commodities trade from their concessions on the Portuguese overseas colonies, they spent a today's equivalent of 6M€ in azulejos, spanning 38 panels with over 58.000 individual azulejos. The themes range from biblical scenes, Portugal of the Discovery Ages, present XVIII figures and even an interpretation of Homer's Odyssey.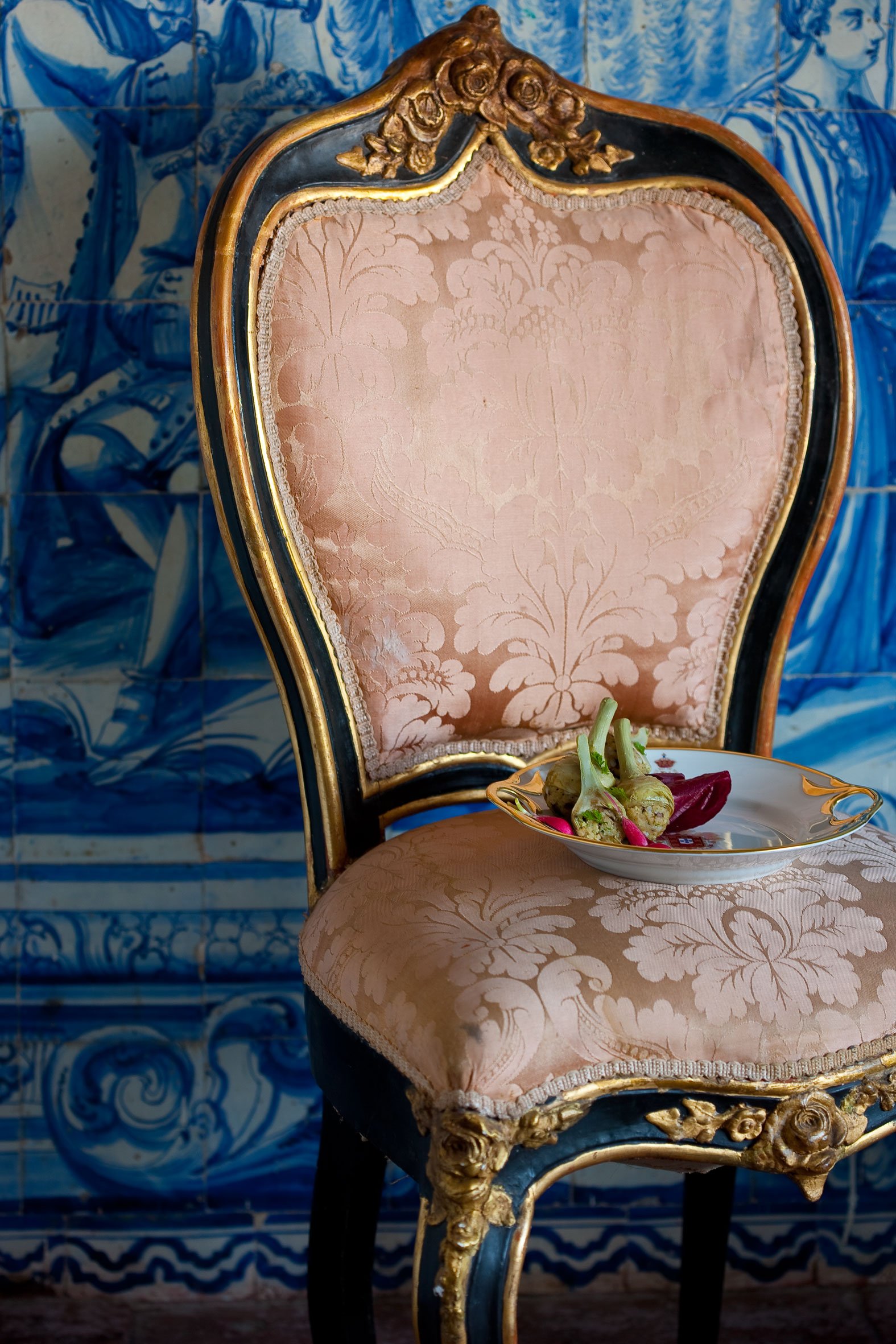 And it doesn't stop here! The floor of the common areas is lined with 300 year old Russian fern wood. Frederic tells me that the wood was traded by the Earl for wine. "So typical of the Portuguese to give away what they have best!
[wp_ad_camp_2]
Making my way up the stairs – there are 13 of them, with over 500 steps altogether – you begin to feel how much of a historical maze this property in on the inside. Room after room, corner after corner, going from a 7m high ceiling to narrow one person passages made for children. It would be a challenge for the most experienced of explores, so don't be embarrassed if you get instantly lost.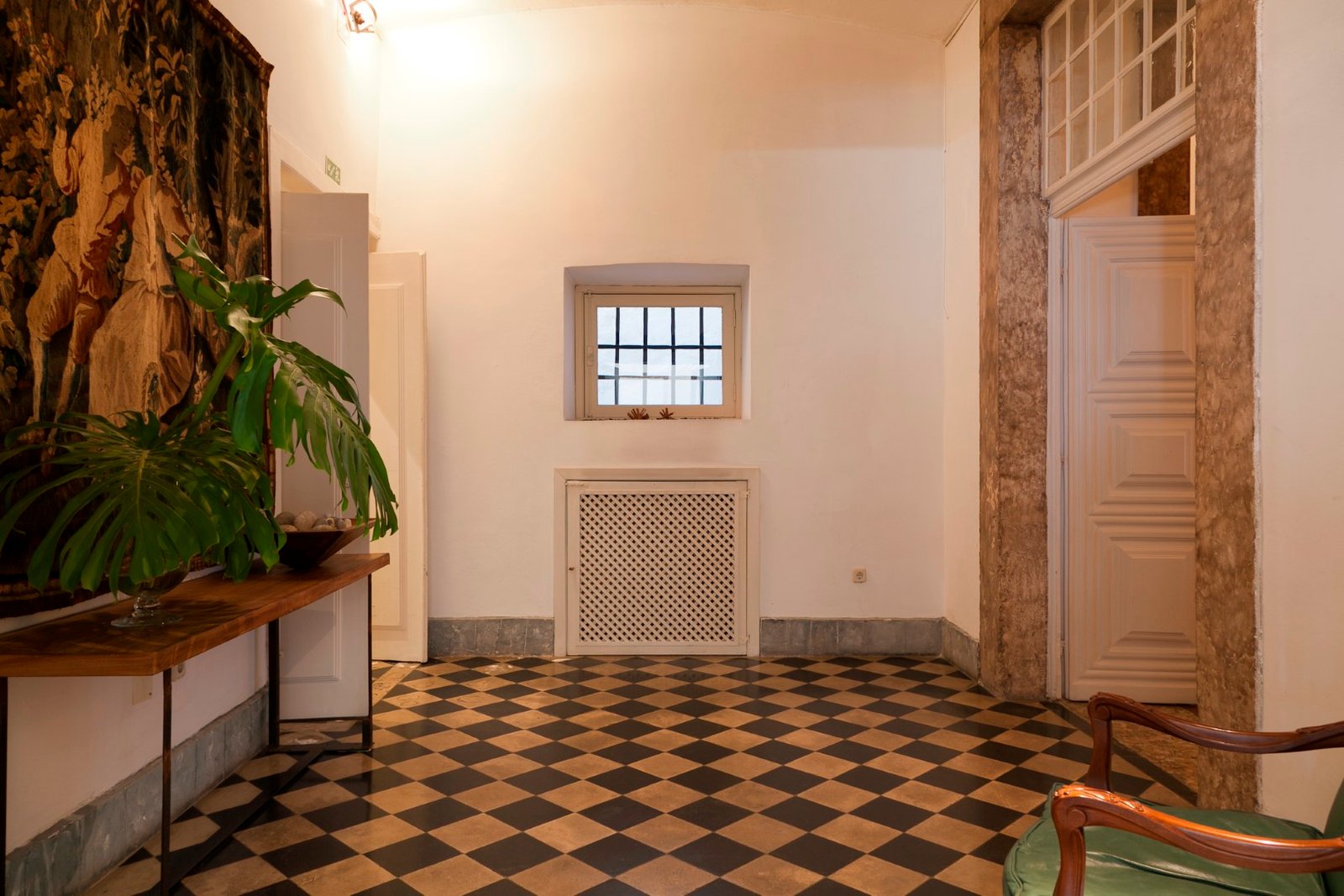 Frederic has set up the Belmonte's top Bartolomeu de Gusmão Suite especially for me. Entirely built with a Moorish Tower of the 7th Century, this multi-level marvel is an ode to sober small detail design amongst an ancient backdrop. With an octagonal living room lined with more Portuguese azulejos and an intimate pastel salmon room with windows to the old town of Alfama, it is no match for any Presidential Suite anywhere else in the world. As if it wasn't enough, the snail stairs lead us to the suite's private 20 sqm terrace… And UAU! A view inspired by Lisbon's soft light, red corrugated roof tops, endless variety tile patterns and paintings, bright yellow creaking trams, winding narrow streets, that suddenly expand into a praça or empty out into the formidable river Tagus. I just love the way the city waves its silhouette down to the river as if itself was made from the water of the sea…It's a cinematographer's dream…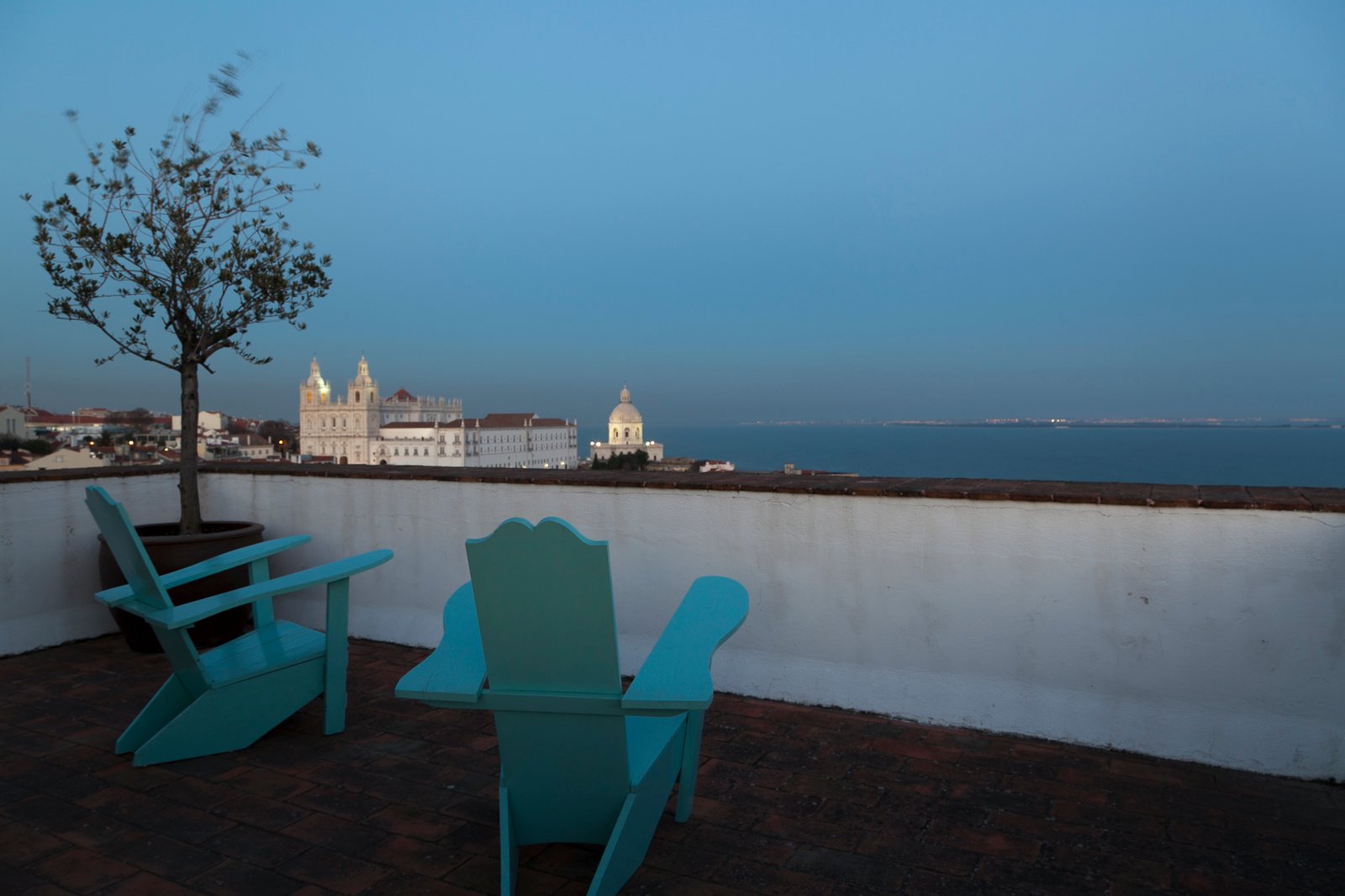 Frederic tells me that this terrace has witnessed its share of romance and marriage proposals. "We get our Michelin Star Chef José Avillez to come especially for the guests and they can have a candle and moonlight dinner here. Until now, all the girls said yes!".  Frederic explains that it is his (and Palacio Belmonte's) philosophy to have the city's restaurants do the job of wondering the palates of his guests! "The Chef can come any time you want, but I am determined to make you walk the coble streets and taste the good Portuguese food that is available in every little eatery!" The insider Lisbon knowledge is one of the Palacio Belmonte's great attributes and by what I have seen so far, I will trust where ever Frederic sends me!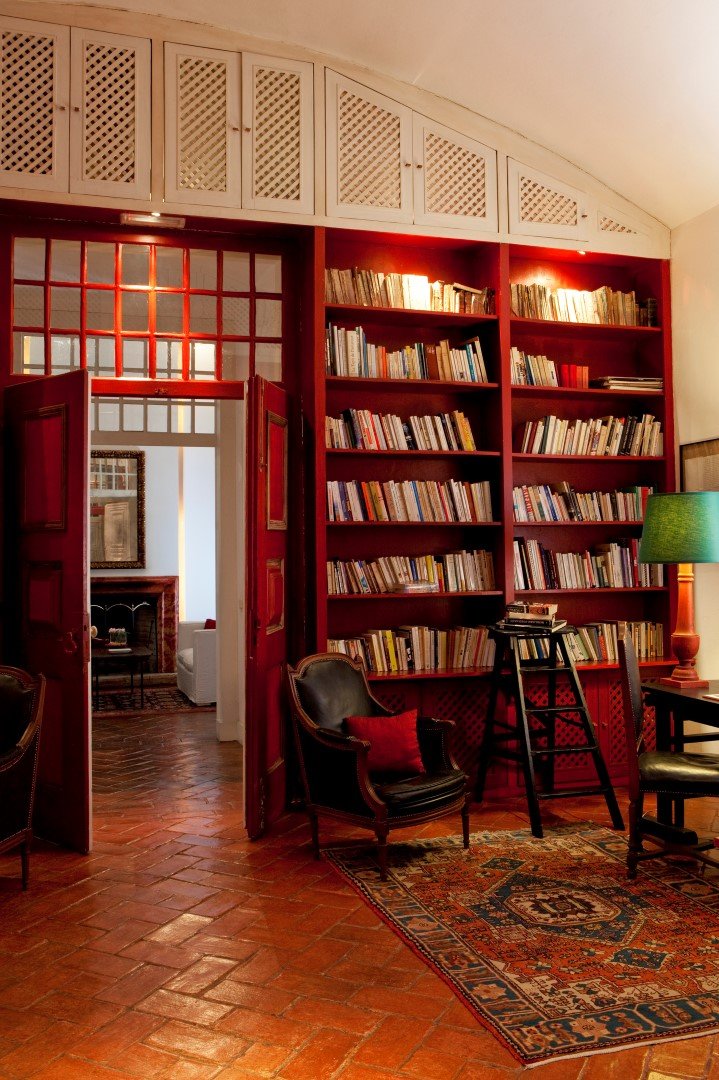 He grabs me by the arm and says that there is still a lot more to see, and so we venture though the palace to see the other bespoke suites, namely the Ricardo Reis and Alberto Caeiro Suites. "They are all named after historical Portuguese artists, writers, philosophers and thinkers. I want this house to be an ambassador for the Portugal and the Portuguese".
On way to the organic garden of Palacio Belmonte, I look out of the floor to ceiling windows of the Maria Ursula room. The view of the courtyard, is embellished by the full frame of the Palacio Belmonte family's coat of arms. It is magnificently engraved in lime stone above the bid red door that marks the entrance to the Palace. Who would have thought that perched on the top of Lisbon's highest hill stands a private Mediterranean garden! Blossoming wild orange trees fill the air with an azhar scent and cover the foot paths with their white petals. A sky high fern, a pomegranate tree, a small organic potager and some wild rose bushes make up the green background of place specifically made to relax, read and dream. Frederic explains how he strategically planted the purple bougainvillea over the black marble swimming pool, to disperse a purple hue into the palace when the midday sun shines a spot light on this Lisbon wander. "It is salt water you know! No chlorine to hurt your eyes and the children love it!". "I am sure they do. I love it too!"
My conclusions of Palacio Belmonte
If you are looking for gold plated luxury and overwhelming grandeur, Palacio Belmonte is definitely not for you.  But if you don't like hotels and are looking for a place where you are treated as individual in every way, a place with a thousand stories, with no crowd, no noise, no chocolate on the pillow, no television, just fresh air, space, light, your own laughter and music, them  Palacio Belmonte is right up your alley. I believe that what makes Palacio Belmonte Belmonte so special, so unique, is Frederic's ability to take a panoply of influences (from himself and from the house) and convert them into a Palace with 10 world class suites.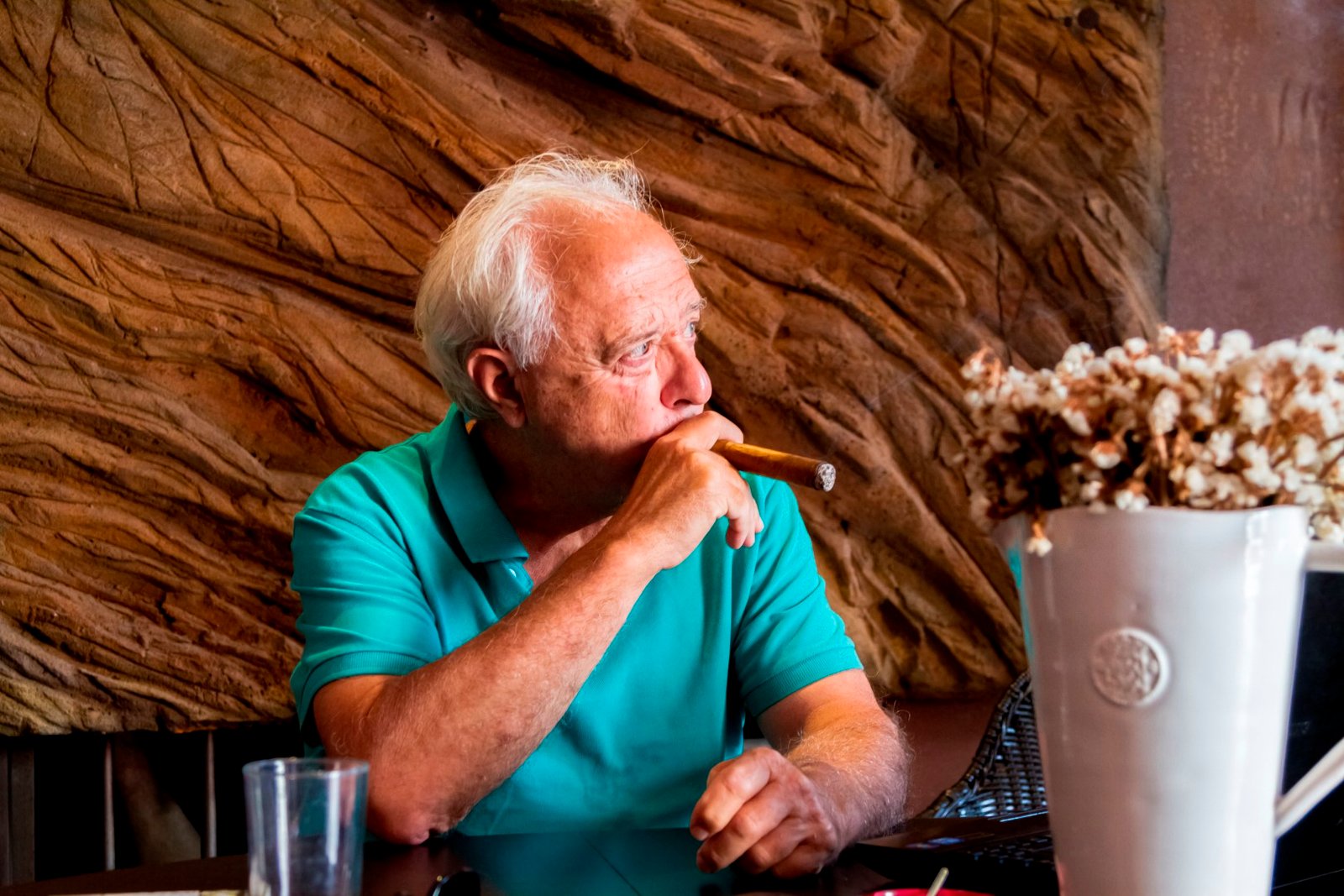 Disclaimer: This article was made for and published by Bold Magazine
Palacio Belmonte details:
Palácio Belmonte | Páteo Dom Fradique, 14, 1100 – 624 Lisboa, Portugal
Tel: +351 21 881 66 00 | Fax: +351 21 881 66 09 | E-mail: office@palaciobelmonte.com
Rates from 1200€ per night with breakfast included for the Bartolomeu de Gusmão Suite in which I stayed in.
[wp_ad_camp_2]