Barbados has such a variety of  experiences to offer, from much needed R & R to soul nourishing surf and culinary adventures in-between. Barbados offers a subtle rush for all of the senses, visually stunning, and mentally calming, with a Caribbean vibrancy and an air of excitement. It is my sanctuary!
Where to begin…… when I first began contemplating this trip, the main parameters were to go warm crystal clear water and where the surf would be consistent in November. I also wanted to avoid hurricane season (obviously), and I craved something different than the Latin America Vibe (as vibrant as it is). As I researched, I realized quickly that it really came down to Hawaii and Barbados. During this process Fiji and Bora-Bora were in the mix, but ultimately Barbados stole my heart.Discovering the "off the beaten path" and secret spots during planning has such gratification! MANY times (just as it did on this trip) there will be a special boutique hotel or specific surf break that seals the deal for me. A little look into a little paradise
Top Ten Reasons why Barbados is my sanctuary.
1. The Journey
Traveling to Barbados is uncomplicated, even from Colorado we had one stop in New York and then direct to the island! The flights are reasonable in price and the airport upon arrival is quaint, clean and organized. No headaches or customs hoops to jump through, a great way to start your trip! We flew via Jet Blue – from CO to JFK and JKF to Bridgetown, it was a hop and skip. Our flight out was on the red-eye BUT we got to Barbados at 2 PM and it was PERFECT! I will say that when on longer flight like this, I COMPLETELY suggest the splurge for the "extra leg room" or "upgraded" seats – it makes such difference. For anyone on the East coast of the states, the trip is incredibly easy – from JFK the flights leave and return twice a day 7 days a week, a morning flight around 8 AM and an evening flight around 9 PM. The return to Colorado was easy as well – we left in the late afternoon and again did a quick transfer at JFK. The return flights with Jet Blue (which we did find to be the least expensive time and again), leave really early in the morning and early afternoon – we were on the 3pm flight and it was great!
2. The Food
The food culture of Barbados is eclectic and diverse, from local Bajan dishes of fresh grilled fish, to five star fine dining and fusions of global flavors. As I ate my way through Barbados, Apsara Samudra was an unforgettable experience! A unique menu of both Thai and Indian fares and incredible garden seating that overhangs the ocean. Apsara Samudra is an intimate dinner experience with ambiance and service that sings. On the other side of the "dining" is the "grab some grub and rum" experience which I thoroughly enjoyed! The best place for an informal plate is Oistins – a small fishing village with a town square lined with little food huts and a big stage where local events are held! The Friday Night Fish Fry  is especially lively and buzzing with excitement and with a plethora of local vendors to choose from there is something for everyone! There are dozens of little huts all serving different grilled selections of fresh sea fare! A typical plate comes with a seasoned grilled fish fillet, coleslaw and perfectly cooked grilled potatoes! It is a really simple plate (or Styrofoam box) of goodies but so tasty! Lastly, the Bajan hot sauces are AMAZING – I packed 4 bottles in my suitcase! They are this mustard yellow and sometimes peach colored sauce that has a savory, spicy, salty flavor and is best suited for dousing your entire plate – YUM!
 
3. The People
The people of Barbados – or Bajans pronounced [ba-jan], are of such understated wisdom and energy. When they speak of their perspective they take pride in not taking themselves too seriously, they love to laugh and worry isn't a norm of life. They smile and laugh and tease and it is infectious and wonderful. Its a kind of freedom from created conflict that is so refreshingly admirable. I particularly grew fond of the chef at our surf hotel (more on the hotel shortly). Just the thought of Cheryl, gives me a smirk and warm fuzzies! She is a badass – don't know how else to say it. She is as tough as they come – feisty, and NOT afraid to speak her mind – the kitchen is HER space! Yet, even while ruling her kitchen kingdom with an iron fist – she has this smile and her eyes and laughter fill all the space around you! She is hysterical, direct and has this way of making everyone feel like her favorite by the end of their stay (but I am still convinced I actually am her favorite…). With all the personalities I met, I noticed a common theme – every single local said something that connected to the perspective of living life to its fullest. Slow down, don't stress, smile, make jokes, tease, and LIVE!
4. The Water
Crystal clear! You can see straight through to the bottom in 1 foot or 60 feet of water.  The water is WARM – averaging about 83º in November! It is unlike anything I have seen before. Surfing with sea turtles or paddle boarding down the coast to experience the view from a different perspective, these are the highlights! While just being mesmerized by the turquoise and sea-foam backdrop to everyday life is better than I can put into words. The ocean calms me – slows me down yet energizes and rejuvenates me, I wanted to go inland and explore but pulling myself away from the coasts became nearly impossible.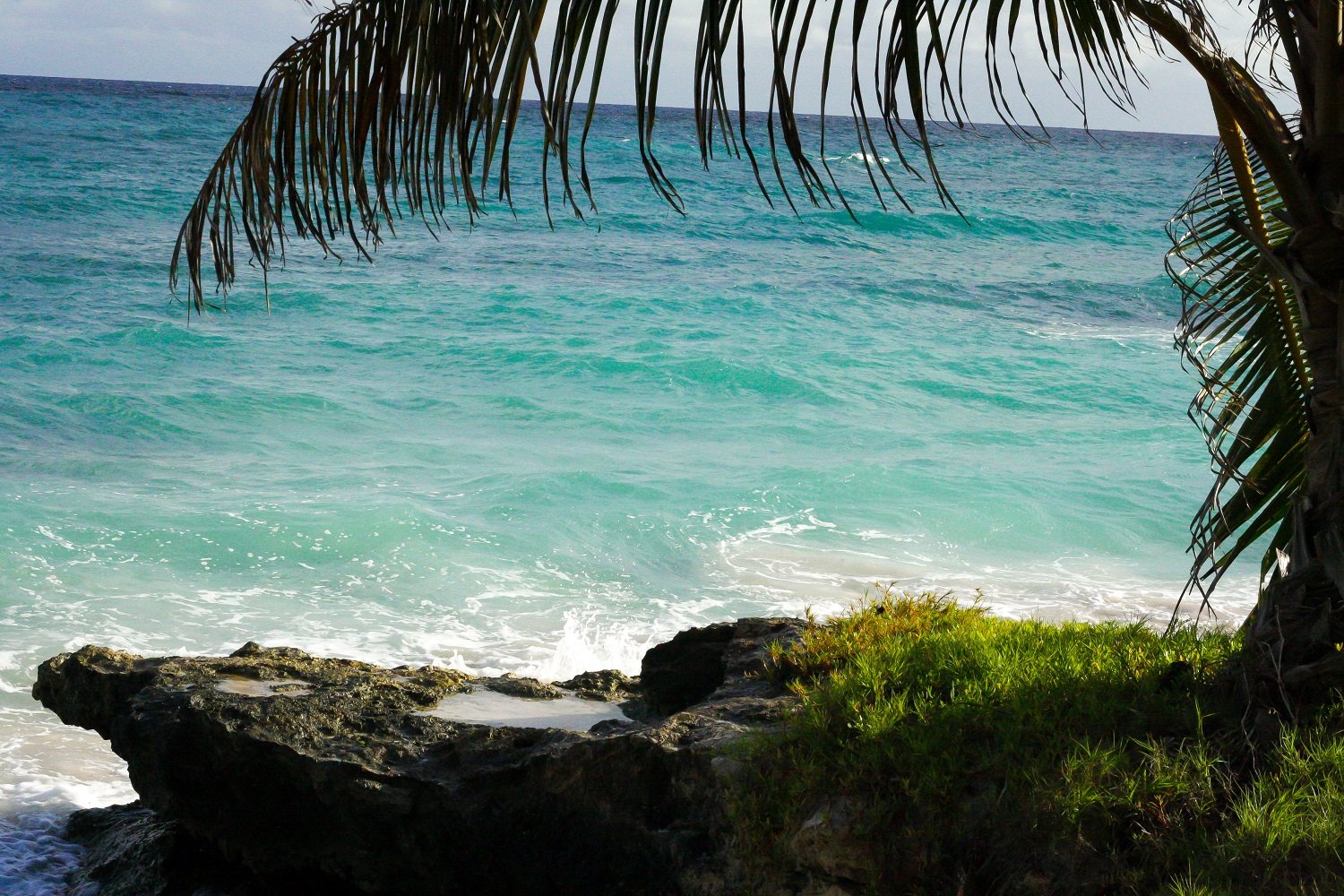 5. The Surf
Whether surfing has been your life long dream, or surf is part of your soul, Barbados has a break for everyone. Surfing is spiritual for me, it is a connection to the ocean, to self and to a lifestyle I crave. To have been able to explore the surf culture of Barbados was subtle and perfect. During different swells and depending on the time of year, there are different size of waves, but at ANY time of year there are waves to surf. The Southern coast has excellent surf for beginners & intermediates, whilethe east coast has a the Soup Bowl in Bathsheba which is a world class wave for the pros or advanced surfers. The water is warm and the surf culture is not aggressive or elitist, there are plenty of waves to go around – and plenty of opportunity to learn a great deal from the local surf talent. 
Zed's Surf Adventures
 is by far best surf instruction on the Island! In exploring and discovering other surf schools and in talking with locals and travelers alike – there is no debate that 
Zed's
 offers the best surfing experience! The owner and his family are always around, hands on and absolutely lovely! The instructors are happy and enthusiastic and not only are they extremely talented, they know how to teach and sincerely want you to improve and hone your skills.
6. The Beaches
The beaches are incredible, from the whitest sand beaches to pink sand beaches. 
Crane beach
 was particularly incredible with a cliffy backdrop and light pink sand at your toes. Miami beach is smaller, near Oisitns, a very laid back scene, pack some drinks and a picnic or walk up to 
Cafe Luna at Little Arches
 for one the best meals in Barbados! While further north toward Bridgetown you will find 
beachfront bars
 and restaurants and a vibrant nightlife scene! There is a subtle surf culture everywhere but not in an overbearing way. The beaches are comfortable for everyone! The east coast has more cliffs and is rocky with beautiful terrain and the infamous Soup Bowl as well! While the west coast is lined with sandy bottom swimming beaches, great for boogie boarding, snorkelling and lounging!
7. The Variety
Whether you are looking for a luxurious spa week, are an adventure seeker, or looking for that classic Caribbean vacation of beaches and rum drinks with umbrellas, Barbados has it all. The Eastern coast has a slightly different flavor and offers a different set of ambiance. With the Island being 21 miles long and 14 miles wide, you can easily drive around it in a day and see the terrain and vibe change! Along the way, you will find a variety of wonderful restaurants, fish markets, surf towns, botanical gardens, luxurious homes and boutique hotels, ships and yachts, cliffy seasides and of course a lot of local care-free personality! I find that when planning a surf primary trip some of the little luxuries I so thoroughly enjoy can be sacrificed. But with Barbados I found that there is such a mix of different types of amenities all within reach. Even with the small size of the island, I plan to continue going back and discovering what all the nooks and crannies have to offer. I plan to spend a little more time in the north west part of the Island next trip, this area is known for a luxurious and high end experience. Spas and resorts like Sandy Lane sprinkled in with private estates. Of course an area like this attracts a certain type of traveller and also offers a different level of amenities as well. I try not to do a whole lot of resort travel but won't deny enjoying a day or two of the lux now and again.
8. The Rum
Barbados is known for its rum, and it is NOT a myth. Everyone drinks rum. The rum punch is fantastic and when you go to Oistins fish market – you will see many patrons with a bowl of ice, a bottle of rum and a few glasses. I personally am not typically a rum drinker in fact I would never really find an occasion to drink it in the states, but for some reason – in Barbados, it just works. I think I had rum everyday – whether it was a rum punch after surfing or rum on the rocks at the local community bar. I have to digress just for a moment to talk about the Barbados karaoke scene! It's not like in the states when a group of friends go to sing at the tavern for some laughs, only after a few members of the party consume enough liquid courage to actually sing in front of an audience! In Barbados it is serious business! It is not gawked at and people are not laughing! People are sincerely entertained, singing along and most of the performers are REALLY talented! It was a great time ending up at the local bar near Zed's to watch the locals sing, drink some rum and feel completely out of place – yet welcome. I had my fair share of  
Mount Gay Rum 
 which originates in Barbados!
9. The Accommodations
I have a big place in my heart for the two of the many wonderful place to stay in Barbados! For a really incredible and extremely convenient surf experience, there is no other choice than Zed's! 
Zed's Surf Adventures 
 is a quaint spot built right next to one of the best surf breaks in Barbados, 
surfer's point
.  I want to be clear, this is not your five star luxury, this is a surf-centric stay. The price point (average $125 USD a night) and the location are unbeatable! The accommodations are little apartments with just enough style and utility that perfectly suffices. The staff seem more like friends of friends than staff and the owner Zed Layson has this warm endearing quality about him that makes you melt. It is more than a place to rest your head – it is an experience in settling the mind and body. My other recommendation (that feeds my boutique hotel obsession perfectly) is Little Arches  this hotel is incredible – a true boutique hotel in which "intimate luxury" envelops every detail. Little Arches Price point ranges from $200-300 USD a night, with a free suites that are between $500 and $650 a night. This is the definition of Boutique Hotel. Every single detail is perfect. The common areas have incredible design quality with lighting and candles and textiles that wrap you in this ambiance and charm. The rooms are impeccable with quality linens, and an almost Sonoma meets the Caribbean style.  Attached to Little Arches is Cafe Luna – an fantastic restaurant.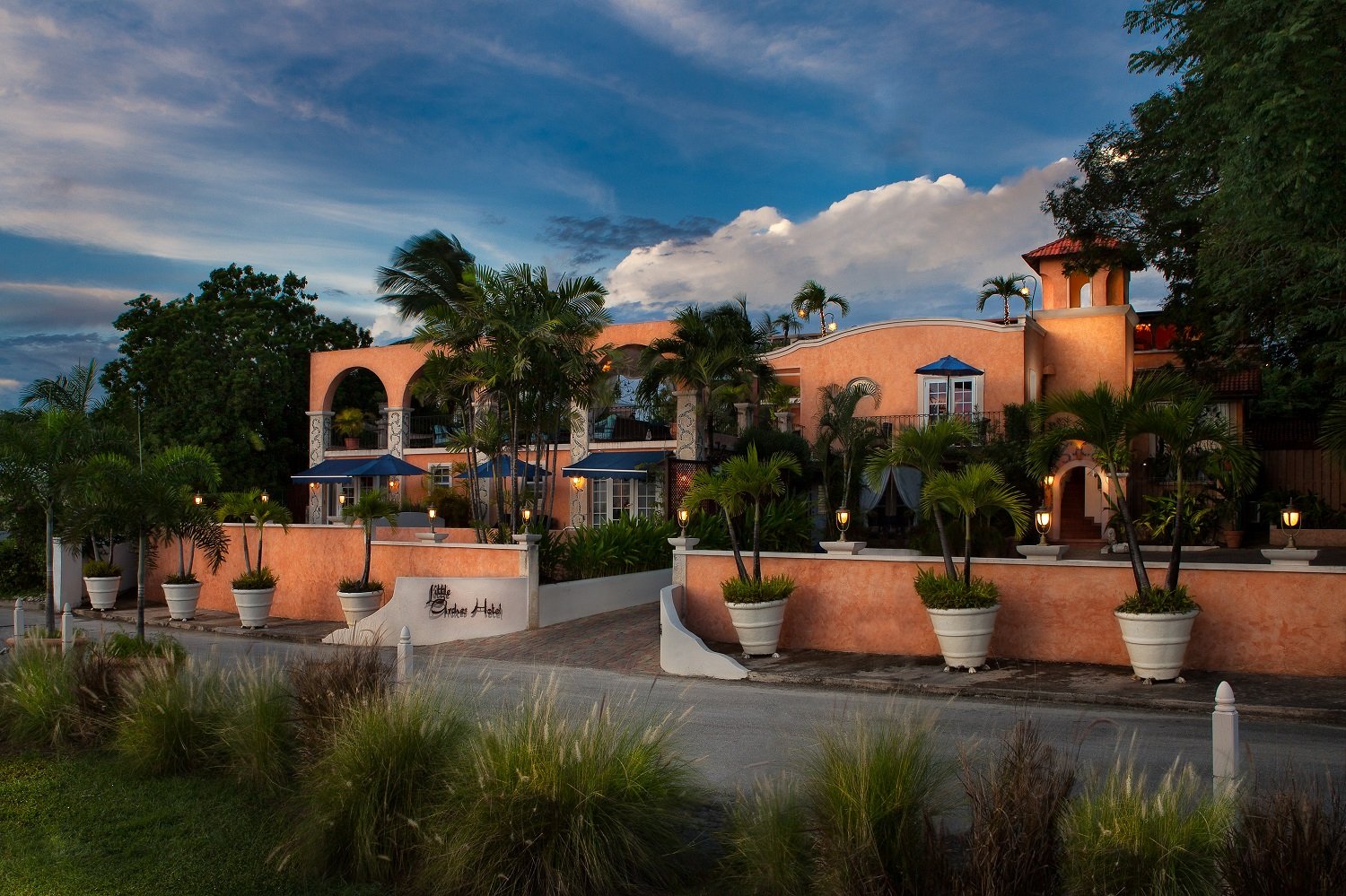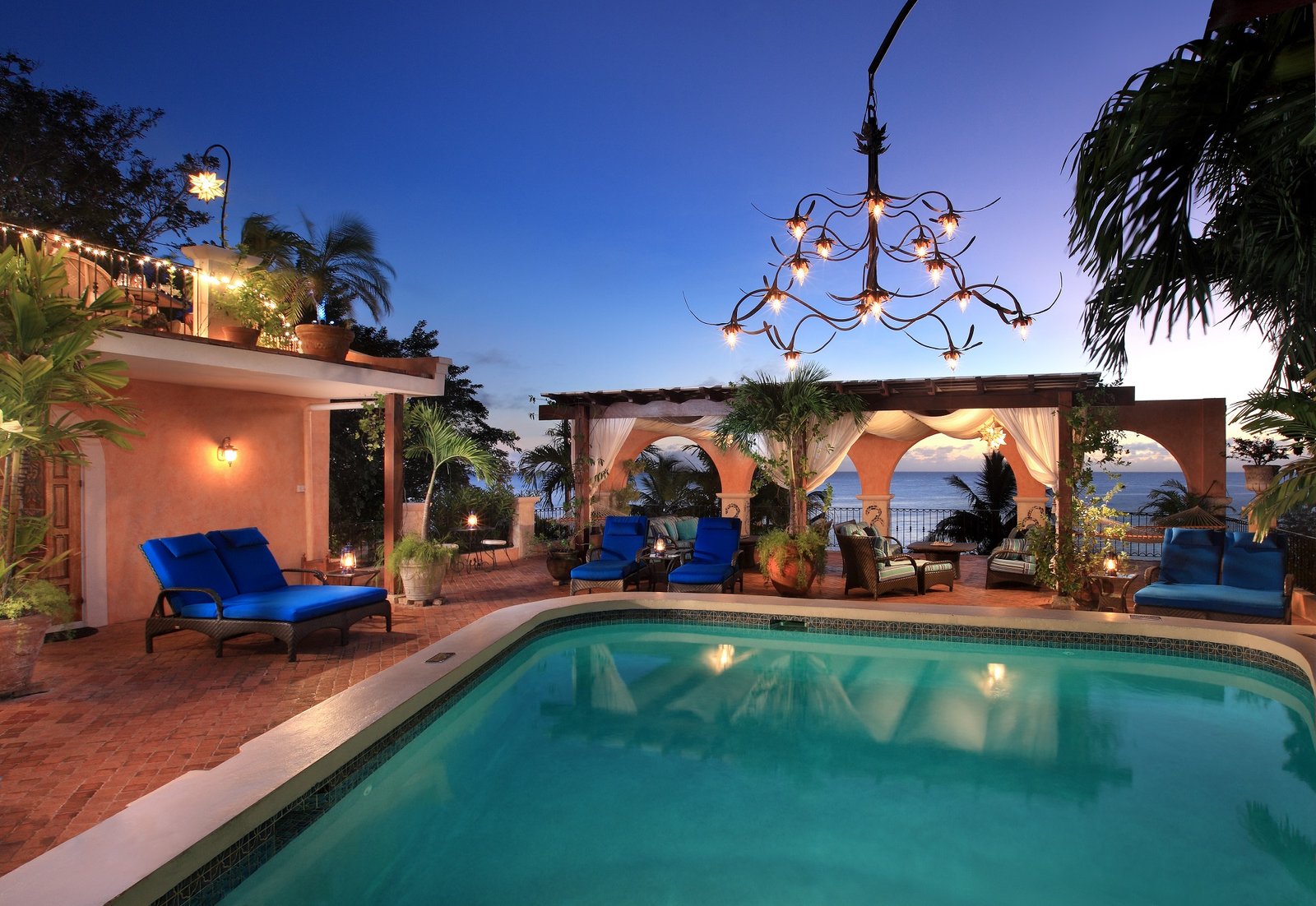 10. The Weather
Barbados weather is warm and sunny all year round averaging 30°C / 86°F and the lows being about 10 degrees less. Barbados has over 3,000 hours of sunshine each year! The prevailing northeast tradewinds blow steadily so that although it is bright and sunny, it is not unbearably hot. The nights are usually slightly cooler. The breeze takes away from the humidity as well so it doesn't feel overly humid. The dry season is January through June and the wet season through the summer – but even during "wet" season the rain comes in quick showers – followed by sunny skies. PERFECTION!