Portuguese hospitality in a bottle shows the love and affection that the people from North Portugal show through food and wine!
In the distance, a decadent warehouse is engulfed by the lush green plethora of fauna that makes up the Quinta da Aveleda's wine estate. Victor, our guide and green wine expert, meticulously inserts the rusted brass key into the wagon size dark oak doors, leaving the thick spider webs untouched. The lock sounds three turns before we are hushed inside and immediately my nostrils are immersed by the dense pomace brandy vapours. As if I was entering a time box, the smell a bouquet of wood, dried fruits, nuts and honey has been brewed over the years with mould, humid air of this constantly closed up environment.
It takes a few seconds for my pupils to adjust to the cave like environment, where Adega Velha, Portugal's finest grape brandy is gently aged in rows of dated oak barrels along a narrow central corridor. "1946, 1903, 1875… our piece de resistance" says Victor. The alcohol saturated air acts like an appetite opening aperitif, and after an afternoon of visiting wineries, I am more than ready for the estate's own cheese, green wine and brandy tasting that is waiting at the end of the visit.
It was already late afternoon when I arrived yesterday to Veade, a little village in the inland interior of Portugal, to stay at a by request only 18th century converted feudal manor house. There are few of these granite Romanic homes called solares, but I choose this one because it is still a home.  The whole family is gathered in the patio for dinner. It is not Sunday, there is no special occasion, just the deep familiar feeling that this region has, and where every meal is prime family time.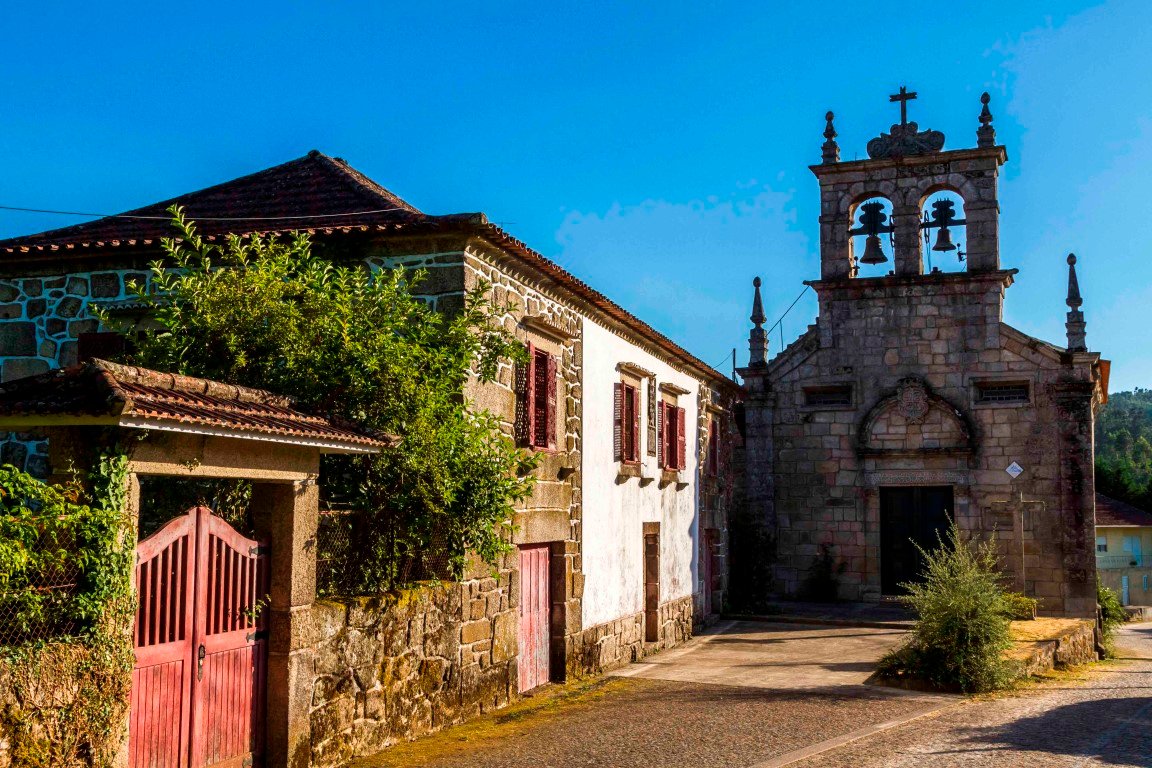 Antonieta, the owner, has no ceremony when pouring me a cold fizzy white wine, which as bouquet of freshly picked citrus. The slim amber bottle has no label. It doesn't even have a date. Frankly, I don't care. All I know is that this chilled crisp Vinho Verde is homemade and it majestically pairs with the rosemary roasted pork belly that she prepared. Her family has been producing their own green wine in this region for the last centuries, so I have no difficulty believing when it is said around the table that they hardly ever buy a wine from the shop. Why would they?
Everyone takes their time during dinner. Northern Portuguese hospitality is mainly expressed through food and drink, and although I am fairly recent stranger at the table, good conversation, second and third helpings are plentiful. The family's own cherry liqueur "ginginha" is served along with fruit compotes and cheese for dessert. A much need sugar bomb after an afternoon spent at wineries and tastings. It is curious to see how the whole family still proudly looks at the Alvão-Marão cordillera and the pine forests that make up the horizon silhouette, as if it was the first sundown they witnessed.
Exclusive to the Minho Region, Vinho Verde has its fermentation process terminated around the ten per cent alcohol volume, this slightly sparkling wine and it is meant to be drunk within one or two years after bottling, hence the name green (young) wine. Vastly made up of smallholdings, what I appreciate more about this region is the absence of a unified branded wine flavour, like one would find in Bordeaux, Tuscany or the Rhine Valley.  Each and every one of the thirty-five thousand small producers, like Antonieta relatives, do it for their own consumption, exploring the full range of the 35 grape varieties that make this DOC region. Big wineries like Adega de Monçao and Quinta da Aveleda or the mammoth Sogrape, mainly focus on the three most widely accepted white grape varieties – Alvarinho, Arinto and Loureiro to produce their wines. They are good, but I would always choose an independent small producer…
Vinho Verde's international sales are soaring, especially to markets which are traditionally dominated by French and New World wines. I am positively cheerfull when I see a Parcela Unica from Anselmo scoring a 94 on Robert Parker, and the almost ludicrous low price tag that is associated with green wines is becoming less of a deterrent factor for low quality/low price perception wine buyers.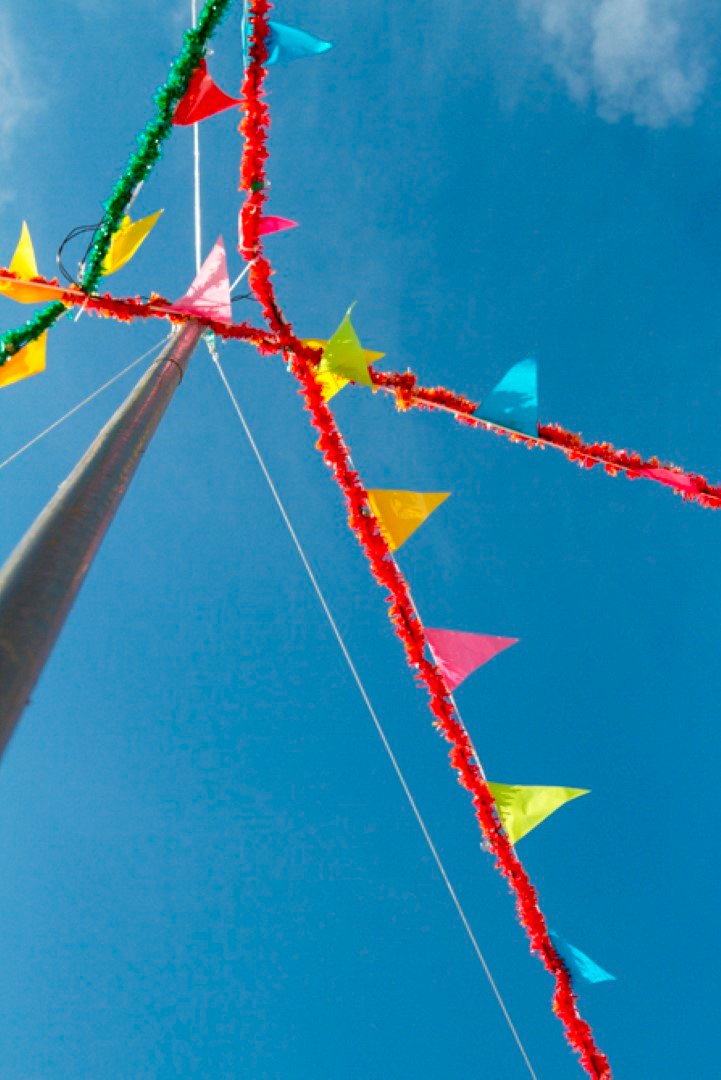 Wine journalist Joshua green, was recently in this region for taste verde tastings that he will surely include in his Top 50 Portuguese Wines list, said to come out in January 2014.  On a recent interview he states that the inherent freshness, light sparkle, sharp, fruity and low alcohol content associated with white and rose green wines make it a popular summer drink for Americans and a preferred choice of the female gender.
It is also becoming famous for its cuisine use, and Chef Victor Matos uses it proudly in his creations at the Largo do Paço Restaurant of the Casa da Calçada Relais & Chateaux boutique hotel in nearby Amarante. As I bear witness to the plating of one of their last creations, Sous-chef Andre Silva explains that the elevated granite plateaus and the rather cold Atlantic climate give this wine a distinct sharpness. Sommelier and Maitre d'Hotel Adacio Ribeiro is very keen on recommending the local wine to the hotel's guests and takes pride when they embrace its new bouquet and palate. Some even become Vinho Verde ambassadors for their own group of friends.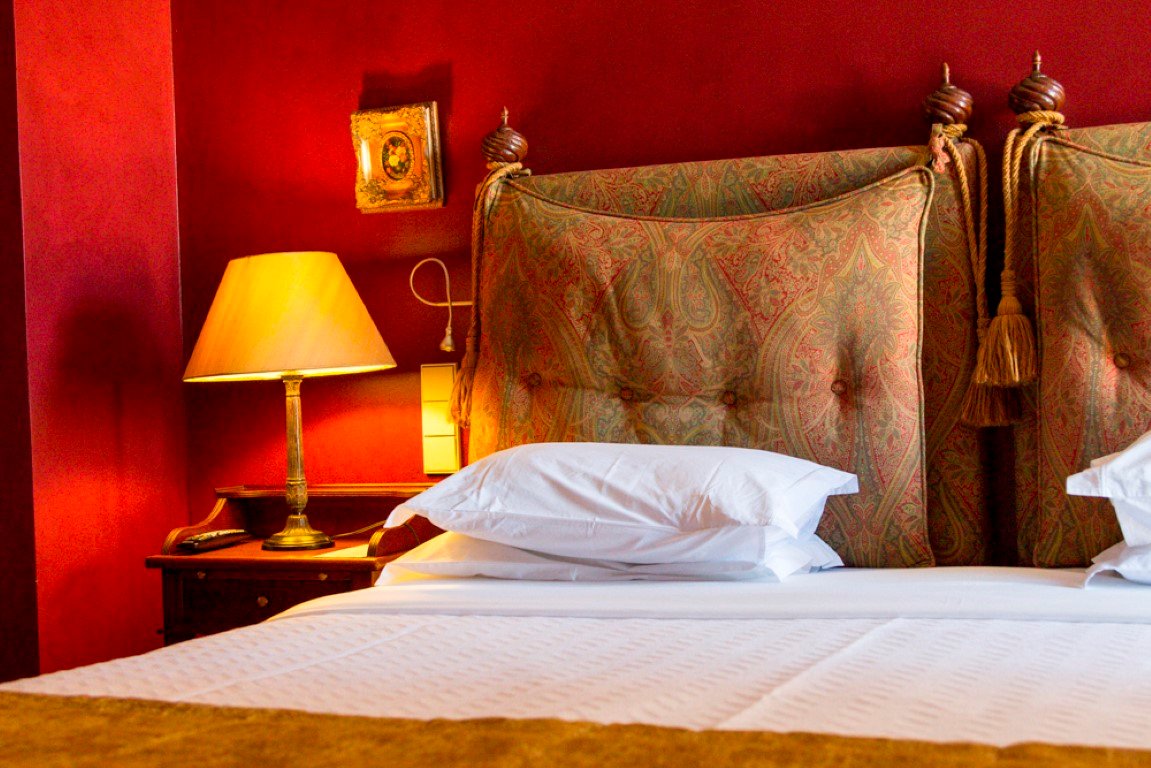 [wp_ad_camp_2]
Before I leave, General Manager Oriol Juve and recommends that I visit the Amarante Market, where twice a week local families have been selling their own produce for the last 100 years. There is not one digital scale in sight and the array of turnip leaves, black zebra tomatoes, smoked chorizo, acorn fed pork ham and hand carved bread flour mixers tell the story that there this region is yet to surrender to the growing supermarket threats. Simply known as Jose "Basket", this wicker artisan tells me that it takes him two days to weave the larger pieces and that he is unable to cope with the demand.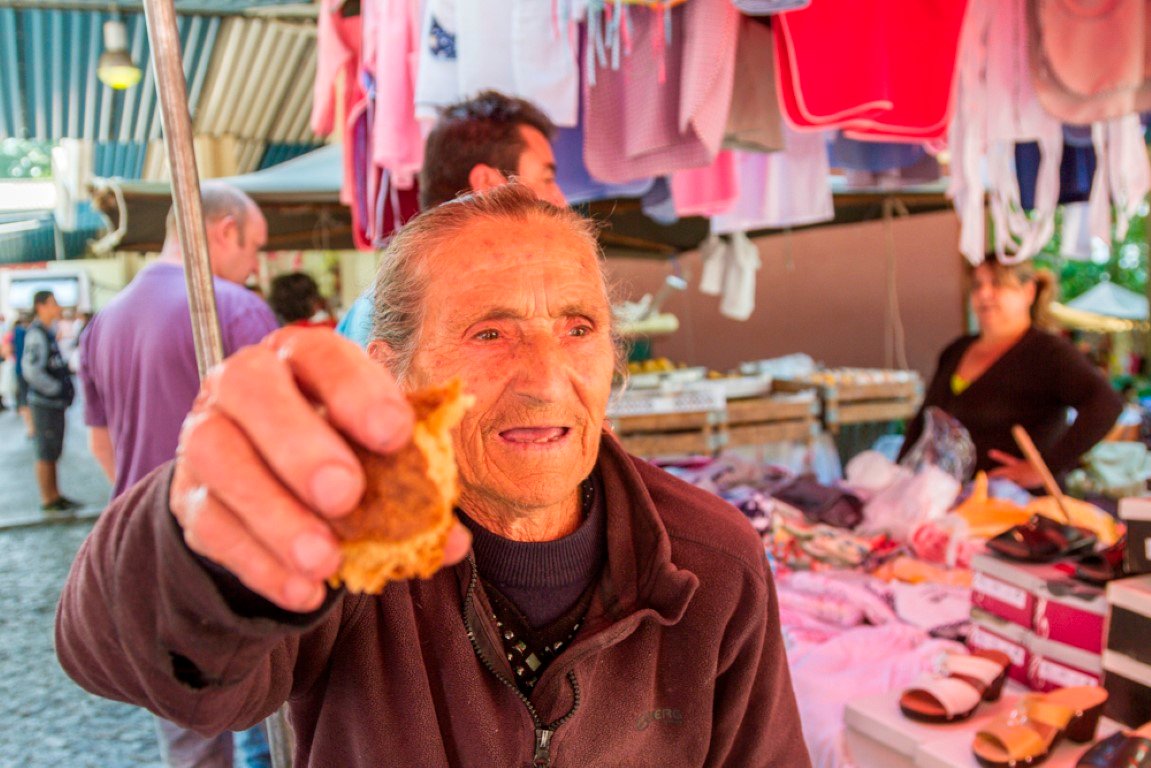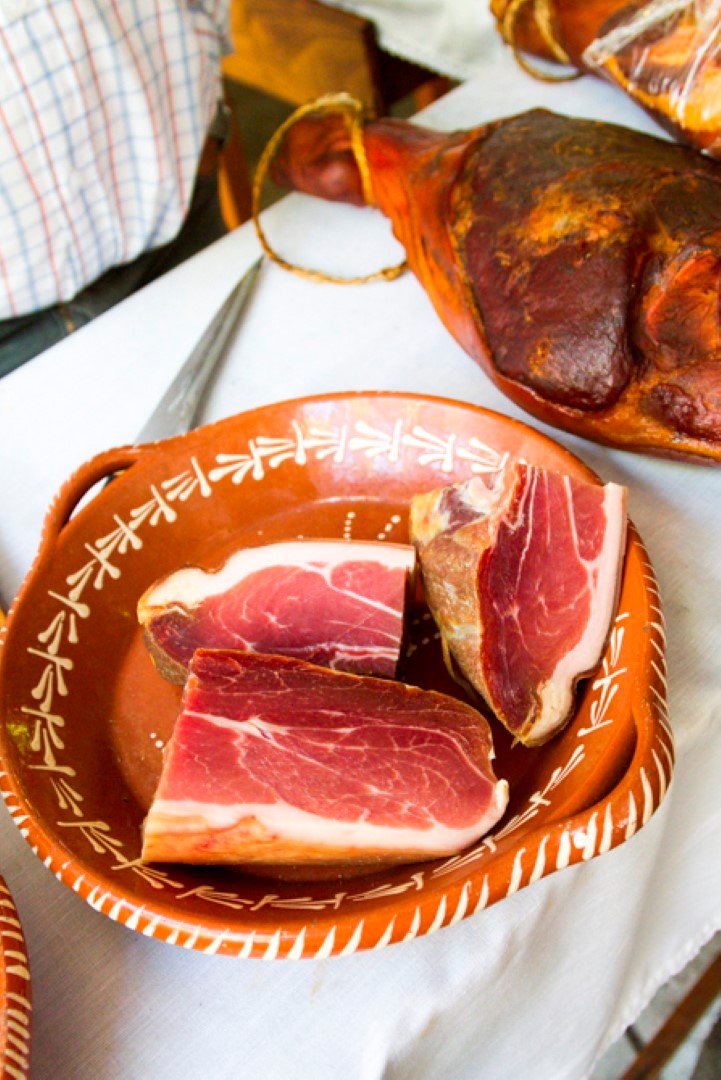 [wp_ad_camp_2]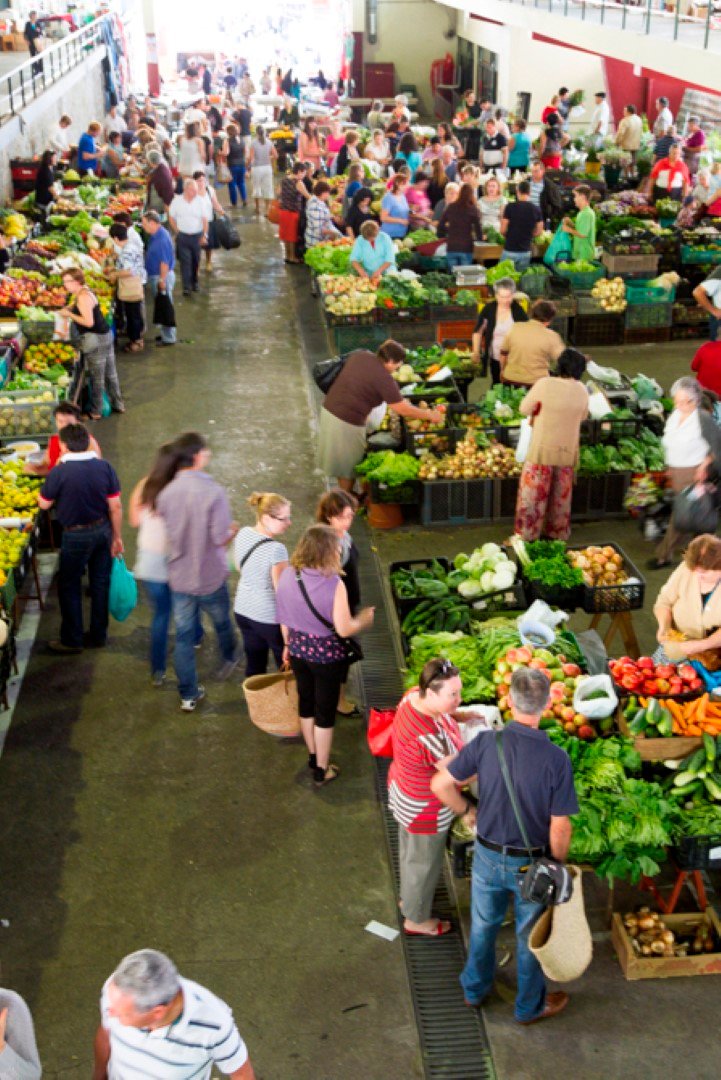 Before sitting down for another one of Antonieta's feast dinners, I make a detour through Mondim de Basto on my way to see hang gliders and paragliders set off from the Lady of the Graça mountain – the highest peak of the region. As I roam through this quaint small village I notice an old barbershop, where an even older man bearing a white vest shaves in front of a broken mirror. The green leather of the vintage barber chairs is all but worn out, and the equally tiered barber brushes and soap bars are chaotically arranged on top a cabinet, which in its own fate is completely pierced by wood-boring beetles.
The price list is a simple hand written paper amidst some shoe polish, the local football club badge and out of date perfumes. José (seems to the go to name for men in this region), simply points to the chair when I ask him for a trim. He is a man of few words, but assures me that his hands are as rock steady as when he opened the place 50 years ago. There is no name to the establishment "I could never be bothered to give it one" he says, in his heave northern accent. The blade is smooth and precise. A spotlessly clean while linen cloth emerges from the bottom drawer, which he soaks in diluted musk perfume to give job its final touch.
On my way up the mountain I spot a yellow glider take off from the summit on his way to join the dozens of fellow colourful spots that are circling the mountain. In the old days, fisherman from the west coast used this maintain a reference point and now, is a hotspot for adventure sports. They have become so popular in this area that a recently decommissioned train line has seen its tracks removed and reconverted in to an eco-path. It is forty kilometres from start to finish, all almost all of these run along the side of the Tamega River valley, offering sights to the otherwise unreachable natural riverside and mountain sights. I took the bicycle, but it was also meant to be walked on enjoyed on horseback.
[wp_ad_camp_2]