Visiting Portugal is great. The life cost is quite low, comparing to other South-European countries. Food, wine and sweets and excellent. Some of the oldest universities in the continent give energy and young life to historical cities like Coimbra and Évora. Although the country is ideal for those who seek the good life, who dig history, shopping or the arts, most people limit their visits to Lisbon, the Algarve or Oporto. Fair enough, these wonderful spots. But, even though Portuguese geographical limits are quite small, there's a lot to see and do around the country.
Take the North, for instance. Beautiful, mystic and wild, this is the cradle of Portugal. Accessible by car from Oporto, taking a little more than an hour of driving, you have the Minho region, with cities like Braga, Guimarães, Viana do Castelo and Ponte de Lima as must-see attractions. Last June I visited Minho for the second time, staying in Braga, sort of a spiritual capital of Northern Portugal, holding several historical and natural sanctuaries. Rent a car and you'll be able to explore this region by yourself, finding dramatic scenery, old Roman roads and unforgettable meals – gifts from the generous Portuguese nature.
36 hours in Braga, Portugal
Friday afternoon in Braga
The impressive Sé de Braga is not to miss. The oldest cathedral in Portugal, this is the main spot of the strong religious tourism in the area. You'll spend well two or more hours appreciating the altar, the Gothic chapel, the painted tiles. Cabral's cross is inside the treasure, hidden in another entrance with other inestimable relics. To visit the choir and see the chapels it is necessary to buy a guided visit for €2.
Out of the Sé, enjoy the rest of your afternoon exploring Braga's old centre – it's clean, organised, easy to walk around and full of charming shops and cafes. If the weather is good, permit yourself to get lost on the streets and squares. The terrain is quite flat, and it is possible to rent a bike – look for Go by Bike.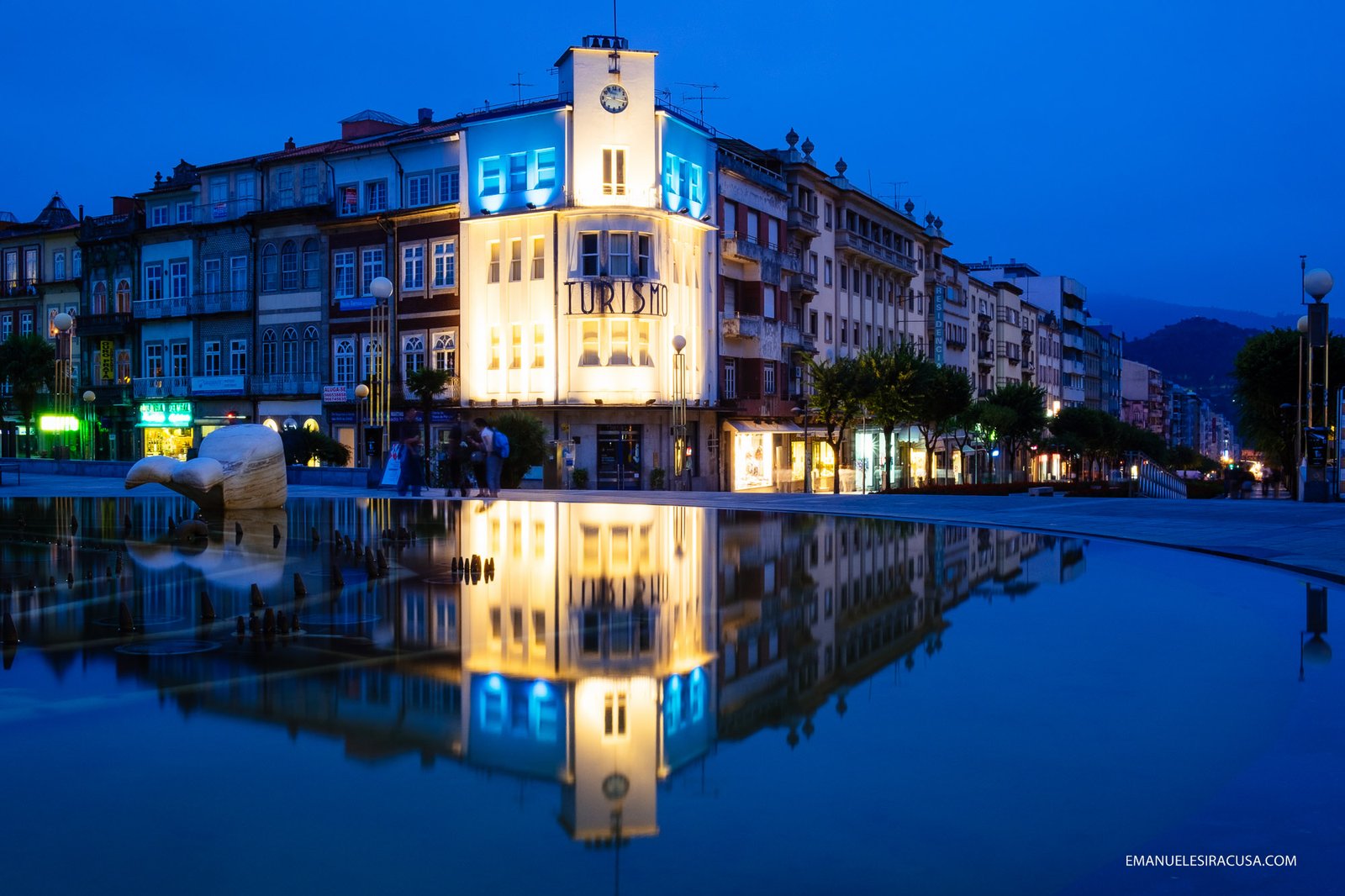 The Fonte do Ídolo (Fountain of the Idol) remains from Roman times. Museum Dom Diogo de Sousa is the place to go into archeology, seeing pieces from the Palaeolithic to the V and VII centuries, when the Visigoths occupied the region. Also, Museum of Biscainhos is worth the location alone – a palace filled with Roman treasures and gorgeous tile works.
Apart from the historical treasures, GNRation is an incubator space that hosts modern art exhibitions, jazz shows, and theatrical performances. And gorgeous Museu da Imagem (Image Museum) hosts photographic exhibitions. End your afternoon with a stop at Centésima Página bookstore, inside a baroque house. Or have tea and biscuits at Cores do Chá. Or even a local wine tasting in the square facing the Sé at Encantos da Minha Terra.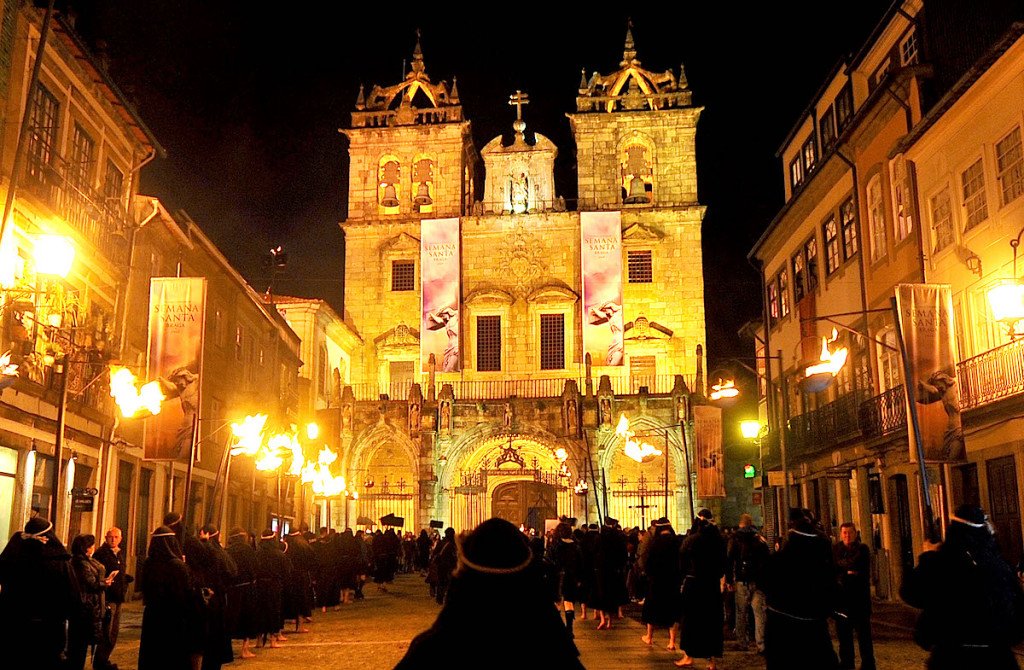 But guard space for dinner! In Northern Portugal to fill your belly with heavy, delicious food is a moral obligation. You're not short on options here, but my suggestion for your first dinner in Braga is Taverna do Migaitas. You may order one of the very good game dishes or spend a few hours trying all sorts of delicious portions of cheese, ham, bacalao and so on. Be sure to order the local vinho verde (green wine). It may be white (light, fresh and acid) or red (strong and very dark, some people consider an acquired taste, I love it). A drink before calling the night off? Have Chip & Tonic at Casa dos Coimbras, by the Sé.
Saturday, all day in Braga
Start your day stopping in a pastelaria for baked goods such as natas, pastries and coffee with milk. Then head to the sole National Park in Portugal, Peneda-Gerês. Created in 1971, it goes from the mountains of Serra do Gerês to Serra da Peneda, on the Spanish border. The park has dozens of well-marked trails with different levels of difficulty. A few Roman roads are still in use, with minarets hidden along the way. The nearest entrance to Braga is at Terras do Bouro.
Already hungry? Then it's time to cross Furnas reservoir and go up the road until minuscule village Brufe to enjoy a memorable meal. The place is Abocanhado restaurant, built on rocks and wood, with a large panel window facing the valley, completely integrated to the scenery.
The bacalao is very good, but I recommend choosing the delicious local red meat with a pairing of vegetables. Red wine goes well, of course. End with one of the desserts created by chef/owner Maria Helena. And, if the weather allows, take a quick nap under the trees, watching the lovely mountains. Twenty minutes ahead is Spain. To the west, the Trás-Os-Montes region. * Advice: get in contact before to check if the restaurant is open because there may be alterations during winter time.
Brufe is but one amongst many small, hidden villages in the north of Portugal. In Gerês alone there are around 100 of then, with granite houses, clear water fountains, sun clocks and ladies dressed in black looking out of the windows. It is a Portugal that's disappearing every day as young people leave the countryside heading to the cities. Will they vanish completely? I sure hope not.
Half an hour by car and you'll be back to Braga. Your day may end in the gorgeous Praça da República, the living center of the city, where students gather on weekends. If you're up for drinks, try this terrace with views to the old city. Juno is also worth checking.
Sunday, morning and lunch in Braga
Start the day with coffee at charming Lusitana, in a garden near Avenida Central. It's one of the oldest in Braga. If you're lucky to be here every first Sunday of the month, visit Feira da Velha flea-market first thing in the morning. Use this map from VerPortugal to locate it – it's not that easy!
You can also enjoy the morning light to see the beautiful Mosteiro de Tibães, a five-minute drive from Braga. The XI century monastery is part of a complex, nowadays used for special events and parties, that include a church, a charming restaurant and a small hotel with only nine rooms. Before lunch, go to see the staircase of Bom Jesus do Monte, a sanctuary from XVIII century. If you have no promise to pay, skip the long stairs and go up using the elevator, one of the few powered by water still functioning in the world, built in 1882.
And then, if the weather is good, take the chance to enjoy the green park around Bom Jesus and picnic like the local families. Considering, of course, you bought your snacks in advance in Braga, in a nice place like Mercado da Saudade, specialised in Portuguese goods.Or you can say goodbye to the area with a big lunch at grandiose Pousada Mosteiro de Amares, not more than half an hour drive.
How to get around and where to stay in Braga
There are almost no trains, and the bus options are few. It is easy, for example, to go from Braga to Bom Jesus or Tibães by bus, but Peneda-Gerês and the villages are reachable by car only. The roads in Portugal are very good, so my recommendation is to rent a car to explore the area.
Braga is the 3rd biggest city in Portugal, and there are hotels for all budgets and tastes. Since life here is around the city center, I suggest a hotel close to the Sé. My weekend was at Bracara Augusta, right in the historical center, on the right side of Centésima Página bookstore. There are only four stores, the suites are small and comfortable, with nice windows facing the square. The restaurant is quite good, and you can have breakfast in their small garden even if not staying here.
More information about Braga:
Disclaimer 
This article was written by Gaía Passarelli, on a recent trip she made to the Portuguese Northern region of Minho as a guest of MinhoIn and Cunha Vaz & Associados . Gaía Passarelli is a freelance writer based in the bohemian Vila Madalena, in São Paulo, Brazil. Follow her on Twitter/Instagram @gaiapassarelli. The original article (in Portuguese) here.
Photo creditos to Gaía Passarelli, Emanuele Siracusa and Guy Moll