Before the invention of artificial yeast all breads, including the Portuguese Alentejo bread recipe were made with sourdough. So it would be natural to try to make this bread according the original recipe made by my good Swiss friend Luisa from the Rise of the Sourdough Preacher baking blog.
Just last week a big 3 page feature of Alentejo in the New York Times Travel Section put the southern planes of Portugal in the hot list of the world erudite travellers. I can attest to the tittle chosen by ELI GOTTLIEB – A land finely aged like wine, as there is much character and knowledge that has rooted itself in the cultural landscape of this region. It is not only belonging to the old generations, but it is being refined and given a new vintage feel by the newer generation that loves the emptiness of never-ending planes of Alentejo. 
If you are into deep flavour of south of Europe, check out my other post of Alentejo Sericia Recipe with Sugas plums syrup, for a taste of the Southern Portuguese Sweet tooth.
Portuguese Alentejo Bread Recipe aka Pão Alentejano
[wp_ad_camp_2]
This bread was a nice discovery I made this summer, after meeting Nelson Carvalheiro at the Foodblogger Connect conference in London. Nelson asked me to be a guest on his blog, with a recipe of Portuguese bread. Needless to say I immediately accepted with enthusiasm. Pão Alentejano, the Portuguese name for Altentejo bread is a long fermentation bread made with sourdough. It positively struck me for its taste, texture and beautiful crispy crust. Discover with me how to do it at home, it will take some time but it is absolutely worth it! Pão Alentejano!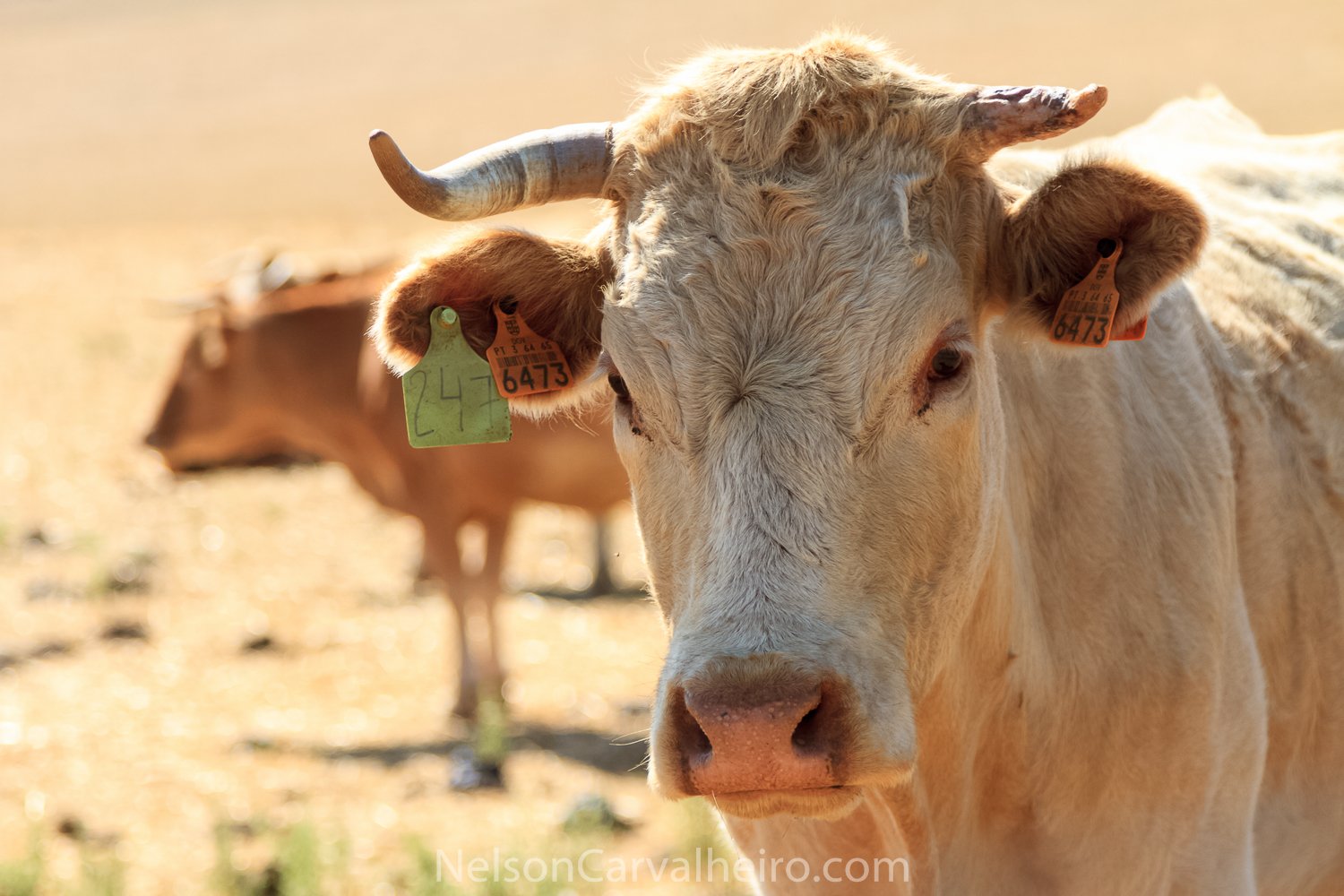 The Alentejo region of Portugal is little known but is considered one of the most wild and authentic. On its hills little villages of white houses stand out, surrounded by wheat fields and olive trees. Coming down from the hills, one is greeted by sand dunes, long beaches sixty kilometers long and nature reserves. By virtue of such pristine beauty in 2013 prestigious Guardian newspaper has included Comporta beach among the 20 best beaches in Europe.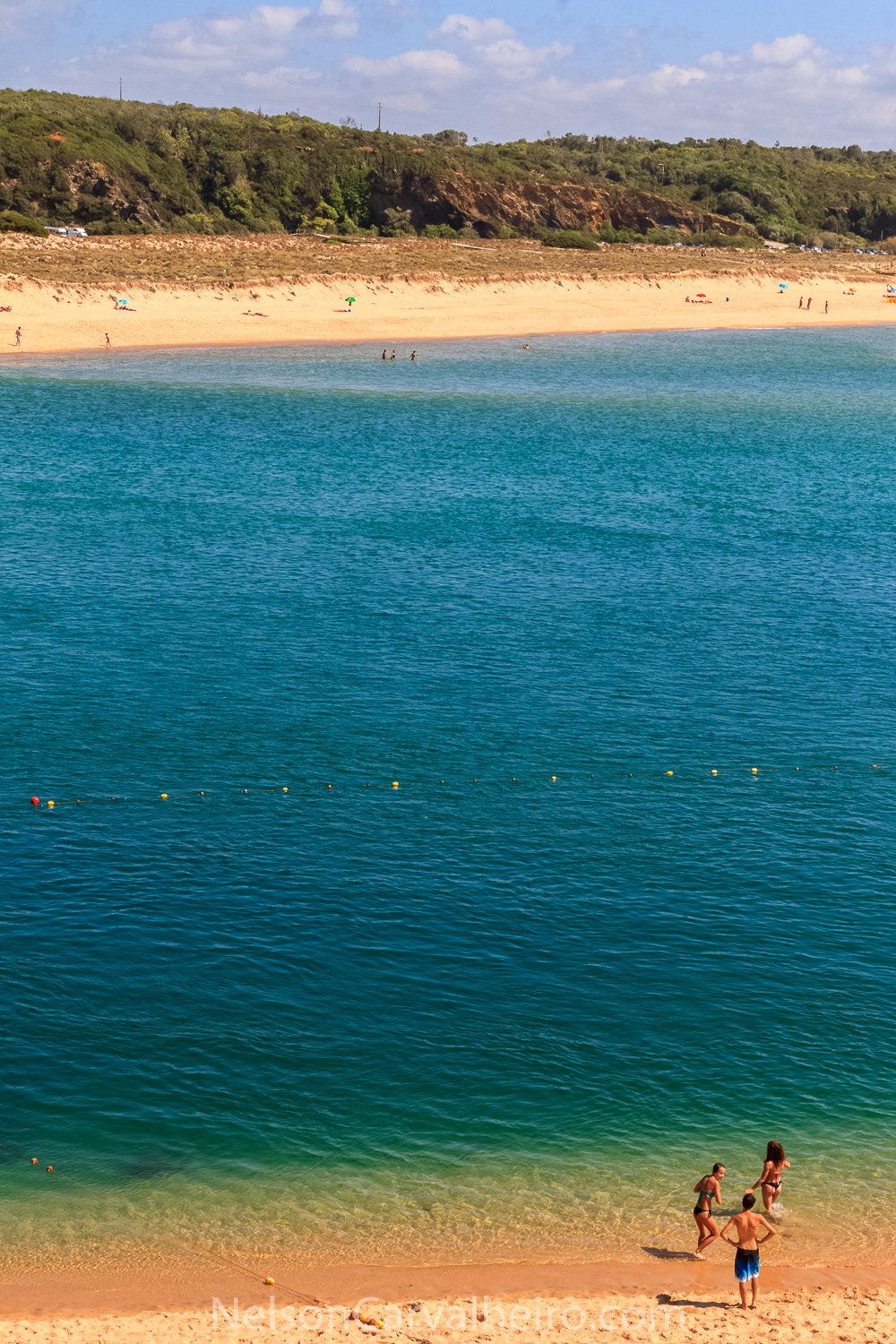 Doing a thorough research I found out about this bread, typical of the Alentejo region, is a true landmark of Portuguese cuisine and is strongly rooted in the region identity. Among other things, I found several articles and blog posts that complained about the gradual loss of this traditional bread and its appropriation by supermarkets, which inevitably have altered the original essence retaining only the outward appearance. The most common and traditional shape, which unfortunately I have not been able to reproduce, is also referred to as "bread with a head" because of the bulge that is created on top of the loaf.
[wp_ad_camp_2]
Portuguese Alentejo Bread Recipe made with Sourdough
An ancient and traditional bread made ??with sourdough, Pao Alentejo has a slight sour aftertaste, compact crumb and thick and rustic crust. The distinctive flavor of this loaf is impossible to achieve without the use of a pre-ferment and without long fermentation so be prepared for a day and a half of work. I assure you will not be disappointed by the result. In Portuguese cuisine Pao Alentejano is used for recipes such as a dish called "Açorda", which mixes pieces of bread in a fish soup along with coriander, garlic and poached eggs. The recipe from which I took inspiration is from the blog Bernd's Bakery.
I have adapted it for the use of levain in place of the fermented water Bernd uses. The result is fantastic. Ac ompact and very aromatic bread crumb, with a nice rustic crust that crackles and sings under the bread knife. Delicious eaten fresh and superlative when toasted. I am not surprised at all this bread is a pride of the region and is well known throughout Portugal. Are you ready to roll up your sleeves and spend a bit of your time for this wonderful loaf? Ready, steady, go!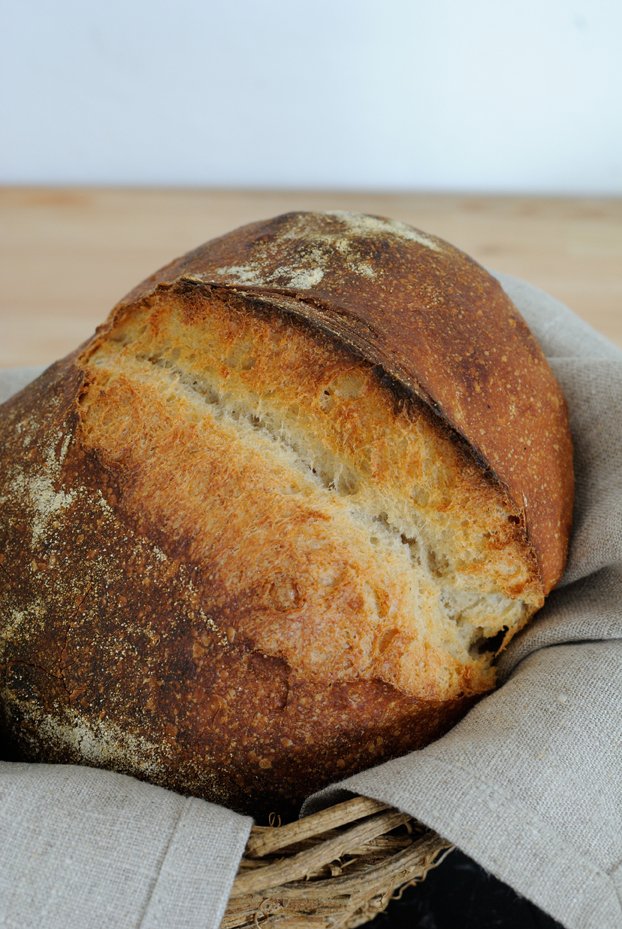 Portuguese Alentejo Bread Recipe Preferment
34 g bread flour
34 g levain, 100% hydration
34 g water
Mix ingredients and let stand in a bowl covered with plastic wrap for 12 hours.
Portuguese Alentejo Bread Recipe Rye Levain
50 g rye flour
40 g water
10 g sourdough, 50% hydration
Mix ingredients and let stand in a bowl covered with plastic wrap for 12 hours.
Portuguese Alentejo Bread Recipe Dough
100 g preferment
95 g rye Levain
160 g water
150 g semolina flour
125 g bread flour
5 g raw sugar
8 g salt
Portuguese Alentejo Bread Recipe Method
Mix flour and water and let rest for 30?.
Add rye levain, preferment, salt and sugar and mix for 3 minutes on low speed, continue for 5? on second speed.
Let rest for 90? making one fold after 30? and one after the hour has passed.
Loosely pre-shape in the shape of a round loaf.
Let rest 20?.
To shape the bread I "split" the loaf at 1/3 of the length using the side of my hand and going almost all the way through.
I then dusted the smaller lump of dough with a little semolina flour and folded it over the loaf and pinched the edge to the top of the loaf.
Put the loaf on a baking tray covered with parchment paper.
Dust the bread very well with semolina flour, cover with cling film and let rest 60?.
Preheat the oven at 270° C and bake 20?, with steam for the first 10?, then decrease the temperature to 180° C and bake 10? more.
To create steam place a pan with water on the bottom tray of the oven during preheating of the oven.
Be careful when you open the oven because the steam will come out and it is very hot.
After 10? remove the water pan.
Keep the oven door slightly open the last 5?-10?.
Out of the oven let cool on a wire rack.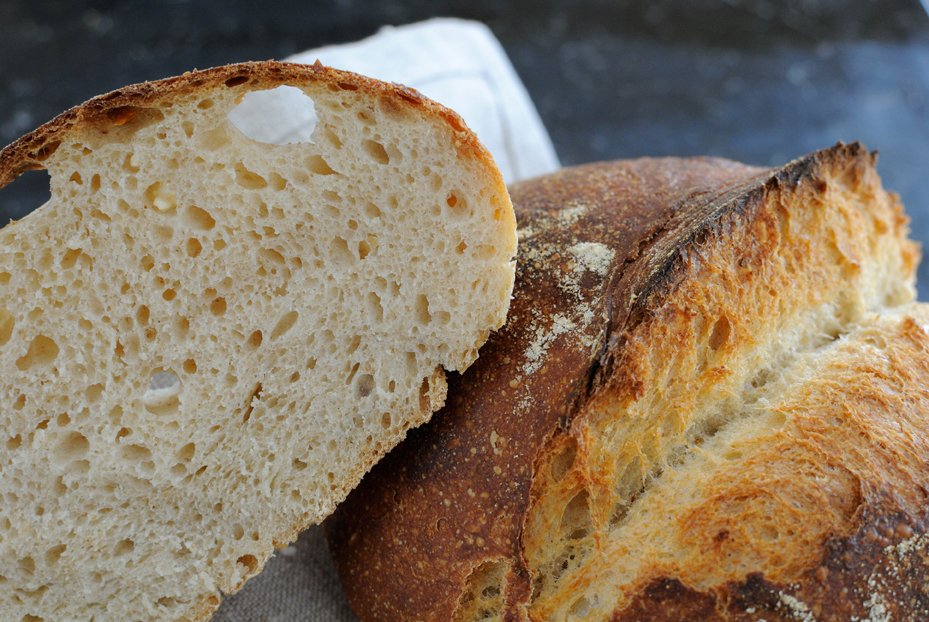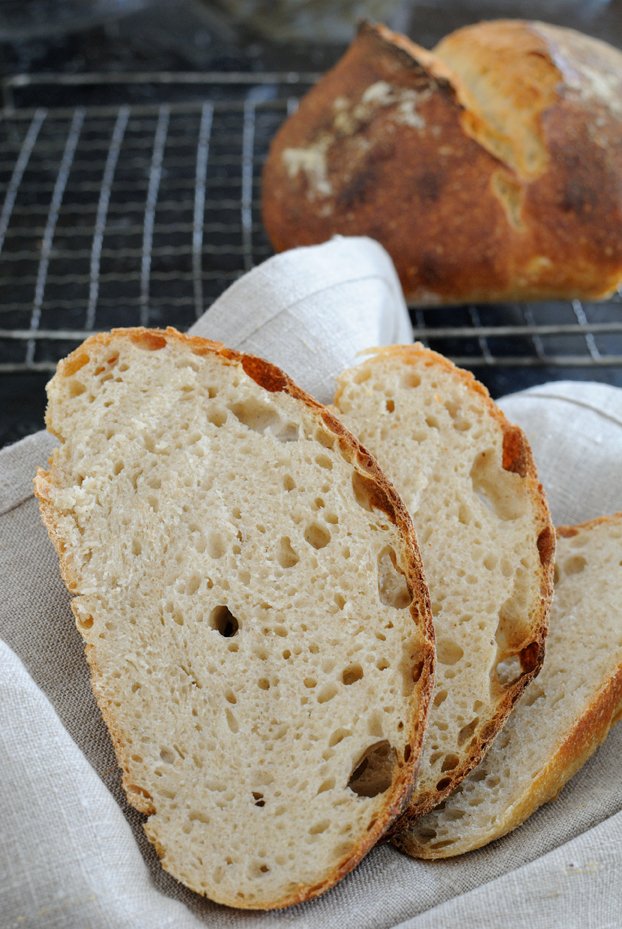 [wp_ad_camp_2]