The Best Secret Restaurants in Lisbon is a small collection of privately held, individual establishments that still operate in the same way in which they were conceived 50, 60, 70 or more years ago. These restaurants provide you and insight into the best Portuguese traditional gastronomy that Lisbon has to offer. Away from the crowds where only the neighbourhood provides its customer base. Forget about Tripadvisor, ratings in Yelp, websites or in most of them English speaking staff. These are the kind of places that you rave about to your friends who have also been to Lisbon, as nobody else provides such authentic Portuguese food.
We are now on the 5th consecutive year of increasing tourism numbers in Lisbon. Since 2010, the Portugal has gone from a secondary (or even tertiary) choice for holidaymakers to Europe's hottest destination. And Lisbon is its Ambassador. It is the city of light, a cinematographer's dream of whitewashed buildings, narrow streets, countless belvederes, music playing in every corner and skyline that puts Rome and Florence to shame. This boom is the number of travellers roaming Lisbon's streets has lead to dramatic rise and diversification of the tourism offer, however, some things remain the same. And thank god they do…
My last posts about where to eat out in Lisbon  or Where to eat out in Porto provide a more general and easy view on which are the best restaurants for Portuguese Food in Lisbon and Porto. The Best Secret Restaurants in Lisbon takes a step further in bringing to light the places that not even some locals know about.
Best Secret Restaurants in Lisbon
Best Secret Restaurants in Lisbon shows you the best places for authentic, honest and truly off the maps Portuguese cuisine experience in Lisbon.
Ponto Final
Cais do Ginjal 72
2800 284 ALMADA
Tel: 212760743
The name makes justice to where this restaurant is located, as it is literally at the end of a riverside walk on the other side of the Tagus. To get to the restaurant, you will have to cross the river on the commuter ferry from Cais do Sodre (Lisbon side) to Caçilhas (Almada side). I always recommend that you call ahead and reserve a table to be sure you can enjoy unimpeded magnificent views of the water, with 18h00 being the best time for an early dinner with a view of the sunset over Lisbon. Here the food is all about deep traditional Portuguese home-cooked flavours, so the must haves starters are; salt cod with chickpeas and the escabeche sardines, which come with very candid Alentejo bread. For the main course, I strongly suggest the tomato rice with deep-fried baby mackerels for a taste a local fisherman's home dish, or ask for the catch of the day and they will char grill it for you on request.
Merendinha do Arco
Rua dos sapateiros 230
1100-581 Lisbon
Tel: 213425135
Merendinha do Arco by the Rossio Arch has been for many years one  of my favourite "Tascas" – Portuguese local eateries – in Lisbon. It is famous for the best char-grilled cutlass fish (peixe espada) in town, served with a comforting red bean rice. It's a small place, with no fancy décor, just what the owner has put in the more than 20 years of running the place.  It seats about 30 persons sharing 3 communal tables, which are always filled with only locals, so elbow space is a bit of a challenge at busy lunchtimes. Ask for the daily specials which include salt cod with chickpeas, viel&vegetable stew, fried black pork loin and some house Vinho Verde (unripe wine) to go with your meal. At the end of the meal everyone gets a shot of aged distilled grape must liqueur, so be ready to feel as happy as you can after this experience.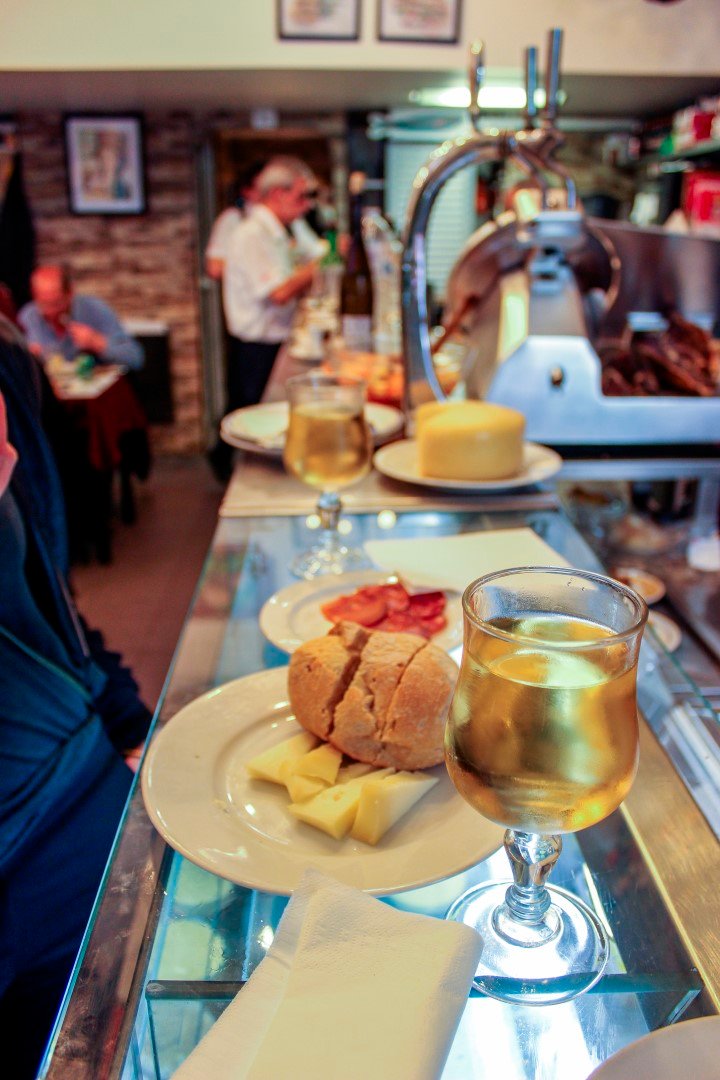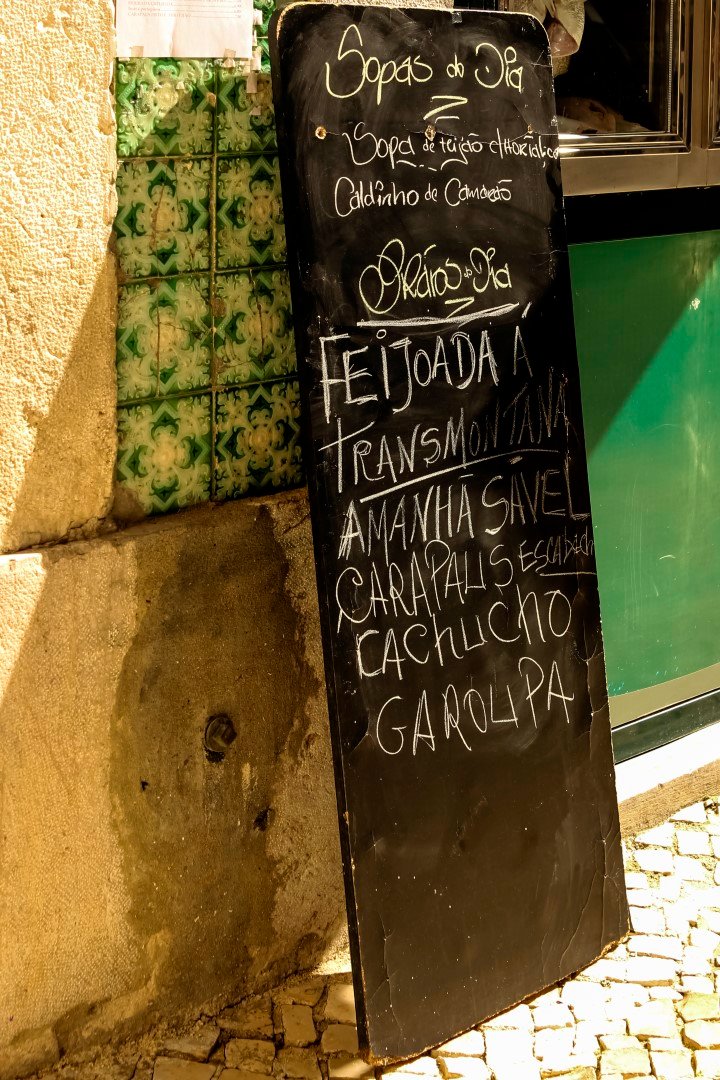 Cantinho Lusitano
Rua dos Prazeres 52
1200-355 Lisboa
Tel: 21 806 5185
Nestled in the maze of hippy chic Principe Real neighbourhood and a stone's throw away from the Portuguese Parliament, Cantinho Lusitano is Lisbon's epiphany of the Portuguese Petiscos (small eats) and good wine, hole in the wall restaurant. It is a sober and well-lit establishment which seats only 20, so reservations are a must. Ask for the daily specials, and try out selections of cheeses and charcuteries, stewed snails, fava beans with cumin salad, salt cod with chickpea salad and many other Portuguese delights. For the dessert, the cottage cheese with pumpkin jam is a must.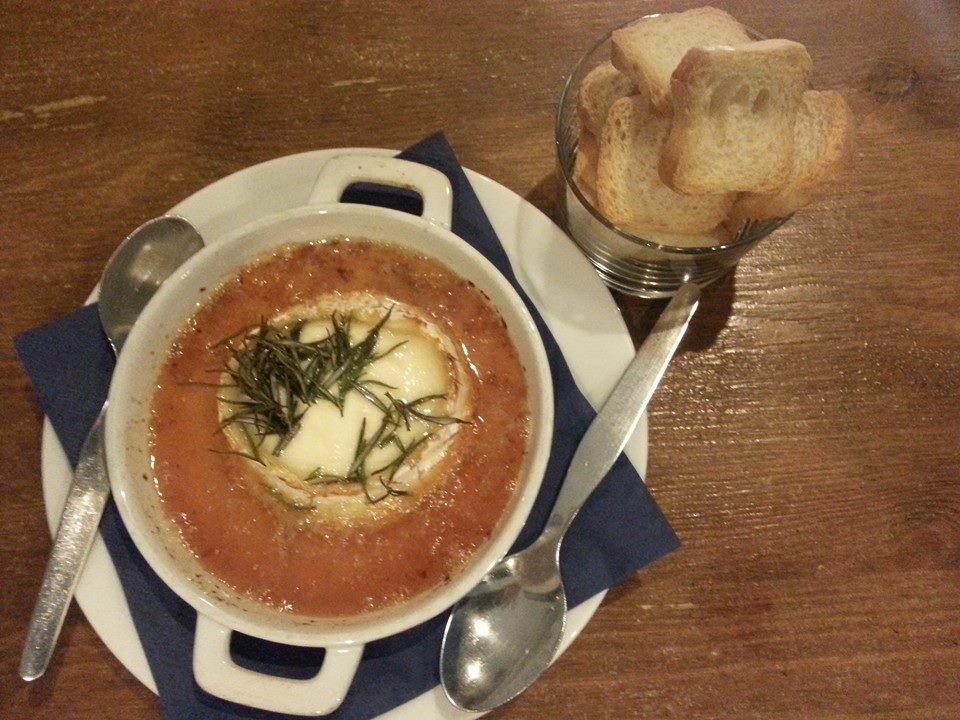 A Baiuca
Rua de São Miguel, 20
Alfama
1100-544 Lisboa
Tel: 21 886 7284
If you want to experience authentic Lisbon at its purest this is the place. Family run, this tiny restaurant (just seven tables) has been open for 40 years and the decor has not changed since. The food is basic and unpretentious with dishes like monkfish stew and chars-grilled fish, however, the real draw is the Fado, Portugal's traditional, melancholy folk music sung by a female vocalist with two or three guitarists accompanying her. When the singing starts, everything else stops, the kitchen, the table service – and even the neighbours who often drop in for the performance. This is the place to hear raw original Fado music, so remember: no lights, no PA, just the singers, the guitars the candles and your tears.
Marisqueira Nunes
Rua Bartolomeu Dias 120
Belém, Lisboa, Portugal
+351 21 301 9899
http://nunesmarisqueira.pt
Forget about Cervejaria Ramiro, its messy crowds and nightmare 2h queues. The new seafood hotspot in Lisbon in Marisqueira Nunes. A place where the tablecloth is not discardable and orders can be made at regular voice decibels. Smack in the middle of Belém, Lisbon's cultural hub, this Marisqueira it ticks all the boxes. The seafood and fish are as fresh as it gets, the chef is committed into cooking high quality traditional Portuguese cuisine, tap beer is ice-cold and there are no crowds at the door. Also it is one of the few places in Lisbon to sell lapas (limpet muscles) normally found in Madeira island) and bruxas (slipper lobster) a particular species of slipper lobster only found off the coast of the Azores. Garlic jumbo prawns are a must with the lobster rice being also a sensible option. Rumours have it that the President of the Republic, who is their next-door neighbour, something sneaks in for a Piri Piri carabineiero and a cold one before a major decision.
Tasquinha do Lagarto
Campolide 273,
Lisboa, Portugal
+351 21 388 3202
Outside of the touristic centre of Lisbon, Tasquinha do Lagarto, is the pinnacle of honest Portuguese cuisine within a capital full of "fashionable" insipid food concepts. The lack of any international notoriety does not seem to bother clients who are even thankful that they can enjoy the place just for themselves. One of the menu highlights is roasted veal flank with roast potatoes and broccoli at 13 Euros. The other is the grouper rice for 10 euros.  Ridiculously cheap right! Needless to say that the portions are big enough to feed a family of Norwegians but are just enough for the Portuguese hunger. The owners come from the North of Portugal, so a very warm welcome and a chilled bowl of "green red" wine are guaranteed.
Zé dos Cornos
Beco dos Surradores 5
 1100 Lisboa, Portugal
+351 21 886 9641
Adequately named after the owner's father extra-matrimonial frolicking: Cornos translates into horns in Portuguese, this place is so hidden that only a few of the locals know about it. The menu basically consists of charcoal grilled fish and meats, with my recommendations going to the salt cod and the pork ribs, but this place is really about the bifana. The Portuguese version of food, this braised pork loin on a bun is religiously eaten with mustard and enjoyed all across Portugal no matter the social status. The house wine actually comes from the João (the owner's) grapes, so be sure to tap into some pretty archaic Portuguese wine aromas.
 Tasco do Vigario
Rua do Vigario 18 | Santo Estêvão
Lisbon 1100-615, Portugal
218 876 534
A small tasca (very simple and typical restaurant), with four or five daily dishes at unbeatable prices. It's a good place to go if you are visiting Alfama neighbourhood. Very close to the Flea Market, Pantheon and the beautiful Rua dos Remédios. You'll find it crowded if you arrive after mid-day, so don't be late. Beautiful immersion in Lisbon life. Great food, cooked by mother, very friendly people. Many locals. he portions were extremely generous and the meat was lean, tender and tasty. Average meal prices with wine round about 8 euros per person. Portuguese staple cozido.
Varina da Madragoa
Rua das Madres 34-36
213965533
Varina da Madragoa, nicknamed "the best Pataniscas in Lisbon", and take my word for it, they are. Pataniscas are deep-fried codfish coated in a parsley, potato and onion batter and normally come with red bean rice stew or migas – fried bread and cabbage. Fish is also a good option, especially the Bacalhau (Salt cod), which comes grilled to perfection: crispy edible skin with translucent flesh next to the bone. So if you are ever close to the Ancient Art museum or if you are visiting the Madragoa Quarter this is definitely the place to go: charming, typical restaurant with honest authentic Portuguese cuisine at affordable prices for a city capital.
Zé da mouraria
Rua João do Outeiro 24
1100 Lisboa, Portugal
You won't find a sign pointing to the restaurant, but you will probably see a line outside, so try to be there around noon or you will have to wait. This little restaurant is just round the corner from the tram 28 1st stop.  It's a favourite amongst Lisbon's taxi drivers, so you know that food it well, it varies often and there are no tourists.  Don't be surprised if you walk into see people eating calamari and potatoes in a huge steel bowl. One portion feeds 4. The locals had doggy bags to take what they didn't eat home. The calamari was so tender and the flavour was out of this world. The cost with bread & 4 beers was €22. All I can say is seek this place out you won't be disappointed.
Disclaimer :
The Best Secret Restaurants in Lisbon article is a part of my ongoing collaboration with Porto Bay Hotels, where I am a frequent contributor to the In Porto Bay blog. You can see the original article here: Lisbon's 10 Secret Food Spots.
Photo credits to Nelson Carvalheiro and respective properties