A dream come true…After only a year and a half of starting my blog, I was given the opportunity to address the most influential travel bloggers and media in the world with the opening keynote at TBEX Europe 2015 Costa Brava. Sharing the stage with me was my fellow partner in promoting Portuguese Food Travelling, José Borralho, the President of APTECE – The Portuguese Food Travel Association.
APTECE is the acronym for the Portuguese Food Travel Association.  This association aims to promote food as the main driver for travel, in Portugal and on a global scale. The main goal of APTECE is to invest in the promotion of regional culinary arts as cultural heritage, local and national and distinctive element to attract international tourism to the country.
It understands the importance that the blogging community, especially the influence that food bloggers, have in inspiring travel to destinations based on food motives. This is why I was named their Ambassador to the blogging community and have been working directly with José Borralho for the last two years in establishment of food as one of the principal drivers of travel. Although our big focus is Portugal (our home country) we have help many private and public entities to use food as a main driver of business and of gaining awareness with their audiences.
Conducting the interview was Gary Bembdrige from Trips to Travellers , who did a superb job in getting the most interesting information out of me an José, always staying on point with the question and helping the audience understand our points of view with his ideas summaries.
A big thank you to Mary Jo Manzanares, Rick Calvert, Patti Hosking and Deborah Cole and the TBEX Team for making this opportunity come true!
Photo provided courtesy of TBEX, Laurence Norah, photographer.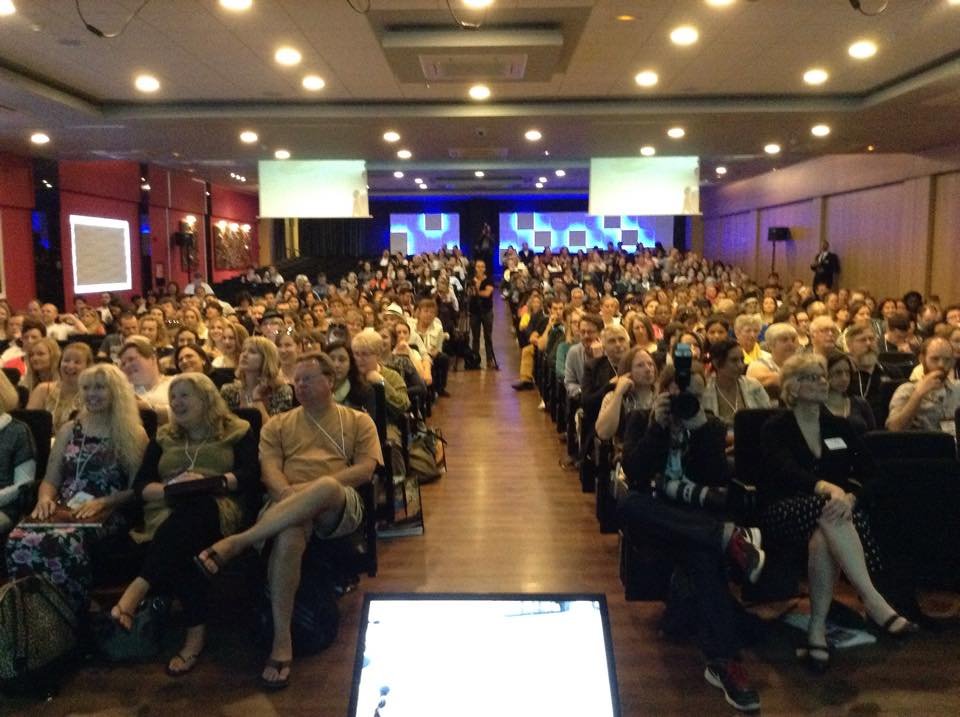 [wp_ad_camp_2]
Opening Keynote at TBEX Europe 2015 Transcript
 Nelson: explain how you got into writing, blogging and where you focus and why?
I just wanted to tell food and travel inspirational stories. Before getting into blogging I was a hotel director for 2 luxury hotels in Lisbon. One of the places is called Palacio Belmonte, a magical 15th century palace with Roman and Moorish heritage, where the average room rate was about 1000 euros per night. Besides all the managerial duties, what satisfied me the most was to recommend the that Lisbon has to offer, in a very candid and natural way. The Palacio Belmonte's clients have travelled all over the world and are not impressed easily.
They are persons who enjoy luxury through simplicity and to get to know a destination through the eyes of the local, who can provide them with local experiences unreachable to other travellers . These guests became my personal friends, and the persons who I would meet on my holidays. I truly enjoyed travelling through destinations with them, as their sense of travel was the same as mine. So, I started the blog to tell these stories. The stories of what it is like to travel through a destination through the yes of an HNWI insider.
Of course that food makes a big important part of the stories because it is a big obsession of mine. I come from a small farming village on the west coast of Portugal, where my family still farms organic produce. Also, during my hospitality years, restaurant recommendations where my favourite advise to my guests.
What is "culinary tourism", and why do you think it is important to a region?
Food is edible culture. You take it your body and it becomes part of you. It has the ability to make you feel like no museum, natural park, or any other attraction can. I set out to tell the stories of these places, the places whose food and everything around it tell the visitor all that he needs to know about a destination.
We believe that it is worth it to travel to any destination to taste its regional cuisine. By supporting this way of travelling we can ultimately end the plague of touristic/shallow food offer that seems to overrun most urban locations nowadays. This is why we are firm believers that the culinary heart of every nation is outside of he big cities and outside of the Michelin star restaurants, This culinary heartland is nested deep in the small tavern of the village that no one knows about, it presents itself in the personality and life story of the the cheese producer or the olive oil farmer. In the producers who are in love with what they do and their way of doing it. Its is these people, proud of their identity and faithful to their gastronomical heritage,  who hold the  heart of the astronomical panorama of any destination.
This is what I ultimately wanted to translate when I wrote the Portuguese Travel Cookbook. To tell the story about what it is like to travel through Portugal through food.
What did you do and how have you used "culinary tourism" to build your reputation, content and attract more followers and visitors to your content ?
For me it is natural way of telling stories. It is the essence through which I started by blog and why the sub-title of the blog is People, Travel, Food. It is about making it the focus of everything that I do and of what I speak about in my blog. Of course that I don't have a formula for telling a story. Every story that I tell (or the vast majority) revolves around food and drink (mostly wine). This is my niche and I exploit it to the maximum of my abilities with every action that I do. Simply because food is very though provoking. It can generate some tremendous stories behind it. Like my trip to Bahrain, or India, or even to London.
[wp_ad_camp_2]
What is the role of social media versus long-form content in culinary tourism activity? You have, for example, 12,4K followers on Instagram, 13,6K on Facebook and 19,6K on twitter – what role did culinary travel feature in building your following and what have you learnt about the type of culinary tourism content that works best on each?
For me it is always very important that the focus of the storytelling is always in the blog. I then share that content on social media in order to direct traffic to the blog. Either it be mine or another bloggers who I believe it to be worth while. The other aspect of social media and what can justify some of my numbers, is that I only post food travel inspirational content. Most of it are photos of food that I eat throughout my travels.
Every time I load any content, to the blog or social media,  I ask myself the question : is this content going to inspire someone to repeat this experience? Is this going to inspire anyone to travel to this destination? Once those questions are answered then everything becomes much simpler.
 Do you have any results you can share on the impact this activity has had on your blogging activities?
Yes, I got some excerpts from comments of my community who speak about being inspired to take this travels, and who have experienced it and who send me photos of their experiences. Nowadays Nelson works with APTECE, VisitPortugal and other brands to inspire food associated travel.  Its hard job but I have surrounded me with my inspiring friends who help me to tell these stories.
 Based on your experiences what top three tips or pieces of advice would you give to other regions on how to incorporate the culinary angle into their offer and message to potential visitors?
Locate the people who speak your Culinary language and give them a stage on your platforms events.
Let their stories be the travel inspirational guide to your region
Speak with me and José and we will be able to help you.
 Based on your experiences what top three tips or pieces of advice would you give to other bloggers / podcasters / video makers about how to approach and successfully create content about the culinary side of a region?
Stay true to your nature
Go deep, tell the interesting ground breaking stories
Always think. Would my audience travel here ? its it worth it ?
Don't make it easy for the reader to leave your site with  a bad impression
Bet on good visual storytelling (photo or video)
What are the common mistakes or watch-outs you advise region or bloggers should be aware of when looking to build a culinary story based on your experiences in Portugal?
Don't be pretentious. Don't think that you are the shit. Coming over with the speech that it is the best of the world means nothing. My best of the world is different from you. Rather speak about what makes it unique.
Know your culinary heritage and how to describe it to a foreigner /reader. There is nothing worse then arriving to a small producer or  restaurant to taste something only to understand that none can accurately describe the dish, or that no one speaks English, so you are eating something that and there is no inspirational connection to it.
Listen to your community
Don't over feed your guests
Don't desire to show everything. Pick the best that your territory has and make it shine
[wp_ad_camp_2]
About APTECE and Nelson Carvalheiro
APTECE and Nelson Carvalheiro have been on the forefront of influence tourism stakeholders in incorporating food as a main driver for their destinations and activities.
APTECE is the acronym for the Portuguese Food Travel Association.  This association aims to promote food as the main driver for travel, in Portugal and on a global scale.  The main goal of APTECE is to invest in the promotion of regional culinary arts as cultural heritage, local and national and distinctive element to attract international tourism to the country.
Nelson Carvalheiro grew up with his grandparents in a small farming village of central Portugal and soon learned to value the "Portuguese Gastronomical heritage". He is a firm believer in cultural identity through gastronomy, where food is the centre of every story that he tells in his blog.
Together APTECE and Nelson Carvalheiro have been recognized by several entities as international "Food Tourism" influencers, being regularly invited to keynote speeches about "Food Tourism" at international conferences. They are also advising organizations on how to promote tourism through food.
 Thank you to all you who tweeted and mention opening Keynote at TBEX Europe 2015. You guys are awesome!
Portugal, food and free pastries @garybembridge interviews @ncarvalheiro & Jose Borralho at #TBEX #incostabrava pic.twitter.com/nk9GhIlTet

— Travelator Media (@TravelatorMedia) May 1, 2015
Great Keynote, now welcoming @NCarvalheiro and @garybembridge to the stage. Stylish jacket by the way, @NCarvalheiro 😂👌 #TBEX #TBEX2015

— Gloria Atanmo (@GL0) May 1, 2015
Culinary tourism keynote!!! Thx @garybembridge @NCarvalheiro #tbex #tbexcostabrava psyched!

— With Husband in Tow (@HusbandInTow) May 1, 2015
Proud to be portuguese in #TBEX : on stage @NCarvalheiro @garybembridge .

— light walking (@RuiTelmoRomao) May 1, 2015
Culinary tourism – discovering the panorama of a destination through its food. —@NCarvalheiro #tbex

— Jennifer (aka Dr J) (@SidewalkSafari) May 1, 2015
@NCarvalheiro "culinary tourism is giving a panorama of a destination through local food and getting out of the cities for storytelling"

— Carly Hulls (@carlyhulls) May 1, 2015
Full house at the welcome and open keynote at #TBEX with @RickCalvert, @garybembridge and @ncarvalheiro. pic.twitter.com/j08xZWzozS

— Travel Media Europe (@TravelMedia_ie) May 1, 2015
Introducing a new Hashtag: #IneedPasteisdeNata @NCarvalheiro @garybembridge @tbexevents #TBEX

— Chronic Wanderlust (@wanderlustcom) May 1, 2015
.@NCarvalheiro get dirty when eating? We just saw woman eating bifana w/ fork & knife! #tbexcostabrava

— With Husband in Tow (@HusbandInTow) May 1, 2015
@GaryBembridge in conversation with @NCarvalheiro & JoseBorralho at opening of #TBEX2015. #inCostaBrava #LloretdeMar pic.twitter.com/l7wANWakTI

— FeelFreeorFly (@FeelFreeorFly) May 1, 2015
Gonna have to try @ncarvalheiro's recipes at home…just had breakfast but ready for food again already after his talk…#tbex2015

— Jon Fuhrmann (@JonFuhrmann) May 1, 2015
@NCarvalheiro @Aptece got close with locals to create the Portuguese Travel Cookbook #tbex2015 #tbex #inCostabrava pic.twitter.com/37IQr7dLn4

— Carly Hulls (@carlyhulls) May 1, 2015
"Capturing a country's cuisine is not just about the food scene in the capital, but by visiting lesser known towns" –@NCarvalheiro #tbex

— Julia Kitlinski-Hong (@smworldthisis) May 1, 2015
Learning about culinary tourism in #Portugal with @garybembridge and @ncarvalheiro at #TBEX – suddenly I'm feeling a bit hungry..#TBEX2015

— A Girl Who Travels (@_girlwhotravels) May 1, 2015
Getting some great ideas for promoting culinary tourism in my own country. Thanks @NCarvalheiro #TBEX2015

— Trini Hot Foot (@trinihotfootTT) May 1, 2015
@NCarvalheiro hoping to chat with you after the session! 🙂

— Ana Fañanás Biescas (@anapiccola) May 1, 2015
Gorgeous video intro for @NCarvalheiro @Aptece at #tbex #incostabrava. Already hungry and dying to #visitportugal!

— Lauren Aloise (@spanishsabores) May 1, 2015
[wp_ad_camp_2]