As a Host Ambassador for food trends, I have selected the best ice cream shops in Spain! All with difference ideas and about what makes delicious ice cream. So if you happen to be travelling through Spain in the summer, you know where to get the best ice cream!
Spain's best ice cream parlours
Sirvent, Barcelona
Parlament, 56
Tel. +34 93 441 27 20
With almost a century of existence in Barcelona, Sirvent is an icon for such Spanish foods as horchata and turrons (nougat bars). Classical Catalan flavours are given a revamp via ice-cream by adding nougat bars, roasted nuts, dried fruites and even making a horchata flavour (which uses rice and rum) they managed to create a line of flavours of their own. This I what makes it so special and what sets them aside in the Barcelona ice-cream scene.  An ice-cream offer purely based on the local traditional flavours of a culture and region and going away from the typical, chocolate, strawberry and cream touristic offer. You can see the success during the summer, when locals and tourists alike queue on the street, sometimes for over 30 minutes, awaiting their turn for a slightly alcoholic horchata ice cream with a with a turron topping. Surely one of the best ice cream shops in Spain!
Photo Credits : Turrons Sirvent
Photo Credits : Turrons Sirvent
Photo Credits :  HolaBarcelona.nl
Rocambolesc, Girona
Carrer de Santa Clara 50
Tell. +34 972 41 66 67
The prodigy child of Jordi Roca, the youngest of the three brothers behind El Celler de Can Roca (the world's best restaurant), comes an ice cream parlour that looks like something out of a "Willy Wonka" movie. Their "El Bulli" approach to ice-cream production has led them to use fine dining techniques like sous-vide infusions, spherification, sublimation and of course liquid nitrogen. My favourite is the sheep's milk with cotton candy on top! Something of a cutting edge in ice-cream making. No wonder Roncabolesc is one of the best ice cream parlours in Spain!
Photo credits: Rocambolesc.com
Photo credits: Rocambolesc.com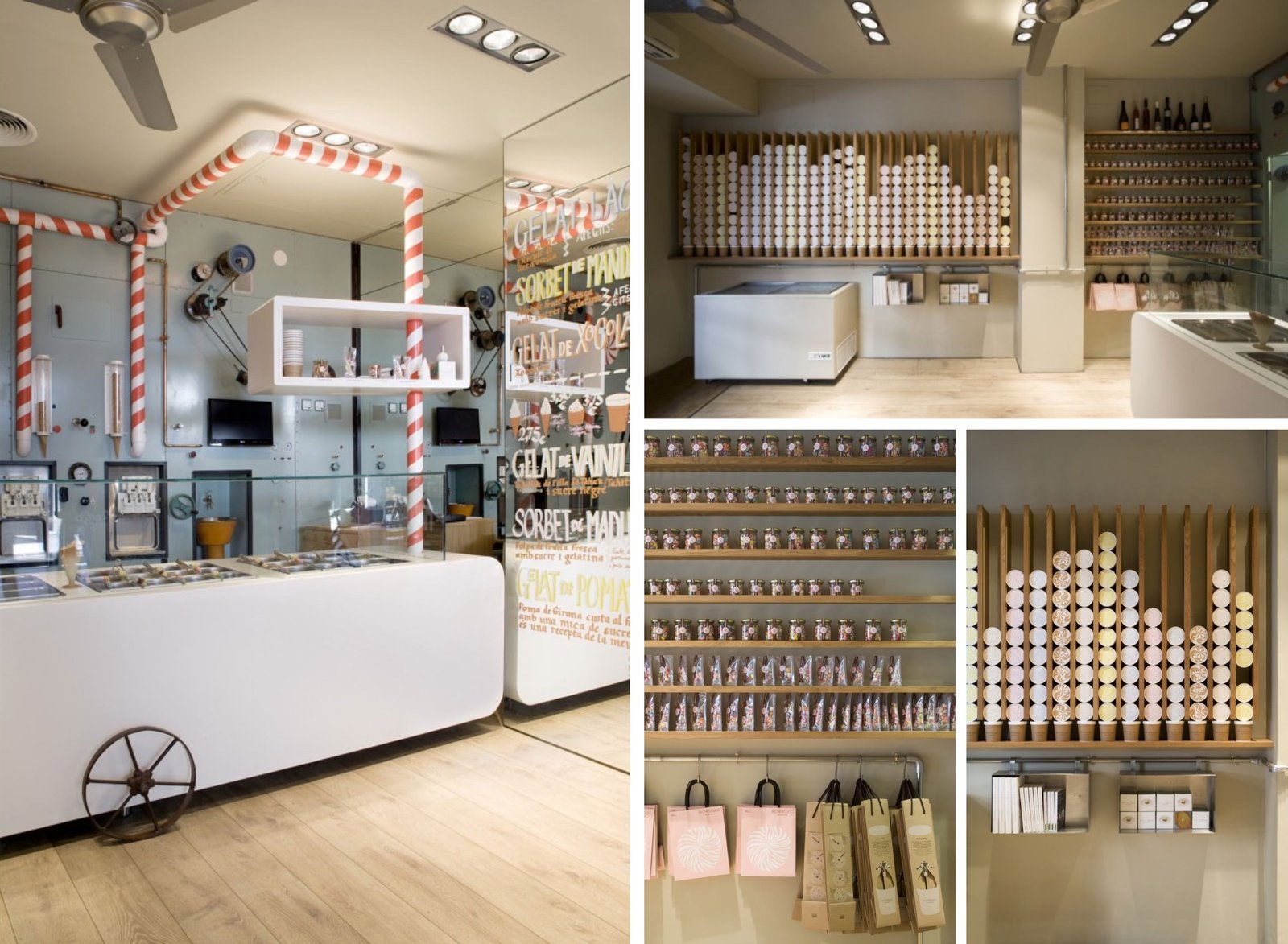 Photo credits: Rocambolesc.com
De La Crem, Barcelona
Enric Granados, 15
Tell. 930 041 093
With profound motto "Pasión por lo artesano" – Passion for the artisan, De la Crem has long established itself as Barcelona's go-to shop for proper "stuff of legends" ice cream. Also the #Purogelato is one of the brand's signature as they do not use any food colourings or preservatives. They are committed to only using fully organic dairy and produce. Not only this but you need to know that every flavour is freshly hand made during dawn, using the freshest local organic ingredients picked up only a few hours ago in the market. This organic and local strategy has earned them a prime position with the bio seeking customers. Love their pure fruit sorbets, especially the blood orange flavour.
As you can see by this video, De la Crem surely deserves its place as one of the best ice cream shops in Spain!