Lisbon was having its first full day of decent hot sunshine of the year when I met Charlotte and David at the little kiosk café in the Principe Real Garden. I had previously arranged to meet them, as I became quite interested about their Bom Dia Lisboa Project, when I browsing through Instagram.
Charlotte, a French national from Strasbourg and David a half Norwegian half Portuguese who met and fell in love in Lisbon, after their own admiration for the city made them move from their home countries, started a project aimed at showing in a very particular and private way what this city best has to offer.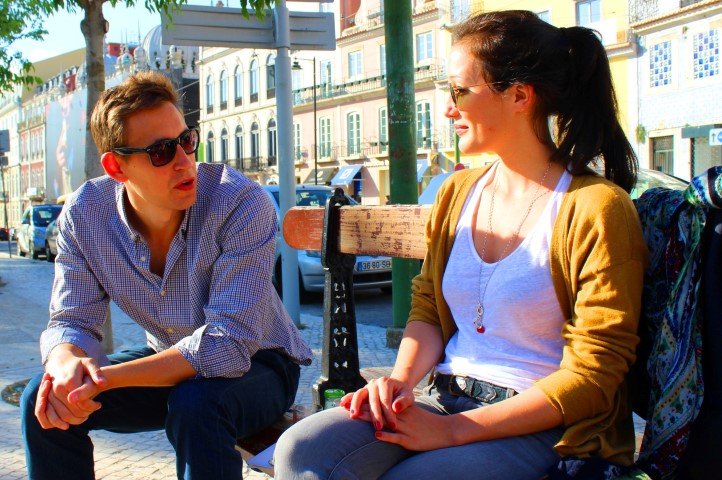 "I fell in Love with the city first, then David came along "says Charlotte in her deep French accent – "he know this and it's a big pressure for him" she continues in a softer, loving tone. They met at the Lisbon Cisco Systems office, where they both still work presently, and soon enough their shared love for the city became their own love story. "We just knew that we wanted to do something that would make us more in touch with people and with the city, and wipe out the borders between work and life! After long consideration we came up with these 7 activities, which reflect the way we travel and the way we think Lisbon is best discovered. Charlotte continues – "It's about being involved with the local Portuguese and Lisbon culture, learning a new set of skills and taking something back home, which is more than just a few photos."
It's amazing how much this city can capture the hearts and minds of its travellers, and allow for so many of their visitors to make a decision to move to Lisbon and start their lives on this boutique and hilly little toy town by the sea, which happens to be the capital of Portugal. Having a city presented to you by someone, who as a foreigner was not born or raised there, but actually fell in love and decided to make it a part of their lives, is much more rewarding and fulfilling I believe. Charlotte and David are doing just this. From their discoveries of Lisbon, they have planned 7 activities that they feel capture the essence of the Lisbon and Portuguese Culture – Cook Like a Portuguese ; Sketching in Lisbon ; Learn How to Speak Portuguese; Painting Azulejos; Learn How to Sail; Discover Lisbon and Wine Tasting.
It's hard to start anything without any aid or funding" says David – "we are doing both our jobs and the Bom Dia Lisboa Project at the same time, but our ultimate goal is to work on our project full time and have the opportunity to show Lisbon in the special that we know". Both Charlotte and David are adamant about being always present with their clients at every activity as for them is very important add the face to the name and meeting the persons who trusted them to know more about the city.
Get in touch with David and Charlotte at  info@bomdia-lisboa.com
[wp_ad_camp_2]