Carmo's Boutique Hotel is located in a very rural area of northern Portugal, 5 km from Ponte de Lima. The warm hospitality of the people in this region is wellknown and their "back to Portuguese roots" " way of welcoming guests is something I've always appreciated. The hotel was nominated in 2013 by the prestigious Condé Nast Traveler as one of the best new hotels in the world. With all this in mind I gladly accepted the hotel's invitation to be their guest during a sunny weekend at the end of winter.
My experience at Carmo's Boutique Hotel
I am welcomed in a warm and graceful manner by young  Nancy, dressed in a traditional costume of Minho. After all we are in the North of Portugal !
The check-in is swift and professional as one would expect from a Small Luxury Hotel. I am assigned a Prestige Room, located on the ground floor. The 35 m² room is very bright (which I greatly appreciate) and richly decorated. It overlooks the hotel car park, surrounded by gardens and large trees, but fortunately the room is perfectly soundproof.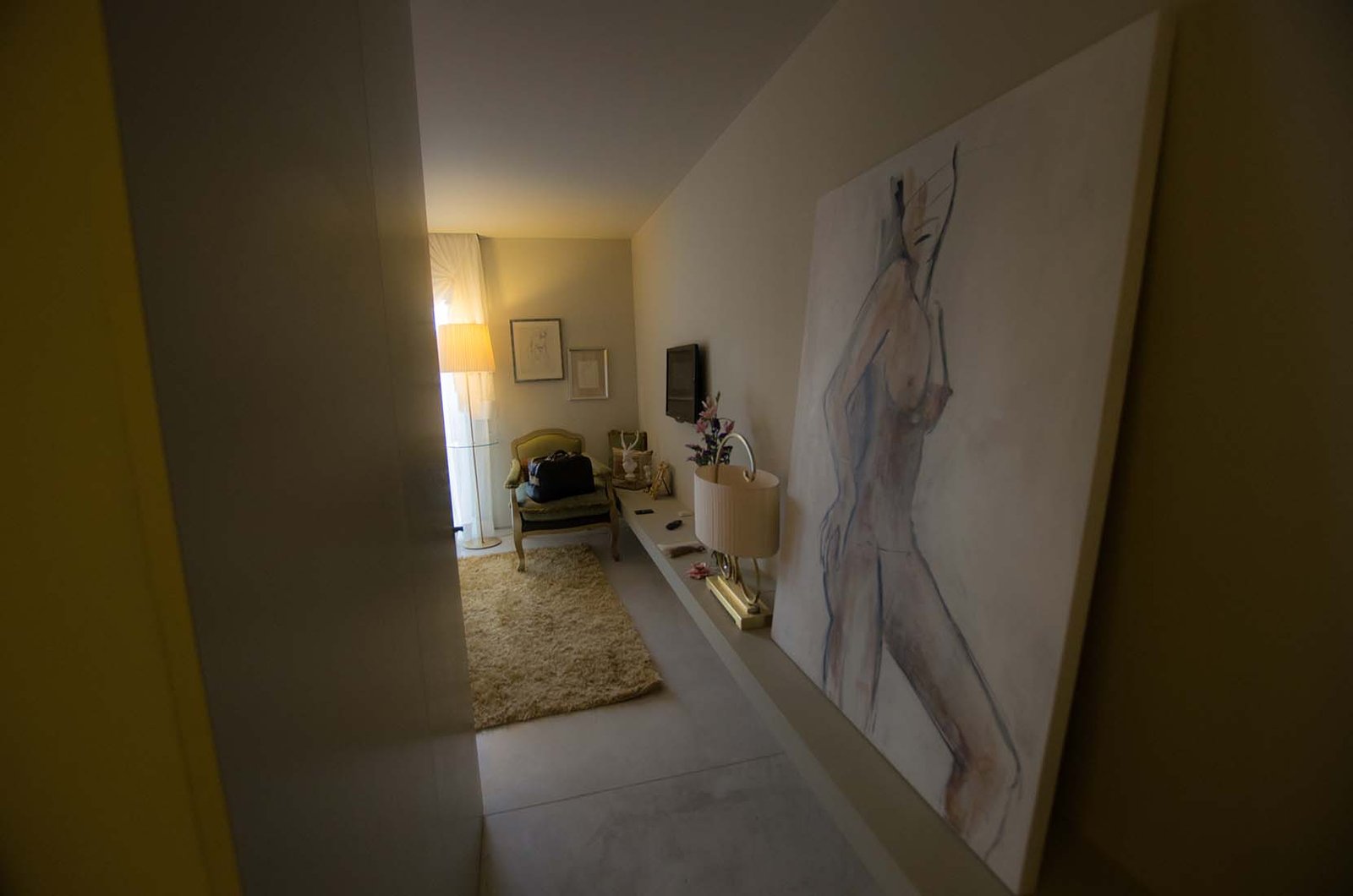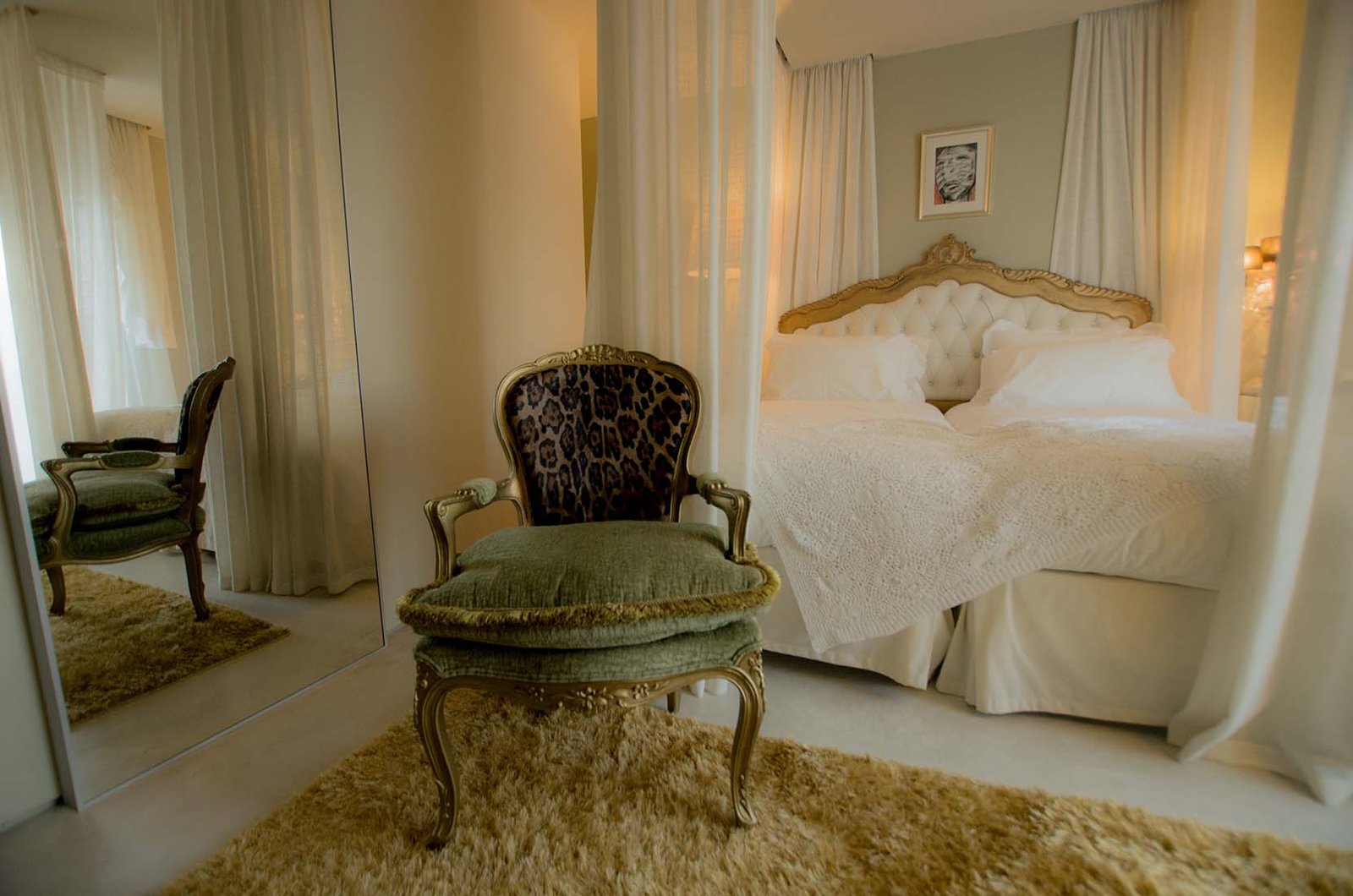 I decide to go for a walk and explore the amenities of Carmo's Boutique Hotel. At the backside I discover the beautifully landscaped gardens and outdoor swimming pool. Tables, chairs and beds are scattered throughout the gardens for people to relax. A very romantic setting when you want to enjoy the view on the surrounding mountains and across the Lima River Valley .
While wandering through the central building I run into Raquel do Carmo Barbosa, the amiable and down to earth owner and manager of the hotel. When I tell her I would like to know more about the history of Carmos Boutique Hotel, she kindly invites me to talk about this over dinner in the hotel's restaurant which is recommended by Michelin.
The menu, prepared by chef Catarina Barbosa, consists of 3 entrées and 8 main courses – 4 fish and 4 meat dishes, all traditional Portuguese and local cuisine. I choose an entrée of different cod flavours and rump steak on a bed of mushrooms with basil purée as my main dish. To accompany my meal I'm recommended a Muros de Melgaço, a local Alvarinho wine from wellknown winemaker Anselmo Mendes. The dinner is concluded with Carpaccio de Abacaxi (pineapple carpaccio) as dessert. The food turns out to be simple but is very well prepared and relies heavily on local ingredients.
During dinner Raquel explains me how it all started. Her mother, Maria do Carmo, has always been passionate about the hotel bussiness so she decided to build this hotel 3 years ago. The architect, Carvalho Araújo, opted for a concrete construction with straight lines and angular forms, a trademark of the Porto School of Architecture. In general the decoration inside these buildings follows the same characteristic and is rathes minimalistic. Maria opted for something completely different : the Boho style, a bold and eclectic arrangement of objects, sculptures, paintings and many more elements, thus combining vintage and contemporary pieces.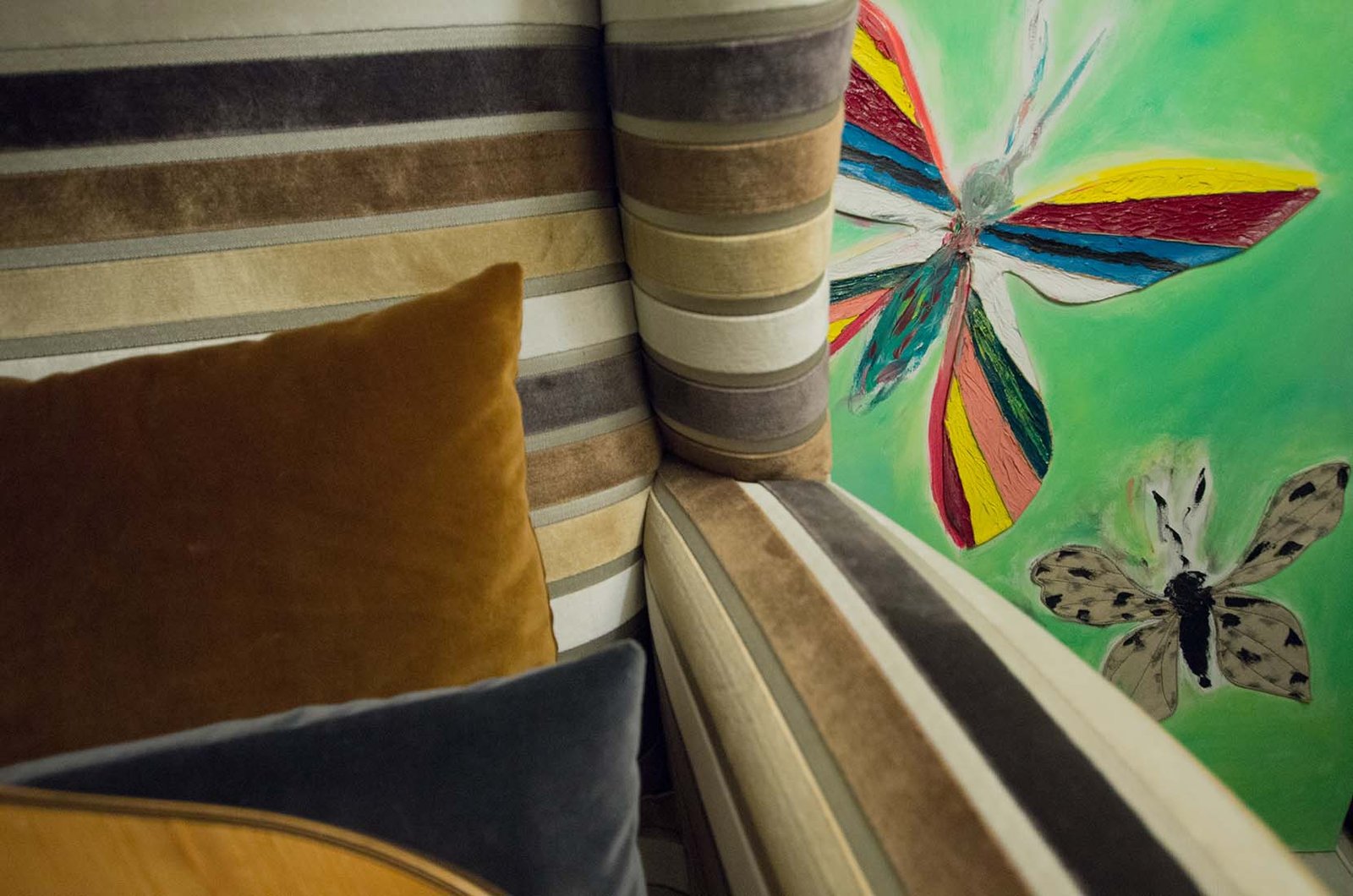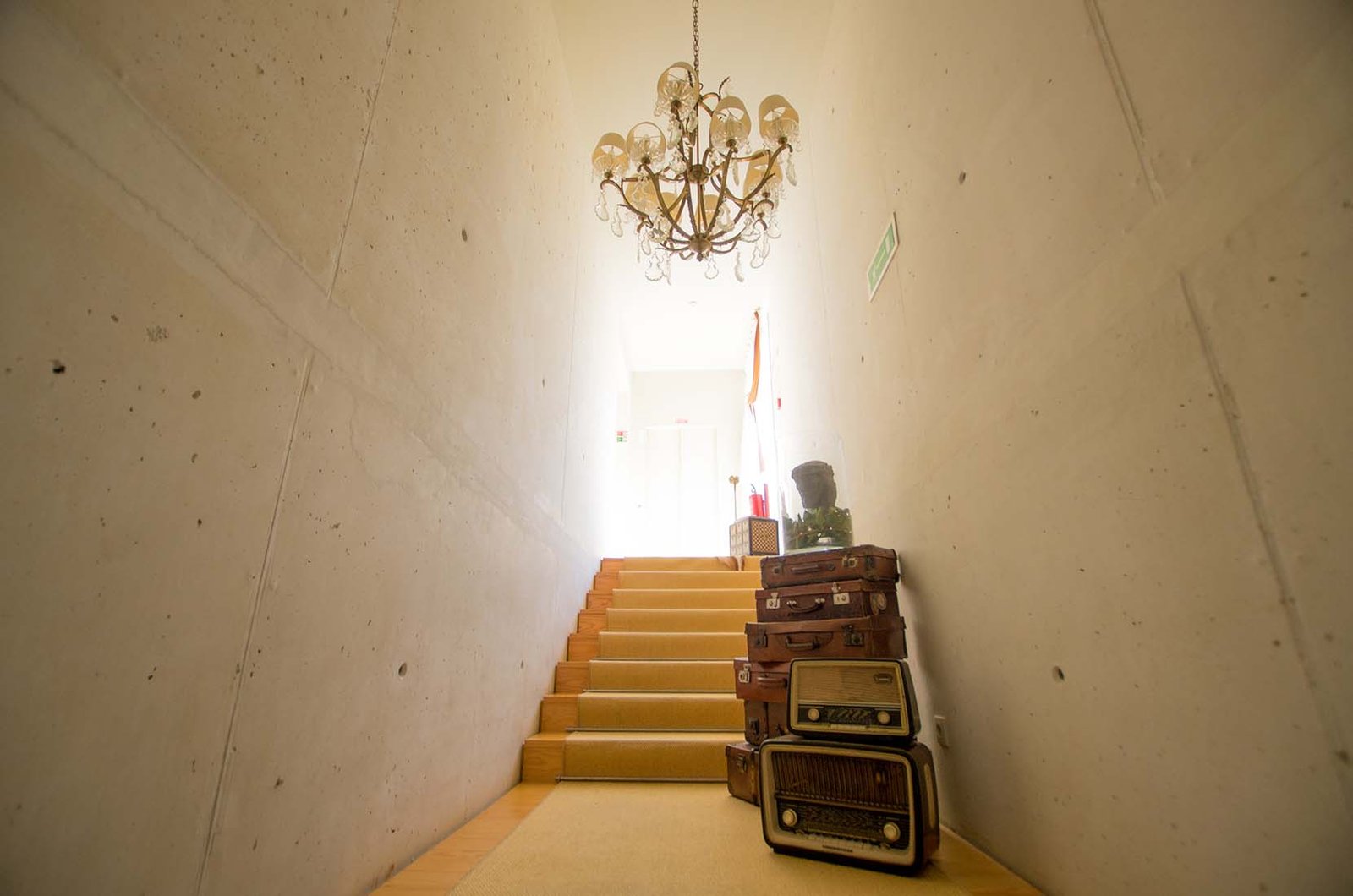 The result is a cosy, laid-back and intimate atmosphere in which you feel immediately at ease. Sometimes you even forget you are in a hotel. The beautiflul furniture and decorative elements are part of the private family collection of art and antiques. Some things are new, some carry many family memories of moments lived. The main room is filled with books, silverware, lamps, candles and candlesticks, artwork, pillows, blankets and rugs, with a wide variety of materials and colours.
The contrast with the raw concrete walls might be a bit confusing to some people, but it grew on me. By the time I left I really appreciated it and found it very comfortable.
I wake up with the best feeling in the world, this wonderful sensation caused by a good night's sleep on an extremely comfortable mattress. I jump out of bed and decide to take a nice hot bath. The amenities and towels are of excellent quality and unpretentious (bonus points here).
I head over to the main room where breakfast is served and choose a table by the window to enjoy the morning sun. The hotel's breakfast is à la carte and the menu has a large variety of options, all made with fresh produce. Breakfast to me is the most important meal of the day so I am happy to find out that this one is up to the standards of a five star hotel. Everything I try tastes excellent but I particularly enjoy the homemade Pao de Alfarroba (carob bread).

My plans for the day include a carriage ride through the village of Ponte de Lima and a relaxing massage at the Divine Spa.
Ponte de Lima is known for being the oldest village in Portugal. The carriage tour lasts about thirty minutes and will take me through the old town and across the wellknown Roman bridge the municipality is named after. About halfway through the tour Filipe, the friendly driver, offers me a glass of local Loureiro Verde. Delicious! I enjoy the delightful warmth of the winter sun on my face and see the world passing by in a slow pace. Now the holiday feeling really sets in and with it come several childhood memories of summer vacations I spent in a nearby village called Vila Verde.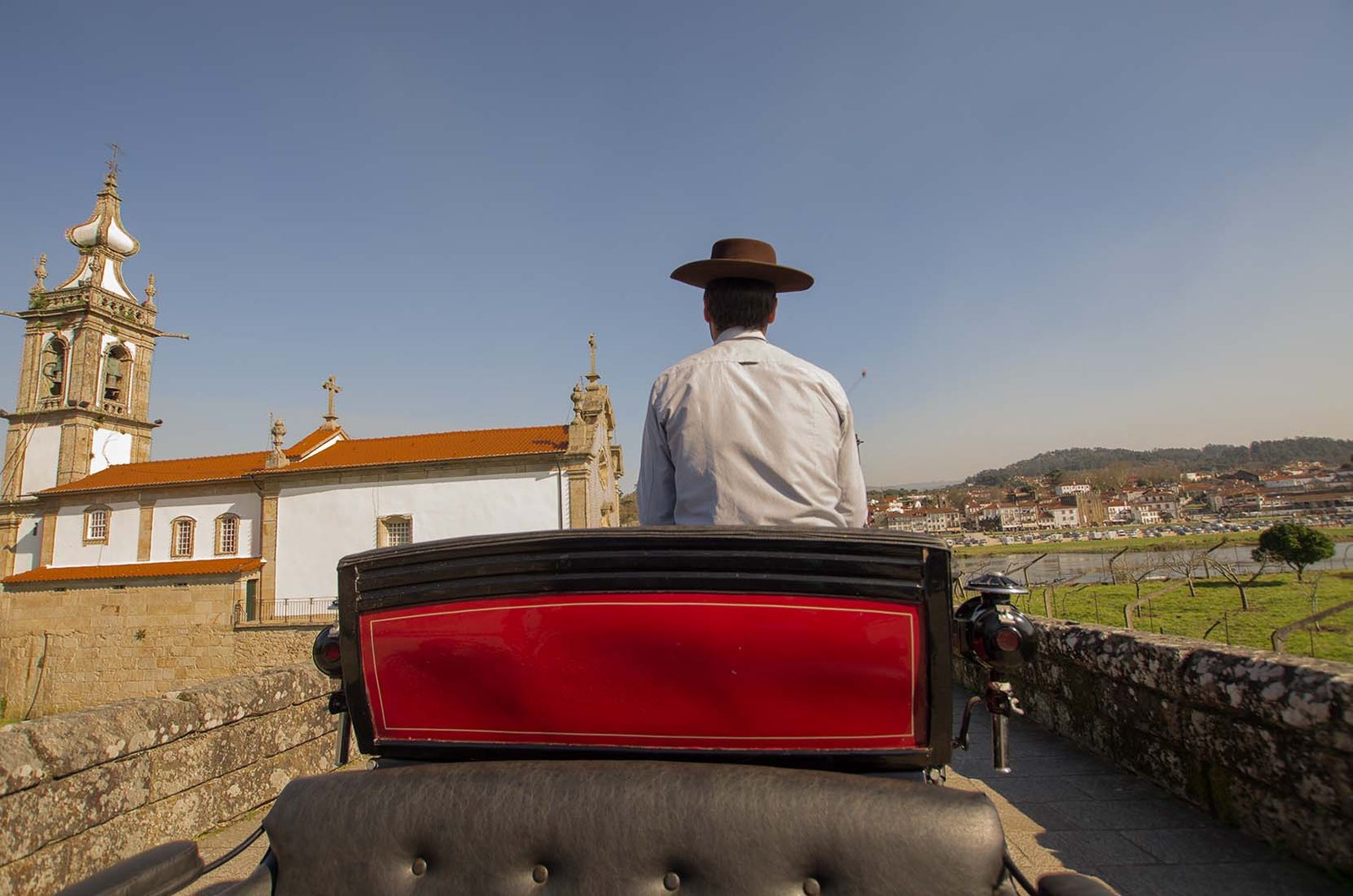 Back at Carmos Boutique Hotel, I quickly get changed and prepare myself for a relaxing massage. The Divine Spa, situated on the ground floor of the hotel, combines functionality with carefully selected decorative pieces. Unlike many spas I know, this one really has its own identity. You get this unique feeling of being in a lavish living room where the pool and the jacuzzi are part of the decoration. The combination of works of art and large sofas adds to the creation of a dreamlike environment.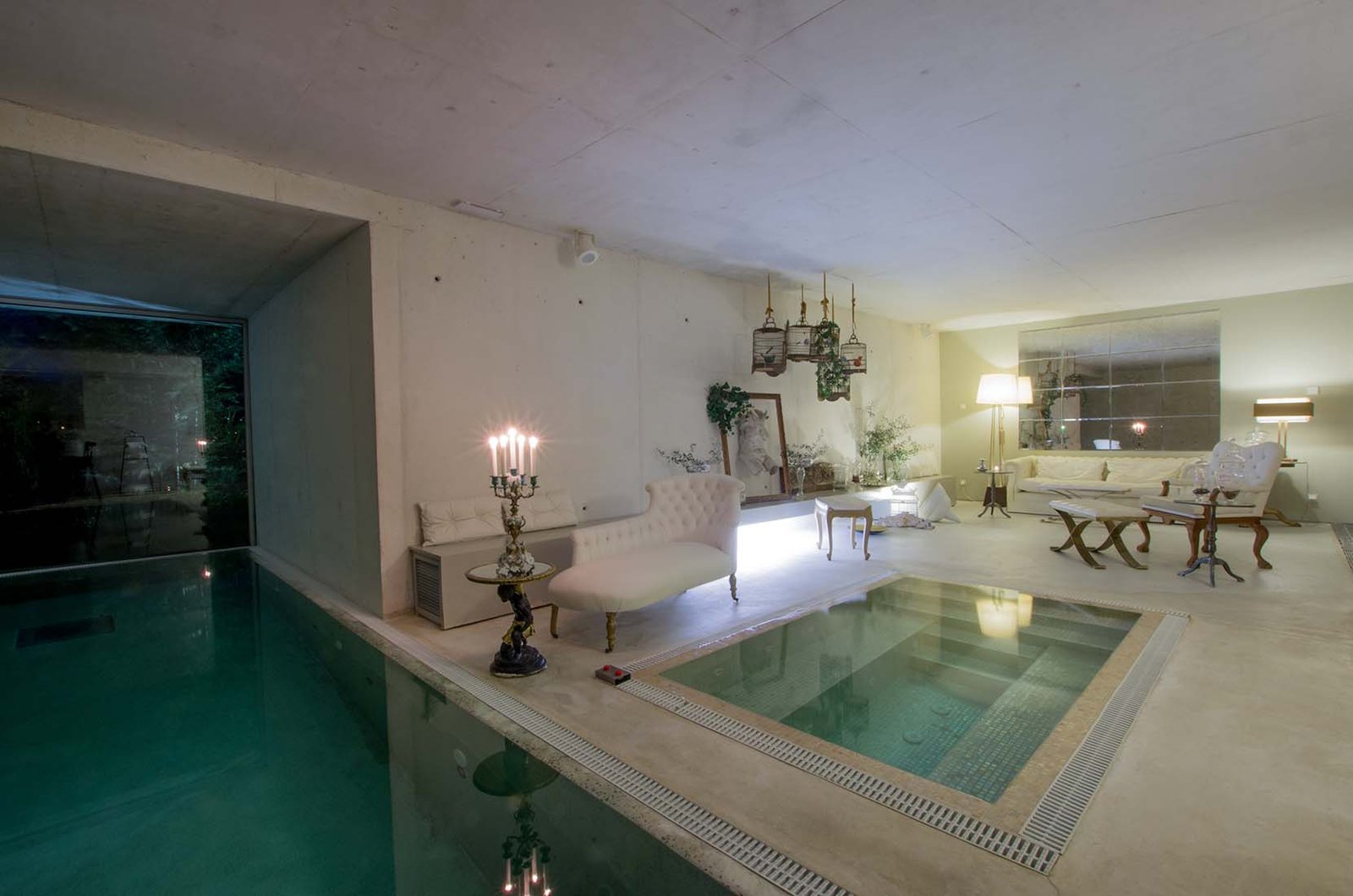 I am greeted by a young therapist wearing an elegant gold-trimmed robe complimented with a graceful ribbon in her hair. She looks like a Greek goddess! The massage is preceded by an aromatherapy ritual during which oils are mixed using pure organic herbs. I feel transported into another dimension and am completely relaxed. Time goes by unnoticed, thirty minutes feel like thirty seconds. Back in my room I feel totally zen and fall immediately asleep for about one hour.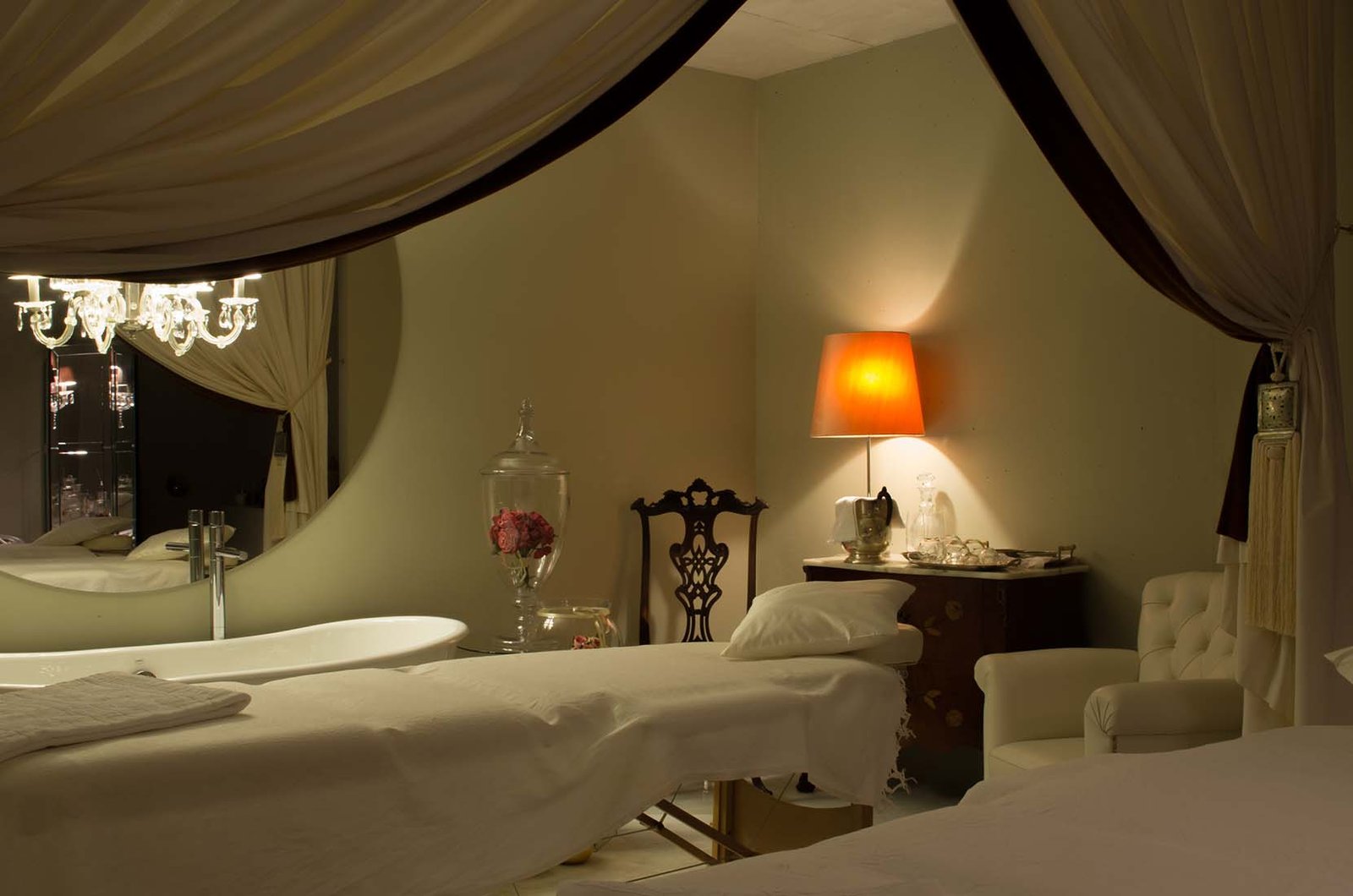 When I wake up feeling hungry I'm happy to discover it's the right time for dinner. The menu in the hotel's restaurant changes daily so I have a whole new set of choices. The Alheira de Caça (game sausage) on a bed of greens accompanied by a quail egg is perfect as an entrée. As a main course I pick the Grilled Squid with shrimp and lemon sauce. The meal is paired with a vinho verde (Quinta do Ameal 2013) made from the native Loureiro grape variety. Mint ice cream with hot chocolate is exactly what I need as a dessert. My impressions of the first evening are confirmed, this is a straightforward and well prepared cuisine.
Final evaluation of Carmos Boutique Hotel
Carmo's Boutique Hotel (Small Luxury Hotels of the World group) lives up to its rating. This is a 5 star-infrastructure with 15 rooms (12 prestige rooms and 3 suites), a restaurant and a spa specialised in aromatherapy treatments. It also offers a wide range of outdoor activities in a very rural region that is renowned for its cuisine, fine wines, history and friendly people.
Guests quickly feel "at home" in this hotel, an aspect that certainly differentiates the Carmos boutique Hotel from other hotels in the same category. The friendly staff is young, dynamic and professional. I certainly recommend this hotel to anyone seeking tranquillity in a chic and romantic atmosphere.
The Divine Spa was definitely the highlight of my stay.
Disclaimer:
I was a guest of Carmos Boutique Hotel during my stay in Ponte de Lima.  All text and opinions are my own are own. 
Rates from 205€ per night (breakfast included) for the Prestige room in which I stayed in.
Carmos Boutique Hotel  details:
https://www.carmosboutiquehotel.com/
Bruno Sacadura
I love to travel and enjoy the little magical moments of life. I have had to date the privilege of travelling through many countries and meeting new people
All author posts