Private Douro Access
What is Private Douro Access? In my experience it was a 'cocktail' of luxury accommodation, great hosts, delicious local food and wine, and a selection of bespoke activities tailored to make my stay even more enjoyable.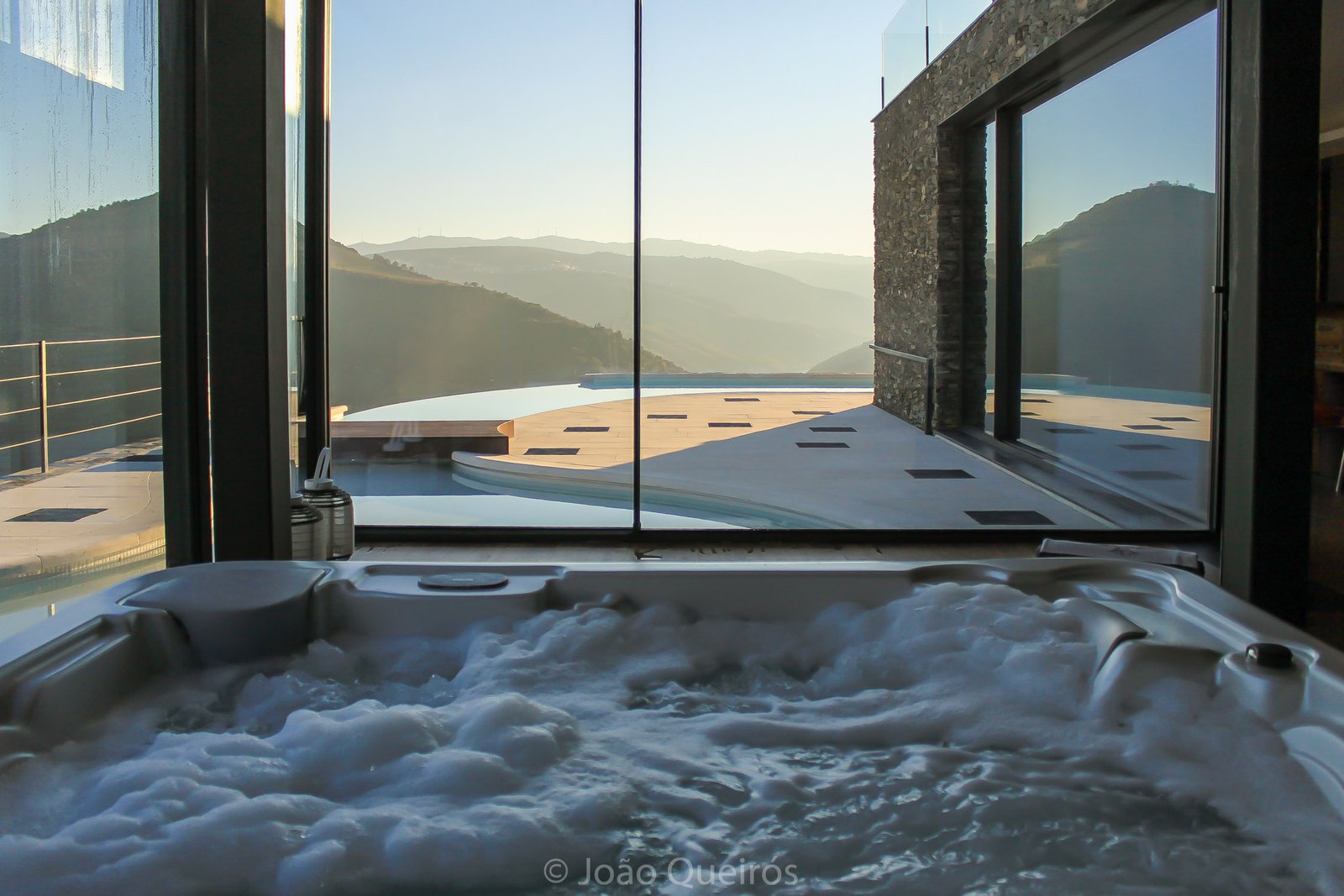 My Private Douro accommodation was, without a doubt, set in a beautiful location enjoying breathtaking views of the World Heritage 'Douro' Region, hallmarked by its terraced landscapes, where some of the most precious vines produce the Internationally famous Port Wine.
Portugal Holiday Villas
Portugal Holidays was borne from the vision of an Anglo-Portuguese, who's family were based in Lisbon and the Algarve. After visiting the North for the first time in 2012, the founder Fernando Governo, was so taken aback by the beauty of the North of Portugal he decided to create a Private Douro access business that opened the doors of hitherto private family homes to International Tourists to enjoy what he affectionately calls the 'Secrets of the North', one of which is the Douro.
"There's more to Portugal than, beaches, sardines and Mateus Rose"…said Fernando." We have made it our 'duty' to raise awareness to both established visitors to Portugal to 'popular' destinations like the Algarve, and of course to those who have never been to Portugal before."
Douro
To me, the Douro Valley offers a rare and inspiring beauty.
The source of the Douro river lies in Spain where it is known as the 'El Duero'. As it snakes its way through the border into Portugal, so begins the iconic terraced landscape that is home to a myriad of precious vines producing the worlds 'Port Wine' – a protected and designated brand. The river stretches for more than 900km from the source to the mouth at the Atlantic in Oporto. Traveling down the river through the Douro region, you are often rewarded with a still 'mirror' of water, often more than 200 meters wide, which has over the centuries gently cut through steep valleys of more than 500 meters high.
Pinhão
After my drive through the N222 road (judged the world's best road by Avis) I arrived in Pinhão in the heart of the demarcated Douro region. This village was once an important trading post in the wine trade, first by boat and later by train. Nowadays it offers a river quay and marina for yachting and a train station. The Régua-Tua line is something not to be missed as it provides the opportunity to enjoy a historical train journey along the Douro River to Oporto which makes day trips comfortable, relaxing and enjoyable.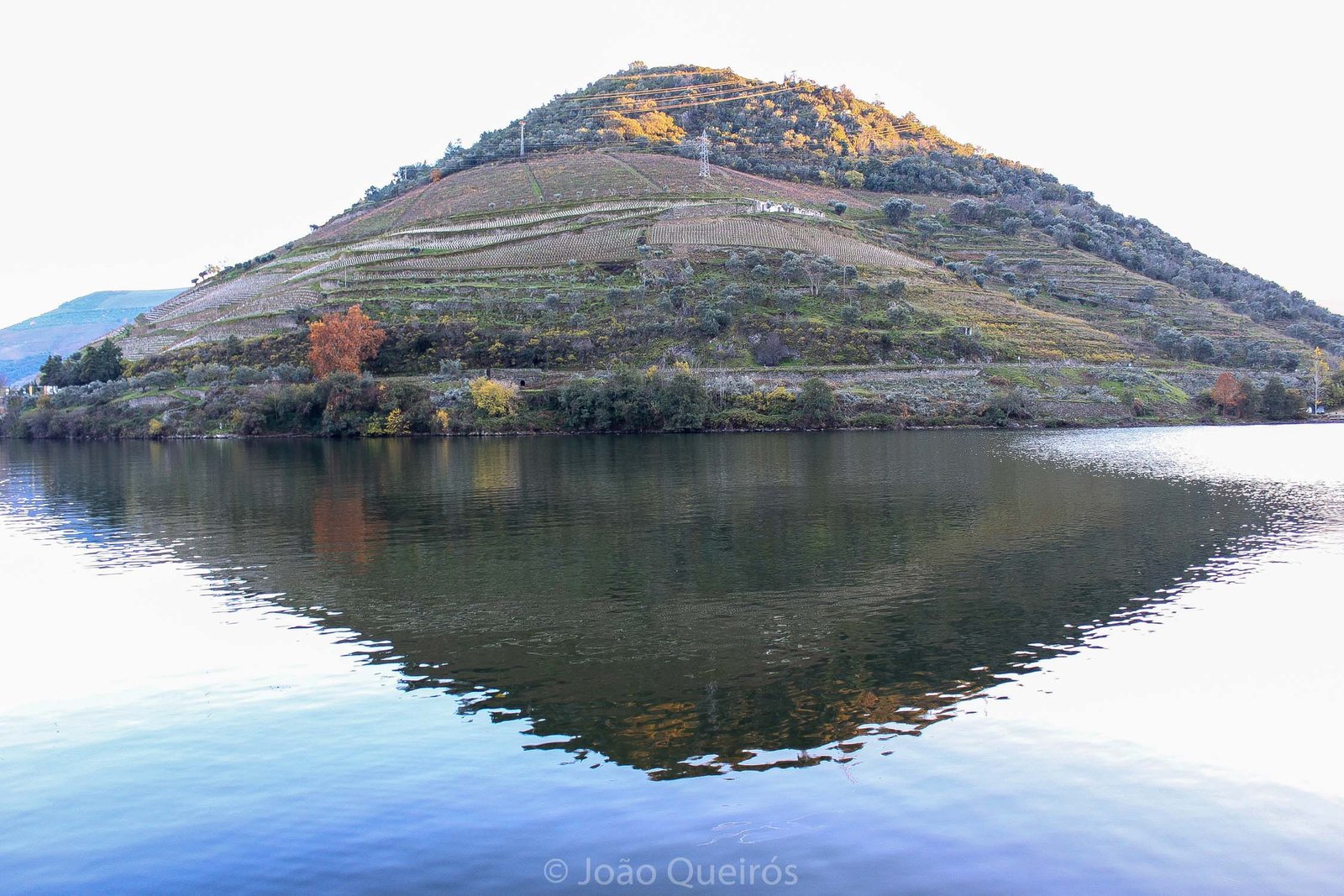 Pinhão is also where the Symington family, opened a museum in one of its 27 estates, Quinta do Bonfim (Bonfim estate).  Founded by Scotsman James Symington from Glasgow in 1912, the Estate boasts the most ancient family producing Port, responsible for great names such as Cockburns and  the excellent Dow's Vintage Port 2011 (Judged Number 1 by Wine Spectator in 2014)
My Villa
Overlooking Pinhão 5 minutes from its center, the villa our host had chosen for my Private Douro retreat awaited me. Close enough to restaurants, cafes and some artisanal retailers, the historical train station, and Quinta do Bonfim, I could not ask for a better location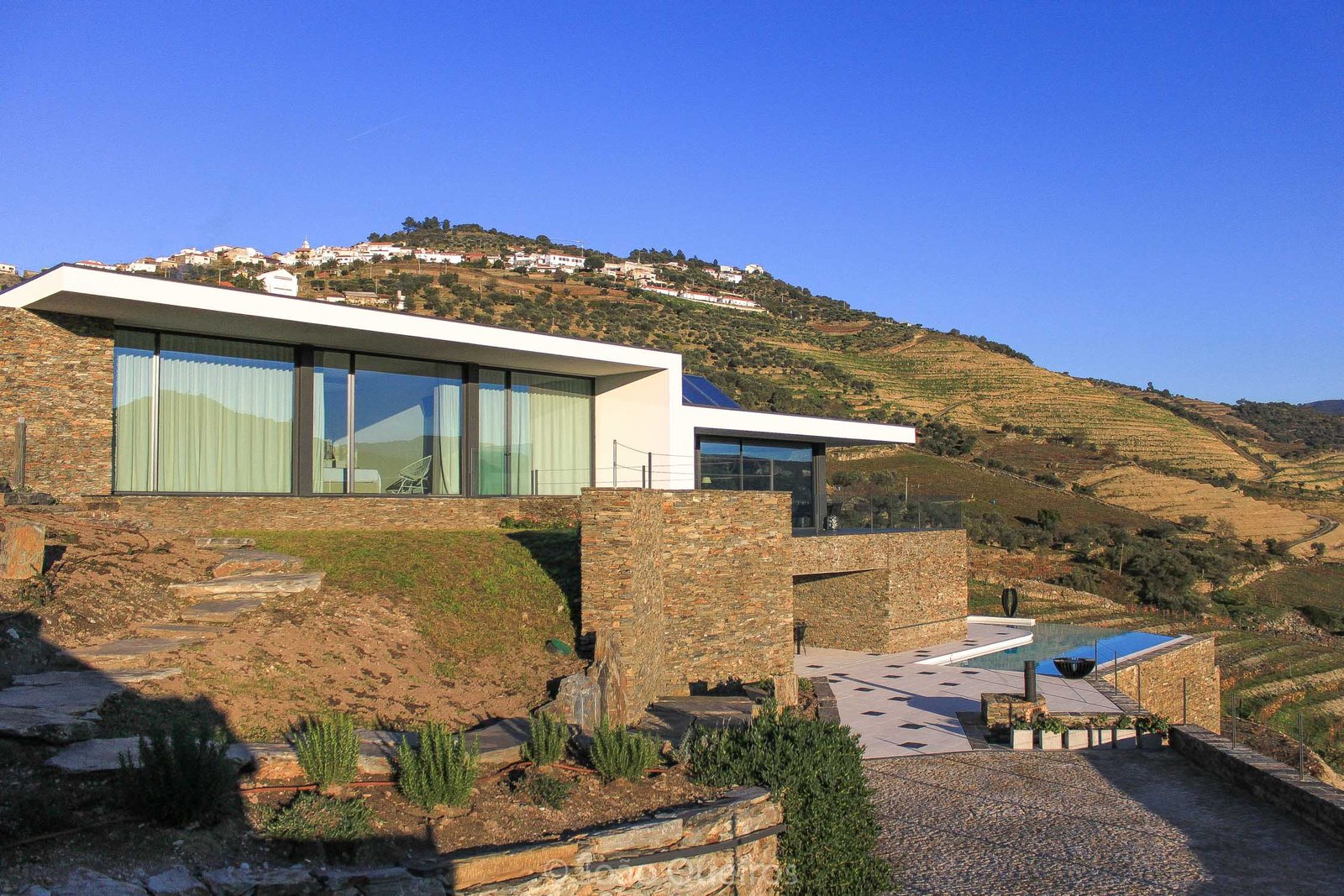 Enjoying a commanding, elevated position, overlooking the valley below, I arrived at the distinctive newly built private Douro holiday home 'House of Mafalda'. Its architecture is modern with clean, simple lines, however, the extensive use of the wonderful local schist stone makes it feel at home in the local landscape.
The architect has clearly been eager to ensure that the dramatic and stunning backdrop of the Douro Valley landscape is not lost within the design of this magnificent private Douro home. To that end all the bedrooms and the living spaces enjoy floor to ceiling glass windows letting those views flood into the house and embrace me during my stay.
The overall feel of the decor is quite contemporary but, not too modern to lose its 'warmth'. Often a fusion of traditional and modern styles and fabrics are used with as you can imagine the best of materials that money can buy. No expense has been spared in the decoration of this very comfortable and quite lavish home. The flow of the internal spaces into the outdoor area via large glass doors makes the house feel very open and spacious. The 4 private bedrooms, all en-suite, have the most amazingly comfortable mattresses which deserves a special mention and provided me a very restful and comfortable sleep during my Private Douro stay.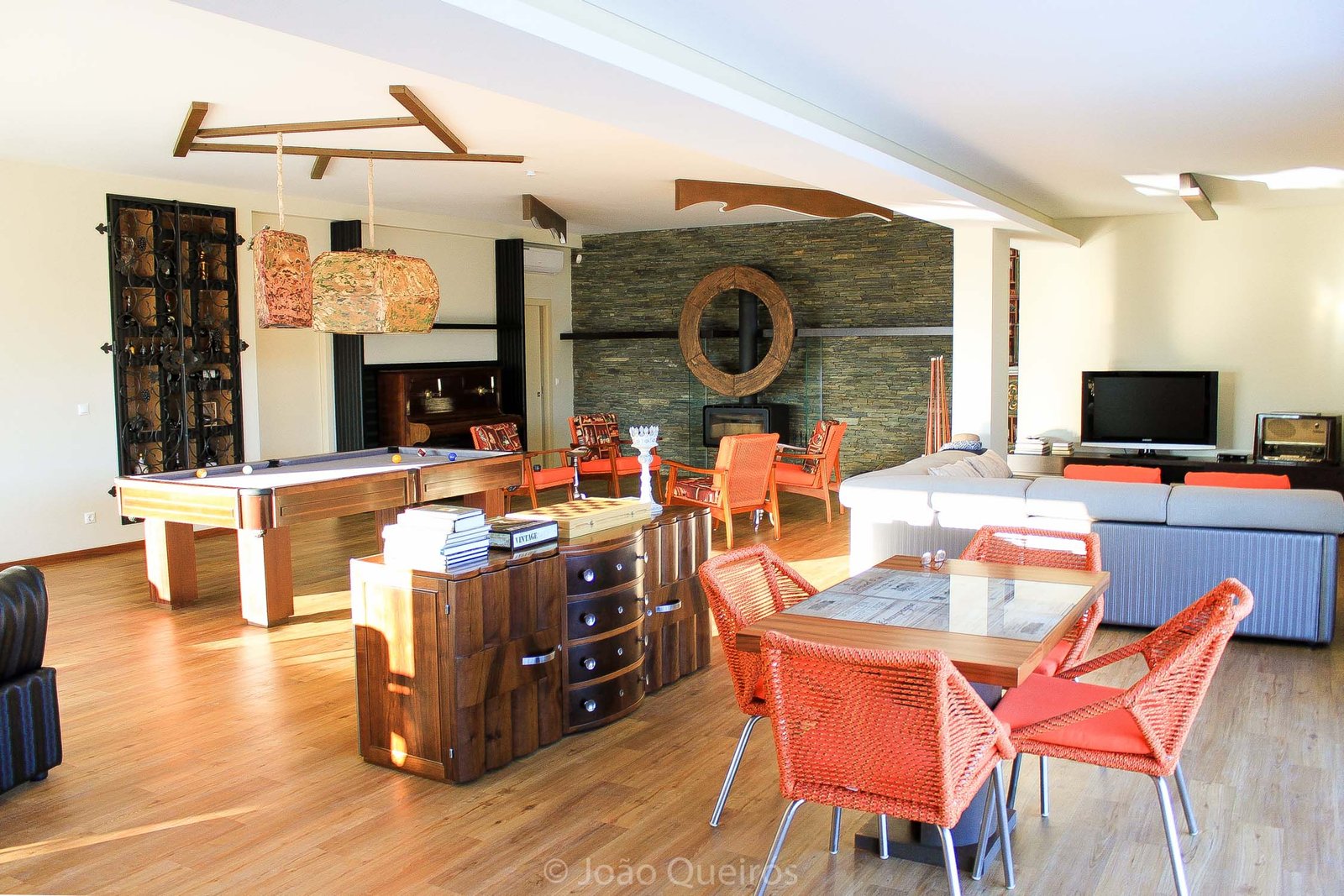 Upon arrival into the private Douro driveway, I was greeted by Eugenia the designated housekeeper for the villa. Whilst not a resident at the house, she arrives discreetly every morning and via the kitchen entrance, quietly goes about her many duties including of preparing the daily breakfast and laying of the breakfast table.  Being a local, who has lived in the Douro all her life, Eugenia proved  to be a more than adequate cook and a useful 'fountain of knowledge' of the region.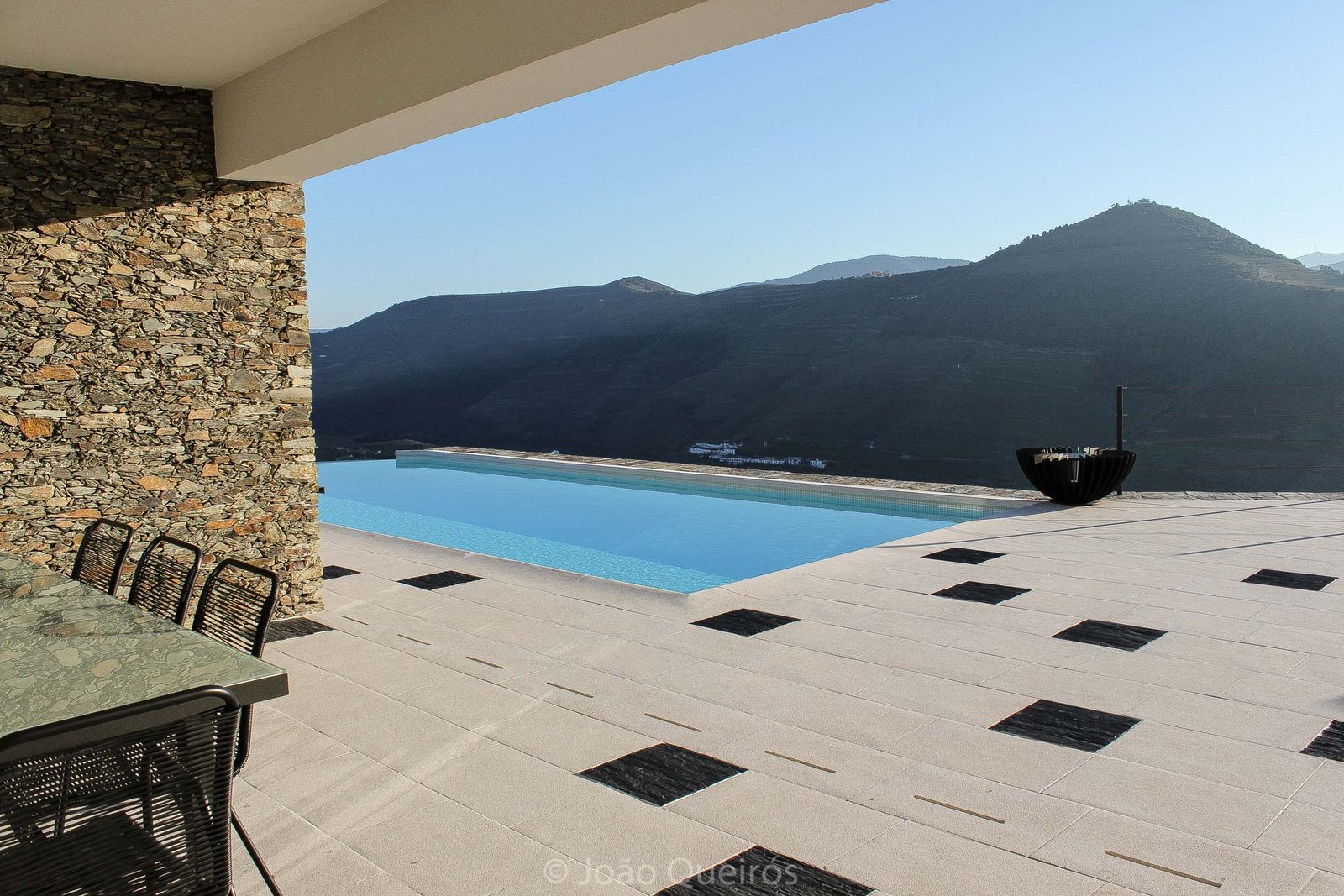 On my first private Douro evening after my arrival, the fireplaces were already lit, the kitchen stocked with everything I needed (yogurt, milk, juice, white wine, fruit, cheese and ham), the bar well-equipped and dinner was already being prepared. There was nothing more for me to do, other than let my bags be transported to my suite, freshen up and then sit by the roaring fire and enjoy a port wine and relax after my journey.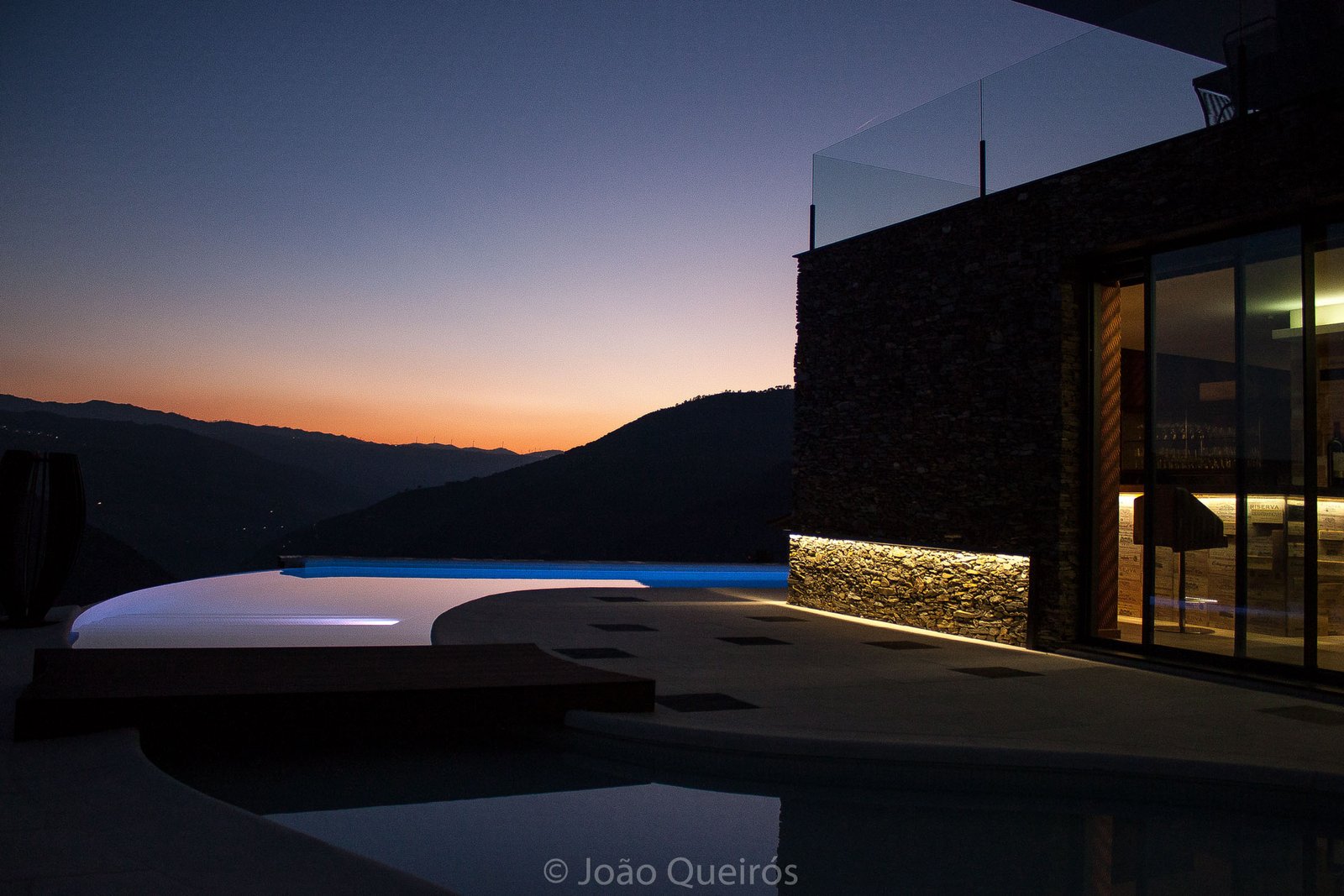 Private Cabin Lunch with a view
I awakened on my first full day in the Private Douro to a typical mid-November climate. A hazy layer of cloud akin to cotton wool floating, soon gave way to clear blue skies as the cooler air temperatures climbed to around 18º C.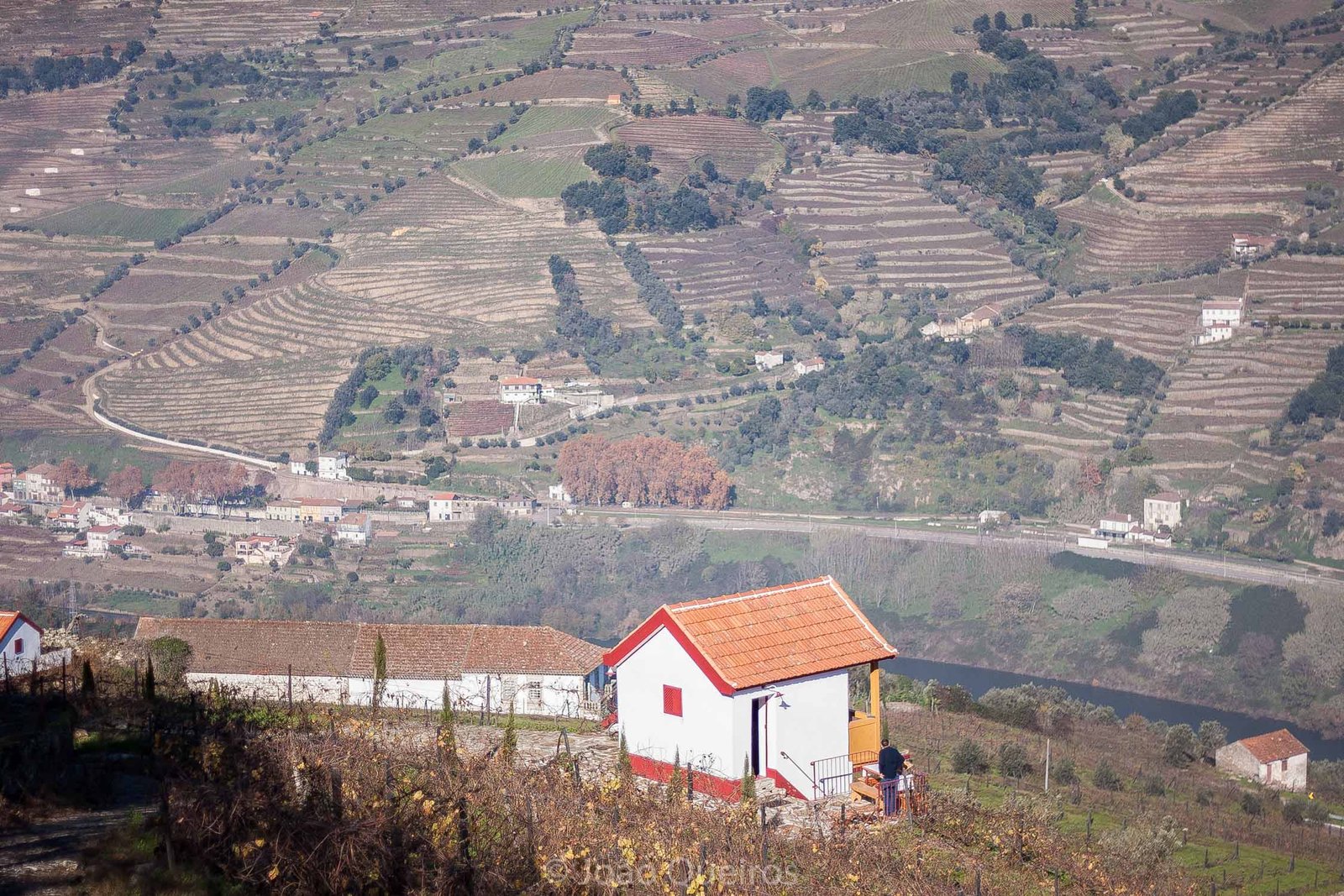 My first private Douro access experience showcased Douro at its best. I was taken to a cute, dinky two-story cabin, not dissimilar to a doll's house in the center of a small vineyard set in an elevated position looking down onto the river and out across the valley. We were greeted by the coordinator of the property and he explained the cabin was originally built by the vineyard owner so he could have a comfortable and convenient vantage point to observe and supervise his workers tending the vines during the all important Autumn Harvest.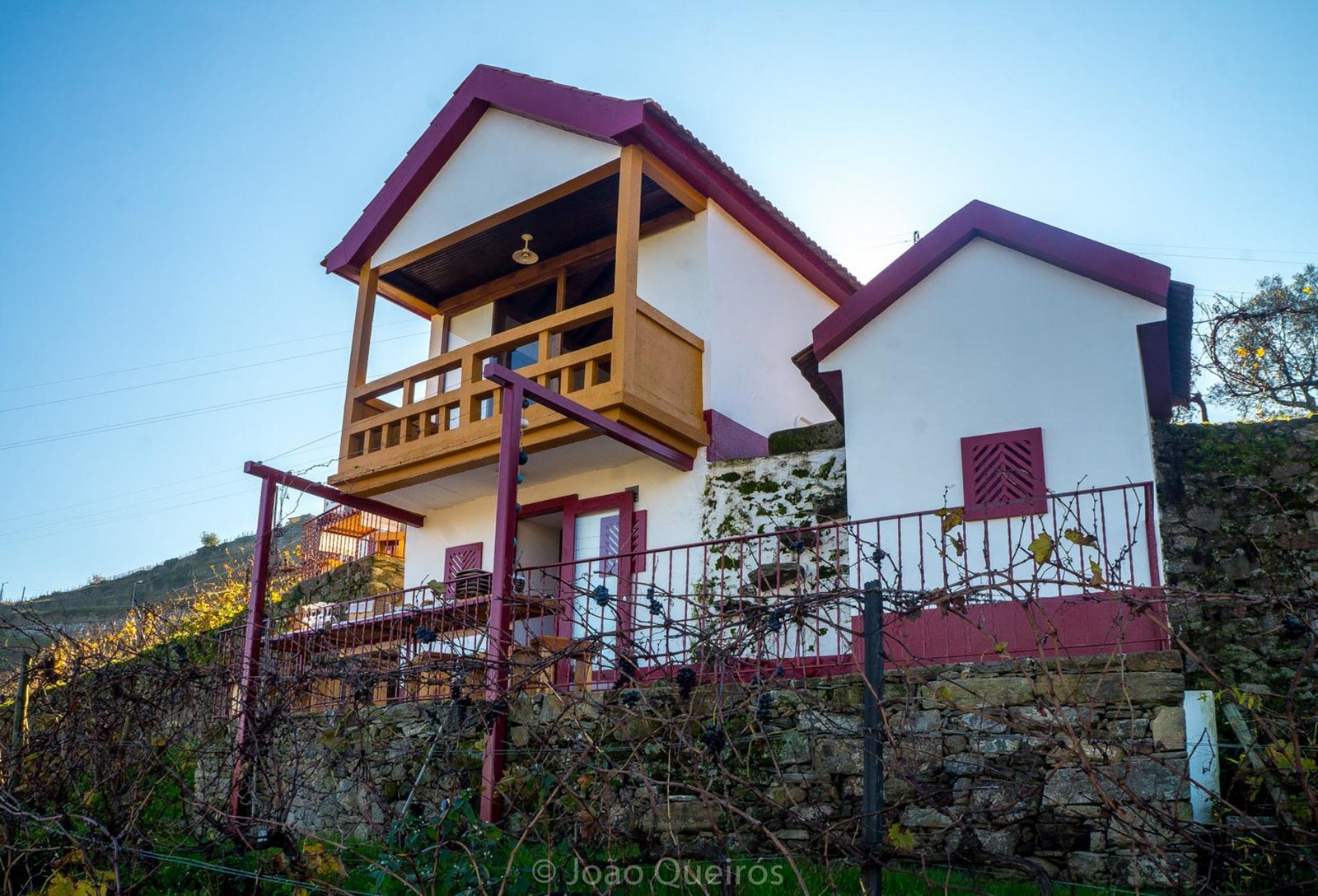 On the top floor, is the living room, below a kitchen and bathroom.  There is a long veranda, where our food was presented on long trestle tables, with a fabulous backdrop of the Douro Valley. For me, it was the perfect place to revisit the local flavors, homemade and freshly prepared recipes to Portugal Holiday Villas high standards.
Bread with meat filling, quiche, stuffed mushrooms, bread crumbed meatballs beautifully homemade by Margarida Ferreira, a self-taught cook. Here in the North Country, a lunch worthy of its name comes with cheese and enchidos (local sausages). In the Douro, the alheira (bread and meat sausage) and black pudding petiscos (Portuguese Tapas) are not to be missed. And of course, none of these foodie treasures cannot be enjoyed fully without a good wine from the Douro. I drank one of my favorite value for money reds, Porca da Murça, Real Companhia Velha.
This fabulous experience can be booked in advance for all Portugal Holiday Villa's guests to enjoy for themselves.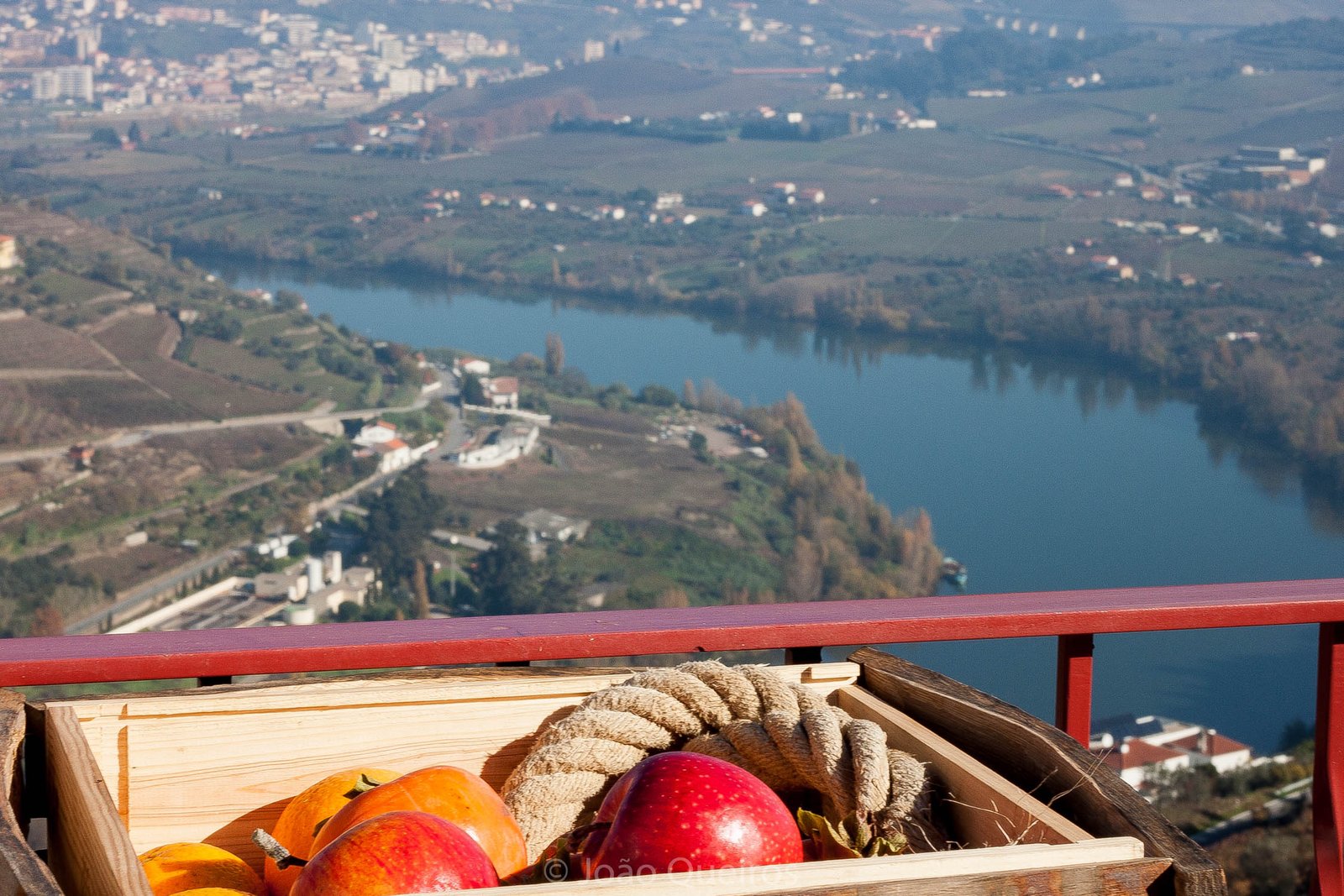 Private Douro River
I was then treated to one of the best ways of exploring the intricate Douro river and its distinctive valley with a private boat experience. The privacy, serenity, and tranquility was very much in line with the overall experience Portugal Holiday Villa have created for their guests.
To go from overlooking the river and the valley to be actually on the river and in the heart of the valley was very a very fitting way to relax after such a delicious homemade luncheon. Sitting quietly, as our private craft serenely sailed up the river I was able to be seated and enjoy a post lunch 'digestif', – or- in this case a superb sparkling white wine from the region. Unlike many other examples, Terras do Demo Brut 2012 of Távora-Varosa cellars has a very fine and delicate bubble and is as good as many Champagnes from France.
The peaceful, relaxed trip took less than two hours to take me back 'home' from Peso da Régua, enough time to replenish energies, enjoy the scenery and admire some of the most important wine estates of the region.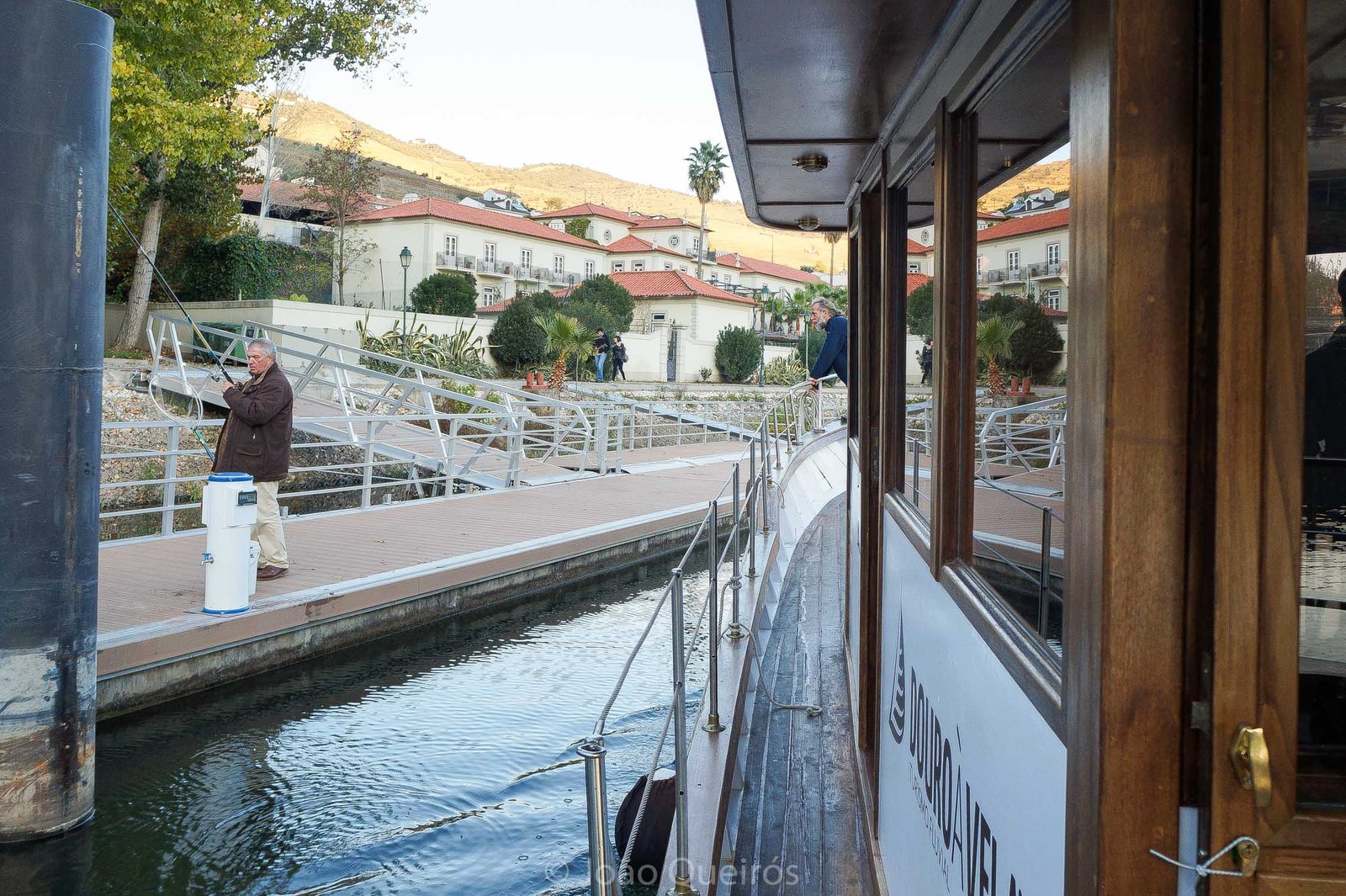 Quinta do Bonfim (Bonfim Estate)
Our private Douro boat tour concluded at Pinhão yacht quay which has a beautiful scenic backdrop, where the Pinhão River finds its end and joins the majestic Douro. A few hundred meters upstream is a road bridge from the nineteenth century, designed by Eiffel and not far from the aforementioned Quinta do Bonfim.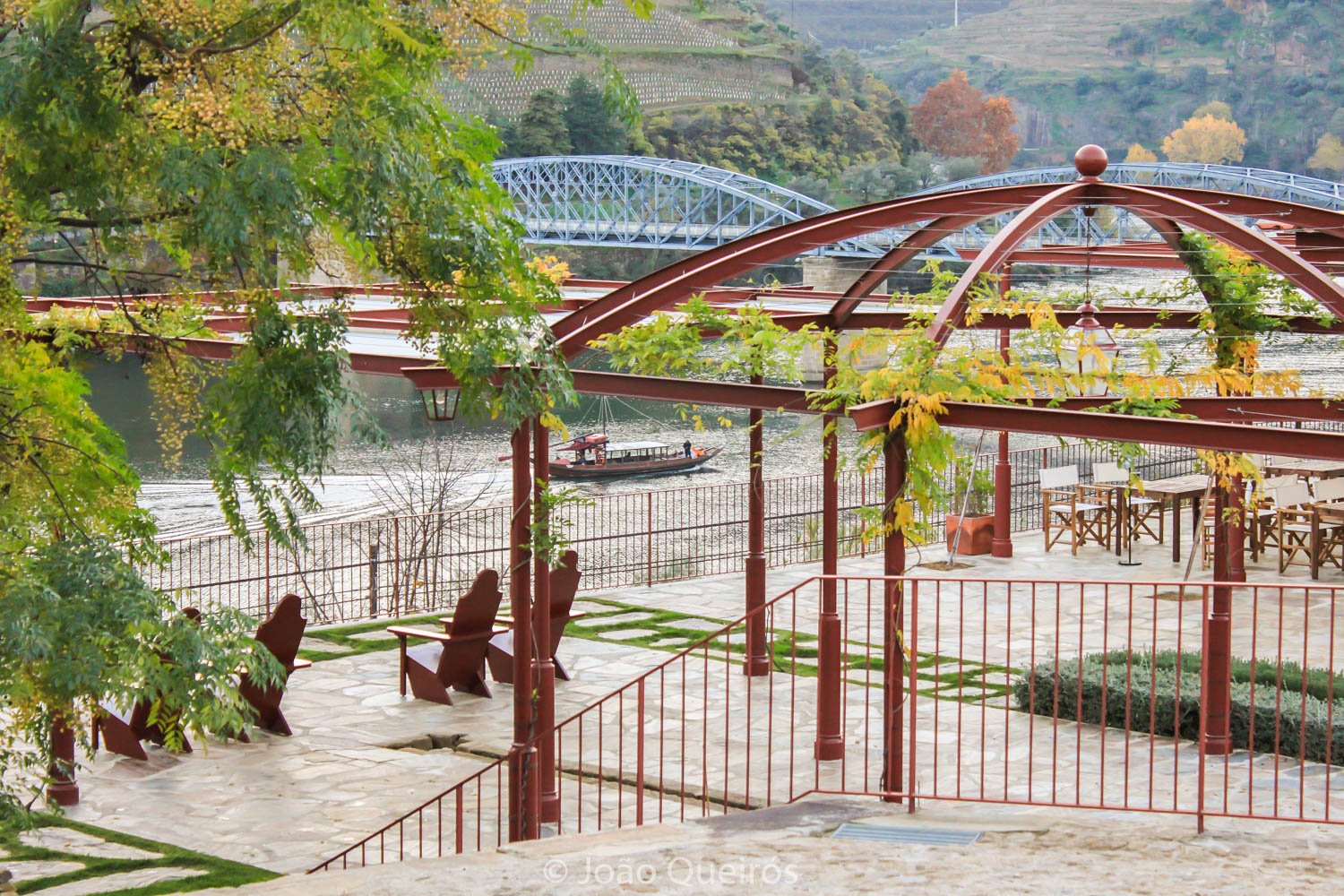 Open to the public in May 2015, this estate allows access to the ancient storage cellars, local vineyards and new production facilities for the famous Dow's. Of course, the highlight of any winery tour is the opportunity to enjoy tasting some of the wines themselves and our visit didn't disappoint as we tried a variety of Tawny, LBV and Vintage Ports. Between September and October during the grape harvest season, visitors may observe the wonderful facilities in full production.
Olive Oil Mill
A mere 900 meters from the village and on the hilltop is a local historical landmark. There we were treated to a Private Douro visit at a traditional olive oil mill, carefully preserved through the generations by the same family and now open to visitors by appointment. It is a space that certainly deserves a visit.
Olive oil production is also a tradition in the Douro, and often carried out by small family holdings where typically the production quantity is small but this is compensated by the high quality and unique properties of its olive oil. In addition to Olive Oil, this family produces low volumes of very decent quality wine. Their wine named D'origen, drank well and has already earned good ratings via 'Vivino' from 3.9 to an impressive 4.6 of the Velha Geração, Grand Reserve 2011 wine.
Dinner with a wine producer
In the comfort of the Private Douro villa, our host had planned our homemade dinner to be exclusively accompanied by a local producer Francisco Montenegro and a selection of his wines.
This was indeed an original experience and one which has been created especially for Portugal Holiday Villa guests. Not knowing what to expect, I was pleasantly surprised to be greeted by a young couple, impassioned and committed to extracting the best that the Douro has to offer.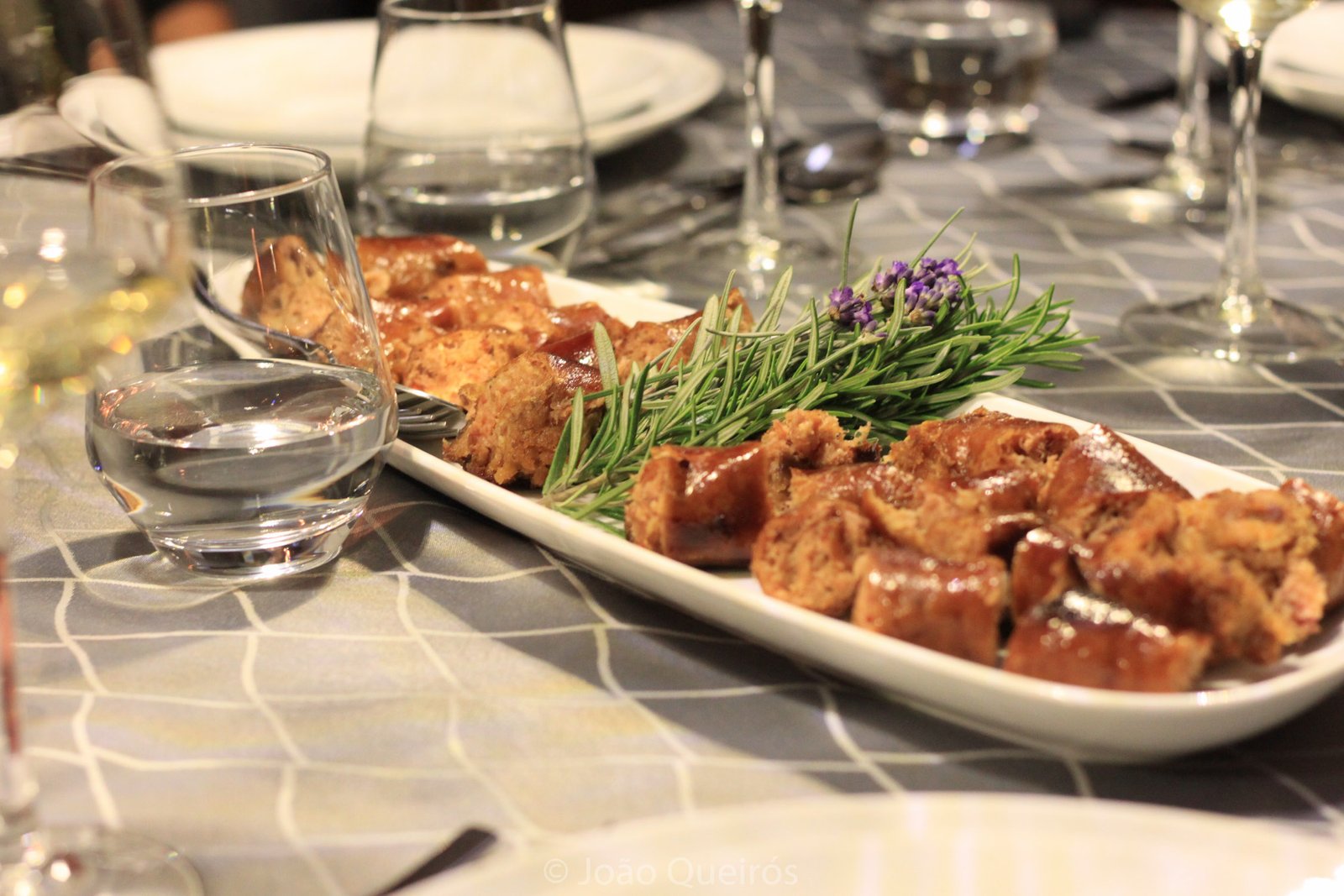 It was a thrilling opportunity to clarify some of my wine-related questions and get to know personally some of the people behind this wine passion. My expectations were high and the result did not disappoint. Francisco brought seven of his 'Aneto' wines, which served as a fitting accompaniment to the excellent oven roasted Veal (Vitela Assada) cooked to perfection by Eugenia.  
With each wine we tried, we were treated to an explanation by the producer and by the end of the meal my oenological questions were answered. Two hours of pleasant and warm conversation and seven samples of wine later…..and so onwards to the rest of evening's entertainment…..Portuguese Style!
Fado
In the warmth of conversation and seven samples of wine later, I was naturally happy and content – so much so that I missed the setting up activity around the fireplace. As if by magic, a well-dressed couple in Tuxedo and Evening Gown, presented themselves and thus began one of the most unexpected and romantic moments I have experienced.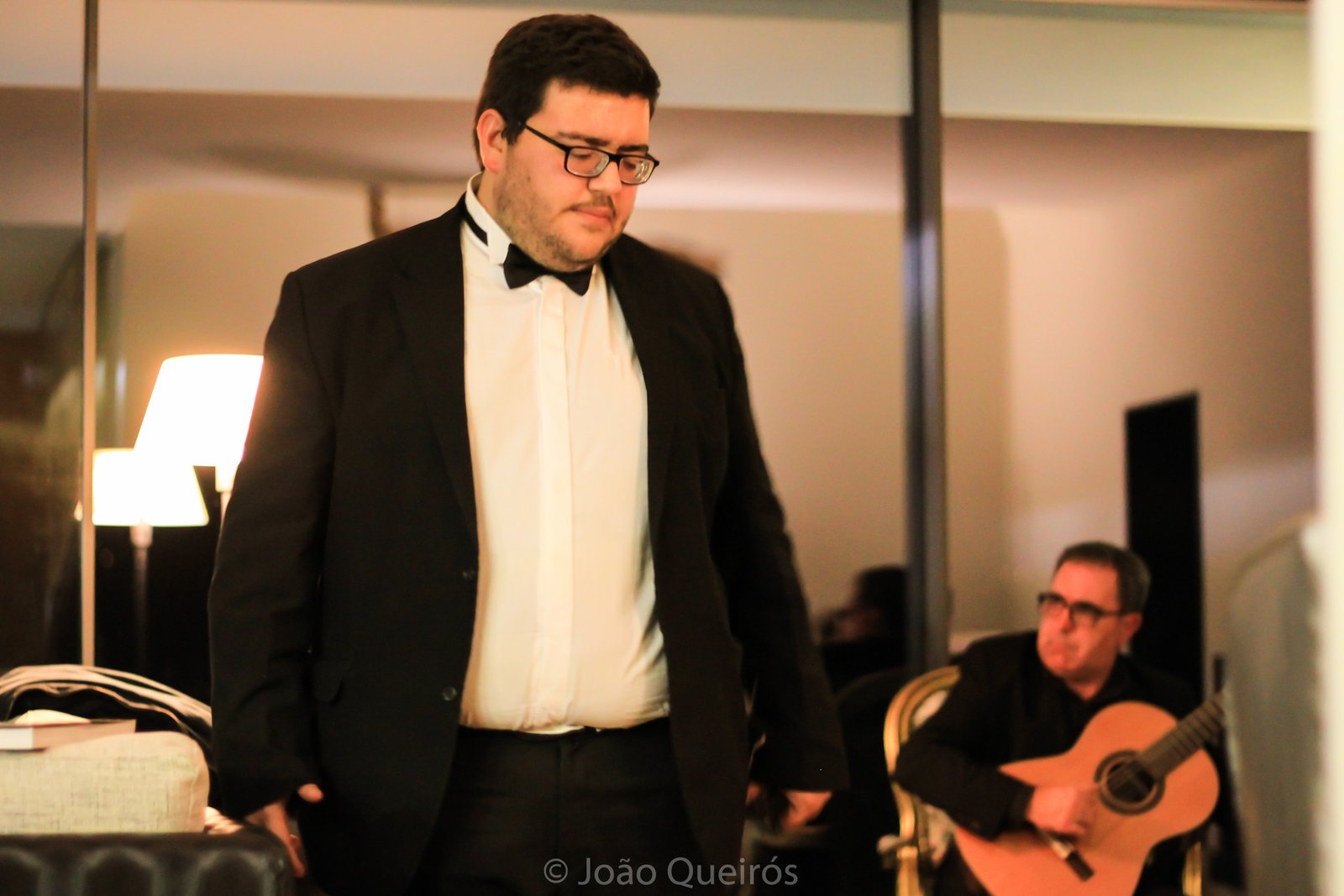 The young man with his baritone voice and the woman with her husky and rasping tones were accompanied by two traditional Portuguese guitars and they proceeded to deliver with great gusto, some of the most popular ballads of traditional Portuguese song…. Fado.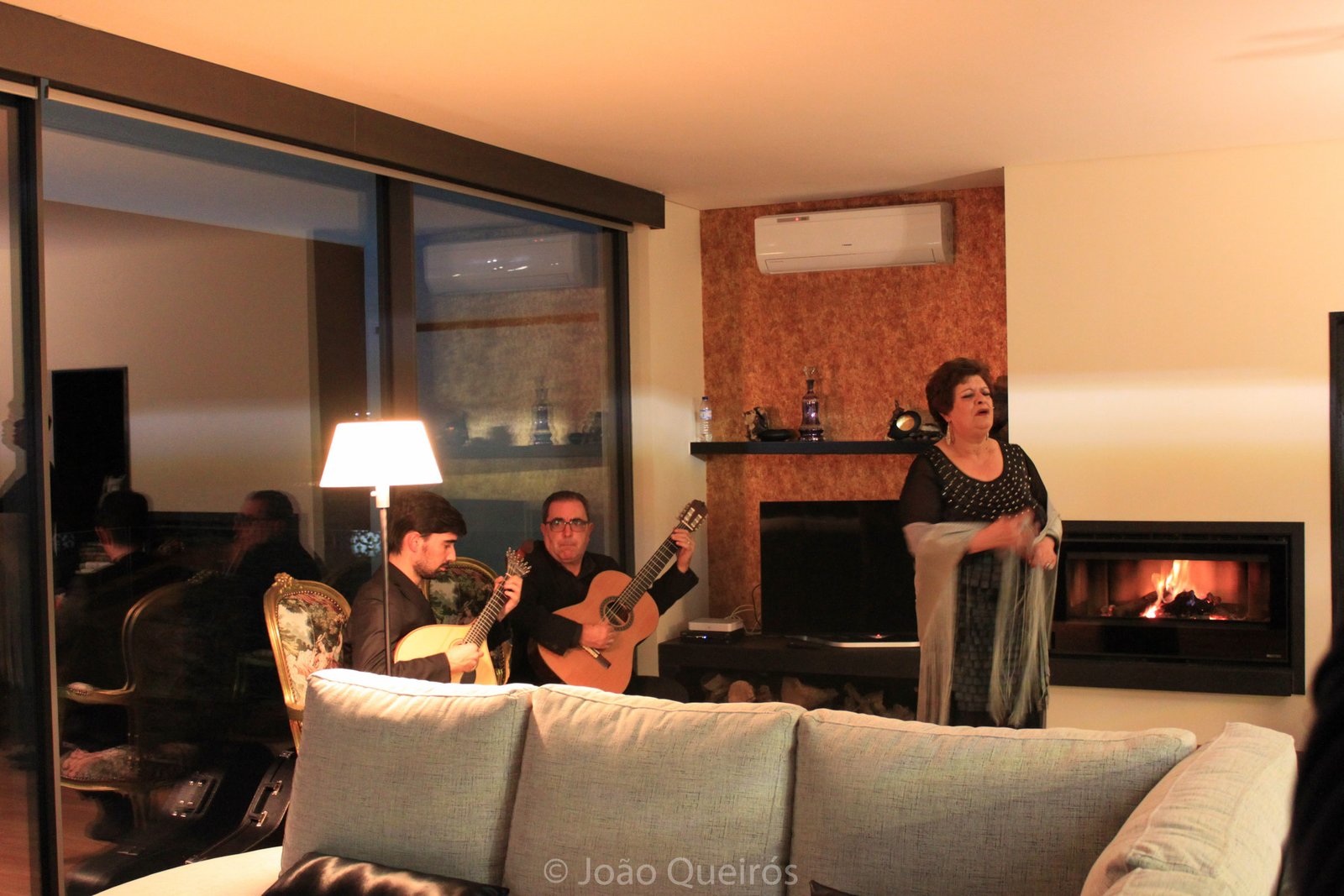 Their repertoire encompassed both Lisbon and Coimbra styles, including canção à desgarrada (a funny popular song style where lyrics are made up in real time). I first watched from the dinner table and later from the comfort of the couch. This was much more than a live musical performance – this was an authentic Fado, that was both private and intimate and will live in a very special corner of my memory forever.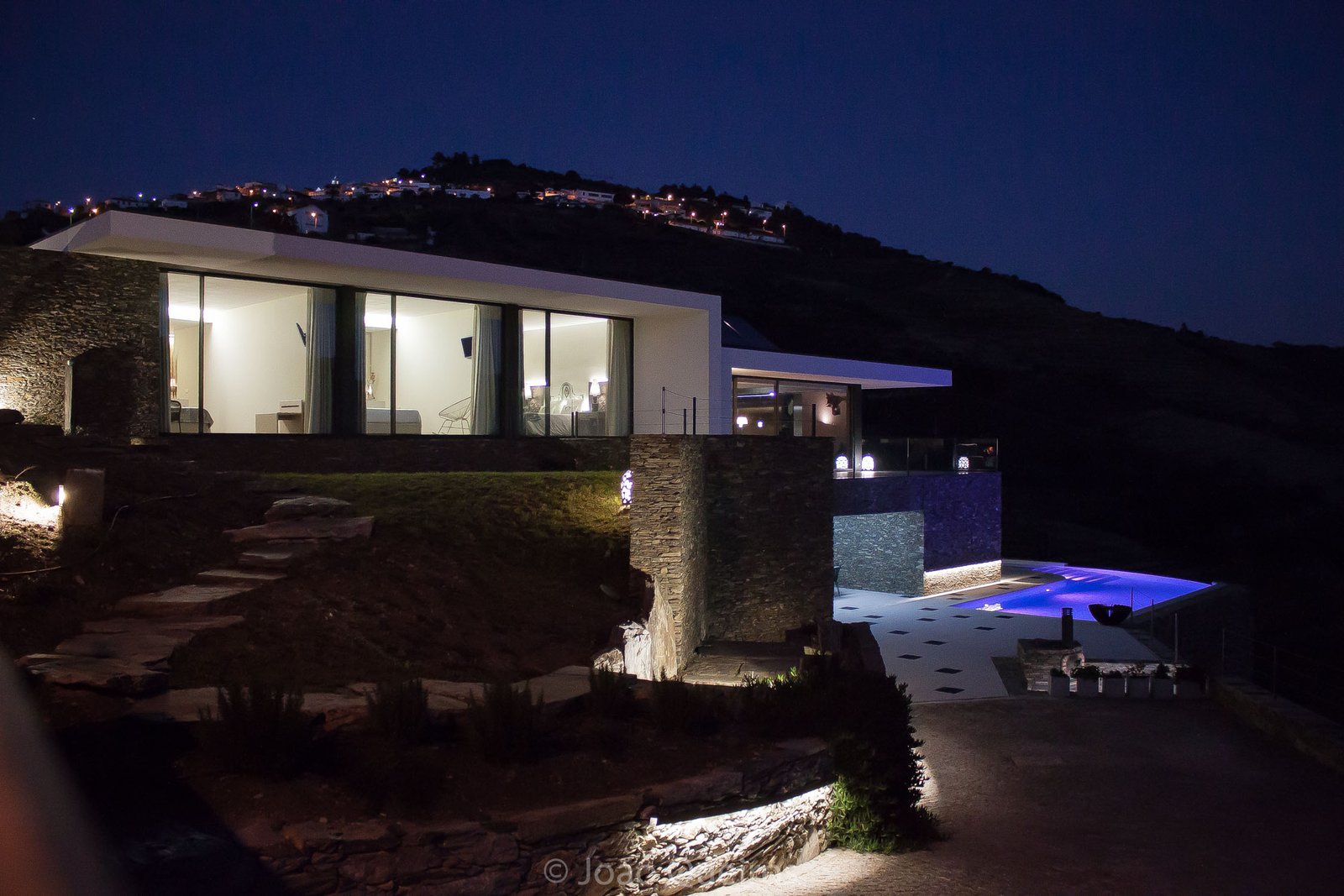 Other Activities
Several weeks prior to my Private Douro stay, Portugal Holiday Villas had proposed several alternative activities over and above the Cabin Lunch, River Trip and Winery Tour. They proposed the opportunity during my visit to enjoy a boar hunt with a local professional hunter and a relaxing afternoon in the newly opened Spa Experience, 'Six Senses Douro Valley', with whom Portugal Holiday Villas has partnered for their clients.
Six Senses
We were welcomed by the Hotel General Manager Nick Yarnell and his Spa Director. During our welcome, we listened to how the Six Senses were committed to joining forces to provide Portugal Holiday Villa Guests exclusive enhancements to the treatments they provide, such as a Free Upgrade Massage.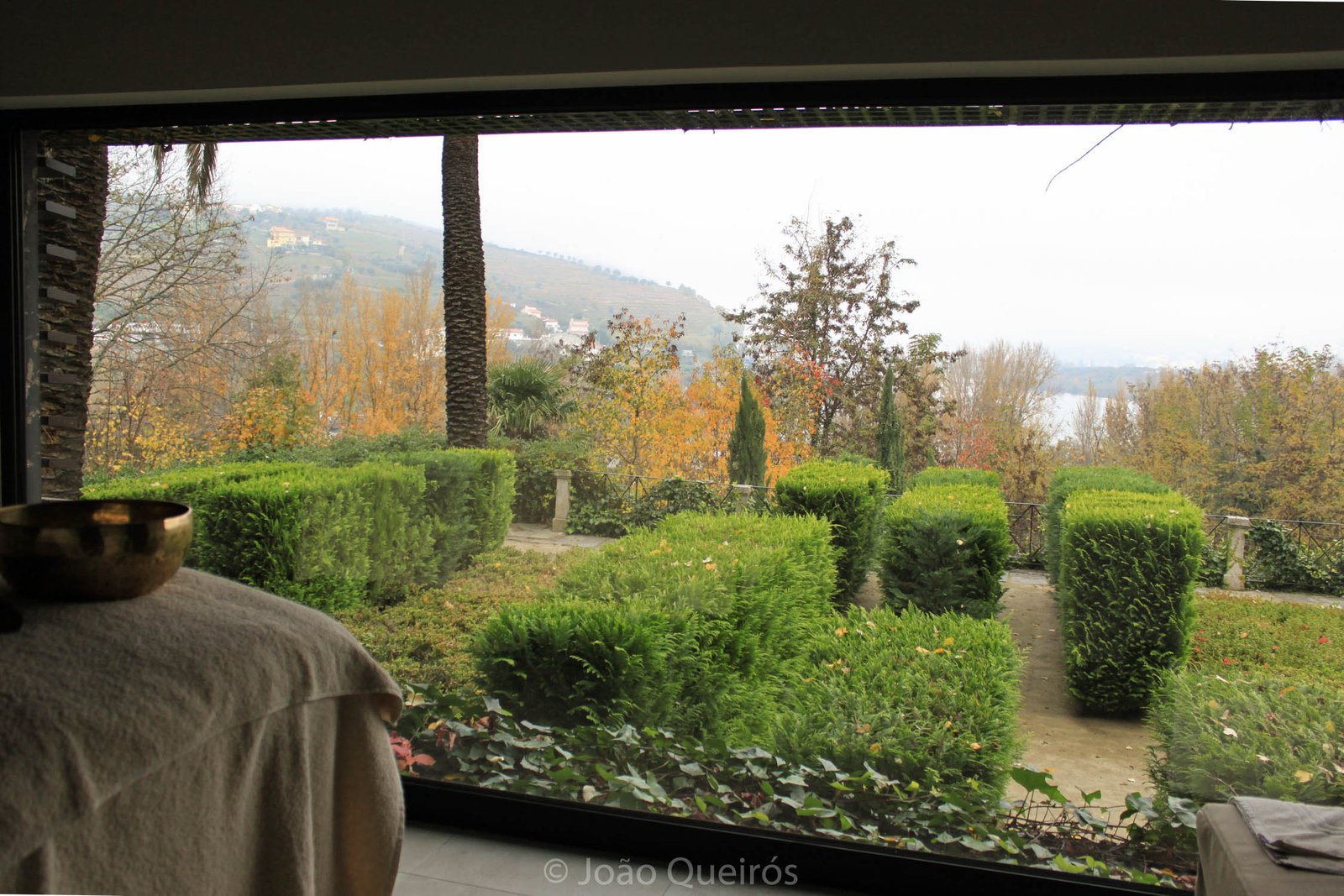 I was given a private tour of the facilities at the Spa and Resort which is the first one of the prestigious chain to be opened in Europe.

Outside, is an exceptional example of a typical nineteenth-century manor house, while inside it offers the most modern and luxurious facilities. Air conditioning, acoustics, lighting, decoration, infrastructure, references to wine and history, and many finer details have been designed to remove our stress. Situated in a region like the Douro, it also offers the best wines and cuisine both local and international.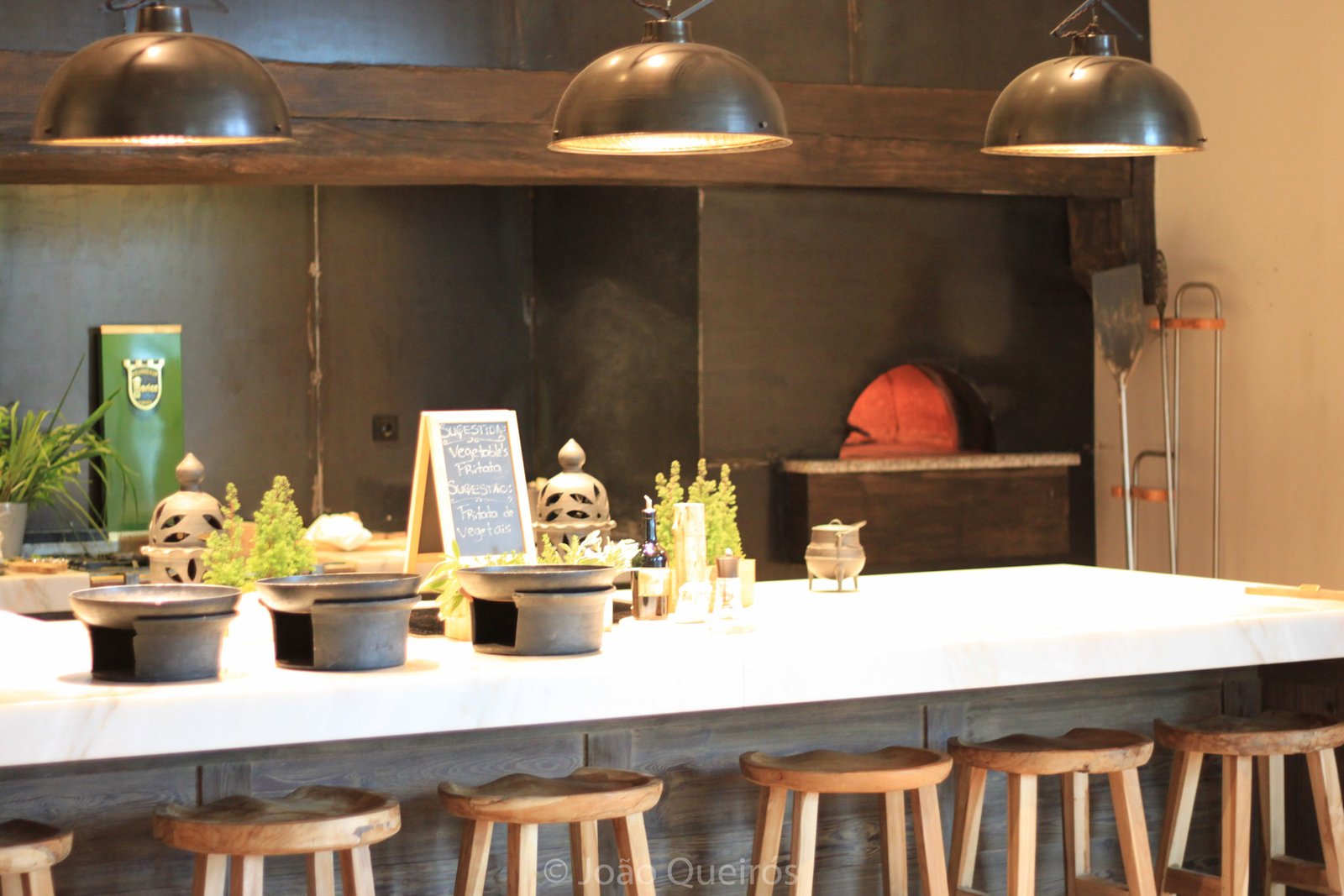 I must confess, that the stress of being a travel blogger (and yes there is some!) disappeared simply by strolling through the varied and relaxing ambient environments that the spa provides.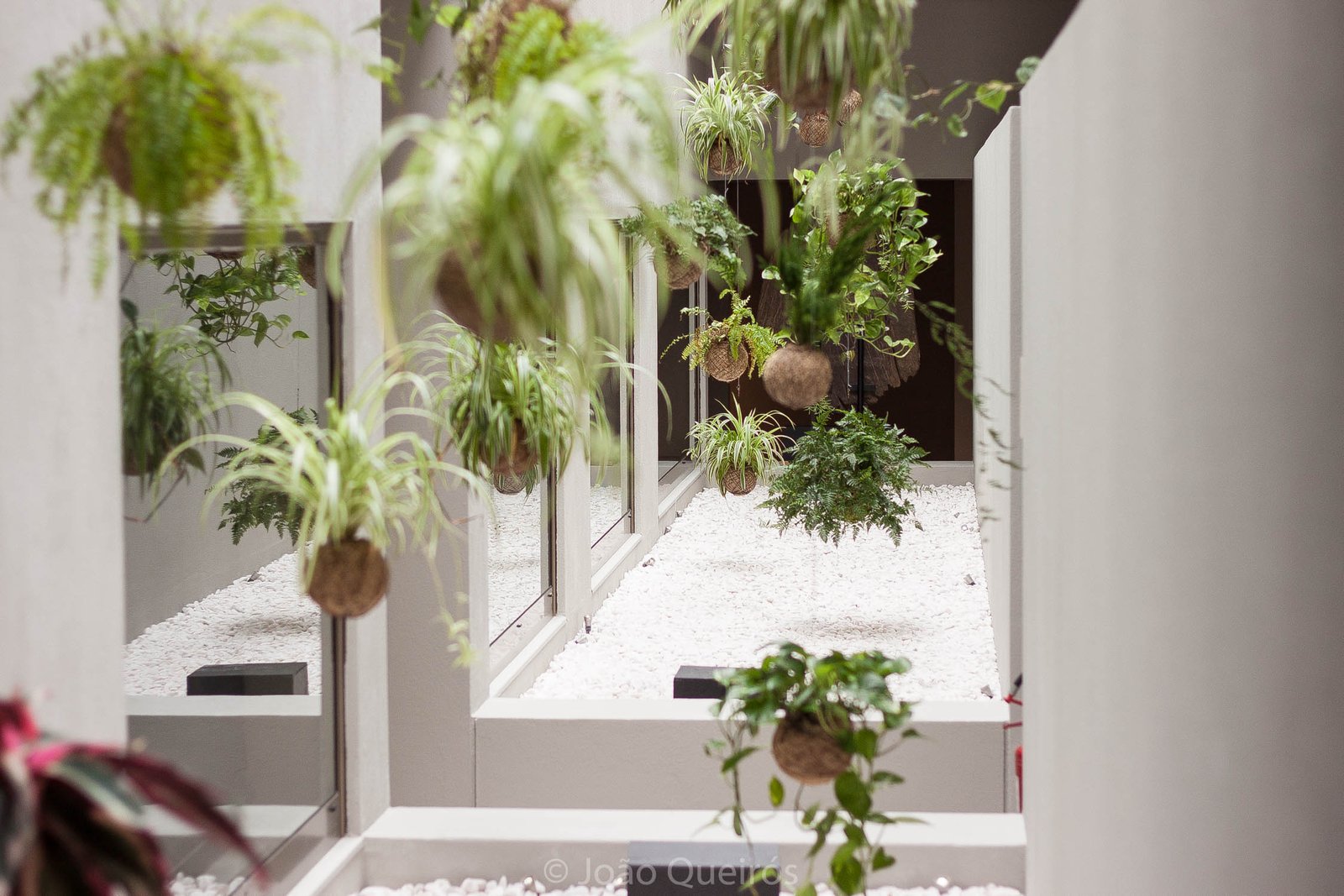 Hunting
The concept of a local hunt whilst of interest to me, required me to undergo background checks and the issue of a temporary license. Whilst there hadn't been time to co-ordinate this on this visit, our host had arranged the all important part of the overall experience. The local hunter owns a restaurant known as "Bombeiros" or firemen, named after its location, behind the Pinhão Fire Station. The hunter/restaurateur had been out the previous night and caught a wild boar (Javali). The food was delicious, the portions were generous and the accompanying sauce was one of the best that I had eaten and it's always extra special with some homemade crusty bread.
General impressions
The concept of a self-catering holiday villa is not a new one. Taking part in local activities to enhance one's holiday is also a simple concept. However to combine high-end luxury accommodation with bespoke, intimate, unique and memorable experiences, requires a degree of sensitivity, knowledge and savoir-faire that is rare in the holiday villa market. Fernando and his team managed to deliver all of this, as well as warmth and genuine hospitality to create a truly Private Access experience in the Douro.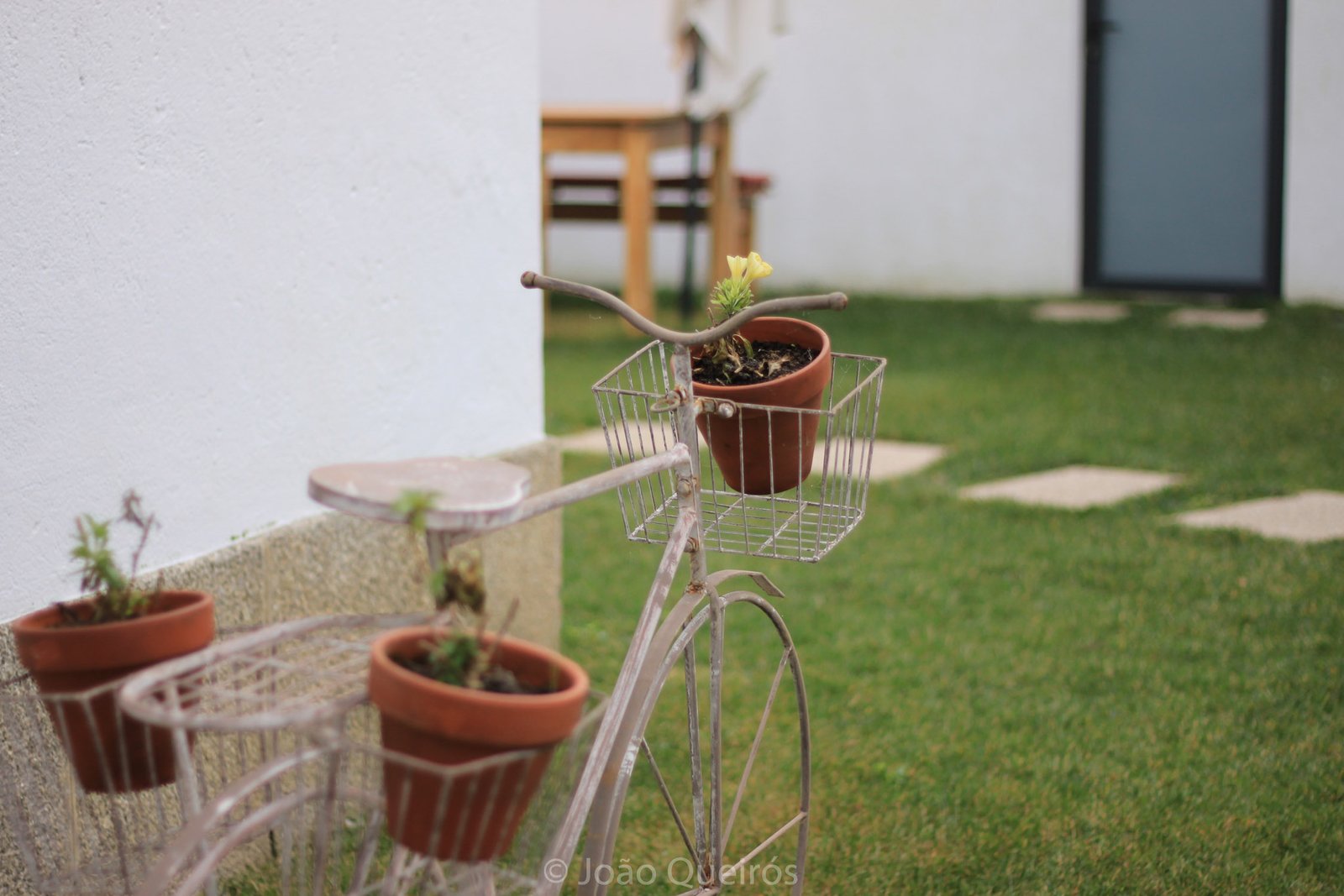 And it was with those truly memorable 'Private Access' experiences that I said ate logo (See you soon) to the Douro
Disclaimer:
I was a guest of the Portugal Holiday Villas for my Private Douro experience. All text and opinions are my own.  
Rates from £395 per night  for the House of Mafalda in which I stayed.