Within all the layers of history that this city has, a vibrant cultural, music and arts scene is taking place through the hands of "out of the box" young Contemporary Portuguese artists. Rita Draper Frazão, besides being a good friend of mine, is part of this young generation of artists and cultural entrepreneurs who are taking back the 18th Century city maze and converting Lisbon into a boutique ocean front city, full of cultural and artistic interest.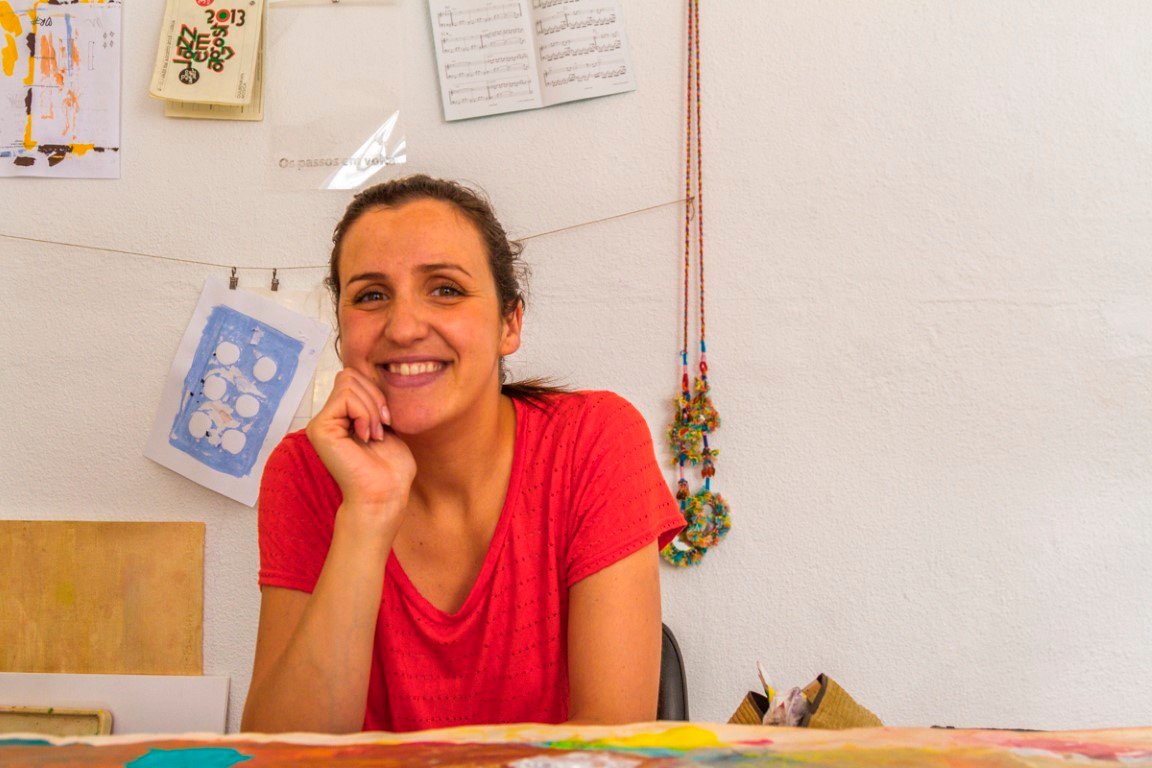 I met her at A Década, the atelier that she shares with other fellow young Portuguese artists in the Principe Real, a hot spot for the cultural and art inquisitive. The amalgamation of markers, stamps, gouache and brushes mixed with ongoing work covers most of the working desk. Her everlasting work friend, a cup of hot tea is never dispensed, even when the thermometer sweets a burning 38ºC August Lisbon heat.
It is not easy to understand Rita! She is an artist, and artists are not meant to be understood! They are meant to be liked or disliked, no matter for which reason. Like few others, she masters a very special interpretation of the world. I guess that is what I first caught my attention to her. That and her absolute devotion to Music!
[wp_ad_camp_2]
Throughout all her life and still to this day, stimuli to her five (and often six senses) are instantly the subject of a drawing in her faithful and always present sketchbook.  "Nothing fills my heart more than sitting on the corner of the Hot Club (a Jazz club in Lisbon) drawing the performers as they play" says Rita, as she opens her latest book. A part of a partnership with Jazz.pt, Rita was commissioned to do a drawing report of the artists as they were playing live on stage at the Jazz em Agosto festival.
 As she opens the wrinkled and stained sketchbook, I could have a first glimpse of what she means when she says that "looking at these drawing is like seeing music". It takes me sometime to agree with this statement, as I look at the black and grey silhouette drawing of an ensemble playing piano, cello and drums. A flood of colour erupts in at the turn of the next page, with a sky blue piano player on one side and a pink drumstick motion on the other.  She continues, saying that her idea is to make a graphical diary an original sound track, with the exact same elements: musics, concerts, musicians….Rita stops her speech as she looks at the book and says "Ah, remember hearing this music on this day, and who the musicians were and the way the soft purple light casted a sleek shadow of the pianist"
It is not easy to see, is it?
An education and learning "aholic" she can be constantly be found having her scheduled full up to the brim. Last time I checked, besides her work as an artist, and the numerous spontaneous projects that she gets herself involved with, she was also simultaneously learning Arabic, taking coir lessons and having a master's degree. Not to mention as well that at that very same time Rita was casted by Panx Solajes, a young Philippine movie director for a documentary about herself. Entitled "In Bloom", it is described as "a portrait of an artist and her memories – both lost and found, where the director explores Rita's drawings, dreams and special episodes of her life.
Check out her blog at innertour.blogspot.pt
[wp_ad_camp_2]