Flora Chiado Apartments are stylish serviced holiday apartments in Central Lisbon, right at the heart of the fashionable Chiado neighborhood. Flora Chiado Apartments presents itself as a longer than average stay option for those who seek space and independence from regular hotel rules. The Apartments are housed in a salmon-colored 18th-century building and retain large areas, exceptionally high ceilings and walls lined with Azulejos (Portuguese blue tiles). All trademarks of buildings from that era. So, if you are planning to stay in Lisbon for more than 3 days, or if you are coming on a business trip and need a place to work/hold meetings, and especially if you are a family with kids, Flora Chiado Apartments is the place for you.

Flora Chiado Apartments
Naturally, there is a concierge and daily maid service, and even preferred tables for its guests at some of Lisbon top restaurants – like the Henrique Sá Pessoa's Alma (the property's next door neighbor). And, besides the large than common areas, the major difference is that you cook your own breakfast. Or lunch or dinner. The best thing is that you don't have to wash up…. The maids clean up after you… which is brilliant. When you arrive, the fridge is already stacked for you with fruit, local charcuterie, and cheeses, eggs, yogurt, butter, milk (full fat, and lactose-free), plenty of fresh oranges for orange juice. Freshly baked bread and croissants are freshly delivered to your door every morning. On top, the pantry full of goodies for a late meal, or for those moments when you just don't want to go out for dinner but are still hungry.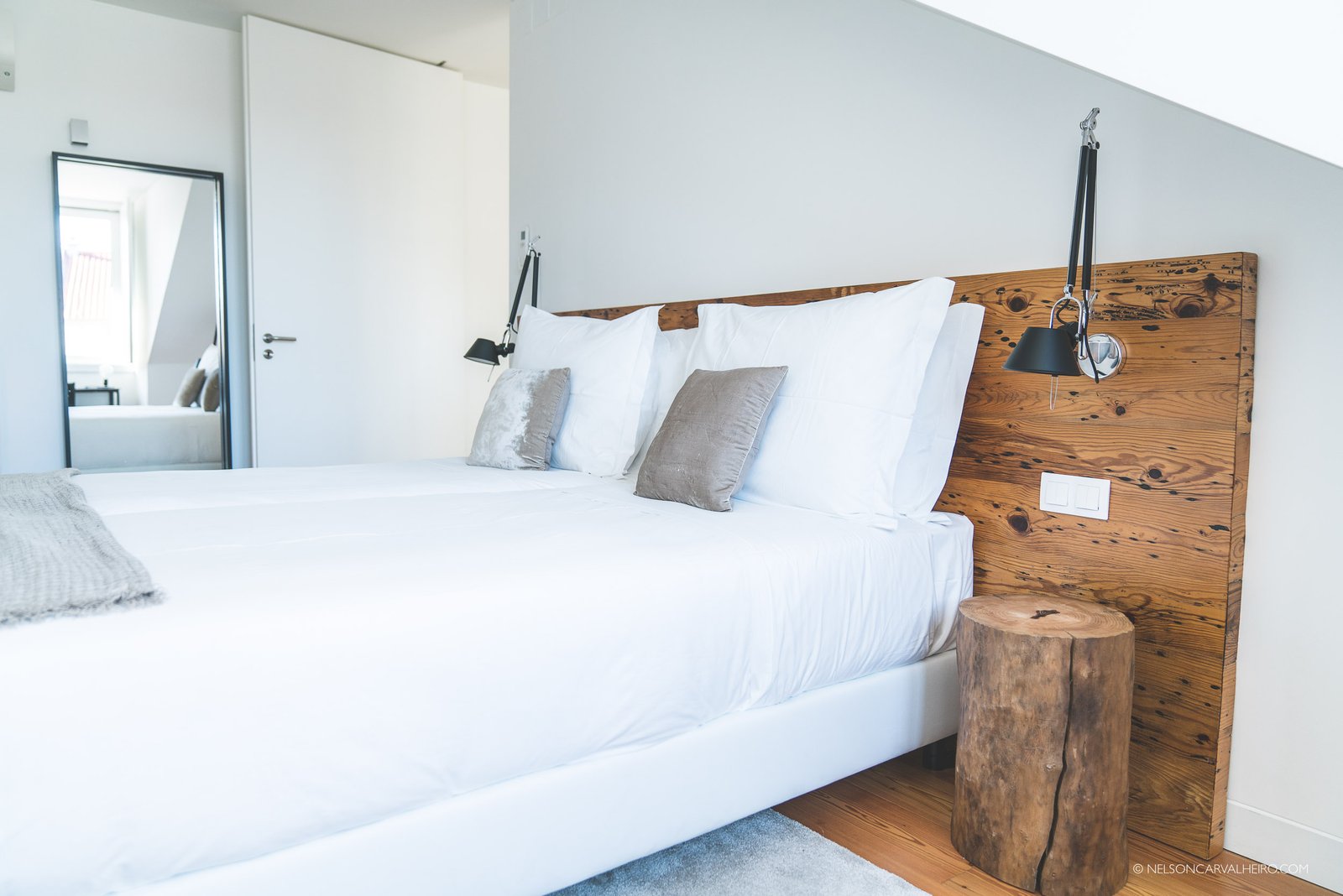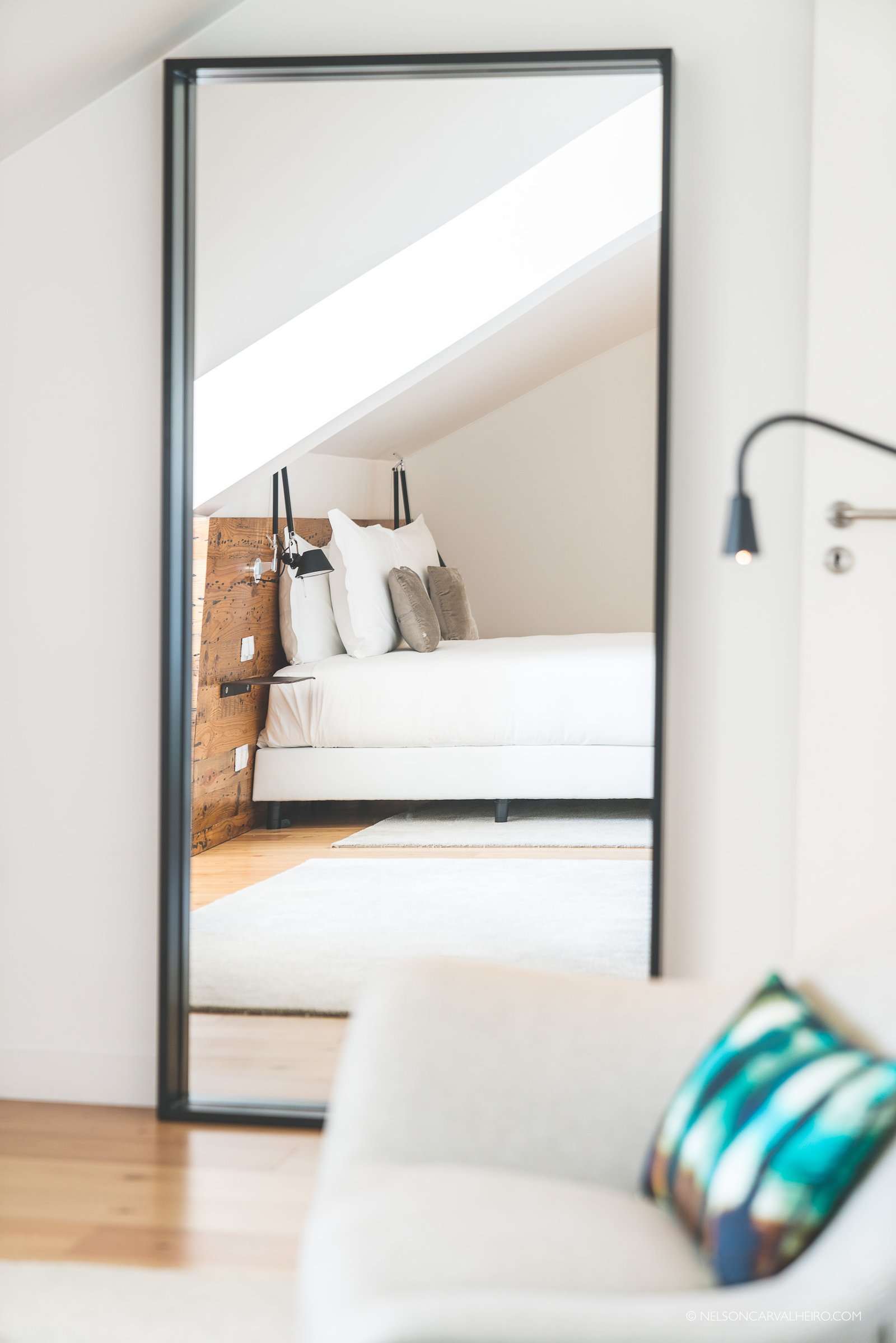 As you can see by the photos, the apartments are modern and comfortable. The oversized pillows still provide luxury hotel comfort, and the best thing about this place is the silence of the night. I wish I could give away with my acute hearing sense when I want to fall asleep, but the fact of the matter is that even the slightest noise is sufficient to keep me awake, so well sound insulated rooms are a make or break for me. Fortunately, this is the case and I could sleep soundly.
My T1 WITH TERRACE Apartment
Since this is a heritage building, the ceiling is very high, more than 4mets, so it is peaceful. What I liked more about it, is that I wasn't confined to a 23 sqm room in a hotel that has 100 rooms. I could wake up, lounge around in the living room, make breakfast, work, listen to my music…There were no claustrophobic moments, no putting up with the loud tv from the guests next door, neither having to dress up for breakfast, it was kind of a fashionable cozy feeling.
My apartment has a living room with fireplace and fully equipped kitchen facing the brightness of the terrace. The bedroom, whose headboard reuses the original wood of the building, also has access to the terrace where you can enjoy the breeze of a late afternoon in the comfort of outdoor sofas. The total area is 78 m2 + 28 m2 from the terrace.
What I think about Flora Chiado Apartments
Everything that I mentioned before becomes even more important when you compare the prices per night for an apartment here to what you would pay at the Ritz or at another hotel. Naturally, the breakfast is not comparable, but I don't think Flora Chiado Apartments is trying to compete with that market. Especially when you need a taxi and 10 minutes travel time (if it's not rush how hour) to get from the Ritz to Chiado or Baixa. At Flora Chiado Apartments you are right there, you just have to walk out.
Disclaimer:
I was a guest of Flora Chiado Apartments during my stay in Lisbon at the beginning of February 2018. Rates start at 255 Euros per night for the T1 Apartment with Terrace in which I stayed in. All opinions are my own.
See more of my Discover Lisbon series here.