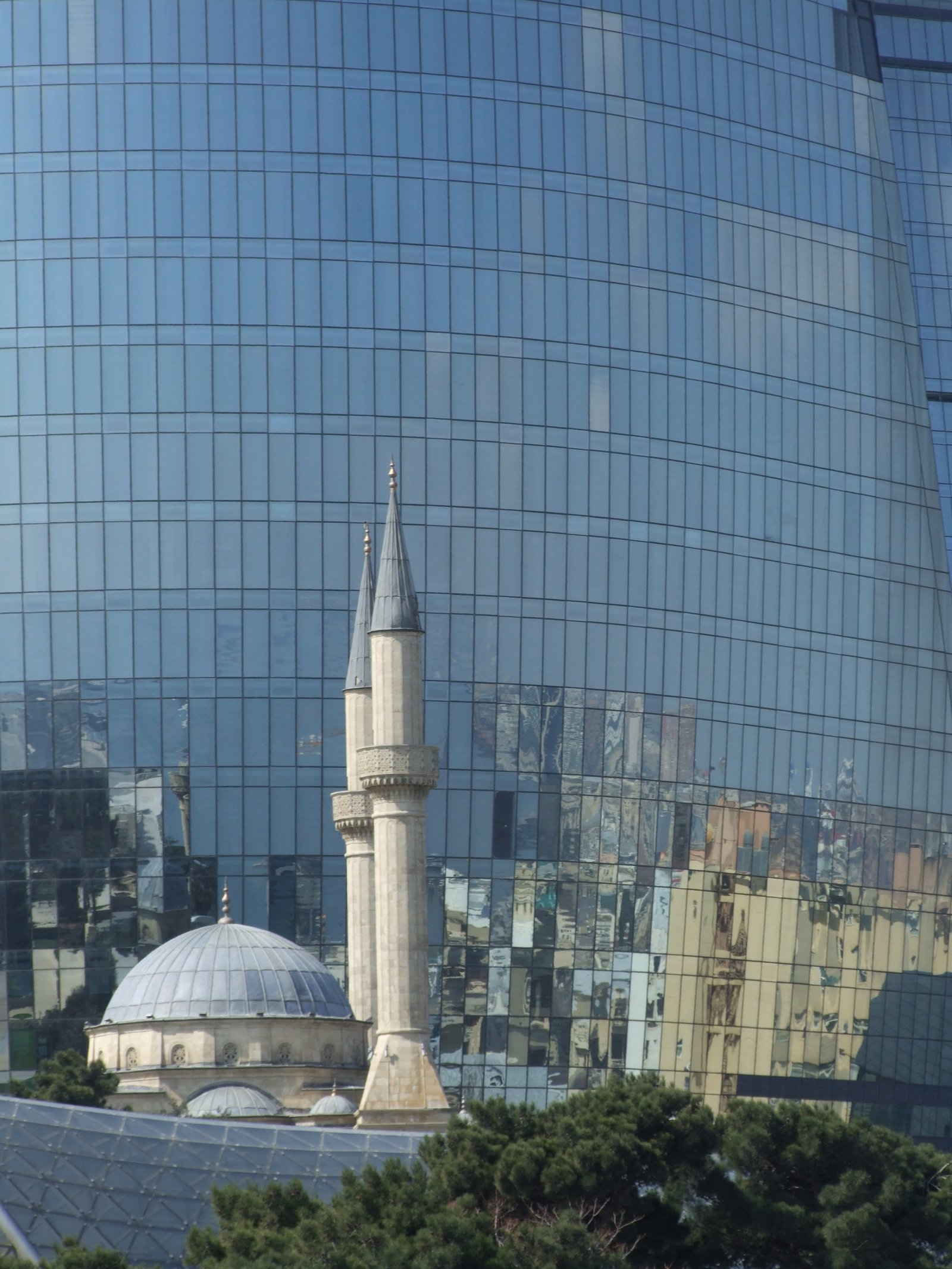 Straddling the border between Europe and Asia, Azerbaijan's capital city, Baku, is busy celebrating its illustrious past and its bright future. The Baku 2015 European Games.
The small square is crowded with people. On an elevated stage at one end of the square a young man in a black tuxedo is signing into a microphone, his free hand performs exotic and evocative movements as if to explain the song's lost meaning through mime.
In front of him a brass band stand in a disjointed line and provide the accompaniment for his crooning; dressed in red jackets, white shirts and black ties the musicians and their instruments could belong anywhere.
But, there is a certain discordance in the music they play, a discordance which to my western ear offers hints of the Asian steppe, notes blown on the wind from the high villages of the Caucasus Mountains; clarinet shrills entrenched deeply in the Arab world, and rhythms derived from the syncopations of the Indian sub-continent. I am at a crossroads, I realise.
I stand back and watch the thick ebb and flow of people throng past, shoulder to shoulder. They are different from me; they are also different from each other in so many ways. I am not from this parish, so their differences are subtle; the sharpness of a nose, the shade of a skin-tone, the colour of a scarf or the tilt of a hat; all things which go to make up a place where peoples come together. All the qualities of a global crossroads.
I am in Baku, the capital city of Azerbaijan, a city of ancient and modern, a metropolis of stone and steel, a place of water and earth, oil and fire. A city where for centuries trade and commerce have brought peoples together in a spirit of enterprise, tolerance and acceptance. A city influenced by its geographic location, straddling Europe and Asia, on the shores of the Caspian Sea and an integral staging point for the caravanserais on the famed Silk Route. A city where modern high-rise developments look down in awe on all the history which has gone before.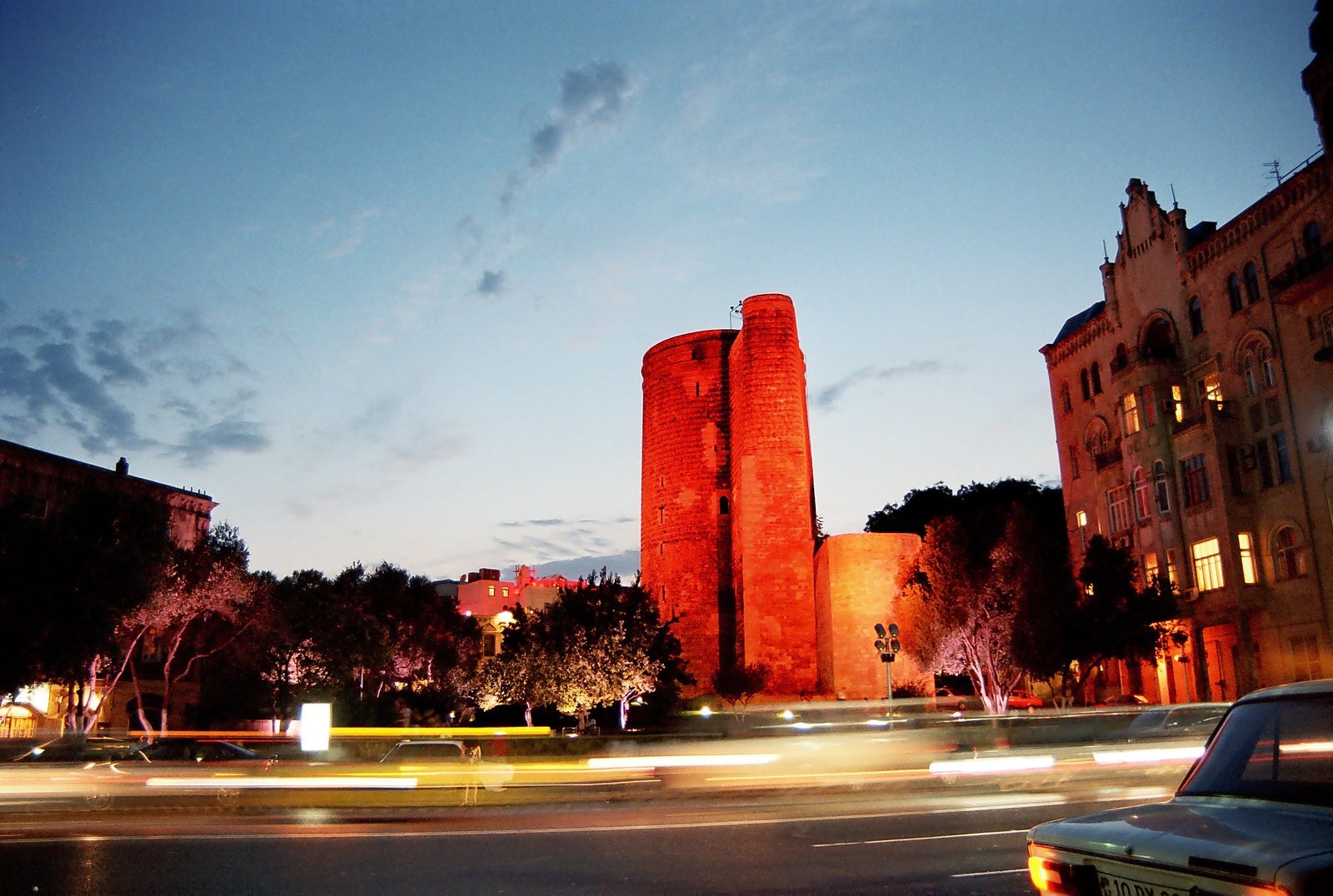 In this city of diversity there is also a shared commonality, it is the festival of Novruz and the people are in a celebratory mood.
Since my arrival I had seen them everywhere; small circular bowls in which miniature pastures of green sprouted from wheat seeds, entwined loosely in a solitary red ribbon, they had caught my attention. "Samani" the receptionist in the lavish Hilton hotel lobby had told me, "they are the symbol of Novruz, a time when we celebrate the coming of spring and the return of the sun."
Here in the square where the people thronged and the music droned, the sun was in hiding, obscured from view by the pungent smoke drifting from the fires where skewers of aromatic meats were slowly roasting in the gently licking flames. Lines of people waited patiently for the Noruz feast ahead.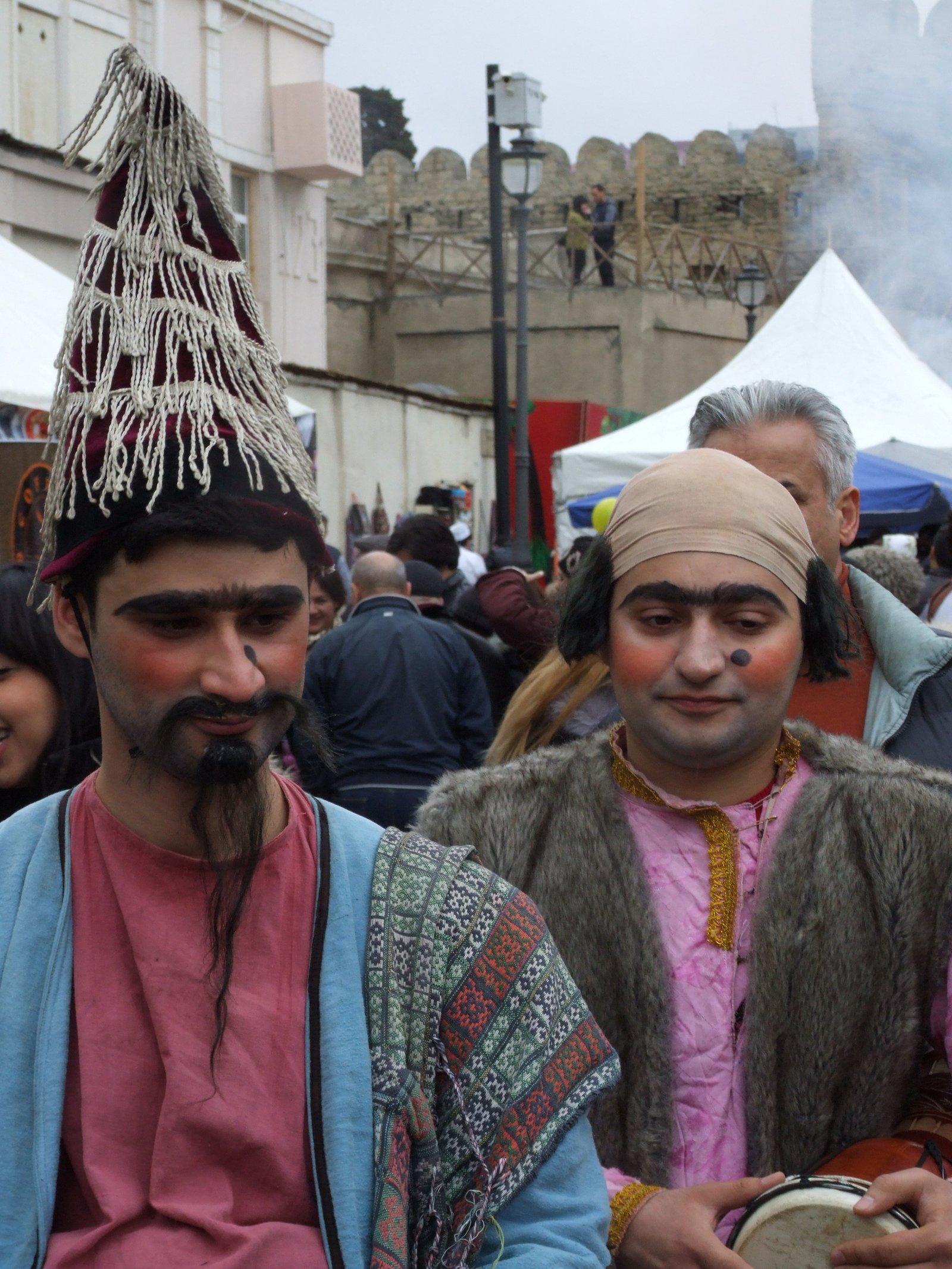 On a high wire above their heads a man quiveringly balanced on a stool, pretended to falter and fall and drew a collective intake of breath from the crowd below. A strongman, with the bulging neck muscles of a wild beast lay on a bed of spikes, as a stranger pulled from the crowds, broke slabs of concrete on his chest with a sledgehammer. Children bought bags of pink candy floss while others had their photographs taken with a colourful character known as Kosa – a man with little or no beard – a representative of Novruz whose roots are entrenched in the mists of time. Hawkers sold bright selections of ornamental, intricately decorated pill-box hats unique to the location, every child wanted one tugging lightly on the arms of their parents. Scimitar wielding men, dressed in pantomime as mediaeval warriors, mingled through the crowd followed by maidens in long flowing robes of cornflower blue, their faces lightly veiled in wisps of gossamer silk.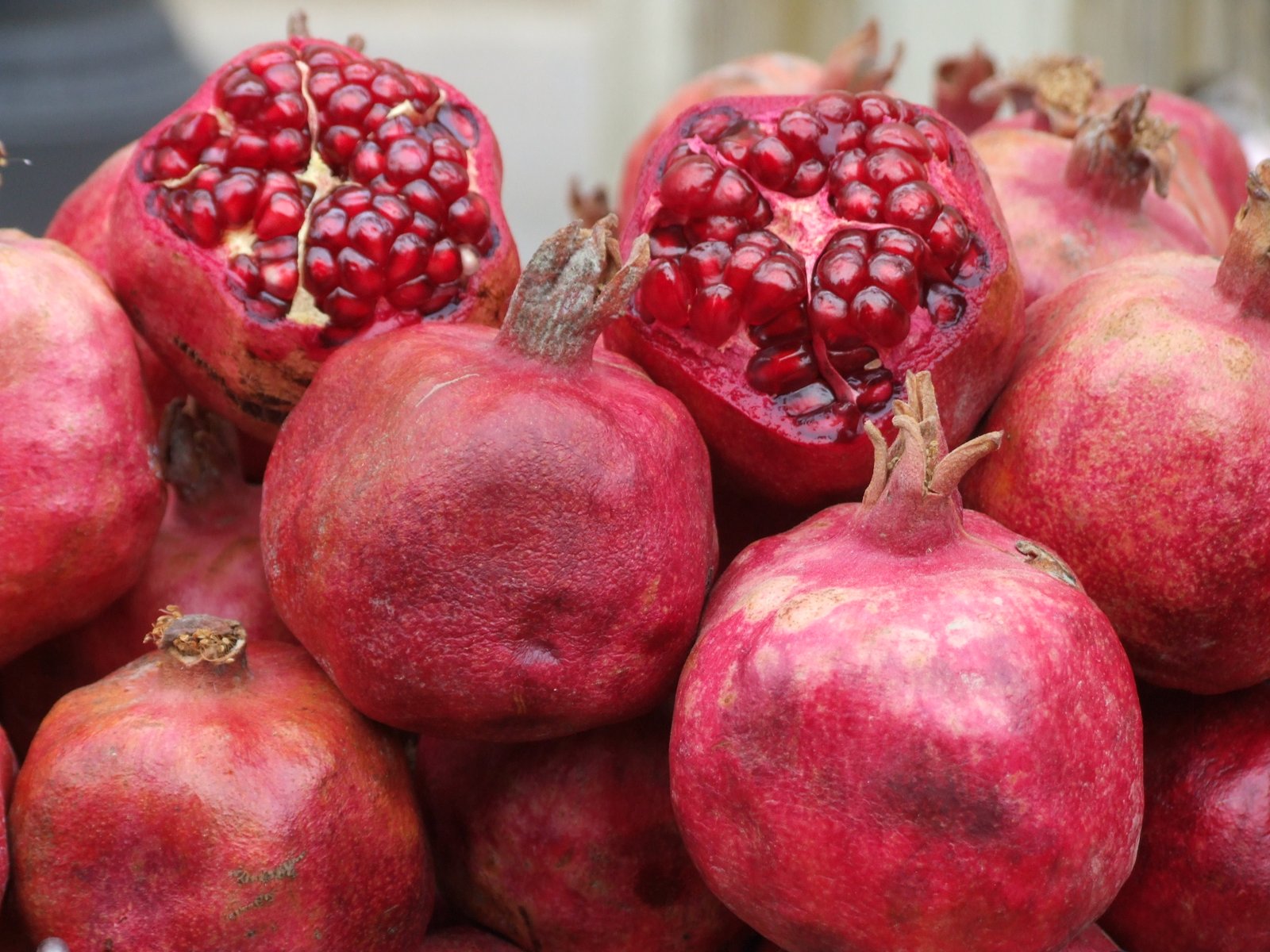 To me, a stranger, it appears the whole city has come out to celebrate.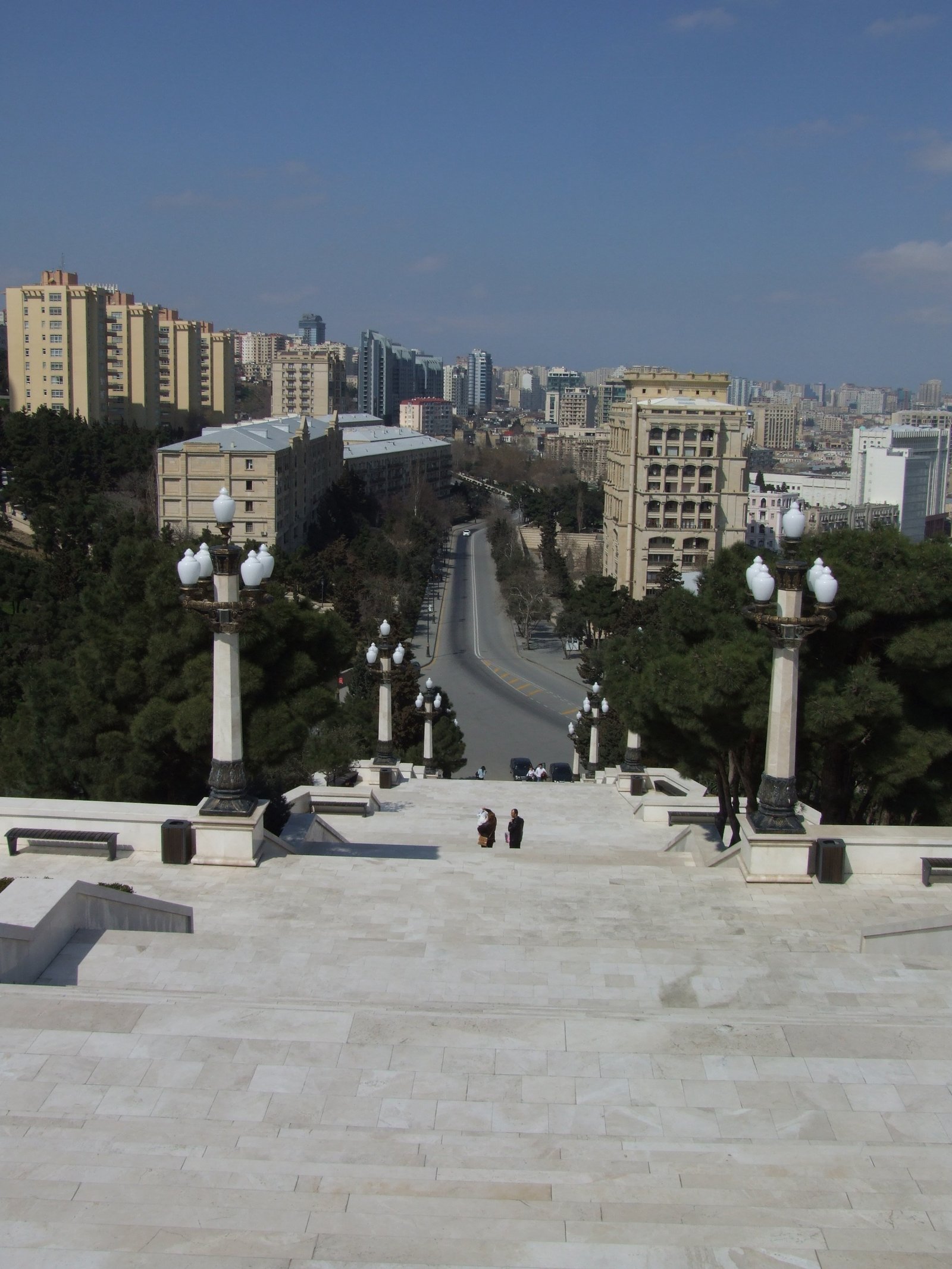 Earlier in the day there had been another reason for the city and its people to celebrate. On the wide tree-lined boulevard, following the natural curve of the bay which holds a portion of the Caspian Sea in its grasp, the city was awash with colour and animation. On a giant screen a clock was counting down the days, the hours and the seconds towards an event which would put Baku, and Azerbaijan, firmly on the map.
For sixteen days in June Baku will play host to the inaugural Baku 2015  European Games and in conjunction with the Novruz celebrations President Ilham Aliyev had thrown a party in the bright spring sunshine to spread the news. As he and his entourage paraded their way along the boulevard bands had struck up to play and filled the seaside air with music from every corner of the country, artisans displayed their handicrafts, foods and wares, folk dancers whirled and jigged in electrifying costumes, and sportsmen and women displayed the prowess with which they will represent their country in pride and in international friendship.
For many who visit Baku2015 for the games it will be their first encounter. There will be some trepidation – as is normal when faced with new places and new cultures – but allow me to assuage that trepidation. Baku, despite its long and noble history stretching back through the millennia, is a forward-looking metropolis. Its people are friendly, welcoming and possess a healthy tolerance, embracing both tradition and modernity.
Its streets are bright, clean and safe. Its bars, restaurants and cafes resound with laughter and talk. Its public squares and many green spaces splash with the sound of water and cascading fountains. Its buildings, both old and new, are brightly illuminated creating an architectural canvas of light and colour which must be witnessed to be believed. The Flame Towers, three sisters of modernity which overlook the city from the surrounding hillside, leap with the images of projected flames and waving flags in the night sky. The flowing feminine curves of the Heydar Aliyev Centre (designed by architect Zaha Hadid) house a conference hall, gallery space and museum and stands in stark contrast to the simplicity of the city's architectural icon; The Maiden's Tower, a building over whose origins the experts still debate (the view from its roof in the Old Town are a must for all visitors).
Everywhere you look there is a simultaneous tip of the hat to both Azerbaijan and Baku's past and future rolled like a traditional carpet into one. On the seafront boulevard there are funfairs and theatres, carefully renovated state buildings and stylish modern hotel complexes, shopping malls and marinas, each one uniquely and tastefully designed to add to the city's ambience.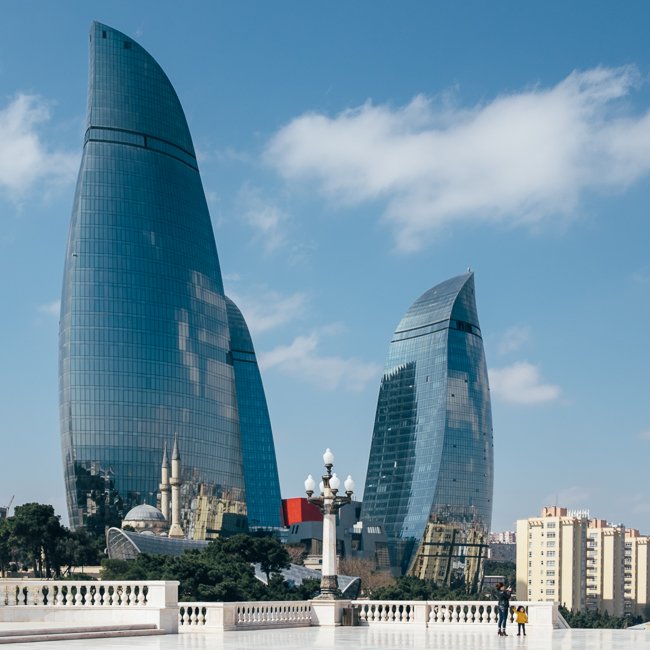 But it is the people of Baku and Azerbaijan who are the real heroes of the story. A nation of new-found wealth who wish to use this wealth to beautify, enhance and create their own unique place in the world. They wish to use this wealth to reach out and share their pride and show the world this pride with open hands.
Back in the square I can recall one such moment. As I stood in observation and delight an old man wearing a black astrakhan hat and long wool coat smiled at me. "Sprechen sie Deutsch?" he said. I nodded my regrets. "English?" he added. "Yes," I replied. He smiled widely and offered his hand. "Is this your first time in Baku?" he asked. I said it was and he smiled. "Do you like my city?" he asked warmly. "I love your city," I replied, "and your people." He embraced me tightly and kissed me on both cheeks, "Then I am happy," he said, "Truly happy", and meant it.
 Disclaimer:
I travelled to Baku has as a guest of the Baku 2015 European Games. All opinions are my own. 
 More Information can be found on the Baku 2015 official website:
Twitter: #BigInBaku #Baku2015
Facebook: www.facebook.com/baku2015?fref=ts
Photo credits to Brendan Harding and Baku 2015