Now that the restaurant and eating out scene in Coimbra is on par with what a modern traveler is looking for, I decided to write my own guide to the best restaurants in Coimbra, as a result of the journey I made to my hometown in September 2016.
The new eating out reality in Coimbra
In the mid-nineties, Coimbra ranked third as the most important city in Portugal, rig after Lisbon and Porto, respectively. It was largely known as a cultural hub where tradition played a big part in everyday life. This idea lent itself to the food, restaurant and bar scene in Coimbra at that time. When I was growing up, our choices for eating out in Coimbra were almost always reduced to a handful of places we knew were good. Ze Manel dos Ossos, Munich, Nacional, a Taverna, and a few others. Traditional Portuguese food, done the same way, with the same menu for years. I am not implying that this is necessary a bad thing, and I even praise it the case of Ze Manuel dos Ossos as the best restaurant of Coimbra. The others are among the few restaurants who have stood the test of time, trends, and changing realities in this city. For all others, the tight grip on tradition left the restaurant scene in Coimbra trailing in a constant and increasingly fast evolution and progress of what eating out means in today's society.
Luckily, this is all part of the past and Coimbra's foods scene, very much like the city, is thriving once again. A result of the increasing demand for alternative and more attentive establishments, more creativity in menus, the Michelin star awarded to Quinta Das Lagrimas, and the recent UNESCO attribute to the Universe of the Coimbra, Coimbra's restauranteurs and chefs have stepped up their game to the more modern and increasingly international demand the city is experiencing.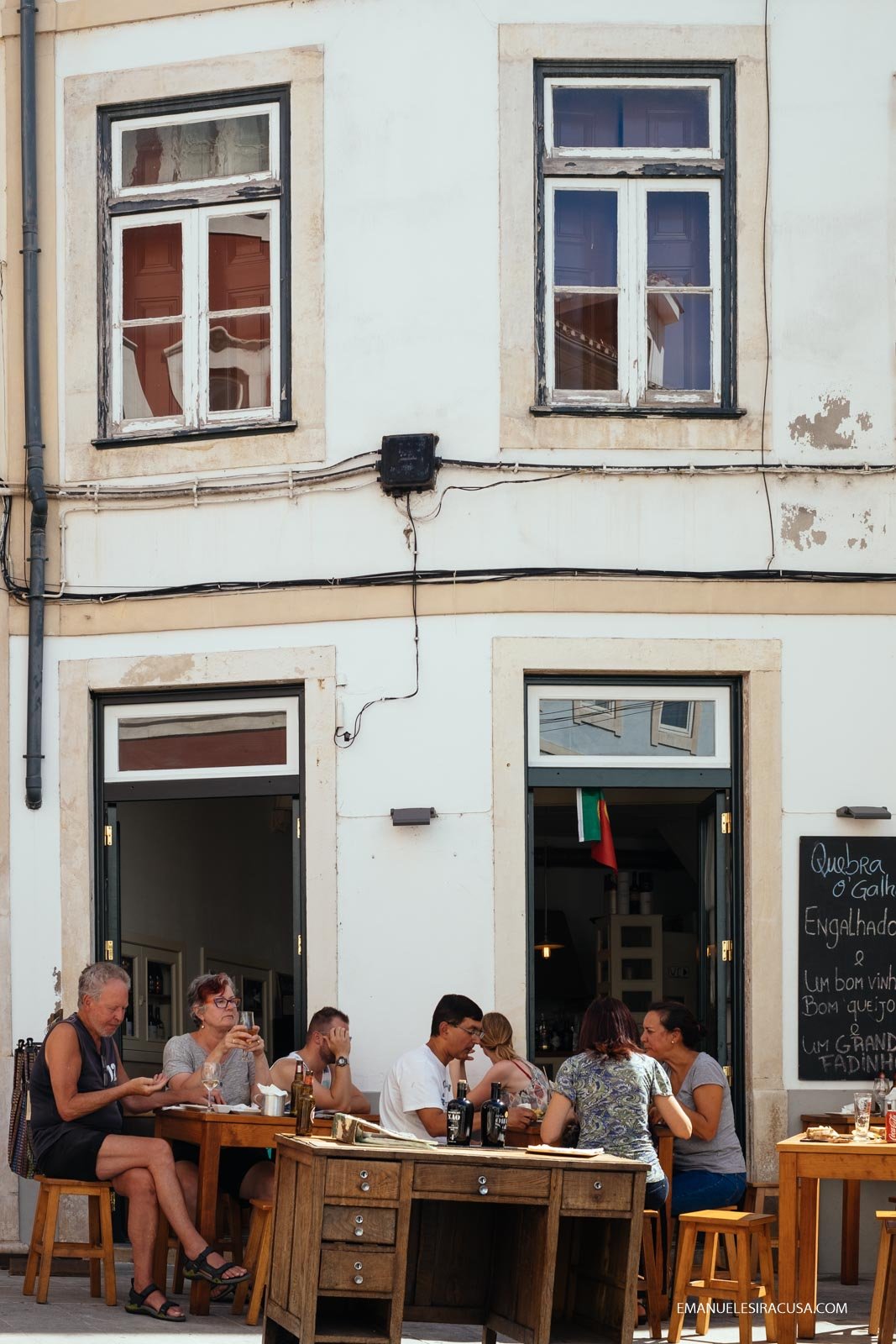 One fine example of its is Sonia Moura, from the Tábua da Moura restaurant in Coimbra´s downtown. She took an old fabrics shop and converted it into an eye-catching petiscos (Portuguese small portions) house in the middle of a somewhat forgotten part of the city. While other restaurants of this new trend are concentrated on the high part of the city (known as Alta) she and the guy from Dux Taberna Modena are bringing character, life, and vogue to a place which nobody went to at nighttime. As an ex-photography producer, Sonia has an eye for what looks good. And strong one too, as she even tried to teach me and Emanuele how to photograph her place. Bypassing this, her restaurant is  space is very appealing to the vintage eye, with bold colors and full of creativity. She kept almost every furnishing of the retail fabric business which operated here, using the long counter, the shelves, the drapes as a part of the decor. The menu is of her own creation and when of our visit the execution. Modern and tasty Portuguese petitions, paired with local wine from the Centro de Portugal Bairradas and Dão regions.
Best Restaurants in Coimbra
Zé Manel dos Ossos
mmmm…How can I say this? Even if you only have a couple of hours to visit Coimbra, I strongly recommend that you spend them soaking up the Coimbra bohemian life of Zé Manel dos Ossos and eating your way through this cornerstone of Traditional Portuguese Cuisine. Honestly! I have been a frequent guest of Mario, Rui, Carlitos and Jorge since I got into Coimbra University and can attest for every bit of concentrated culture and Portuguese uniqueness in the food and wine which is served at this establishment. It is such a landmark in the Coimbra and Traditional Portuguese Cuisine scene that I dedicated a whole chapter of my Portuguese Travel Cookbook to Zé Manel dos Ossos, and to the significance of eating here.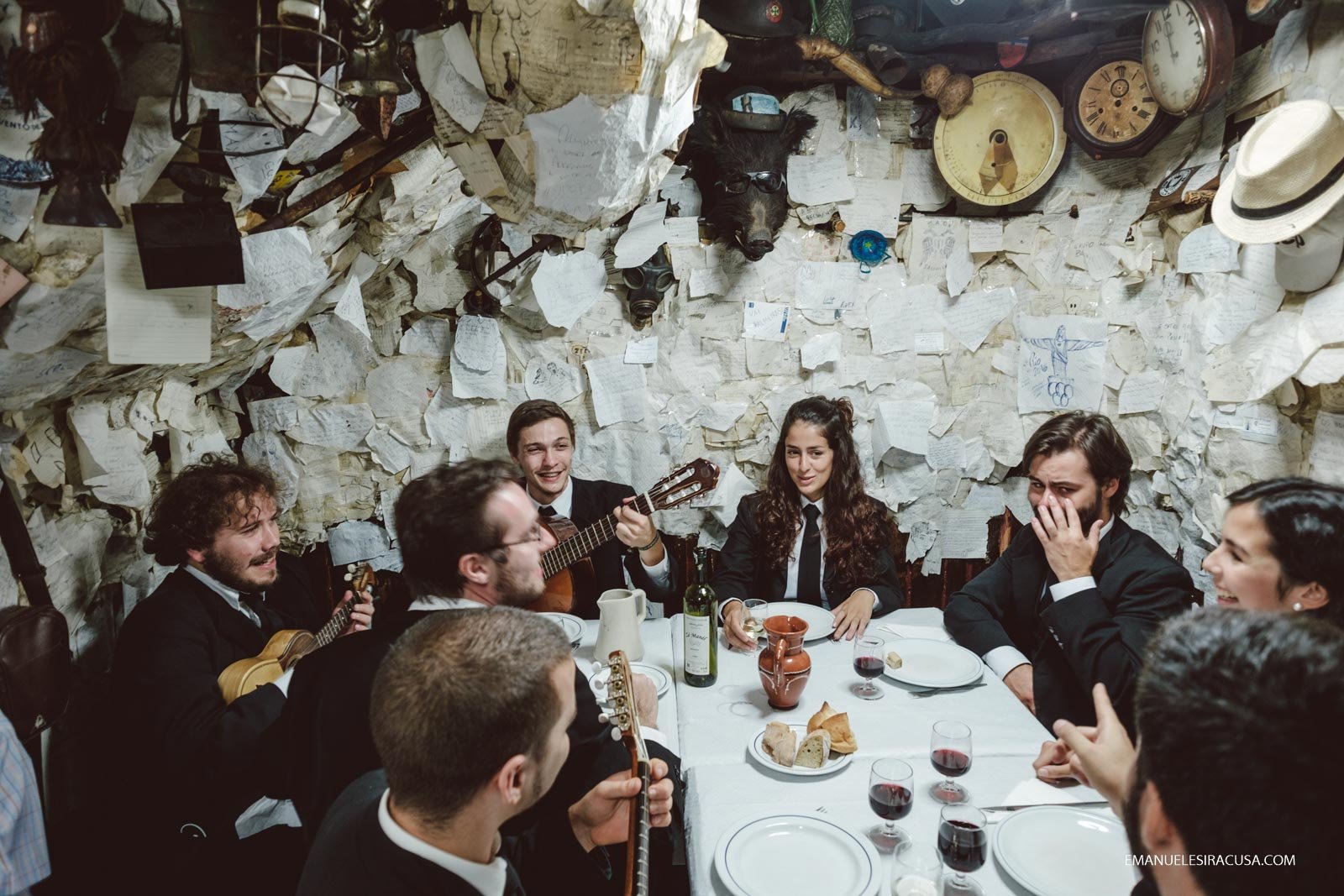 Not wanting to spoil the surprise of your experience at Zé Manel dos Ossos, I'll just leave you with some pointers. First, you have to remember that this is a local's restaurant. Even though it has gained a lot of exposure in the last years, the owners are (and will continue to be) adamant about keeping their habitués happy. They are as much a part of the Zé Manel reality as the messages taped on the wall or the cool looking stuffed wild boar with shades. This means, that they do not cater to international tastes or demands. Also, you might be bumped back in the queue or have to wait a little longer for a table. All you have to remember is that you are the mercy of Mario! In a good way, of course! 🙂
Remember to arrive early before the opening times;  12h30 for lunch and 19h00 for dinner. You will be sharing elbow space and don't even think about bringing more than 8 people as a group. Coffee is not served, but you get to have a drink of Mario's own homemade Aguardente (Portuguese Firewater – similar to grappa, but much better) served in an old James Martin 20 years bottle. Finally, my advice is to let Mario, Rui, Carlitos and Jorge take care of you and I can guarantee that you will be very happy!
Zé Manel dos Ossos
Beco do Forno 12, 3000-192 Coimbra
Phone: +351 239 823 790
Arcadas at Quinta Das Lagrimas
Arcadas is the best fine dining restaurant in Coimbra. Set in the evocative and inspiring Quinta das Lagrimas, the restaurant features all the regality and splendor the house in the food that is presented to its patrons. Chef Victor Dias is the man who runs the kitchen since September 2015. A 15 year Quinta das Lagrimas veteran, he saw the rise and fall of the Michelin Star award (2005-2013) at Arcadas. He is not demoted. By the contrary, he is one of the most sympathetic and warm welcoming haute cuisine chefs that I have met in Portugal recently. He graciously welcomed myself and my team to his kitchen and was patient enough o prepare several dishes just for us to photograph and film.
I believe that his gentle personality and admiration for the produce harvested from the land and sea are reflected in the simple, but attuned delicate flavors he develops. Take Fish symphony with lobster sauce and samphire as an example. A sea feast for the mouth where I could taste all the different flavors of the sea bass, prawns, squid, scallops individually wrapped in velvety lobster and topped with crackling samphire. It doesn't take a genius to come up with this idea, and one could easily make everything taste of "fish", but Chef Dias makes a wonderful job is keeping your palate in touch.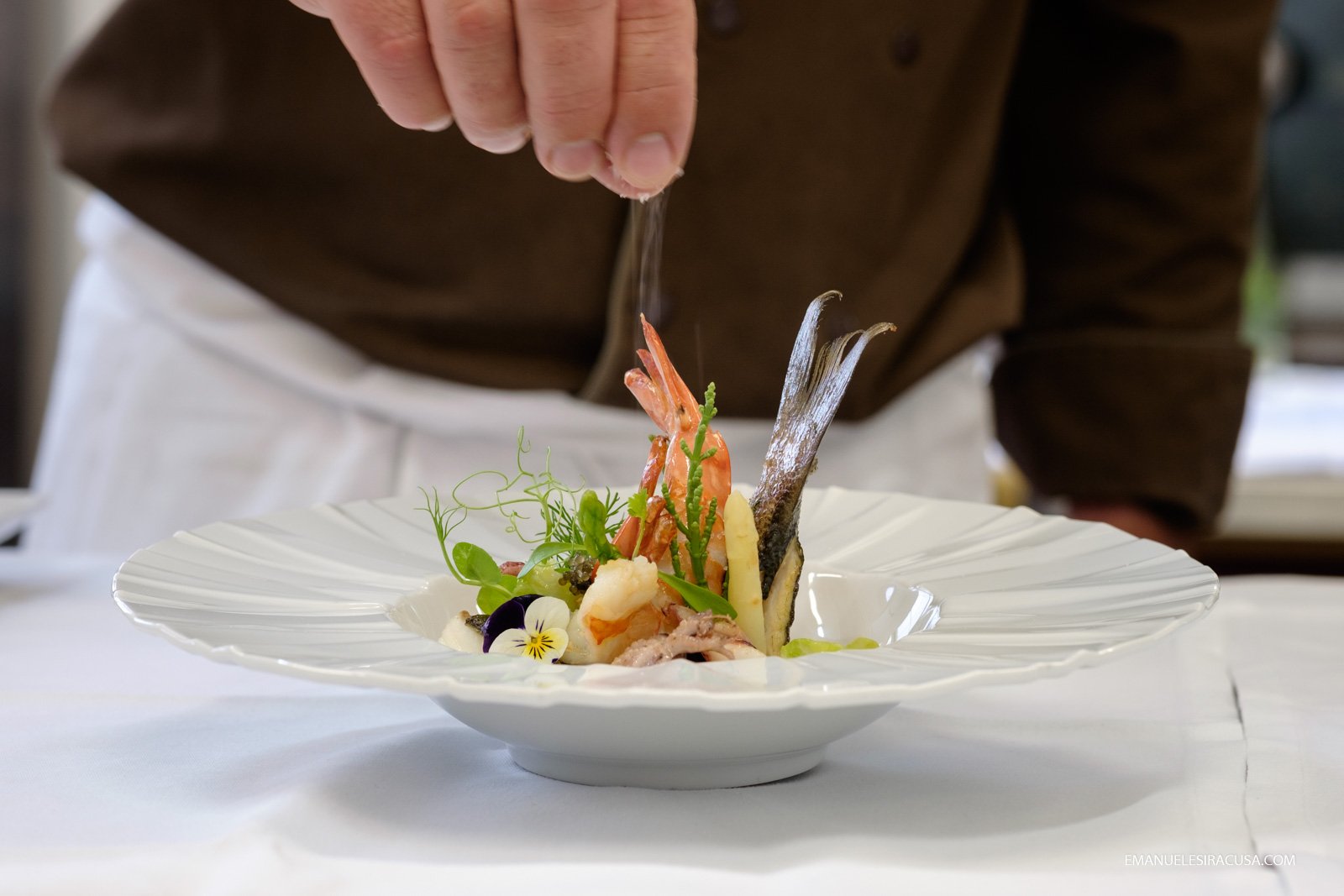 For dessert, we had a taste of the complicated procedure of assembling the Sweet forest. Evoking the old times when the backyard of Quinta das Lagrimas was a forest and hunting ground, chef Dias turns red berries, edible flowers, mint ice cream, meringues, chocolate, crackling, and strawberry macaron into a picture of what the Sweet Forest would look like. Yum!
Arcadas at Quinta das Lagrimas
Rua António Augusto Gonçalves, 3041-901 Coimbra
Loggia at Museu Machado de Castro
As a fellow blogger and Coimbra resident, Julie Dawn Fox wrote,  Loggia is the restaurant with the best views in Coimbra. The restaurant is a part of the Machado de Castro National Museu and is themed around the Roman establishment of Coimbra (then called Aeminium). The direct and unimpeded views over the rolling hills and corrugated terracotta rooftops of the old town of Coimbra, make it a pretty awesome place for your last moments in Coimbra. In my opinion, a late afternoon snack of cold cuts, choice of cheeses, and some red Bairrada wine together with that magical golden hue of the setting sun are a much better option than dinner, when everything is dark already. It is such an evocative scene, that I choose it to film the Coimbra Fado scene for the Coimbra feature movie.
Loggia at Museu Machado de Castro
Largo Dr. José Rodrigues
, 3000-236 Coimbra
Phone: +351 239 853 076

Arcada Comes e Bebes
I stumbled into Arcadas Comes e Bebes, on my first night in Coimbra. On this evening, my mission with Emanuele was to look for one of these new petiscos (small portions) restaurants that have revamped the old town of Coimbra. When you pass by its porch you feel instantly invited to go in. Adriano Leandro (the owner) kept the old 18th-century inner walls and visible terracotta bricks and lined the interior space with mellow tones and a bit of boho style furniture. The food follows this uncomplicated and somewhat forward approach to Portuguese and Coimbra classic dishes. On the spot made sangrias, Pica Pau (sauteed sirloin with pickled vegetables), Tiborna de bacalhau (cornbread with salt cod and olive oil), goat's cheese pastries (on the picture), grilled chorizos and plenty of local Bairrada and Dão Wines. Here the tourists outnumber the locals, and on this day I found myself doing some late night cheering and hugging an American couple who was campervanning across Portugal.
Arcada Comes e Bebes
Rua Fernandes Thomaz 89-91,  3000 168 Coimbra
Phone: +351 91 929 64 53

Tabua da Moura
In addition to everything that was mentioned in the introductory piece to this article, I would like to point out the dishes we ate when visiting Tabua da Moura: Alheira Mushroom and quail egg;  the courgette, salmon and passion fruit rolls, assortment of charcuterie and cheeses, roasted pepper with clams and prawns and the prawn pastry. Our wine of choice for this meal was the Dona Deolinda from Santar (Dão).
Tabua da Moura
Rua do Corvo 43, 3000 – 124 Coimbra
Phone: +351 914734650

Casa Das Caldeiras
As a University city, Coimbra has a lot of bars, and Casa das Caldeiras is one of the most eclectic ones. Not in a stifled kind of way, but as one that attracts a trendier audience, and not just offering cheap booze. Set in the midst of the old boiler room complex which provided the university and its hospital up on the hill with hot water during the 1940's, it is now a piece of industrial heritage where the well dressed and musically affluent young crowd of Coimbra gather in the evenings. On Fridays and Saturdays, they have a live DJ pumping the latest EDM hits. If you are more of a daytime person, I strongly recommend the Prego no pão (steak in a bun) with some homemade chips and a cold beer!
Casa das Caldeiras
Rua Padre António Vieira 7, 3000 Coimbra

Dux Taberna Urbana
Just like the name, this particular Dux restaurant (there are two in Coimbra) is modeled after a modern tavern and follows suite with the sweep of Petiscos restaurant that has swept Coimbra and the big cities of Portugal in the last couple of years. The execution of a range of the Portuguese version of the Spanish tapas is excellent. I can really tell that there is a set idea into delivering quality food and not just following a trend. My favorites are the caramelized goat's cheese with honey, the açorda de camarão com coentros ( prawn in melted bread with coriander) and the fried squid with aioli.
Rua Doutor Manuel Rodrigues 43, 3000-258 Coimbra
Phone +351 239 093 723

Also worth a visit:
Tapas nas Costas
Located midway throigh the most famous stairway in Coimbra, the Quebra Costas (back breaker), Tapas nas Costas offers a more modern approach to Portuguese small bites.
Rua de Quebra Costas 19, Coimbra 3000-340
http://www.tapasnascostas.pt/
Phone: +351 239 157 425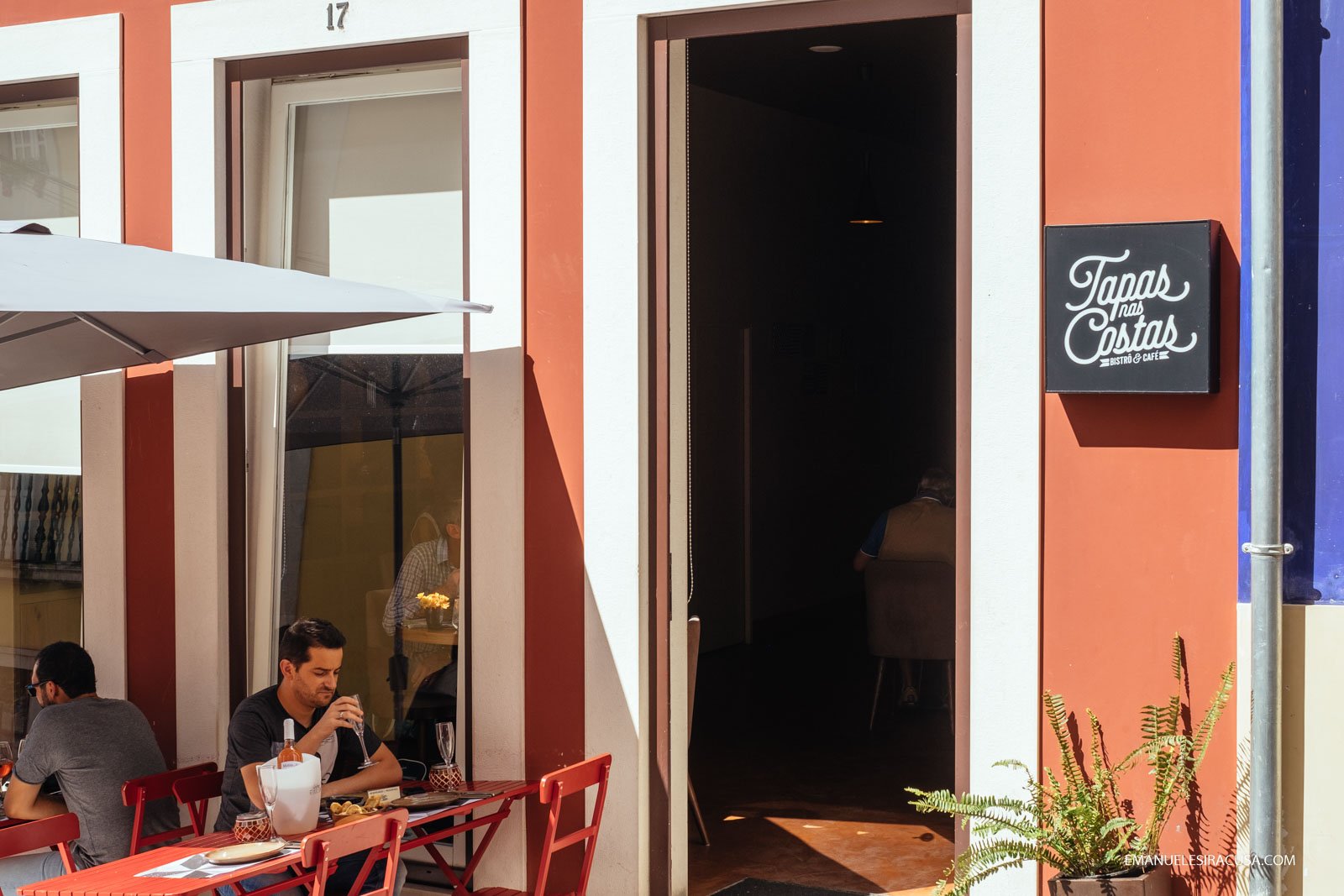 Passaporte
Housed in the vintage building which house the Coimbra Civil Government, the institution that was responsible for issuing passports (hence the name), Passaporte has a fantastic view over the river and Parque Manuel Braga, besides being a gem to admire on the inside. Best for outside cocktails and drinks.
R. da Couraça Estrela 13, 3000-150 Coimbra 
Phone: +351 239 600 138
Disclaimer:
This Best Restaurants in Coimbra post is a part of my ongoing partnership with the Center of Portugal Tourism Board. Photography by my inspiring friend Emanuele Siracusa. All opinions are my own.