Tavira has empty beaches, is ever quiet, cosy, full of locals, lots of street grilled fish and seafood and most of all that authentic Portuguese holiday feeling. This is why I love Tavira for my summer holidays and why I keep coming back every year!
[wp_ad_camp_2]
You all know how big of a Tavira fan I really am! I named it one of my Top 15 Travel Destinations for 2014, right up there with big Travel Destination names as the Quirimba Islands in Mozambique, Rio de Janeiro in Brazil or Shanghai in China. The New York Times rightfully dubbed  Tavira as "The Other Algarve" and Helen Pickles from the Telegraph wrote about how she imagined the "Algarve was like before mass tourism".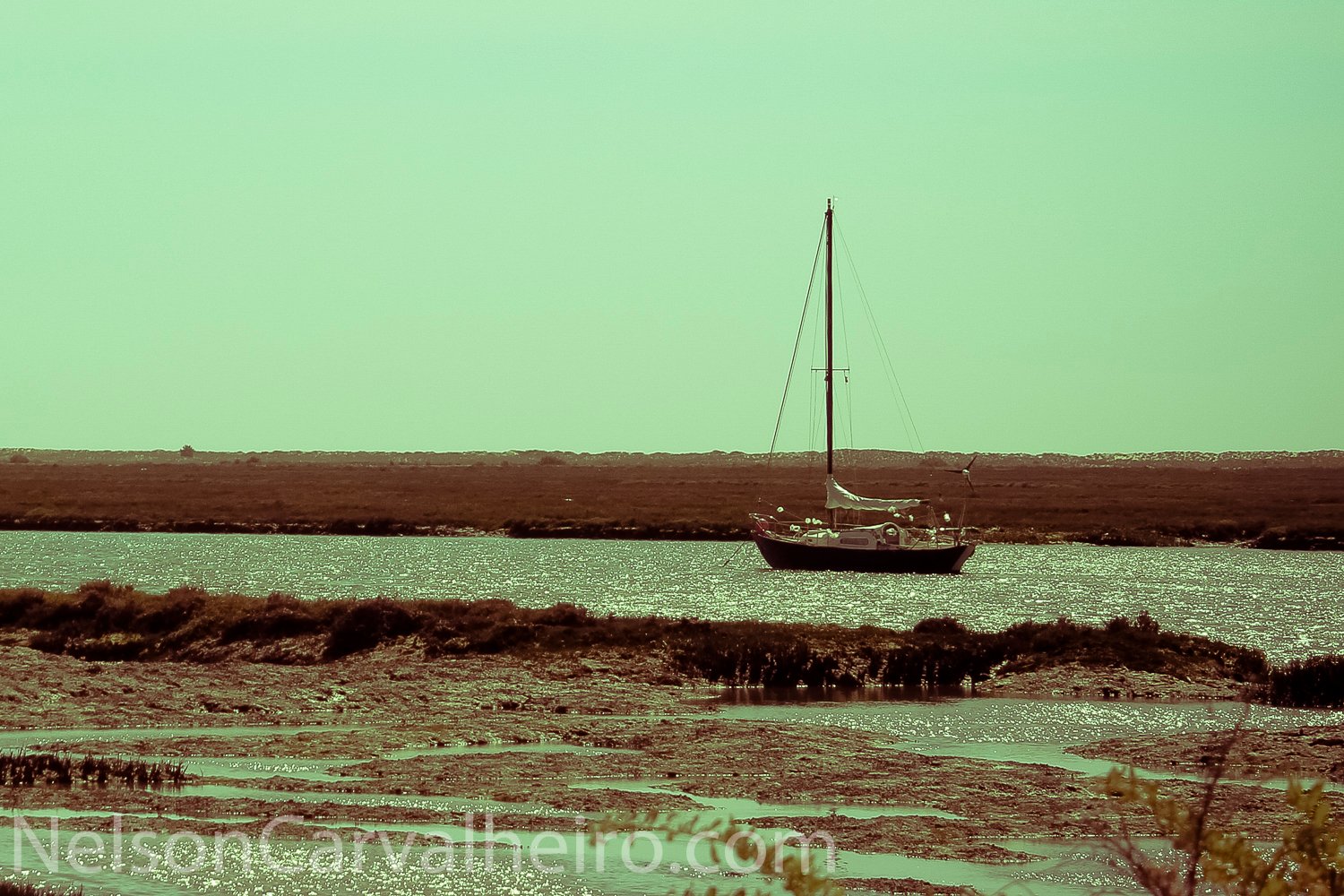 My dear friend Pedro Estrela, natural born Surfer and lover of all things connected with Mother Earth are the soul behind Quinta dos Perfumes, a Farm Hotel located in the middle of 40 Hectares of Orange grove. I had the opportunity to help Pedro make his dream of a place where his friends (he refuses to call them guests) can feel a rooted connection to the life of an Orange Farm in the ever sunny side of the Algarve come true. Ever since, I have become a diehard fan of Tavira!
[wp_ad_camp_2]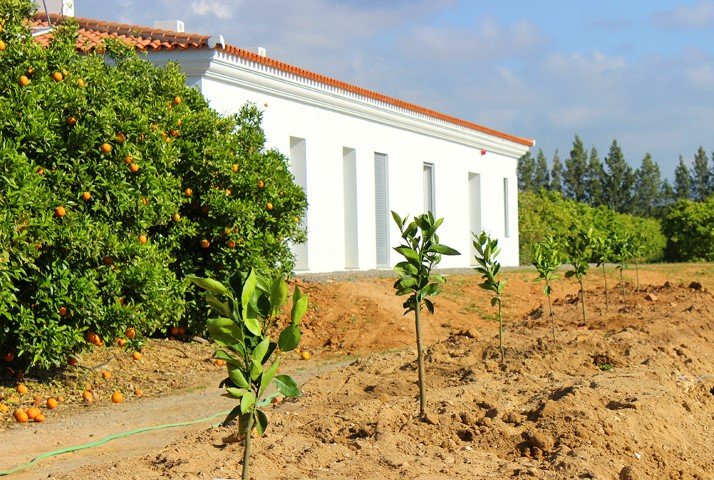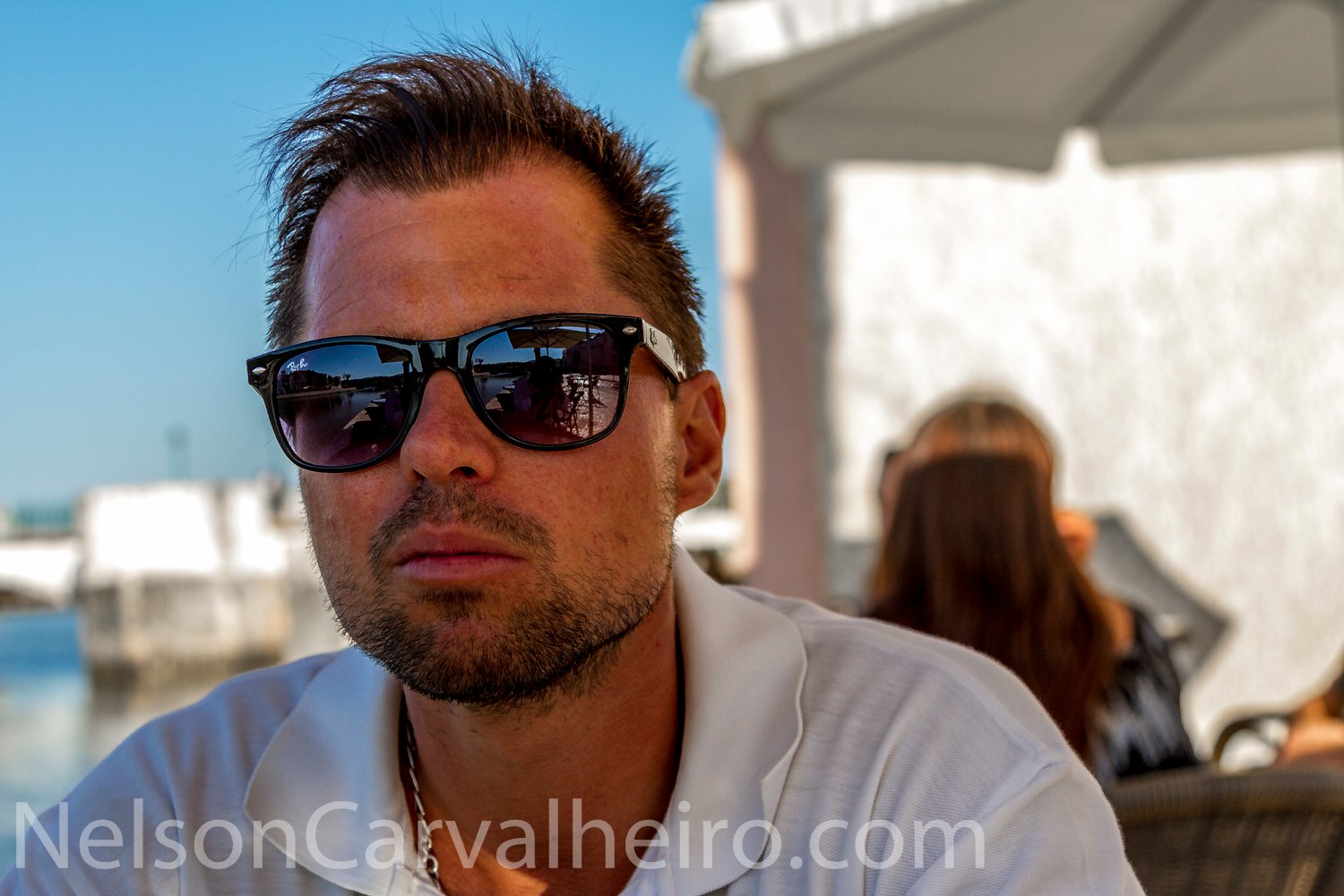 I almost feel that I should not be publishing these posts about Tavira, as I find its "real holiday Portugal feel" so precious, that I almost don't want anyone else to know about it. I want Tavira to stay like this forever. I feel that this post is much more than just 10 reasons why Tavira is perfect for Summer Holidays! It is 10 reasons why I love Tavira so much and why I believe it to be the perfect place to spend my summer holidays.
1 Tavira is full of locals and Portuguese Holidaymakers
Don't get me wrong! I love to see all the white northern European get sunburns and making a mess of themselves when eating a Sapateira Crab! It's hilarious, but let's be honest about it; Tavira is a fisherman town, a place for locals! English is not the widely spoken language; neither has it been overpopulated by expats from the UK trying to live their dream of a place in the sun. Generations after generations of Portuguese families, couples and relaxed youngsters have been coming to Tavira for this very same reason. It's calm beaches, gentle ocean and peaceful feeling. Imagine Tavira as Portugal in bathing shorts and with a nice golden brown tan, sitting by the seaside, eating a street grilled sardine with bread in one hand and a having a glass of white wine filled up to brim on the other.
[wp_ad_camp_2]
2 Tavira's white sandy beaches are miles and miles long…and empty
That's Right! You don't have to go to Brazil or Madagascar or even the Philippines to find empty white sand beaches! Tavira and all the eastern part of the Algarve has a natural pure white sand formation that stretches from Faro (capital of the Algarve) all the way to the Spanish bordering town Vila Real de Santo António. This natural sand bank and the backwater body that has formed behind it is called the "Ria Formosa" and is a protected Green Zone, which means that are very strict environmental laws that prohibit any kind on human intervention. Of course if you go to the beaches which are easier to access, you'll find the beach bars and restaurants! But it the parts which are empty, where you'll have to swim across that body of water to get to the Ocean, that I am talking about! Places like the Cabana Beach, the space between Praia do Barril and Ilha de Tavira, and my all-time favourite – The Beach of Cacela Velha puts "The Beach" with Leonardo Dicaprio in a corner!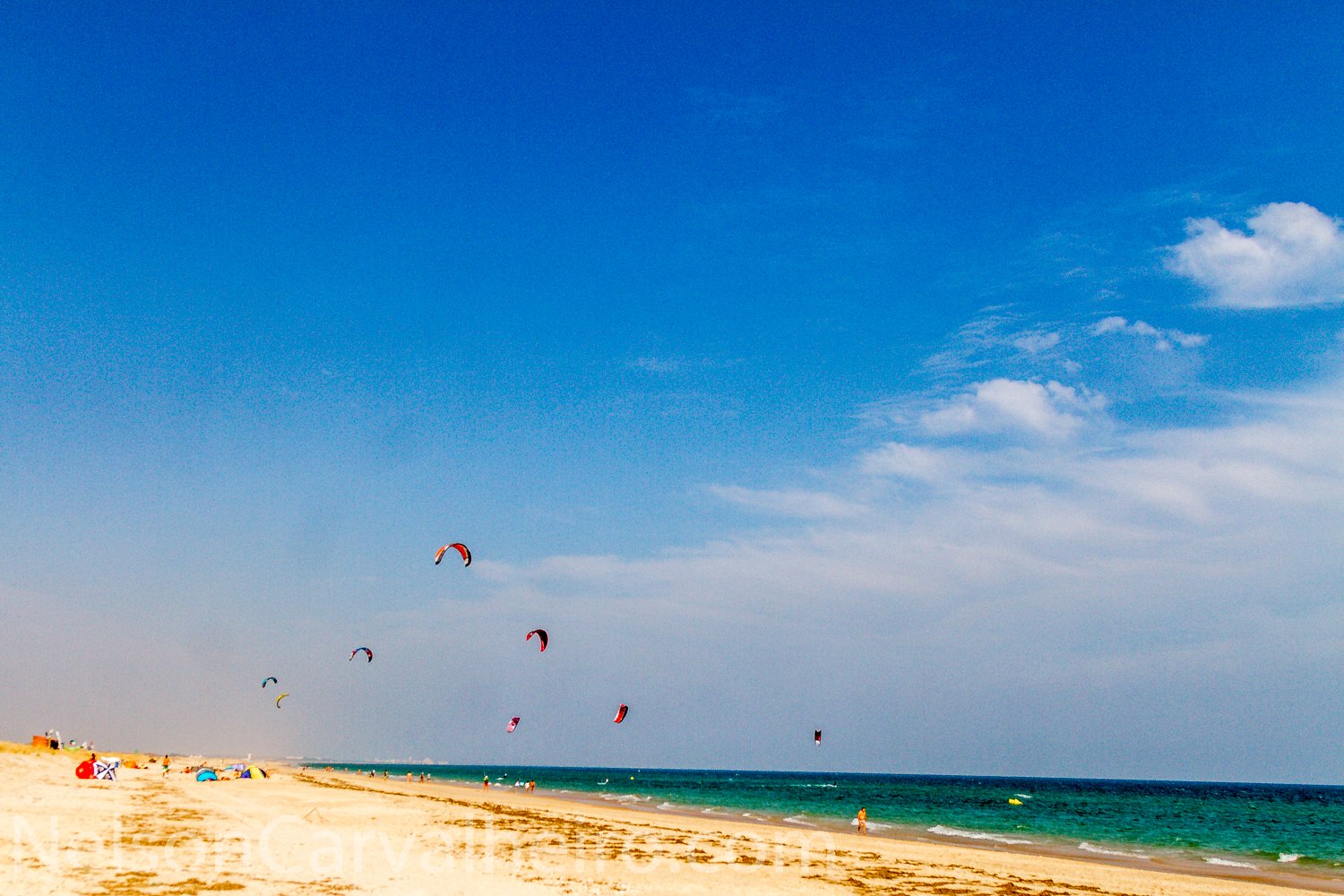 [wp_ad_camp_2]
This is the big exception of the Island of Tavira Beach! Go a further 100 meters and there is nobody, as you can see in the picture below!
3 Fish and Seafood as fresh as you can get them
Ah! My favourite subject of all time: FOOD! Especially fish and seafood! I can't get enough of it, and since I moved to Berlin that I dream about the street charcoal grills where the locals and the restaurant owners grill the fresh fish and seafood that the fishermen catch in the morning. Places like Restaurante Noélia e Jerónio in Cabanas or Marisqueira Capelo in Santa Luzia are my absolute favourite's when it comes to the flavours of the Algarve. It's unpretentious, reasonably priced, freshly cooked fish! There is nothing more! If you want some fancy stuff to impress your partner you'll be better off joining the touristic herds in Albufeira. What I am talking about are dishes like a grilled butter Sea Lobster that will make you want to lick your fingers to the bone or a Grilled red Tuna Steak that will put to shame any highland dry aged beef!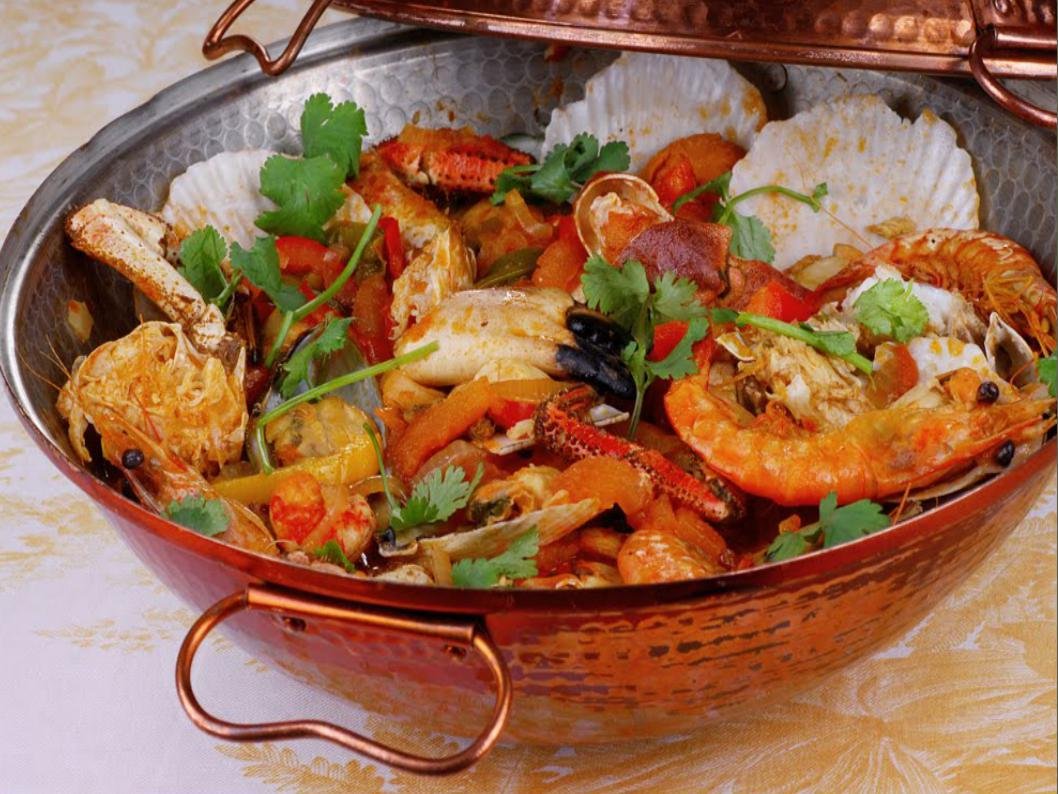 [wp_ad_camp_2]
4 The weather gets hot but not stupid hot!
The air temperature in the summer rounds 30-34, which is just the perfect summer weather. Not too hot, where you can't stand in the sun for 5 minutes, neither too cold as you start thinking why did you come on holiday in the first place? During the summer solstice, you can enjoy 15 hours of sun in its full splendour from 6h00 in the morning until 9h00 in the evening, and even after sunset the temperature doesn't go below 25°C.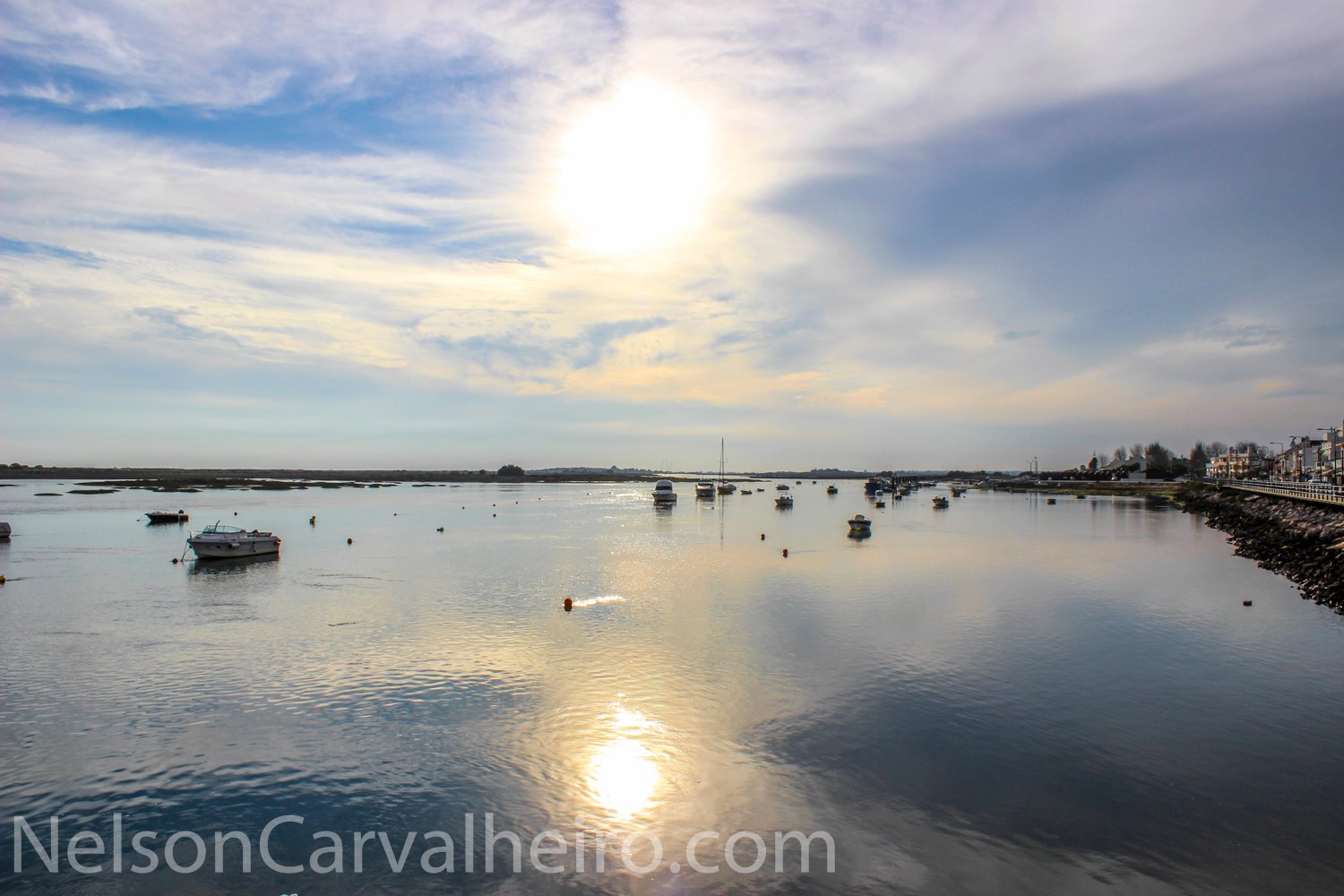 5 In Tavira, the sea is relatively warm and calm
It's not like a warm waveless soup as in the Mediterranean, neither a cold 3om high wave as in the Atlantic off the coast of Nazaré.  In the summer, the water temperature in Tavira peaks in the range of 21 to 23°C around the 10th of August. The swells rarely go about 2/3 meters in the summer and normally it is below the 1-meter line, so it is the perfect place for children to safely play in the water.
[wp_ad_camp_2]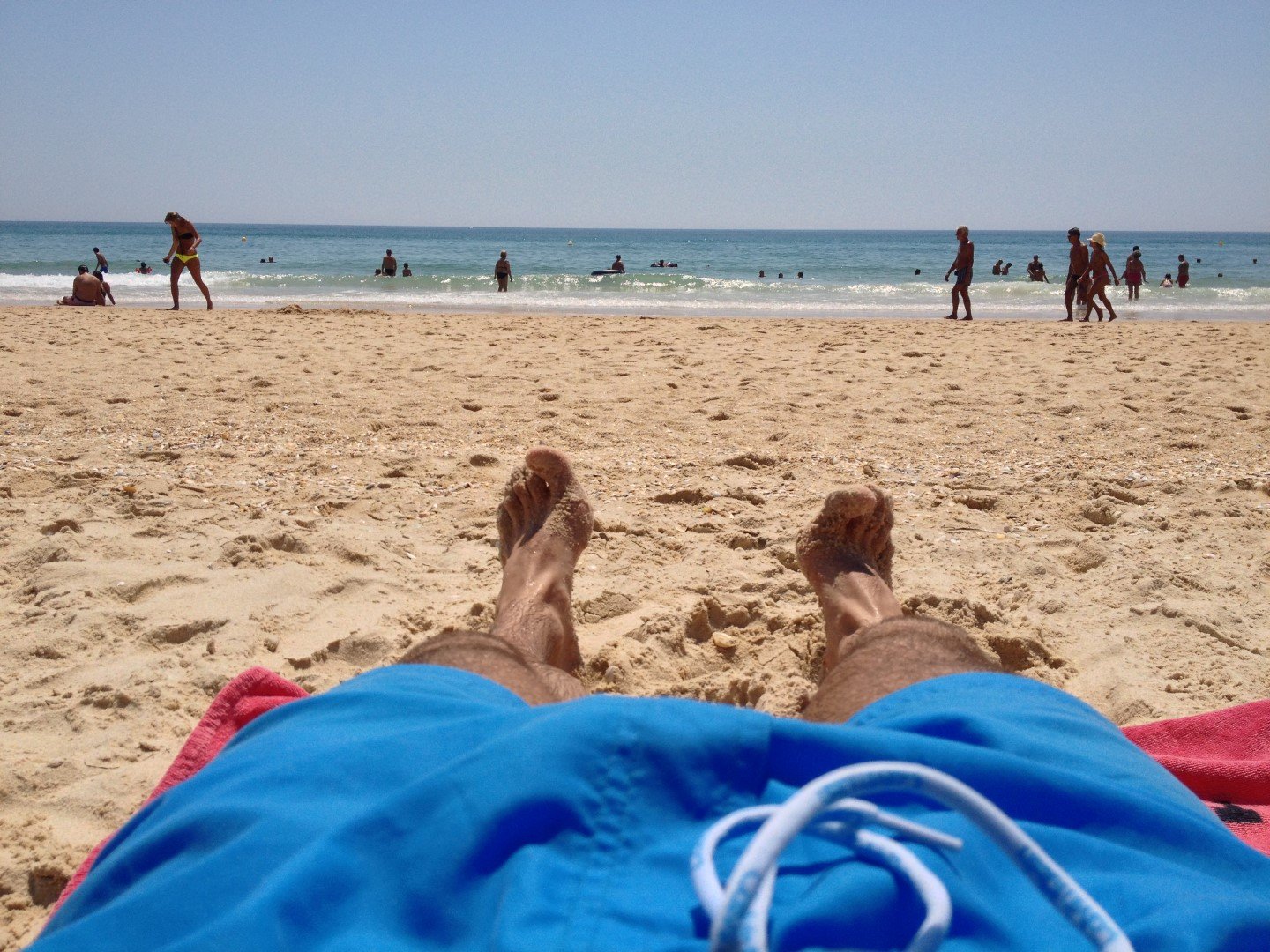 And safe for adults to play too…
[wp_ad_camp_2]
6 Tavira has incredible value for money
As I mentioned before, Tavira is a place made by locals for the Portuguese market, so this means that the prices are according to the Portuguese low purchasing power. A quick example; a Seafood Cataplana at Noélia e Jeronimo (Cabanas), which contains more king prawns and incredibly fresh seafood then monkfish itself  will only set you back 38 euros! A night Pedro's farm hotel, Quinta dos Perfumes only costs 180 Euros per night for two persons with breakfast included. And this is prices at the peak of the holiday season.  A sapateira crab at Marisqueira Capelo is only 20 Euros…So think long and hard before you dish out 4o euros per person on your next sushi meal…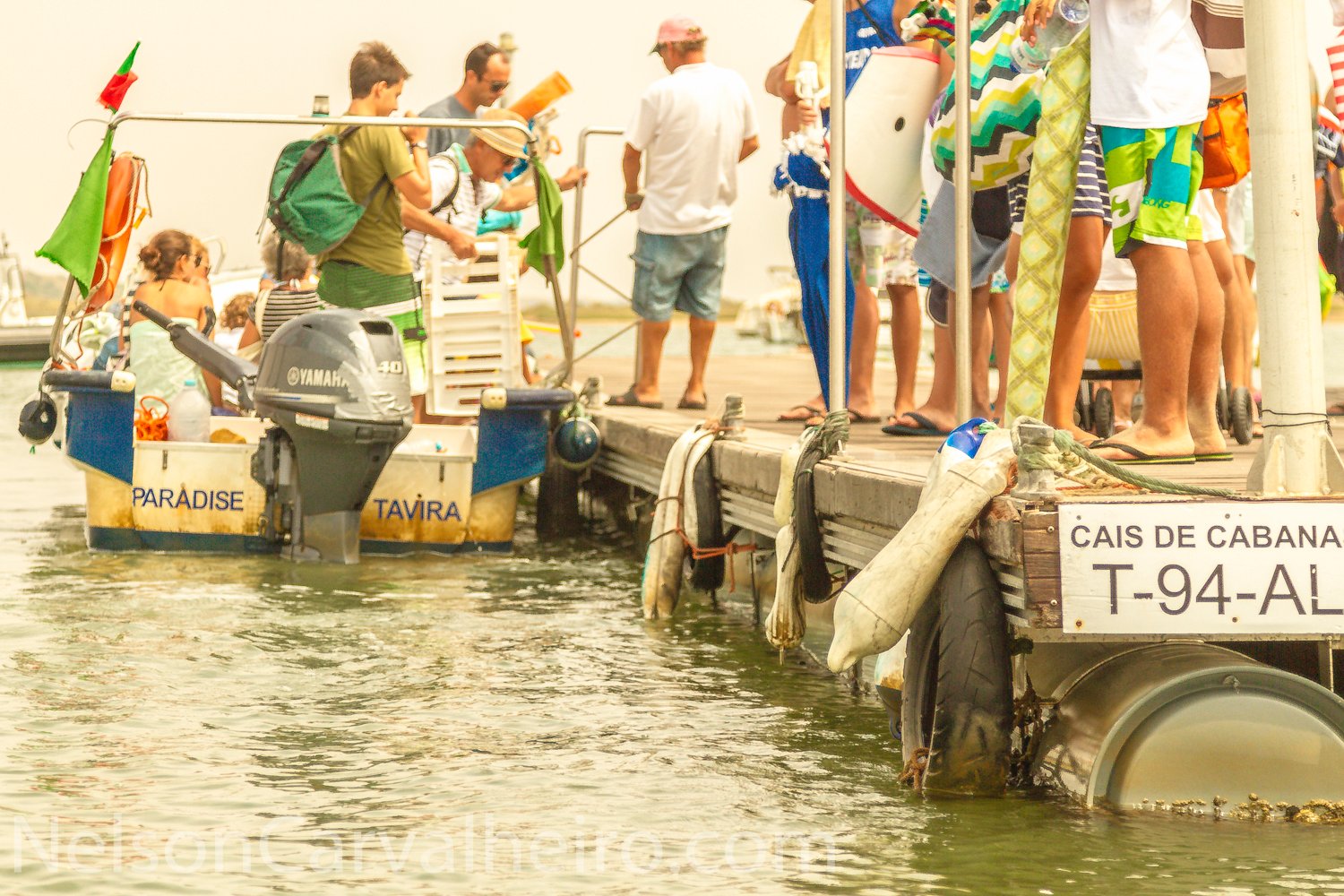 [wp_ad_camp_2]
7 The "Bolinhas" doughnuts on the beach
WARNING:  Diabetics should stop reading this item and immediately scroll to the next reason! You will hear their call all across the beaches in Tavira (except the deserted one that I mentioned before). "Olhá Booooooooolllllllllllliiiiiiiiiinnnnnnnhhhhhhhaaaaaaaaaa! " The only moment in which paradise stops being silent! The "Bolinhas" are a Portuguese version of doughnuts, which are substantially larger and more consistent! Sprinkled with white sugar, you can order them with egg custard filling or without. Let me tell you that your body will have never been so happy to eat empty calories as when you give that first bite after being in the water for some time.
8 Taking the boat to get to the beach
Remember the "Ria Formosa" sandbank, and the backwaters that separate it from the shore that I mentioned before. Well, this means that no beach is accessible by car. A blessing from my point of view, as it keeps the masses away!  In order to reach the beach, you will either need to take a boat (1,5€ return) or if you are brave enough to swim across this body of water. I find it super cool that I have to go on tiny little boat, driven by a local fisherman who is wearing the  shirt from his favourite football team, and that I can run my hand through the water as we make the minute long trip to cross the 100 meter that separates the island beach from the shore.
[wp_ad_camp_2]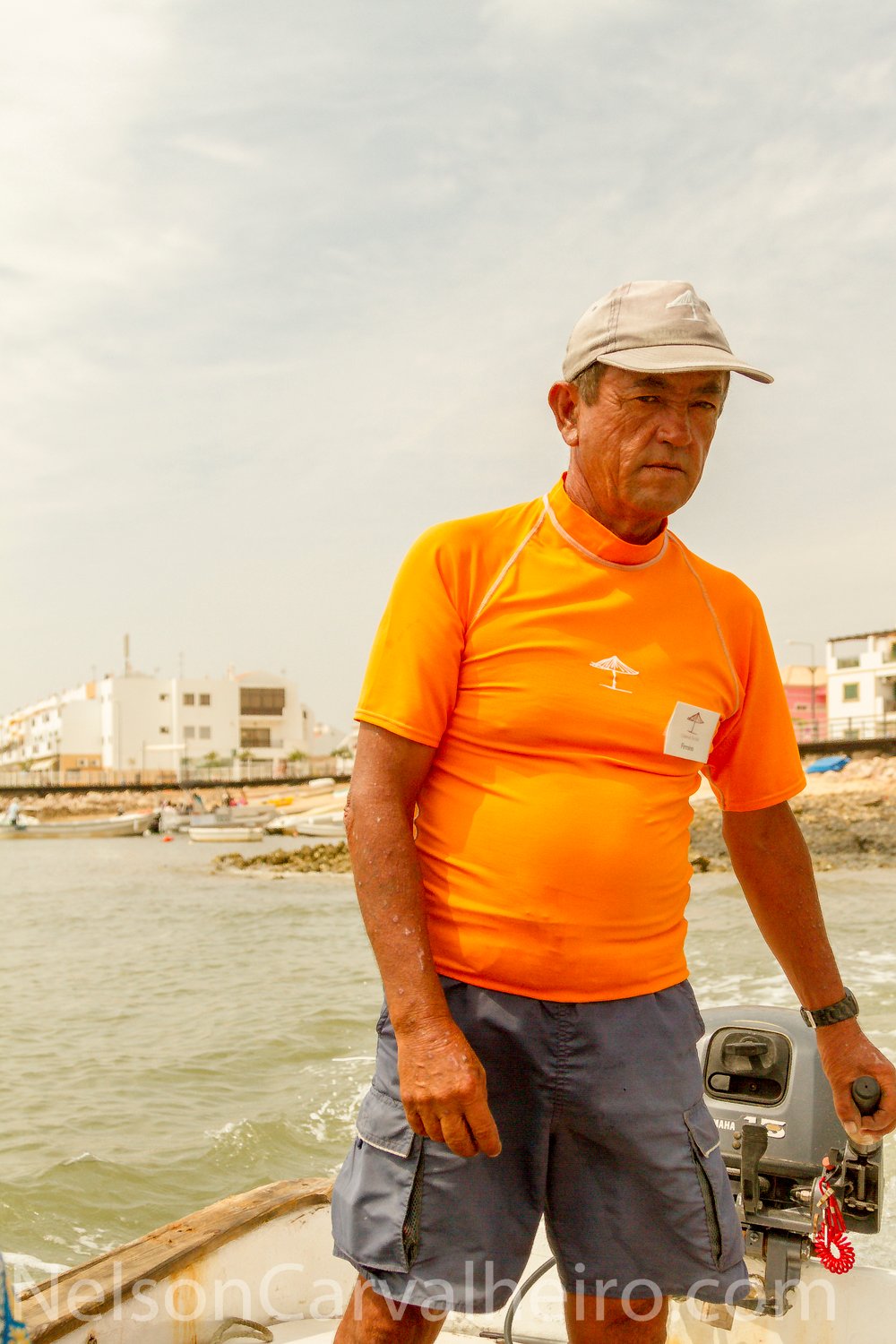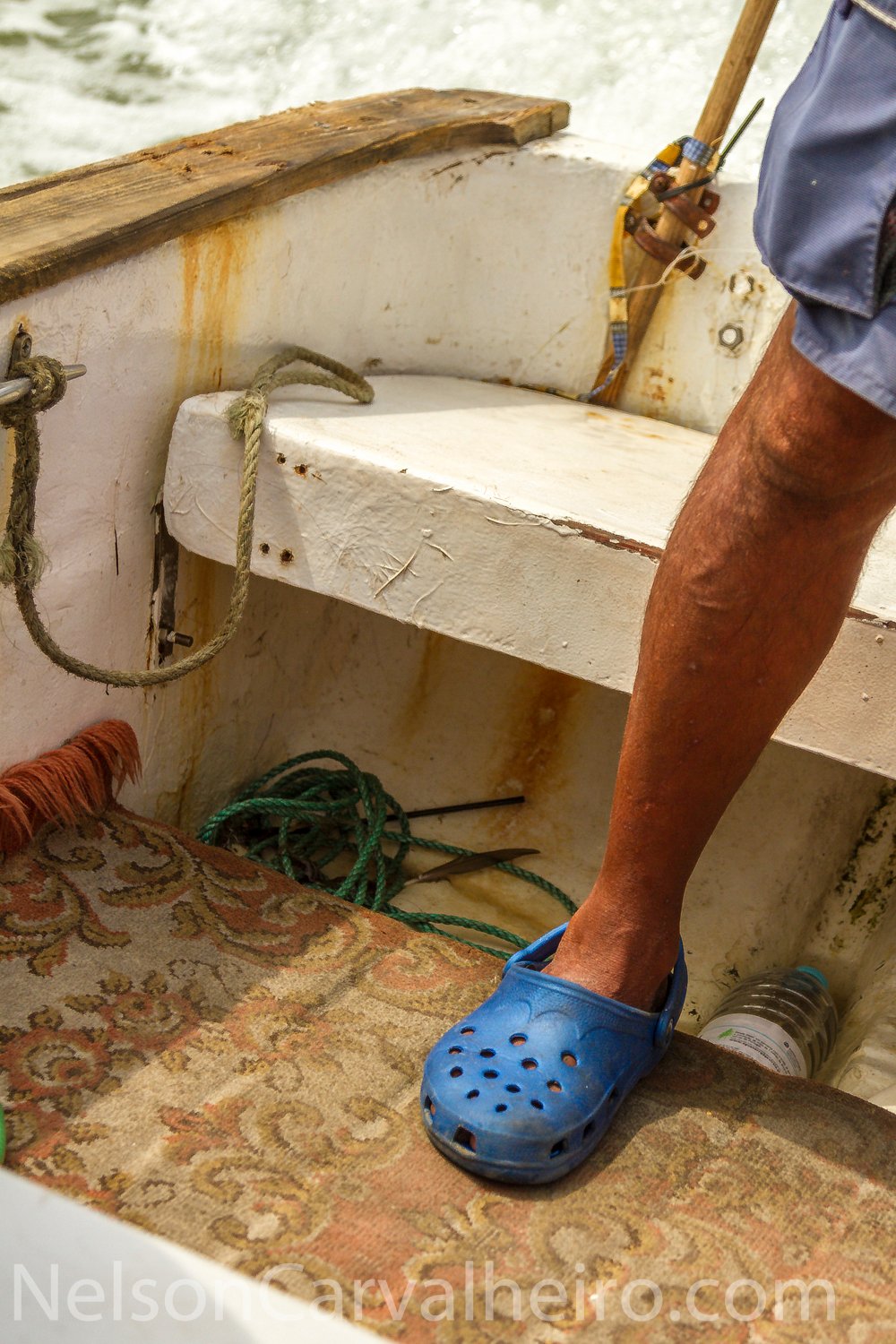 This in the 18th Century Fort that still stands guard over the beach of Cacela Velha, and as you can see, here there is not even any boat to take you across…It's a bit of an adventure so be sure to travel light…
[wp_ad_camp_2]
9 The Churches and Heritage of Tavira
Well, we call it the Rome of the Algarve, as Tavira has the highest concentration of churches in Portugal. During the Discovery Ages (15th and 16th centuries), Tavira was a major port of trade between the ships that came from the Portuguese trading outposts in Brazil, Africa, Middle East, India and the Far East; and the northern European purchasing countries. This led the rapid "metropolization of this city" and the construction of Churches, Temples and places of worship for the traders. Nowadays 37 are remaining, where the Igreja de Santa Maria do Castelo and the Capela de Nossa Senhora da Consolação take the prize of being the most interesting.
10 The picking of conquilhas and cooking your own dinner
Of course, I had to finish with Food! It is his experience that keeps bringing back, year after year, after year! Conquilhas are a sort of small flat clam, which widely grow on the beach break southern Portuguese shores. They are ever so easy to catch and make a the best sea flavoured starter to your home-cooked the meal. I always wait until the tide starts to go down, around 16/17h00 to start collecting them, as they naturally come to the surface of the water break for feeding. It this time as well that you see the fisherman grabbing them with a sort of a sieve. If you can't be bothered with the whole "hunting for dinner" process, they are for sale in the market at 5/8 Euros per kilo. Otherwise, just dig your fingers in the sand when the water in receding after the wave break to bring the conquilhas to the surface. Wash away the sand and have an empty bottle half filled with seawater to store them alive until you get home. Then wash them in cold running water a to sauté them over onion, garlic, white wine and olive oil.  Eat with toasted bread and add some parsley in the end for a bit of extra fragrance. There is something very primal about catching your own dinner and cooking it at home for your family, and something that I find very therapeutical….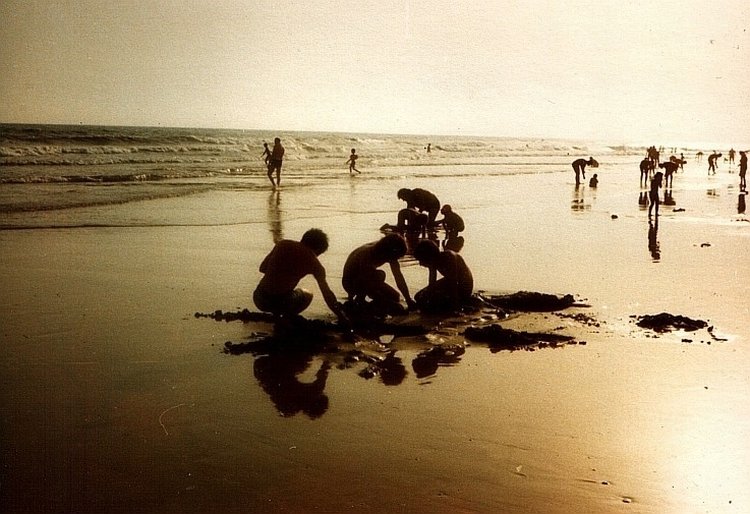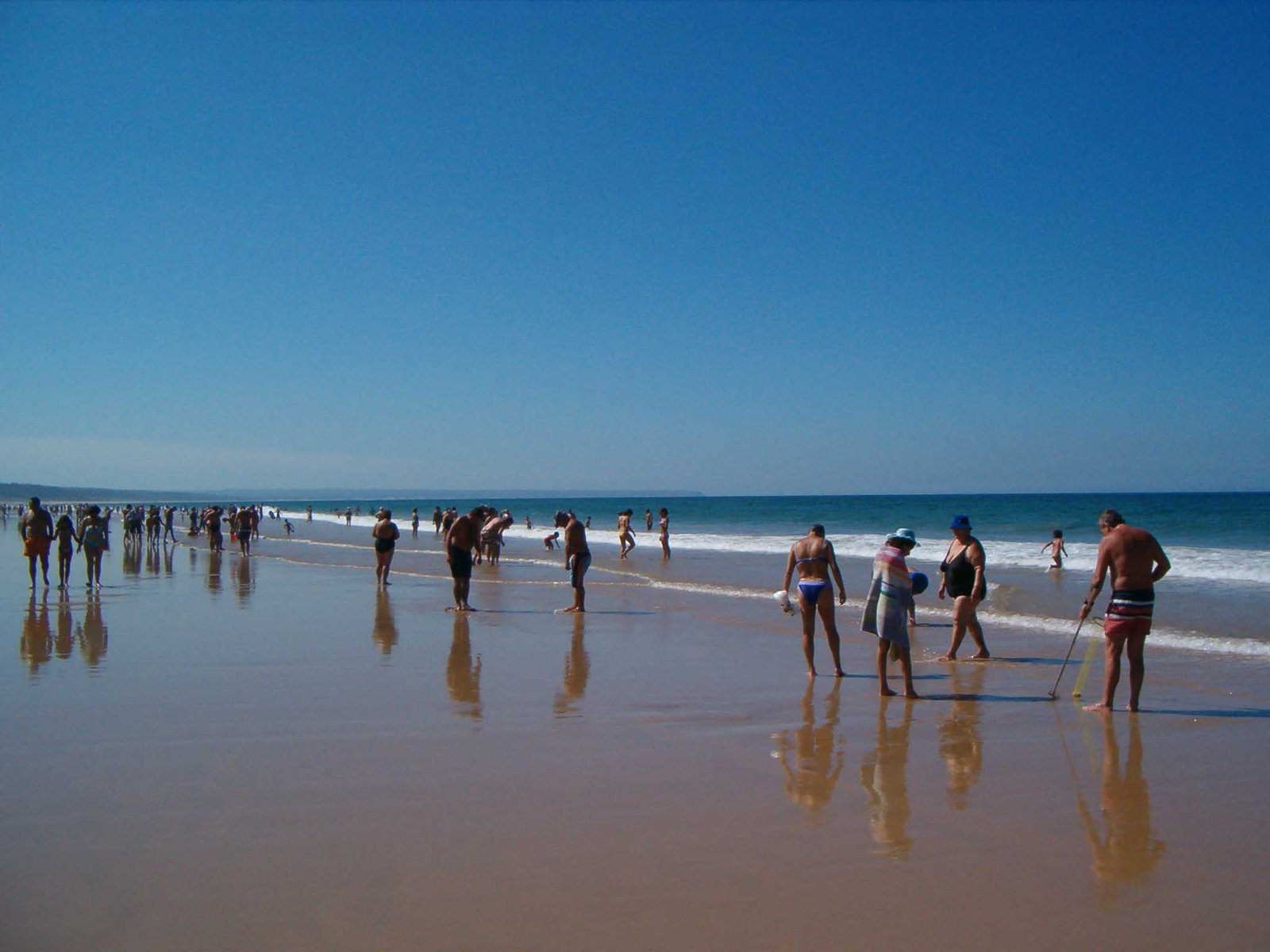 [wp_ad_camp_2]