Very excited to be nominated as one of the world's top 8 food trend experts by Host Milano and serve as a Host Ambassador for the exhibition.
Host Milano is the worlds largest Hotel, Restaurant and Catering exhibition and a part of the Expo 2015 Milano and the Wonderful Expo 2015. Host is the international exhibition of the Hospitality industry that takes place in Milan every two years. The next edition of the exhibition will take place in Milan from October 23rd to 27th, in conjunction with Expo.
I will be a part of the "Be My Host", an editorial project that will collect the international trends about Ho.Re.Ca and that envisages the involvement of 10 trendsetters in the world of food and hospitality, coming from 5 continents. I will be responsible for covering Portugal and Spain. Every month I will delivering my Food Trends Insights here http://bit.ly/1CB8Icz, the Host Milano Host Ambassador blog, along with my fellow #BeMyHost ambassadors.
Drop me a line if you would like to suggest any theme for one of my articles
[wp_ad_camp_2]
Here are my fellow Host Ambassador
Alena Melnikova
Russia
So called «Russian PR Machine» with more than 12 years of experience in Ho.Re.Ca marketing, advertising, pr & events, now specialized in start-ups & consulting. Since 2011 till now a brand-ambassador for S.Pellegrino & Acqua Panna. Drives such projects as Acqua Panna Chefs Discovery with regular gala-dinners of grand chefs from all over the world in St.Petersburg & Moscow.   Since 2013 arranges PR support for Award Ceremony Where To Eat, also represents PMI bar & chef Ivan Berezutskiy world wide.Traveller, food-lover, blogger & story teller always stays tuned.
melnikova.alena
alenalovesfood
alena_melnikova
Carlo Spinelli
Italy
He has a Degree in Arts and Humanities and is a perpetual student at the Ancient History Faculty. He travels, eats and writes in random order for ItaliaSquisita, Rolling Stone, Wired, La Cucina Italiana and Artribune. In the meanwhile he changes nappies, hosts the tv-shows IlMangiadischi on the internet and Foodieteller on Sky, writes books on culinary history and thinks about gastronomic comic strips.
Doctor-Gourmeta
carlo_spinelli
carlo_spinelli
Leiti Hsu
United States
Leiti hosts a weekly live radio show called "WORD OF MOUTH with Leiti Hsu" on Heritage Radio Network. Guests are the best chefs and restaurateurs in the world, and they talk not just food and wine but also love, fear, business, pleasure. This Kevin Bacon of dining connects food people for a living. She works with chefs, sommeliers, big brands, tech startups–those doing what's most innovative and delicious. Leiti is a regular speaker and moderator at The Culinary Institute of America, UCLA and the Fashion Institute of Technology. Clients have included the likes of Twitter, Unilever, Cover, Baldor, David Rosengarten, Plated, and Thrillist. You may have seen her in Forbes, Eater, NYMag Grubstreet, Cosmopolitan, Town & Country, Eater and First We Feast.
WOMshow
leitihsu
leitihsu
#WOMshow #AskLeiti
[wp_ad_camp_2]
Luciana Bianchi
South America
Luciana Bianchi is an Italian–Brazilian journalist, book author and trained chef with a background in Molecular Science. A frequent traveller and food researcher with more than 20 years experience in the field, she has worked in Michelin-starred restaurants, cooked for celebrities, interviewed most of the best international chefs, and has published work in 14 countries. She is an Associate Lecture at Basque Culinary Centre and a gastronomy consultant for M&C Saatchi.
Luciana is a member of the Guild of Food Writers UK, and a regular contributor of several magazines and newspaper in the UK, Brazil, Portugal and Italy. She is one of the authors of the Identità Golose Food Guide, and of The World's 50 Best Restaurants Guide and Blog. Her latest book – Brazilian Food – winner of The Gourmand World Cookbook Awards, is published worldwide.
lucianabianchi
lucianabianchi
 Melinda Joe
Japan
Melinda Joe is an American journalist in Tokyo specializing in food and drinks. She writes two columns for The Japan Times and is a frequent contributor to The Wall Street Journal Asia, FOUR Magazine, and CNN. Her work has appeared in a number of publications such as Ryori Tsushin (The Cuisine Magazine) in Japan, Newsweek, and the South China Morning Post Style Magazine, among others. A certified sake and wine professional, she has judged sake and wine at London's International Wine Challenge since 2012. Melinda is the Asia panel chairperson for FOUR Magazine's Rising Star awards, which recognizes emerging culinary talent in the Asia-Australia region.
She posts at @MelindaJoe on Twitter and @melindarjoe on Instagram.
melindajoe
melindarjoe
 Qin Xie
China
Qin Xie is an internationally published food, wine and travel journalist. Based in London, she travels frequently around the world, reporting on destinations, restaurants, trends and the people that make them happen. Her work has appeared on CNN, Condé Nast Traveller and Lonely Planet amongst others. As well as being a trained chef, she is also the co-author of "Hunan: A Lifetime of Secrets from Mr Peng's Chinese Kitchen", published by Random House in 2014. It was one of the 20 best food books of 2014 according to Observer Food Monthly.
qinxiesays
qinxie
qinxiesays
 Stefan Maiwald
Germany
Stefan Maiwald is one of the most influential German food, travel, and lifestyle writers. A former editor of the travel magazine GLOBO, he now writes for GQ, Elle, Cosmopolitan, Feinschmecker, GEO Saison, Merian, and Süddeutsche Zeitung. Furthermore, he wrote the best-selling novel »Laura, Leo, Luca, and me – how to survive in an Italian family«. His latest books are »The search for the very best pasta – an adventure trip through Italy«, and »How to become a world-famous chef in just one week – a self-experiment«.
He lives with his Italian wife and two daughters in Munich and Grado, a beautiful island between Venice and Trieste.
 [wp_ad_camp_2]
About Host
Innovation, internationalisation, quality.For 38 editions, Host has been the absolute leader in theHo.Re.Ca., food service, retail, large-scale distribution and hotel industries, establishing itself as a quality international business marketplace. An exclusive meeting place for leading manufacturers in the market and top spending buyers from all over the world.
A unique and cross-cutting event where many related industries speak the language of business in an evolved, authoritative way. It is the heart of a permanent network of contacts that, for 5 days, come together in perfect balance. 2015 will once again prove the future begins with Host.Milan is already the undisputed fashion and design capital of the world, but from 23 to 27 October 2015 it will also be the global hub for the professional hospitality industry.
Visitors will be impressed by the seamless and synergistic layout of the twelve halls, where manufacturing and shared services sit side by side yet each and every sector and individual exhibitor enjoys the limelight,maximising every investment.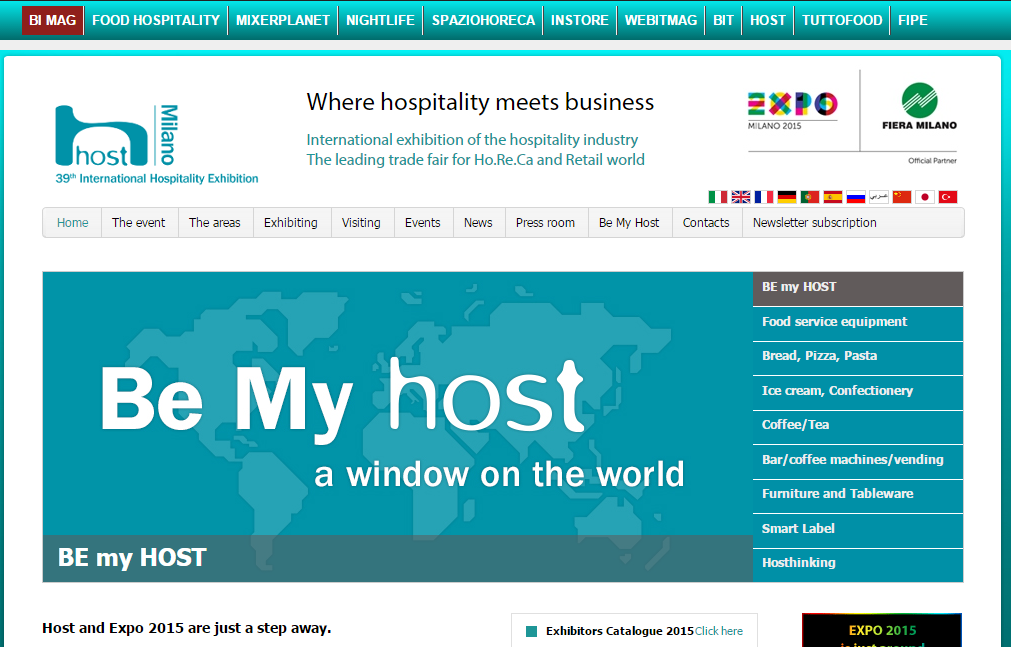 About Expo Milano 2015
Expo Milano 2015 is the Universal Exhibition that Milan, Italy, will host from May 1 to October 31, 2015. Over this six-month period, Milan will become a global showcase where more than 140 participating countries will show the best of their technology that offers a concrete answer to a vital need: being able to guarantee healthy, safe and sufficient food for everyone, while respecting the Planet and its equilibrium. In addition to the exhibitor nations, the Expo also involves international organizations, and expects to welcome over 20 million visitors to its 1.1 million square meters of exhibition area.
A platform for the exchange of ideas and shared solutions on the theme of food, stimulating each country's creativity and promoting innovation for a sustainable future, Expo 2015 will give everyone the opportunity to find out about, and taste, the world's best dishes, while discovering the best of the agri-food and gastronomic traditions of each of the exhibitor countries.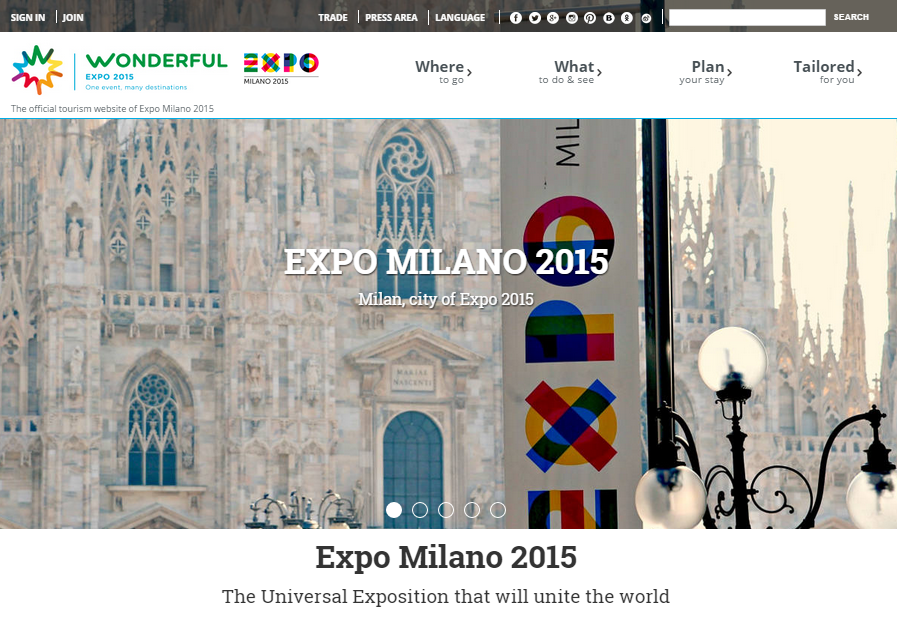 About Wonderfulland 2015
The Official Tourism Board of Expo 2015 Destinations
Wonderful Expo 2015 is the official Tourism Board of the Expo 2015 Destinations. A place to discover the beauty of this area with news, updates, descriptions, pictures and everything that the region has to offer: travel tips, accommodations, tourist services and much more.
A multi-channel and multilingual platform, where news and detailed information are easily accessible to everyone and where travellers, bloggers and photographers from all over the world can leave their comments on the blog or on the social networks. Let yourself indulge in a wonderful trip and be inspired by Lombardy's iconic lakes and by Valtellina's ski slopes. Feel the history by walking along the streets or go out on a bike tour in the hills of Bergamo or Lecco and experience the latest international fashion and design events. One region, million things to do and see.
Wonderful Expo 2105 is the result of the work of the DMO Explora SCpA, a company founded by the Milan Chamber of Commerce, Lombardy Region, EXPO Milan 2015 and Lombardy's Unioncamere. An institutional company for the official promotion of the region.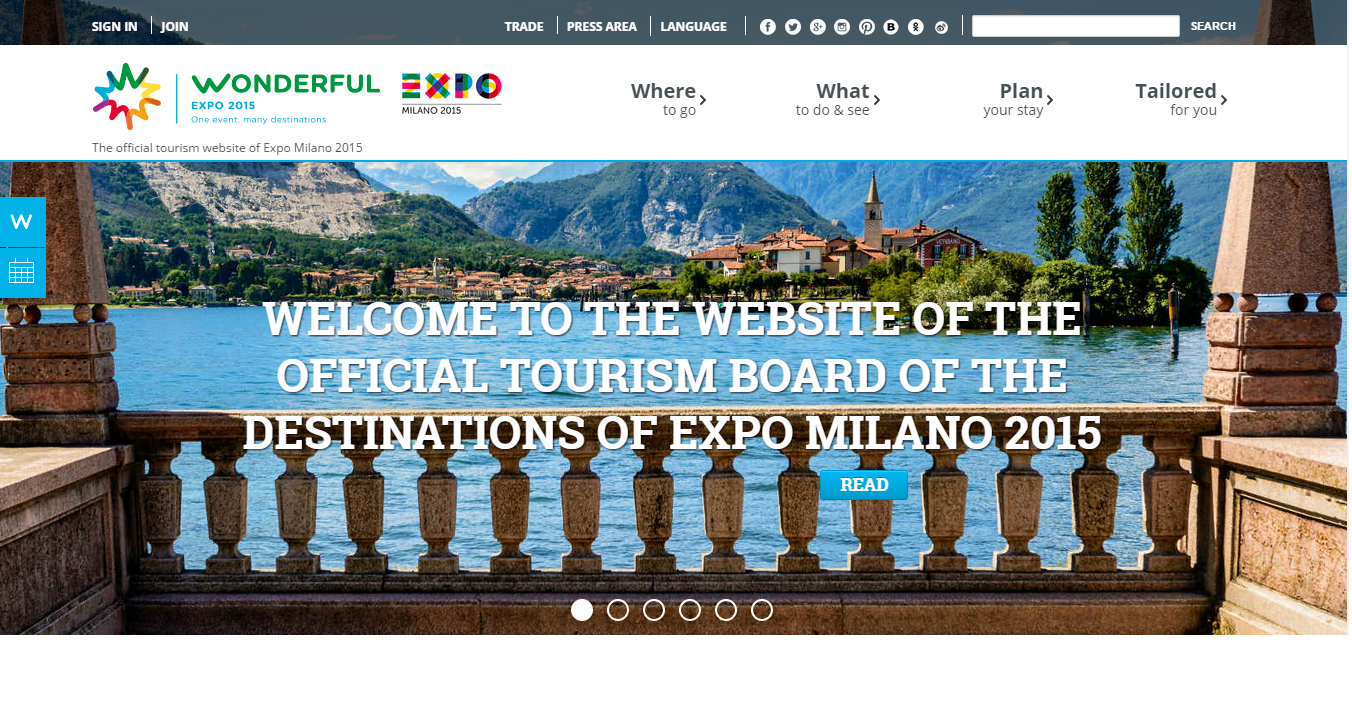 [wp_ad_camp_2]