Boutique, stylish and overwhelmingly personal! These are the words that I use to describe Louisas Place, a characterful hotel located in the fashion stratospheric district of Kurfürstendamm in Berlin.
The fact of the mater is that a Hotel is only as interesting as its creator, and the vision that he has set out to achieve when he hires his first employee or decides which furniture should decorate the bedrooms. In Louisas Place, the dark mahogany, the lush red fabrics, the cream wall paper, the slight hint of perfume in the air, the overly attentive and attractive looking staff,  are a clear sign of comfortable extravagance of its creator. " I always though think of a hotel as a Lady: it must be seductive, strong in character and have an all around mother comfort feel to it " says Sven Schimank, extravagant hotel owner and all around gentleman.
[wp_ad_camp_2]
About Louisas Place
"That is why I name it after our dear Queen Louise, whose efforts to protect Prussia from the Napoleonic invasions granted her a soft spot in the German hearts. Sven takes a moment to lean back on a sofa he personally chose and admire the library of Louisas Place, going on to proudly telling me the story of the woman who bears the name of his boyhood dream. "After the fall of Berlin, Napoleon summoned King Frederick William III to impose a humiliating peace treat agreement to the Prussian Kingdom, threatening the weakened state with annihilation, if the King were not to comply.
In the middle of the negotiations,  Queen Louise (aka Duchess Louise of Mecklenburg-Strelitz) stood up and told the new self proclaimed ruler of France that he was acting like a little boy who did not get enough mother's love as a child. Napoleon was hurt and despite the heavy financial penalties that Prusssia endured, he still refereed Queen Louise as "the only real man in Prussia". "
Arrival at Louisas Place
I had arrive about an hour earlier, only to be gently greeted by Mr. Robert Helfrich, head concierge and all time German professional hospitality  advocate. His posture, much like is attire, is immaculately composed. The freshly cut blond hair and blue eyes utter a promise of an gelid greeting, only to be melted away when he extends his hand for a firm hand shake and knowledgeable words about my recent past . "Welcome to Louisas Place Mr. Carvalheiro! We are ever so proud to have you stay with us. How was your trip to Bahrain?". It is quite a comforting feeling to know that the person who greats you as you take your first step into an unknown hotel, already know something about you and can make that all important instant first connection.
In the midst of the check-in procedures, he confides to me that is a die hard Portugal fan. "Eating those succulent Piri Piri prawns by the sunny beach with a beer in my hand! This is what I love and what makes me want to come back over and over again". I reply : "Don't we all Robert! Don't we all! Even though it is not his job, Robert takes the time to escort me personally to my suite. Another prof of the bespoke hospitality influence of Mr. Shimank. As the elevator door opens, a lady in an utmost fashionable black attire holding a cute grey yorkshire terrier is making her down the main staircase. Its the Berlinale Film Festival week and Louisas Place is booming with stars.
[wp_ad_camp_2]
Deluxe suite at Louisas Place
Overseeing my luggage personally, Robert shows me to the Deluxe Suite in which I will be staying. We enter a large living room, with enough space to host a small wedding. Opposite the door is the full frontal windows to the Kurfürstendamm, aka Berlin's Champs-Élysées. From here one can take a peek at the Bentley dealership and the Udo Walz (a coiffeur more known in Germany than Angela Merkel herself)  salon that embellishes the ground floor of Louisas Place. On the table is a bottle of Prosecco, a bowl of fresh fruit (including my all time favourite – Raspberries) and a hand written letter.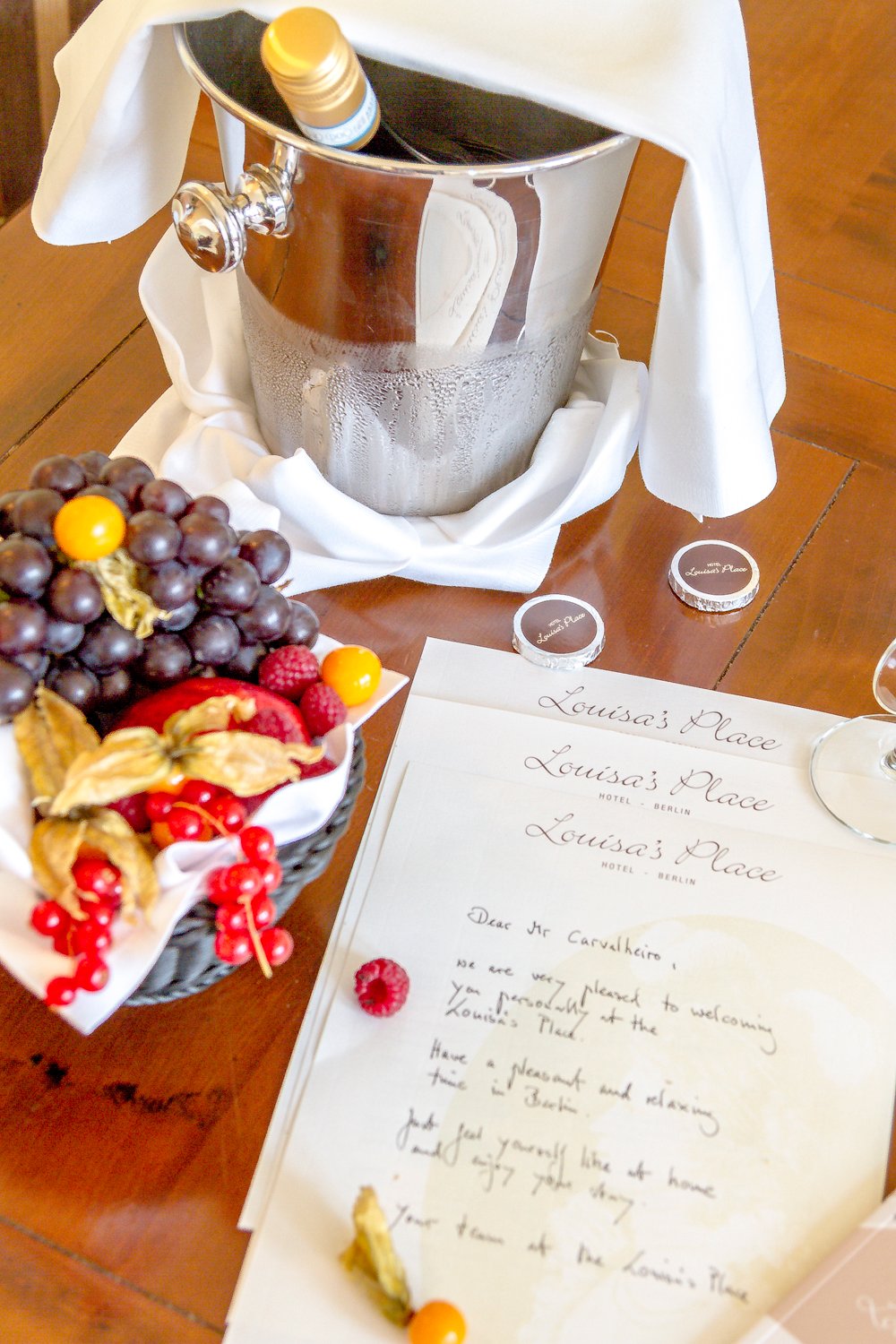 Even when I stayed at the Bel Air Hotel, the letter I got was only signed by the manager, not written by him! Points to Louisas Place ! Underneath the letter was a personalized daily brief of what was happening in Berlin. In my case there was a recommendation for a Contemporary Art exhibition by the Marx Collection at the Hamburger Bahnhof Gallery, of which I am total addict off.
The bedroom was a cosy surprise after the vastness of the living room. After jumping on the bed and inaugurating the wrinkles on what was until this moment some perfectly ironed bedsheets, I lie for a moment contemplating the silence of a room just a few meters way from one of Berlin's busiest avenues.  Before the windows to the Kurfürstendamm there is a small interior reading place, which can also act as a sound buffer. Add the pastel pallet of the ensemble within the room, and I felt that my chronic sleep difficulties were going to be kept at bay.
Wellness at Louisas Place
My Gentlemen's massage was only booked for 16h00, but since I had been fighting a cold for a few days, I decided to head over to the wellness area earlier and do some Sauna/Pool invigorating cycles. I am met by Katrin Wilke, the 11 year experience masseuse behind the wellness area at Louisas Place. She is super-friendly and offers a small tour of the pool, gym, sauna and treatment rooms, while detailing the pampering treatment for men that is the Gentleman's massage.
[wp_ad_camp_2]
My massage has been decorated to look the part of a South-east Asian temple. Drops of hot scented oil on my back marks the start of an full  hours of Shiva Blissfulness. You can tell that Katrin is an expert at making you feel her years of experience in massage and I would gladly recommend her in the future.

Breakfast at Louisas Place
In my personal opinion breakfast is the ultimate prof of quality in a boutique hotel and one of the best long lasting memories that a property can leave on its guests. It is what I most look for, and let me tell you that when I arrived to the breakfast room, I was a very happy foodie! I asked for a Flat White and guess what I got : Bingo! I got a Flat White, which is a  rare occasion since I have been in Berlin.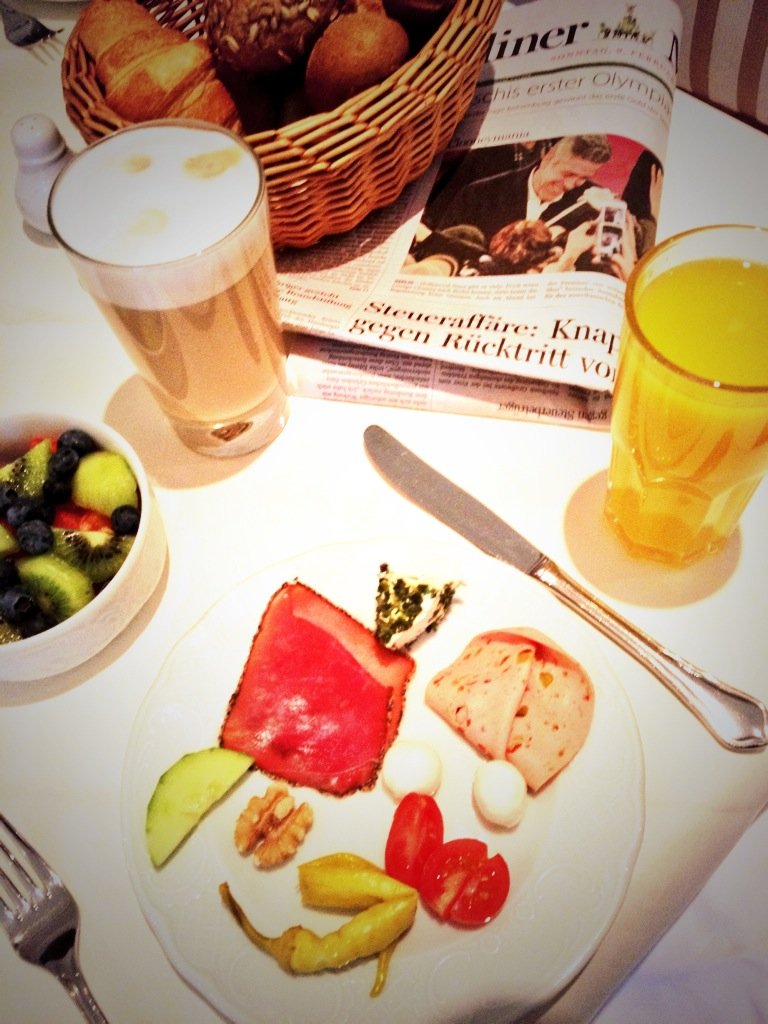 Over on the breakfast buffet side, the fruits were freshly cut and displayed in small portions, along with the assortment of organic muesli's and that creamy German natural yoghurt.  The breads where still warm when I tasted them, and the individual portions of cold cuts, cheeses, and pickled vegetables really brings out the German in you. Another beauty of the breakfast at Louisas Place is the cooked eggs on demand, so rest assured that those will be made just for you when you order. To top it all off there is a delicate selection of German patisserie for breakfast desert which includes : Berliner Pfannkuchen (similar to a doughnut), Mohnkuchen (poppi seed cake) and Prasselkuchen.
My opinion of Louisas Place
I am a big sucker for personalized hospitality and a good breakfast! Louisas Place hit the marks on these two items. I like it that it has a small and cosy environment, that the staff are always looking out for you and have genuine smile on their faces. I like it that every item at breakfast was as fresh as a daisy and that I could get my coffee just the way I like it (Take that Starbucks!!!). But most of all I love that the owner is a rather extravagant and fascinating man, who merely wishes for his guests to be as well looked after as we would do to his personal friends. This for me counts more than any mission statement by any international brand of hotels.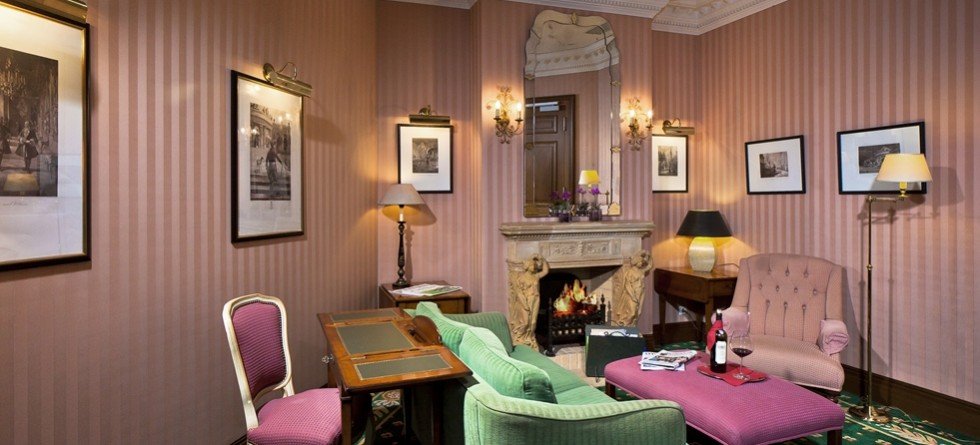 Disclaimer: I was a guest of Louisas Place during my stay, and please rest assure that the complementary night and services did not affect my opinion or my views on the property. Rates from 180 € for the Deluxe Suite in which I stayed in.
[wp_ad_camp_2]